Used Honda Amaze Cars
Relevance
Relevance
Price : High to Low
Price : Low to High
Popularity
Latest
Rating
Found 19 Second Hand Honda Amaze Cars in New Delhi for Sale
₹ 4.10 L

₹ 9,183/month

 

Mahindra First Choice, Defence Colony, New Delhi

₹ 7.25 L

₹ 16,237/month

 

Mahindra First Choice, Prashant Vihar, New Delhi

₹ 5.25 L

₹ 11,758/month

 

Mahindra First Choice, Amberhai, New Delhi

₹ 5.60 L

₹ 12,542/month

 

car&bike Select store, Noida

₹ 7.27 L

₹ 16,275/month

 

Mahindra First Choice, Noida

₹ 7.95 L

₹ 17,805/month

 

Mahindra First Choice, Noida

₹ 5.75 L

₹ 12,878/month

 

car&bike Select store, Ghaziabad

₹ 6.50 L

₹ 14,558/month

 

Mahindra First Choice, Ghaziabad

₹ 4.95 L

₹ 11,086/month

 

Mahindra First Choice, Gurgaon

₹ 5.51 L

₹ 12,331/month

 

car&bike Select store, Gurgaon

₹ 5.99 L

₹ 13,413/month

 

car&bike Superstore, Trillium Avenue, Gurgaon

₹ 7.35 L

₹ 16,461/month

 

Mahindra First Choice, Gurgaon

₹ 7.65 L

₹ 17,133/month

 

car&bike Superstore, Trillium Avenue, Gurgaon

₹ 3.83 L

₹ 8,573/month

 

car&bike Superstore, Trillium Avenue, Gurgaon

car&bike Select store, Spaze Business Park, Gurgaon

₹ 7.32 L

₹ 16,387/month

 

car&bike Superstore, Trillium Avenue, Gurgaon

₹ 4.05 L

₹ 9,071/month

 

Mahindra First Choice, Faridabad

₹ 4.15 L

₹ 9,295/month

 

Mahindra First Choice, Faridabad

Mahindra First Choice, Faridabad
Popular Used Cars in New Delhi
Over 10,000+ Happy Users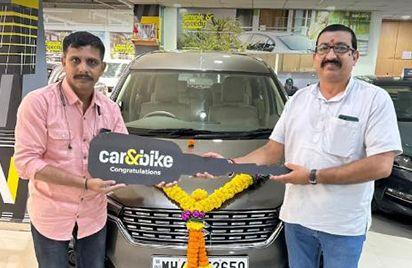 I'm extremely satisfied with the service during my recent used car purchase. Pratik Mehta & Kamlesh Pal were welcoming & went above and beyond for a seamless buying experience. Their expertise in guiding me through the selection process & answering my questions were impressive.
Thane
Fri Sep 08 2023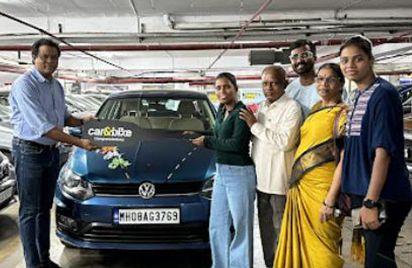 I highly recommend car&bike if you are in search of a reliable, well-maintained car & exceptional customer service. They exceeded my expectations in every way. Thank you team car&bike.
Kharghar
Fri Sep 01 2023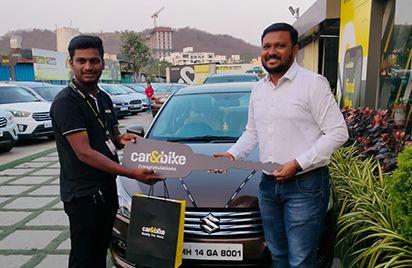 car&bike has a variety of second-hand cars as expected. The staff is friendly and efficient. Before buying, don't forget to ask for their free Mahindra warranty.
Pune
Wed Aug 30 2023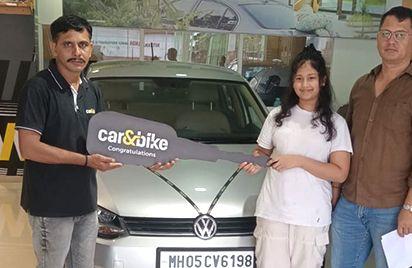 Finally found a perfect family car! I Highly recommend car&bike if you are looking for used cars that are as good as new & budget friendly. Kudos team car&bike.
Thane
Fri Aug 04 2023
I was concerned about budget, but I found my dream car with a perfect EMI solution at car&bike. The car purchase was also effortless and we did not have to worry about RTO transfer as well. Really happy with my purchase!
Pune
Tue Aug 01 2023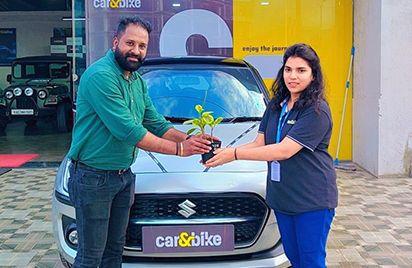 Excellent showroom experience, high quality used cars. car&bike took care of RC transfer and offered 2 year Mahindra warranty as well on my purchase. Thank you team car&bike!
Bangalore
Fri Jul 28 2023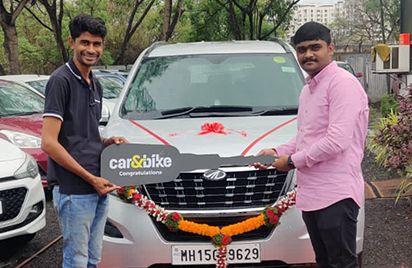 I was sceptical about buying a used car but car&bike made it easier for me! I got 2 year Mahindra warranty & even a buyback guarantee on my purchase of the Tata Tiago. Thank you team car&bike!
Pune
Fri Jun 30 2023
About Honda Amaze Cars
Overview

Trending Searches

Nearby Results

Popular Searches

Related Searches

Why car&bike
Our curated collection of used Amaze cars consists of 19 Amaze models that are currently available for sale. The starting price of the 2015 Honda Amaze S MT Petrol BS IV is ₹ 3,83,000. The most expensive Honda Amaze in our collection is the 2022 Honda Amaze S CVT Petrol. Reserve your certified used Amaze today, the reserve token, is 100% refundable.
At car&bike we can also aid you to sell your car online quickly at the best prices guaranteed.
Here is a list of the top used Amaze specially curated for you
| Used Car Model | Price |
| --- | --- |
| 2014 Honda Amaze 1.2 S AT i-VTEC | ₹ 4,10,000 |
| 2019 Honda Amaze VX CVT Petrol BS IV | ₹ 7,25,000 |
| 2017 Honda Amaze S (OP) MT Petrol | ₹ 5,25,000 |
| 2017 Honda Amaze S MT Petrol BS IV | ₹ 5,60,000 |
| 2019 Honda Amaze VX CVT Petrol BS IV | ₹ 7,27,000 |
| 2022 Honda Amaze S MT Petrol BS IV | ₹ 7,95,000 |
| 2018 Honda Amaze 1.2 V i-VTEC | ₹ 5,75,000 |
| 2018 Honda Amaze 1.5 V AT i-DTEC | ₹ 6,50,000 |
| 2016 Honda Amaze S MT Petrol BS IV | ₹ 4,95,000 |
| 2018 Honda Amaze 1.2 V AT i-VTEC | ₹ 5,51,000 |
The select information that you are currently reading has last been updated on 02-Dec-23
Buying Second Hand Honda Amaze
Driving a pre-owned vehicle is so much fun. You do not have to invest lots of money; instead, it becomes affordable for your pockets to own a used car. It even helps you know the functionality of the car. On the other hand, investing in a new vehicle can be challenging because of the latest and revised prices. In such a case, buying a used car is the wisest decision.
If you have an interest in buying a used car, then this article is your guide to buying one. A second hand Honda Amaze is one of the best choices that you can make in this regard.
Used Honda Amaze by Generation
The Honda Amaze is a sub-compact sedan with a four-door body and has been around since 2013. It is a compact sedan model that has attained immense popularity in the Indian market.
The first generation – Used Honda Amaze DF1/2: 2013
In April 2013, the first-generation model made its debut. It was manufactured at the Honda workshops in Rajasthan and Noida and the company claimed that the level of localization was 90%. It has the first diesel engine option for the Honda model. The cars are available in the petrol guise as well. The turbo diesel engine is a 1.5 litre motor with the N15A1 4-cylinder configuration. Honeywell designed the turbocharger in the diesel engine and it was the lightest in its overall class. The car is available in the E, EX, VX, and S grade levels.
In 2016, the facelift launched and the company updated the dashboard design, taillights, updated grille, and the CVT in the petrol model that replaces the five-speed torque converter in the automatic unit. However, there will be no change in the choice of engine. In 2017, the Privilege Edition launch took place and in 2018, the January Pride Edition came into the picture.
Second Generation – Used Honda Amaze DF5/6: 2018
In 2018, the second-generation Amaze came into the picture, and Honda claimed that it would be a standalone platform. The diesel engine option will be available with the CVT, which contradicts the previous automatic torque converter. The initial grade level was VX, E, V, and S. In the year 2021, on August 8, another facelift model was launched, and then it dropped the grade V.
Petrol- The engine is a 1.2 L motor with a five-speed manual transmission unit. It makes 90 PS of power at 6000 rpm while peak torque stands at 110 Nm at 4800 rpm.
Diesel- The engine is a 1.5 L motor and it has a five-speed manual transmission with 100 PS of power and 200 Nm of maximum torque.
The brakes come with an anti-lock feature, and it has fitted airbags (2 in total). In India, the seatbelt reminder is for both occupants in the front seat.
Used Honda Amaze– Explained
The Honda Amaze is the result of utter comfort, and it is beautifully crafted to make it spacious, ensuring outstanding legroom. So, you can travel and relax at the same time. The car offers you uninterrupted satisfaction. The gorgeousness of the car outside also extends to the interiors. The plush interiors with silver dashboard ornamentation make the car look luxurious.
It is available in 5 different colors –
· Meteoroid grey metallic
· Radiant red metallic
· Golden brown metallic
· Lunar silver metallic
· Platinum white pearl
Steps to Buy Used Honda Amaze Cars Online on car&bike
Are you planning to buy a used Honda Amaze car? Then follow the below-mentioned steps:
· Type the name of the car and research the vehicle
· Check the details of the vehicle history
· Opt for the test drive so that you can make sure that the car is functional
· Look for professional help, and you will get to know about the car's condition
· Crosscheck the vehicle papers
· Look for the car's ownership and decide to buy a used car. You can also reserve a car by paying a refundable amount and opt for used car financing.
If you follow these above tips to buy a pre-owned vehicle, you will undoubtedly face no problems purchasing a pre-owned Honda Amaze car.
Drive With Confidence
All our vehicles are selected from top dealership, undergo rigious checks and tests befote there arive at your door plus each certified car is backed by free warranty, guaranteed by buyback and 5-day return so you drive away with condidence.
Prices You Love
With our industry-first pricing guide discover the real worth of each vehicle. we find you best deals, so you dont have to.
Unmatched Transparency
Along with 20,000 vehicles to choose from, you can value car, book a test drive and apply for finance online. from the comfort of your couch.
Used Honda Amaze Cars in New Delhi