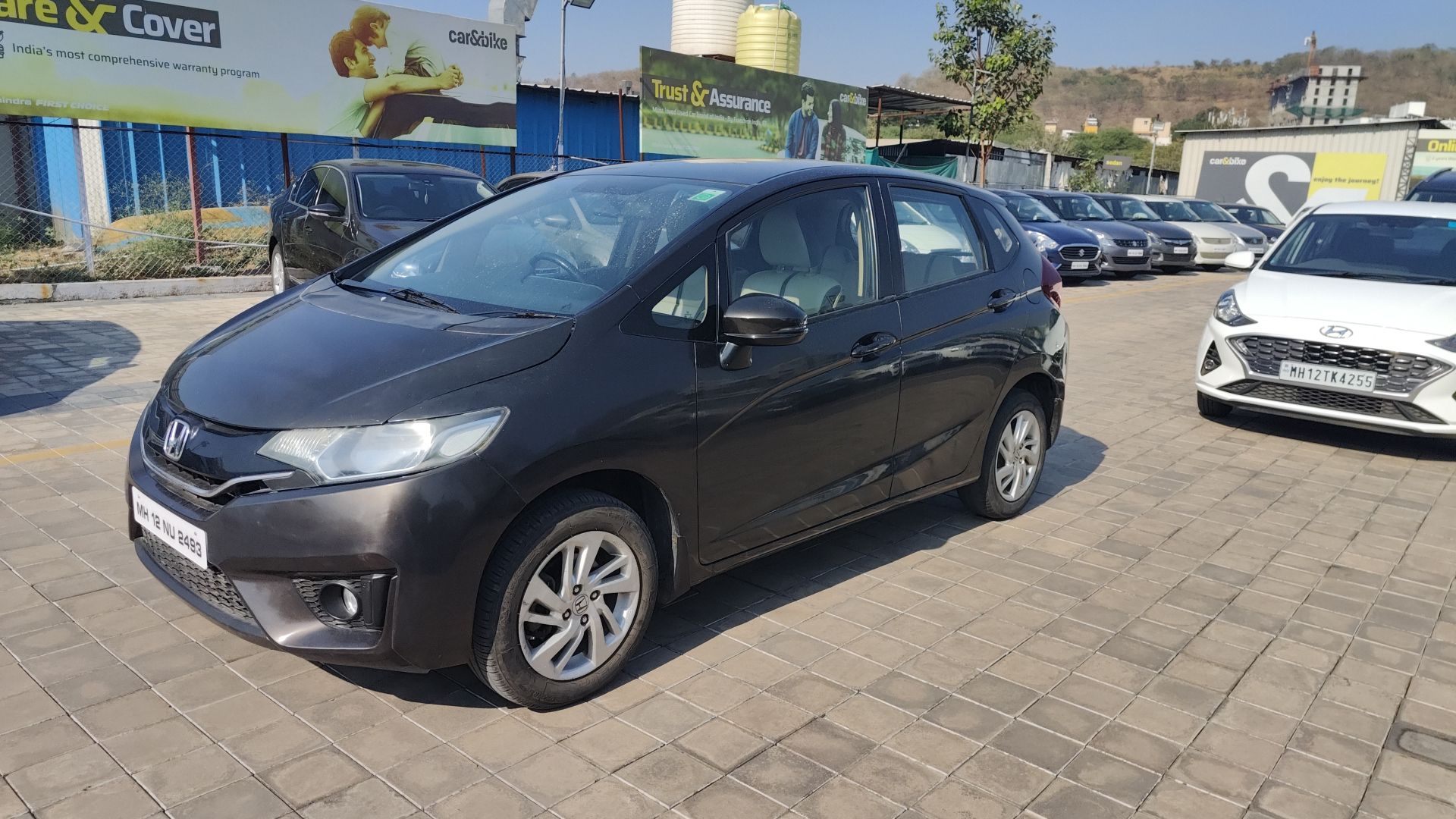 2017 Honda Jazz V MT Petrol BS IV
₹ 6.45 Lakh
53,392 km
| Petrol
| Manual
car&bike Superstore, Pashan, Pune
---
Upto 90% Loan available
EMI Starts From
₹14,400/-
Overview
53,392
KMs Driven
1st
Owner
Petrol
Fuel
Manual
Transmission
MH12
Registration
2017 Jan
Make Year
Offers Applicable
Exclusive 48 hours Reservation
100% Reservation Amount Refund
2 Years Mahindra Warranty Free
Interested ? Get A callback from our dealership
Inspection Report
Powered By
We put every car through a 140 point inspection so that you can be 100% confident in the quality of the car.
WhatsApp Report

View Full Inspection Report
Vehicle Info
Summary
Registration Year
2017 Jan
Warranty Type
2 Years Mahindra Warranty Free
Insurance Status
Not Available
Insurance Expiry
Not Available
Features
Safety & Security
Comfort & Convenience
Lights
Instrumentation & Communication
Entertainment
Specifications
Engine Type
4 Cylinder, SOHC I-VTEC Petrol Engine
Buy With Finance
Upto 90% Finance available for this car
We are partnered with banks like Mahindra Finance, IDFC, IndusInd, Bajaj Finserv etc...
Finance Made Easy
We have partnered with leading banks of India to offer you a best and flexible deal.
FAQs
What is the cost of reservation and test drive?
The reservation fee per vehicle is ₹ 999, which will cover your test drive from home or dealership. If you purchase the vehicle, the reservation fee will be adjusted against the final price. If you do not purchase it, we will refund 100% of the reservation fee.
---
How is the vehicle price decided?
Our vehicle prices are fair. We calculate the vehicles' true market value based on the Indian Bluebook Guide, vehicle status (type, age, insurance, condition), as well as real-time market data. The vehicle condition is assessed through our 140-point inspection process.
---
What does the Mahindra First Choice Warranty cover?
We offer 2 warranty packages based on the age of the vehicle – Warranty First+ (2-year policy with 25,000 Kms coverage) and CertiFirst + (1-year policy with 15,000 KM coverage). These include a free vehicle re-inspection and option to upgrade at a nominal cost.* For more details,
click here
.
---
Can you help me get financing?
We provide the lowest rate of interest of 11% (subject to T&C) through our banking partners - HDFC, ICICI Bank, IDFC Bank, and Mahindra Finance.
---
How do you ensure the quality of the cars?
Each Mahindra First Choice Certified car undergoes a rigorous 140-point inspection and quality refurbishment process that meets the highest benchmarks. We also conduct an exhaustive investigation of vehicle history to ensure that our catalogue contains only cars having clean titles of ownership.