Used Hyundai Creta Cars
Relevance
Relevance
Price : High to Low
Price : Low to High
Popularity
Latest
Rating
Found 32 Second Hand Hyundai Creta Cars in New Delhi for Sale
₹ 9.60 L

₹ 21,501/month

 

Mahindra First Choice, Defence Colony, New Delhi

₹ 7.95 L

₹ 17,805/month

 

Mahindra First Choice, Yozna Vihar, New Delhi

₹ 9.25 L

₹ 19,560/month

 

Mahindra First Choice, Amberhai, New Delhi

₹ 13.25 L

₹ 29,675/month

 

Mahindra First Choice, Amberhai, New Delhi

₹ 15.85 L

₹ 33,520/month

 

Mahindra First Choice, Amberhai, New Delhi

₹ 8.25 L

₹ 18,477/month

 

Mahindra First Choice, Bank Street, New Delhi

₹ 15.90 L

₹ 35,611/month

 

Mahindra First Choice, Yozna Vihar, New Delhi

₹ 7.75 L

₹ 17,357/month

 

Mahindra First Choice, Bank Street, New Delhi

₹ 8.50 L

₹ 19,037/month

 

Mahindra First Choice, Defence Colony, New Delhi

₹ 8.50 L

₹ 19,037/month

 

Mahindra First Choice, Amberhai, New Delhi

₹ 17.35 L

₹ 36,693/month

 

Mahindra First Choice, Amberhai, New Delhi

₹ 10.95 L

₹ 24,524/month

 

car&bike Select store, Noida

₹ 13.10 L

₹ 27,709/month

 

car&bike Select store, Noida

Mahindra First Choice, Noida

₹ 9.65 L

₹ 21,613/month

 

Mahindra First Choice, Noida

₹ 7.95 L

₹ 16,810/month

 

Mahindra First Choice, Noida

₹ 8.45 L

₹ 18,925/month

 

Mahindra First Choice, Noida

₹ 10.75 L

₹ 22,732/month

 

Mahindra First Choice, Ghaziabad

₹ 11.50 L

₹ 25,756/month

 

Mahindra First Choice, Ghaziabad

₹ 10.50 L

₹ 23,516/month

 

car&bike Select store, Spaze Boulevard, Sohna, Gurgaon

₹ 8.50 L

₹ 19,037/month

 

Mahindra First Choice, Gurgaon

₹ 8.65 L

₹ 19,373/month

 

car&bike Superstore, Trillium Avenue, Gurgaon

₹ 13.75 L

₹ 29,078/month

 

car&bike Select store, Spaze Boulevard, Sohna, Gurgaon

₹ 9.50 L

₹ 21,277/month

 

Mahindra First Choice, Gurgaon

₹ 10.90 L

₹ 24,412/month

 

Mahindra First Choice, Gurgaon

₹ 11.76 L

₹ 26,328/month

 

Mahindra First Choice, Faridabad

₹ 8.50 L

₹ 17,979/month

 

Mahindra First Choice, Faridabad

₹ 11.51 L

₹ 25,768/month

 

Mahindra First Choice, Faridabad

₹ 13.51 L

₹ 30,248/month

 

Mahindra First Choice, Faridabad

₹ 7.95 L

₹ 16,810/month

 

Mahindra First Choice, Faridabad
Popular Used Cars in New Delhi
Over 10,000+ Happy Users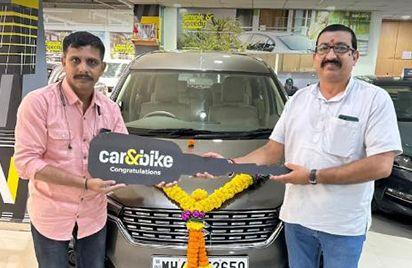 I'm extremely satisfied with the service during my recent used car purchase. Pratik Mehta & Kamlesh Pal were welcoming & went above and beyond for a seamless buying experience. Their expertise in guiding me through the selection process & answering my questions were impressive.
Thane
Fri Sep 08 2023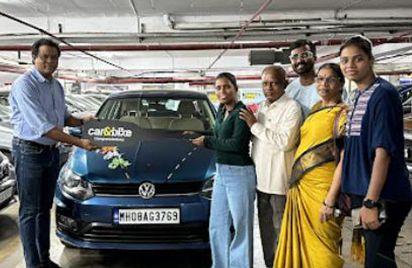 I highly recommend car&bike if you are in search of a reliable, well-maintained car & exceptional customer service. They exceeded my expectations in every way. Thank you team car&bike.
Kharghar
Fri Sep 01 2023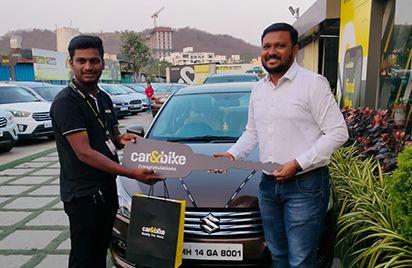 car&bike has a variety of second-hand cars as expected. The staff is friendly and efficient. Before buying, don't forget to ask for their free Mahindra warranty.
Pune
Wed Aug 30 2023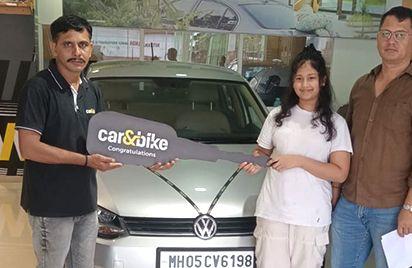 Finally found a perfect family car! I Highly recommend car&bike if you are looking for used cars that are as good as new & budget friendly. Kudos team car&bike.
Thane
Fri Aug 04 2023
I was concerned about budget, but I found my dream car with a perfect EMI solution at car&bike. The car purchase was also effortless and we did not have to worry about RTO transfer as well. Really happy with my purchase!
Pune
Tue Aug 01 2023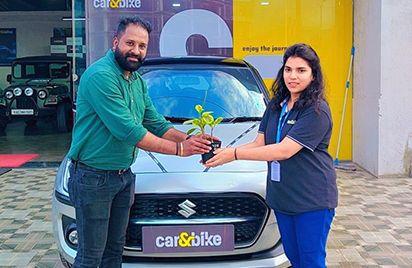 Excellent showroom experience, high quality used cars. car&bike took care of RC transfer and offered 2 year Mahindra warranty as well on my purchase. Thank you team car&bike!
Bangalore
Fri Jul 28 2023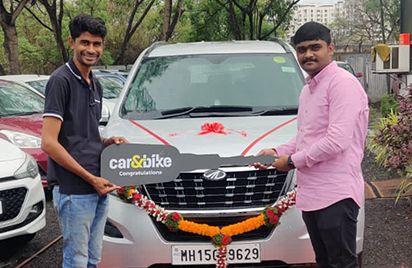 I was sceptical about buying a used car but car&bike made it easier for me! I got 2 year Mahindra warranty & even a buyback guarantee on my purchase of the Tata Tiago. Thank you team car&bike!
Pune
Fri Jun 30 2023
About Hyundai Creta Cars
Overview

Trending Searches

Nearby Results

Popular Searches

Related Searches

Why car&bike
Our curated collection of used Creta cars consists of 32 Creta models that are currently available for sale. The starting price of the 2016 Hyundai Creta 1.6 SX Diesel is ₹ 7,75,000. The most expensive Hyundai Creta in our collection is the 2022 Hyundai Creta 1.5 SX Petrol. Reserve your certified used Creta today, the reserve token, is 100% refundable.
At car&bike we can also aid you to sell your car online quickly at the best prices guaranteed.
Here is a list of the top used Creta specially curated for you
| Used Car Model | Price |
| --- | --- |
| 2018 Hyundai Creta SX 1.6 Petrol | ₹ 9,60,000 |
| 2016 Hyundai Creta 1.6 S Petrol | ₹ 7,95,000 |
| 2016 Hyundai Creta 1.6 SX Plus Petrol AT | ₹ 9,25,000 |
| 2018 Hyundai Creta 1.6 SX Plus Petrol | ₹ 13,25,000 |
| 2023 Hyundai Creta 1.5 SX Petrol | ₹ 15,85,000 |
| 2015 Hyundai Creta 1.4 S Plus Diesel | ₹ 8,25,000 |
| 2021 Hyundai Creta 1.5 SX AT Petrol | ₹ 15,90,000 |
| 2016 Hyundai Creta 1.6 SX Diesel | ₹ 7,75,000 |
| 2015 Hyundai Creta 1.6 SX Plus Petrol | ₹ 8,50,000 |
| 2016 Hyundai Creta 1.6 SX Plus Petrol | ₹ 8,50,000 |
The select information that you are currently reading has last been updated on 29-Nov-23
Buying a used Hyundai Creta
The Hyundai Creta makes for a perfect urban and compact SUV and offers a stylish design with a bouquet of features that makes it quite attractive for buyers. This is a good used car model to buy, especially for its reliability and brand value alike.
First Generation Creta
The first-generation Hyundai Creta arrived in 2015 and took the compact SUV market by storm as well. It offered great petrol and diesel engines (1.6 litre motors) with refined performance and 6-speed manual and automatic transmission systems. It also offered a good safety kit including six airbags, a touch screen ICE, ESP, reverse camera, and hill start assist.
Second Generation Creta
This came in 2020 and completely changed the game for the SUV. It has now made the Creta one of Hyundai's most successful models, reportedly selling more than 1.21 lakh units in the country in just a year since its launch. The Creta has S, EX, E and SX (O) variants while coming with a completely new front and rear design template. There is the signature cascading 3D grille along with trio-beam LED headlights with the crescent-glow LED daytime running lights as well. There are also LED taillights with 17-inch alloy wheels and a 10.25 inch touch screen infotainment unit.
There is also a 7-inch instrument cluster with a digital display setup and a Bose audio system with eight speakers. The SUV also gets ambient lighting, TPMS, a panoramic sunroof and Blue Link connectivity features. There are more than 50 features available for the new generation Hyundai Creta in terms of its connectivity. There are three powertrain choices as well, namely the Kappa 1.4 litre GDi-Turbo Petrol engine (140 PS and 242 Nm of maximum torque) which comes with the DCT 7-speed automatic transmission system, a 1.5 litre CRDi U2 diesel engine that makes 115 PS and 250 Nm of maximum torque and gets a 6-speed AT/MT setup, and also the MPi 1.5 litre petrol engine that makes 115 PS and 144 Nm of peak torque. This is paired to a 6-speed IVT/MT system.
Buying a used Hyundai Creta from car&bike
You will find a used Hyundai Creta with ease at car&bike. There are many options that you can pick from. You can book a test drive online and even reserve your preferred car online by paying an amount which is also refundable. You can then check out the vehicle certification and even opt for vehicle financing as well. car&bike will help you avail a smooth and quick used car purchase process. Here's to taking on the roads in style with your used Hyundai Creta SUV.
Drive With Confidence
All our vehicles are selected from top dealership, undergo rigious checks and tests befote there arive at your door plus each certified car is backed by free warranty, guaranteed by buyback and 5-day return so you drive away with condidence.
Prices You Love
With our industry-first pricing guide discover the real worth of each vehicle. we find you best deals, so you dont have to.
Unmatched Transparency
Along with 20,000 vehicles to choose from, you can value car, book a test drive and apply for finance online. from the comfort of your couch.
Used Hyundai Creta Cars in New Delhi