Used Mahindra Scorpio Cars
Relevance
Relevance
Price : High to Low
Price : Low to High
Popularity
Latest
Rating
Found 6 Second Hand Mahindra Scorpio Cars in New Delhi for Sale
₹ 9.00 L

₹ 20,157/month

 

Mahindra First Choice, Amberhai, New Delhi

₹ 9.90 L

₹ 22,173/month

 

Mahindra First Choice, Bank Street, New Delhi

Reserved

Reservation Ends at 6 AM on 03rd December 2023.

Reserved

Reservation Ends at 8 AM on 02nd December 2023.

Coming Soon

We are thoroughly checking the vehicle to ensure the best quality for you.

Coming Soon

We are thoroughly checking the vehicle to ensure the best quality for you.
Popular Used Cars in New Delhi
Over 10,000+ Happy Users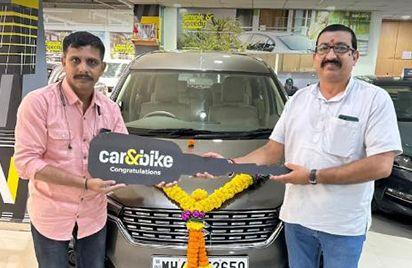 I'm extremely satisfied with the service during my recent used car purchase. Pratik Mehta & Kamlesh Pal were welcoming & went above and beyond for a seamless buying experience. Their expertise in guiding me through the selection process & answering my questions were impressive.
Thane
Fri Sep 08 2023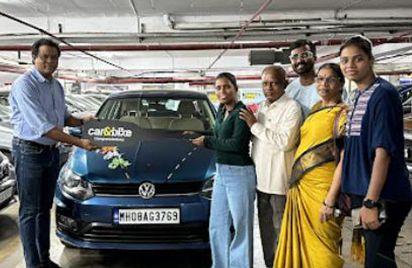 I highly recommend car&bike if you are in search of a reliable, well-maintained car & exceptional customer service. They exceeded my expectations in every way. Thank you team car&bike.
Kharghar
Fri Sep 01 2023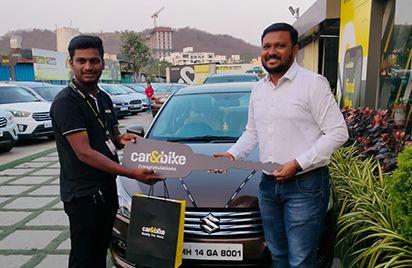 car&bike has a variety of second-hand cars as expected. The staff is friendly and efficient. Before buying, don't forget to ask for their free Mahindra warranty.
Pune
Wed Aug 30 2023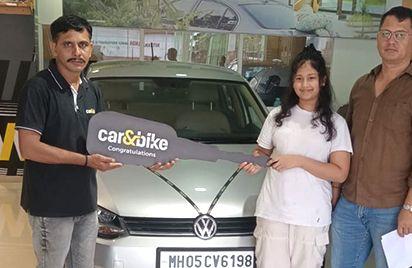 Finally found a perfect family car! I Highly recommend car&bike if you are looking for used cars that are as good as new & budget friendly. Kudos team car&bike.
Thane
Fri Aug 04 2023
I was concerned about budget, but I found my dream car with a perfect EMI solution at car&bike. The car purchase was also effortless and we did not have to worry about RTO transfer as well. Really happy with my purchase!
Pune
Tue Aug 01 2023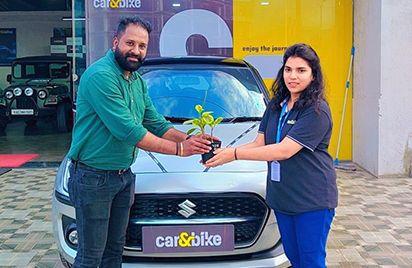 Excellent showroom experience, high quality used cars. car&bike took care of RC transfer and offered 2 year Mahindra warranty as well on my purchase. Thank you team car&bike!
Bangalore
Fri Jul 28 2023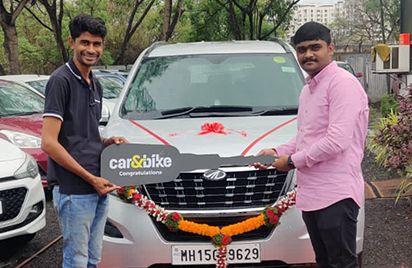 I was sceptical about buying a used car but car&bike made it easier for me! I got 2 year Mahindra warranty & even a buyback guarantee on my purchase of the Tata Tiago. Thank you team car&bike!
Pune
Fri Jun 30 2023
About Mahindra Scorpio Cars
Overview

Trending Searches

Nearby Results

Popular Searches

Related Searches

Why car&bike
Our curated collection of used Scorpio cars consists of 6 Scorpio models that are currently available for sale. The starting price of the 2014 Mahindra Scorpio S10 2WD is ₹ 3,20,000. The most expensive Mahindra Scorpio in our collection is the 2017 Mahindra Scorpio S10 2WD. Reserve your certified used Scorpio today, the reserve token, is 100% refundable.
At car&bike we can also aid you to sell your car online quickly at the best prices guaranteed.
Here is a list of the top used Scorpio specially curated for you
| Used Car Model | Price |
| --- | --- |
| 2017 Mahindra Scorpio S4 PLUS 1.99 Litre | ₹ 9,00,000 |
| 2017 Mahindra Scorpio S4 PLUS 1.99 Litre | ₹ 9,90,000 |
| 2014 Mahindra Scorpio S10 2WD | ₹ 3,20,000 |
| 2017 Mahindra Scorpio S10 1.99-Litre | ₹ 11,00,000 |
| 2017 Mahindra Scorpio S10 2WD | ₹ 11,25,000 |
| 2018 Mahindra Scorpio S7 120 2WD BS IV | ₹ 8,40,000 |
The select information that you are currently reading has last been updated on 01-Dec-23
Buying Second Hand Mahindra Scorpio
Are you looking for a used vehicle? Choosing a used model of your favourite brand is a wise decision. With the help of a pre-owned vehicle, you will gain valuable driving and car ownership experience at a lower entry cost. In fact, you can buy your dream used Mahindra Scorpio S4 Plus at a competitive price.
Used Mahindra Scorpio by Generation
Are you planning to invest in a pre-owned Mahindra Scorpio vehicle? First, you must know about its two best variants. The Mahindra Scorpio is an SUV (mid-size) from Mahindra & Mahindra and has been around from 2002. This SUV is the company's first production model for the international market.
The first generation – Used Scorpio (2002–2022) and Scorpio Classic (2022-Present)
The Mahindra Scorpio first generation model launched in 2002 on the 20th of June. After its success, the company did a minor update where they included plush seats, exterior colour with dual tone, armrest rear centre, and various little changes.
It made its first sale in the international market in the year 2003 in Italy. In 2006, Mahindra announced that the Scorpio was sold as kits in Russia, and there was a joint venture as well. The first facelift came in the year 2006 in April, and they also went with the new Scorpio model's plan and showcased a hybrid Scorpio with the CRDe engine and even a pickup truck. The Scorpio Gateway is a pickup truck launched in 2007 in India. In 2008, on 21st September, Mahindra launched the updated version of the 6-speed automatic transmission system.
The second facelift gets a new look like a bonnet, bumper design, headlight housings, and a minor increase in torque and power. The third facelift includes a hybrid version of the diesel-electric Scorpio SUV. Also, it has a revamped front and rear along with a brand new dashboard. The Mahindra Scorpio Classic arrived in 2022 and has two variants, namely the S and S11, and it was launched on 19the August.
It has a mHawk engine that runs on diesel with VTG-turbocharging and even an intercooler with a 4-cylinder. It displaces 2.2 litres with an 85 mm x 96 mm piston stroke and cylinder bore.
Second Generation – Used Z101
The second generation came into the picture in 2022. The design gets a complete overhaul. The new size of the SUV is large compared to its previous model. The diesel powertrain has two options: one churns out 132 PS and 300 Nm and the other makes 175 PS and 400 Nm of maximum torque. The petrol engine has one powertrain that generates 203 PS. The Scorpio-N comes with a completely new design and a 6/7 seater configuration. There are captain seats available as well. There is also an 8-inch infotainment unit with a Sony audio unit and 360-degree camera along with dual-zone climate control. There is an electric sunroof and 4x4 as well.
Used Mahindra Scorpio S4 PLUS – Explained
The Mahindra Scorpio S4 Plus is a rugged model with a competitive price tag and fuel economy of approximately 15.4 kmpl. The engine makes 120 bhp and 280 Nm of maximum torque. It is available in 4 different colors –
Fiery black
Molten red
Mist silver
Diamond white
Steps to Buy Used Mahindra Scorpio Online on car&bike
Did you decide to buy a pre-owned vehicle? Then, you need to follow the given steps:
First, research the vehicle that you want to buy
Check for the vehicle history
Choose the option for a test drive to make sure that the car is functional
Get professional help and know more about the car's condition
Check for the authentic vehicle papers and the certification if you are purchasing from car&bike
Complete all the formalities quickly after reserving your car with a refundable amount. You can also opt for used car financing.
If you follow these above tips, you will undoubtedly face no problems buying a pre-owned Mahindra Scorpio car.
Drive With Confidence
All our vehicles are selected from top dealership, undergo rigious checks and tests befote there arive at your door plus each certified car is backed by free warranty, guaranteed by buyback and 5-day return so you drive away with condidence.
Prices You Love
With our industry-first pricing guide discover the real worth of each vehicle. we find you best deals, so you dont have to.
Unmatched Transparency
Along with 20,000 vehicles to choose from, you can value car, book a test drive and apply for finance online. from the comfort of your couch.
Used Mahindra Scorpio Cars in New Delhi