Used Maruti Suzuki Swift DZire Cars
Relevance
Relevance
Price : High to Low
Price : Low to High
Popularity
Latest
Rating
Found 8 Second Hand Maruti Suzuki Swift Dzire Cars in New Delhi for Sale
2015 Maruti Suzuki Swift DZire

₹ 4.50 L

₹ 10,078/month

 

Mahindra First Choice, Prashant Vihar, New Delhi

2016 Maruti Suzuki Swift DZire

₹ 5.00 L

₹ 11,198/month

 

car&bike Select store, Noida

2018 Maruti Suzuki Swift DZire

₹ 6.25 L

₹ 13,998/month

 

Mahindra First Choice, Noida

2012 Maruti Suzuki Swift DZire

Mahindra First Choice, Barwala

2013 Maruti Suzuki Swift DZire

Mahindra First Choice, Barwala

2015 Maruti Suzuki Swift DZire

₹ 4.50 L

₹ 10,078/month

 

Mahindra First Choice, Ghaziabad

2013 Maruti Suzuki Swift DZire

Mahindra First Choice, Ghaziabad

2018 Maruti Suzuki Swift DZire

₹ 5.72 L

₹ 12,803/month

 

car&bike Superstore, Trillium Avenue, Gurgaon
Popular Used Cars in New Delhi
Over 10,000+ Happy Users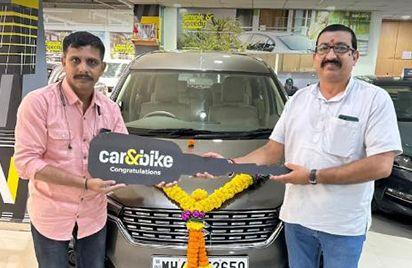 I'm extremely satisfied with the service during my recent used car purchase. Pratik Mehta & Kamlesh Pal were welcoming & went above and beyond for a seamless buying experience. Their expertise in guiding me through the selection process & answering my questions were impressive.
Thane
Fri Sep 08 2023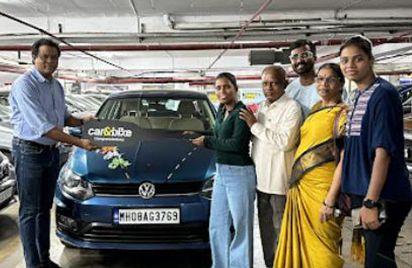 I highly recommend car&bike if you are in search of a reliable, well-maintained car & exceptional customer service. They exceeded my expectations in every way. Thank you team car&bike.
Kharghar
Fri Sep 01 2023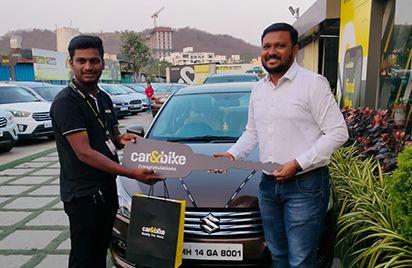 car&bike has a variety of second-hand cars as expected. The staff is friendly and efficient. Before buying, don't forget to ask for their free Mahindra warranty.
Pune
Wed Aug 30 2023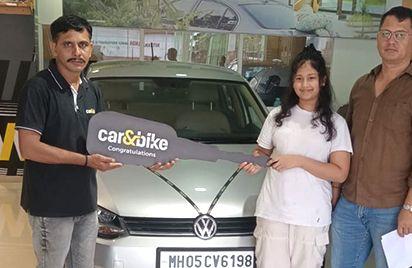 Finally found a perfect family car! I Highly recommend car&bike if you are looking for used cars that are as good as new & budget friendly. Kudos team car&bike.
Thane
Fri Aug 04 2023
I was concerned about budget, but I found my dream car with a perfect EMI solution at car&bike. The car purchase was also effortless and we did not have to worry about RTO transfer as well. Really happy with my purchase!
Pune
Tue Aug 01 2023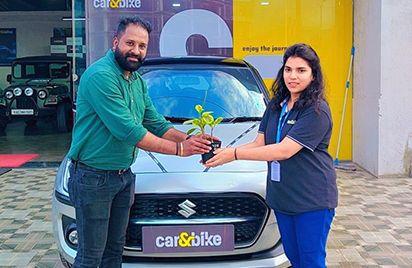 Excellent showroom experience, high quality used cars. car&bike took care of RC transfer and offered 2 year Mahindra warranty as well on my purchase. Thank you team car&bike!
Bangalore
Fri Jul 28 2023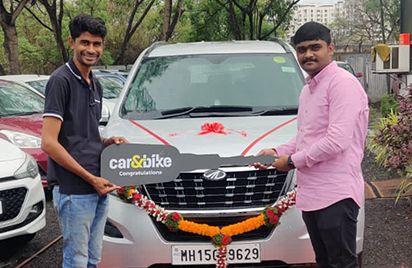 I was sceptical about buying a used car but car&bike made it easier for me! I got 2 year Mahindra warranty & even a buyback guarantee on my purchase of the Tata Tiago. Thank you team car&bike!
Pune
Fri Jun 30 2023
About Maruti Suzuki Swift Dzire Cars
Overview

Trending Searches

Nearby Results

Popular Searches

Related Searches

Why car&bike
Our curated collection of used Swift DZire cars consists of 8 Swift DZire models that are currently available for sale. The starting price of the 2013 Maruti Suzuki Swift DZire Tour is ₹ 3,00,000. The most expensive Maruti Suzuki Swift DZire in our collection is the 2018 Maruti Suzuki Swift DZire VXI AT. Reserve your certified used Swift DZire today, the reserve token, is 100% refundable.
At car&bike we can also aid you to sell your car online quickly at the best prices guaranteed.
Here is a list of the top used Swift DZire specially curated for you
| Used Car Model | Price |
| --- | --- |
| 2015 Maruti Suzuki Swift DZire LXI (O) | ₹ 4,50,000 |
| 2016 Maruti Suzuki Swift DZire VXI | ₹ 5,00,000 |
| 2018 Maruti Suzuki Swift DZire VXI AT | ₹ 6,25,000 |
| 2012 Maruti Suzuki Swift DZire ZDI | ₹ 3,25,000 |
| 2013 Maruti Suzuki Swift DZire VDI | ₹ 3,60,000 |
| 2015 Maruti Suzuki Swift DZire VXI | ₹ 4,50,000 |
| 2013 Maruti Suzuki Swift DZire Tour | ₹ 3,00,000 |
| 2018 Maruti Suzuki Swift DZire VXI | ₹ 5,72,000 |
The select information that you are currently reading has last been updated on 01-Dec-23
Buying Second Hand Maruti Suzuki Swift Dzire
Are you planning to buy a car for the first time? Well, many surveys suggest that first time buyers must purchase second-hand or pre-owned vehicles to get a better feel of the driving experience.
Buying a pre-owned car gives you practical experience of learning more about its functionality. The one-stop way to start your automobile journey as an owner is to choose a Maruti Suzuki Swift Dzire. So, which second-hand Swift Dzire should you choose in 2022?
Used Maruti Suzuki Swift Dzire by Generation
To help you gain an insight into this car model – here's learning more about three basic car models classified by their generations:
2012 Suzuki Swift Dzire
Although it was initially launched in 2008, the Swift Dzire 2012 model became more popular. This second generation car was significant because the length got reduced below 4 meters to get the tax benefit offered for sub-4-meter cars.
The 1.2 L K-series petrol engine was introduced with this model. Alongside, it featured the 1.3 L DDiS turbo diesel engine. The four-speed automatic transmission option was the only available one in the VXi variant.
The 2015 version revised it, and it was rated as a fuel-efficient diesel car. The Dzire ZDi was launched with Automatic Gear Shift in January 2016. Its 5-speed automated manual transmission or AMT was paired with a 1.3 L turbo diesel (DDiS) engine.
The second generation Dzire is for fleet operators in India as the Dzire Tour. However, recently, only the 1.2 L petrol & CNG engine have been made available for it, combined with the 5-speed manual transmission system.
2017 Maruti Suzuki Dzire
Maruti Suzuki launched the Dzire sedan in its third generation around 2017. Incidentally, even today, fans purchase this model in large numbers. So, buying a second-hand Maruti Suzuki Dzire is not a difficult job today. With more premium features in tow, the Dzire has now dropped the "Swift" nameplate in India.
It is built on the HEARTECT platform that implements ultra-high tensile and tensile steel in its construction. Although it's more lightweight, Maruti Suzuki claims that this vehicle is compliant with side and frontal impact regulations.
It also meets pedestrian safety rules and regulations. This vehicle is wider and provides enhanced space for occupants. Moreover, the third generation Dzire offers better rear legroom when compared to its previous model. In addition, the boot space has gone up to a whopping 378 litres.
The car's exterior design has been revised with a focus on its front section. The new design features a large hexagonal grille right in front, flanked by the projector headlamps alongside a strip of LED DRLs. It ditches the bulges and now looks cleaner than the previous models.
Used 2017 Maruti Suzuki Dzire – Explained
The engine options include the 1.2 L K12M motor that produces 82 bhp and 113 Nm of torque. As a matter of fact, the diesel version gets a 1.3 L D13A DDiS motor that makes 190 Nm of torque and 74 bhp of maximum power. Both engines get 5-speed AMT or 5-speed manual options. The petrol has been rated at 22 kmpl in terms of its mileage, while the diesel versions offer 28.40 kmpl as well.
The facelift was launched in March 2020. Considering its specs, it has been redesigned with the front end having a wider grille, while getting contemporary wood-finished interiors. In addition, new features like VSC (AMT exclusively) and cruise control are also available.
For India, a refined 1.2 L K12N petrol engine (Dualjet) has now been introduced. It replaces the previous petrol and diesel engines. As a matter of fact, the K12N engine's CNG variant was launched for the Indian market in March this year.
Steps to Buy Used Maruti Suzuki Swift Dzire Online on car&bike
Before you buy any used car, it is important to follow the given steps:
Research about the car and compare models.
Check for the car's history (learn more about its features and year of purchase)
Go for a test drive after booking it online.
Get a professional to assist you in the buying process. You can then reserve the car for a certain duration by paying a non-refundable amount.
Ensure that you check the papers thoroughly
You can also choose to buy your car with the financing option.
car&bike is the best place to find verified used Maruti Suzuki Dzire models. You can purchase used cars at the best prices with several benefits.
Drive With Confidence
All our vehicles are selected from top dealership, undergo rigious checks and tests befote there arive at your door plus each certified car is backed by free warranty, guaranteed by buyback and 5-day return so you drive away with condidence.
Prices You Love
With our industry-first pricing guide discover the real worth of each vehicle. we find you best deals, so you dont have to.
Unmatched Transparency
Along with 20,000 vehicles to choose from, you can value car, book a test drive and apply for finance online. from the comfort of your couch.
Used Maruti Suzuki Swift Dzire Cars in New Delhi