Mercedes-AMG SL-Class Overview
| | |
| --- | --- |
| Fuel Type | Petrol |
| Transmission | Automatic |
| Tank Capacity | 0.0 L |
| Seating | 4 Seater |
| Airbags | Yes |
Mercedes-AMG SL-Class Prices
Mercedes-AMG SL-Class Ex-Showroom price ranges from 2.35 Crore. Mercedes-AMG offers SL-Class in 1 variants. The top variant of SL-Class is and the base variant is 55 4Matic Plus.
Variants
Ex-Showroom Price
3982 CC, Petrol, N/A, Automatic
Mercedes-AMG SL-Class Specifications & Features
Explore an in-depth overview of the Mercedes-AMG SL-Class specifications and features, offering comprehensive details on its engine choices, fuel efficiency, torque, power, transmission, dimensions, and trunk capacity. Additionally, gain insights into the car's advanced safety features and infotainment system.
About Mercedes-AMG SL-Class
Mercedes-Benz has launched the new AMG SL55 roadster in India at a starting price of Rs 2.35 crore (ex-showroom). The new seventh-gen SL features several changes over its predecessor with the most important being that it has been developed by AMG. Unlike previous generations, the new Roadster is sold globally only in AMG guise with no 'standard' Mercedes equivalent. The model also marks a return to its roots with the folding hard top of recent generations replaced by a fabric soft top.
In terms of styling, the SL retains the traditional roadster looks with a slow and sleek stance and short overhangs on both ends. The nose is dominated by the AMG Panamericana grille flanked by swept-back angular headlamps and a sporty bumper with prominent vents. At the rear, the boot lid is angled downwards and houses the familiar triangular-shaped tail lamps - a design seen on many Mercedes coupes. The rear bumper features a prominent blacked-out lower section with quad tailpipes – pairs of two, sitting close to the outer edges of the bumper. The fabric soft-top is electrically operated and can be opened or stowed in 15 seconds at speeds of up to 60 kmph.
Moving to the interior, the SL gets its own unique dashboard design though elements such as the portrait-style touchscreen are shared with models such as the current S-class and C-class. The central touchscreen is now the focal point of most in-car functions with few physical buttons to speak of on the centre console. The central touchscreen can also be inclined by up to 20-degrees to cut the glare when the roof is down.
Coming to the powertrain, the SL is on sale in global markets in 43, 55 and 63 guises though we only get the 55. The SL55 is powered by a twin-turbocharged 4.0-litre V8 that puts out 469 bhp and 700 Nm of torque. Power is sent to all-four wheels via Mercedes' 4Matic+ all-wheel drive system in conjunction with a 9-speed automatic gearbox. Mercedes claims a 0 to 100 kmph time of 3.8 seconds for the roadster and a top speed of 294 kmph.
Mercedes-AMG SL-Class EMI Calculator
Calculate EMI for Mercedes-AMG SL-Class using our EMI calculator and know about the interest rates and monthly cost.
Ex Showroom Price:
₹ 2.35 Cr
Duration (5 Years)
5 Years
EMI ₹ 4.88 L
for 5 year @9%* Interest Rate
*Interest rate may vary subject to your credit score.
Calculate SL-Class EMI
Quick Compare With Mercedes-AMG SL-Class Competitors
| | | | | | |
| --- | --- | --- | --- | --- | --- |
| Mercedes-AMG SL-Class | | | | | |
| Ex-Showroom Price | | | | | |
| ₹ 2.35 Cr | ₹ 1.91 Cr | ₹ 1.86 - 3.35 Cr | ₹ 1.68 Cr | ₹ 1.52 - 1.72 Cr | ₹ 1.48 - 2.74 Cr |
| C&B Expert Rating | | | | | |
| N/A | | | | | |
| Engine | | | | | |
| 3982 cc | N/A | 2981 CC | N/A | 1988 CC | 1988 CC |
| Transmission | | | | | |
| Automatic | Automatic | Automatic | Automatic | Automatic | Automatic |
| Mileage | | | | | |
| N/A | 401 Km/Full Charge | 8.5 - 12.8 KM/L | 388 Km/Full Charge | 14.4 KM/L | 14.4 KM/L |
| Fuel Type | | | | | |
| Petrol | Electric | Petrol | Electric | Petrol | Petrol |
| Seating Capacity | | | | | |
| 4 Seater | 5 Seater | 4 Seater | 5 Seater | 2 Seater | 2 Seater |
| Fuel Tank Capacity | | | | | |
| 0.0 L | 0.0 L | 64.0 L | 0.0 L | 54.0 L | 54.0 L |
| No of Variants | | | | | |
| 1 | 1 | 11 | 1 | 2 | 5 |
| Detailed Comparision | SL-Class vs RS E-Tron GT | SL-Class vs 911 | SL-Class vs E-Tron GT | SL-Class vs Boxster | SL-Class vs Cayman |
Mercedes-AMG SL-Class Alternatives
Mercedes-AMG SL-Class Expert Review
Mercedes-Benz AMG SL55: A Roadster Reimagined
Mercedes-Benz, a name synonymous with luxury, innovation, and timeless elegance has once again redefined the automotive landscape with the launch of the all-new AMG SL55 roadster in India. This dazzling entrant makes its grand appearance nearly two years post its global debut in October 2021. Rooted deeply in
Mercedes-Benz's heritage
, the 'SL', an acronym for Super Light, celebrates its enduring legacy since its inception in 1954. The SL55, now offered exclusively as an AMG version, is not just another car; it's a harmonious blend of history, cutting-edge engineering, and a promise of unparalleled driving experiences.
Design and Styling
The new SL55 is not just an upgrade, but a monumental leap in design from its predecessor. It gracefully upholds its roadster silhouette, accented by the new swept-back headlamps, the distinctive 'Panamericana' grille, and signature triangular tail lamps. Measuring 4,705 mm in length, 1,915 mm in width, and 1,359 mm in height, the car boasts a kerb weight of 1950 kg. For those keen on personalisation, Mercedes offers multiple exterior packages like Carbon Fibre and Aerodynamics, though they come at an extra charge.
Interior and Features
Step inside, and you're greeted by AMG performance seats, offering a plethora of color options for both upholstery and roof lining. The dashboard proudly hosts an 11.9-inch touchscreen system, paired with a 12.3-inch digital instrument cluster. Drivers can adjust the touchscreen's inclination between 12 to 32 degrees, ensuring optimal visibility, especially with the roof down. Modern amenities like the MBUX voice assistant, navigation system, optional head-up display, and the immersive 17-speaker Burmester 3D surround sound system elevate the driving experience.
Safety
In a world teeming with unpredictabilities, Mercedes-Benz leaves no stone unturned to ensure the safety of its occupants. The AMG SL55 is not just a vehicle; it is a promise—a commitment to safeguarding every soul that steps inside. Harnessing the latest advancements in automotive technology, the roadster is equipped with a suite of active and passive safety features.w From advanced braking systems that respond to the slightest touch to sensors that monitor the environment and make real-time decisions, every drive in the SL55 is enveloped in a cocoon of safety. Trust in Mercedes-Benz is not just about enjoying luxury; it's about knowing that every journey, no matter the distance, is under the watchful eyes of world-class safety systems.
Engine and Performance
Nestled within the sleek contours of the AMG SL55 lies a heart that beats with raw power and finesse. The twin-turbocharged 4.0-litre V8 engine is more than just machinery; it's a testament to Mercedes-Benz's relentless pursuit of perfection. Every roar, every surge of acceleration is a melody—a symphony of engineering brilliance that translates to 469 bhp and a staggering 700 Nm of torque. Mated to the AMG 9-speed automatic transmission, this roadster doesn't just move; it dances with the wind, reaching 100 kmph from a standstill in a breathtaking 3.9 seconds. It's not merely about reaching a destination; it's about experiencing a journey where power meets unparalleled precision.
Ride and Handling
Every road has a story, and with the AMG SL55, you don't just travel; you become a part of that narrative. Thanks to the advanced 4MATIC Plus all-wheel-drive system, the roadster gracefully glides over the tarmac, ensuring a bond between machine, driver, and the tarmac. Whether it's the rhythmic undulations of a countryside road or the challenging twists of mountain passes, the SL55's AMG Ride Control steel suspension, paired with aluminum shock absorbers and lightweight coil springs, ensures every moment is a celebration of control and comfort. The magic doesn't end there. The active-rear axle steering is like a maestro, orchestrating each move with precision, enhancing high-speed stability, and ensuring agility during those intricate manoeuvres. In the AMG SL55, every journey becomes a dance—a harmonious ballet of machine, nature, and the human spirit.
Pricing
In the realm of luxury automobiles, where elegance meets performance, the price tag isn't merely a number but a reflection of the value, craftsmanship, and legacy one invests in. The AMG SL55 roadster, with its rich lineage and state-of-the-art features, graces the Indian market with a starting price of Rs 2.35 crore (ex-showroom, India). While the price represents the impeccable standards of Mercedes-Benz, one must remember that the realm of customization beckons, allowing individuals to tailor their SL55 to their unique tastes.
Which Variant to Buy?
In the vast seascape of automotive choices, India receives the
SL-Class 55 4Matic Plus variant
, an embodiment of power and luxury. And while overseas markets bask in the options of the 43, 55, and 63 trims, Indian enthusiasts will find the SL55 to be a perfect blend of performance and opulence. With a myriad of customizable features and add-ons, each buyer has the option to craft an SL55 that resonates with their personal driving aspirations and aesthetic preferences.
Competition
Every masterpiece has its challengers, and in the world of luxury roadsters, the competition is as fierce as it is elegant. The
Porsche 911 Carrera S Cabriolet
emerges as the primary contender for the SL55 in the Indian market, with a starting price of Rs 2.35 crore (ex-showroom). While both vehicles offer a compelling blend of design, performance, and brand legacy, potential buyers will weigh their choices based on individual preferences, brand loyalties, and the unique offerings each car brings to the table. The dance of these elite titans is a spectacle to behold, each vying for the heartbeats and dreams of automotive aficionados.
Mercedes-AMG SL-Class Latest News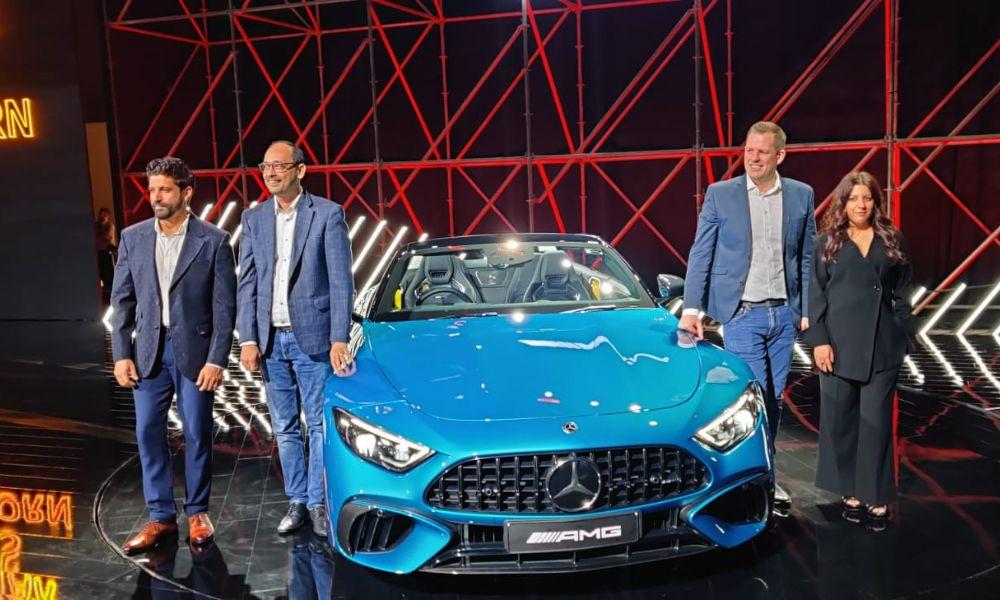 Mercedes-Benz AMG SL55: All You Need To Know About The 469 BHP Roadster
5 months ago
3 mins read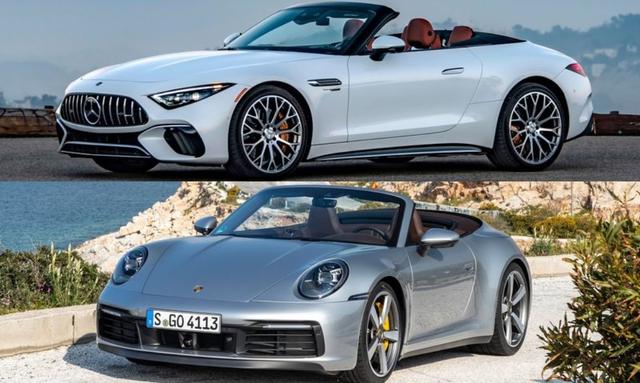 Mercedes AMG SL55 4matic+ Vs Porsche 911 Carrera S Cabriolet; Specification Comparison
5 months ago
4 mins read
View All Mercedes-AMG SL-Class News
Popular Mercedes-AMG Cars
Search Mercedes-AMG Dealers & Showrooms