Warranty Types
1 Year – Electrical & Mechanical
RSA Included
View Details
1 Year – Engine & Transmission
RSA Included
View Details
6 Months – Engine & Transmission
RSA Included
View Details
1 Year - Roadside Assistance
View Details

Why Choose Us?

Trust of Mahindra
Our warranty products are backed by Mahindra First Choice Wheels - India's largest multi-brand certified used car company

Pan India Serviceability
No matter where you are, we have got you covered with our widespread network of service centers across India

Claim Approval in 24 Hours
Our team is dedicated to provide you with the fastest claim approvals for an unparalleled experience

Fully Cashless Claims
Our warranty assures cashless claims at our dealerships all over India, making it easy for you to avail warranty benefits
Drive With Confidence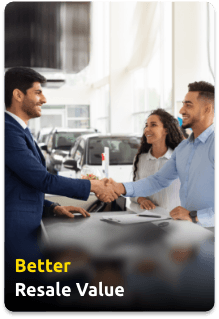 Get Warranty in 3 Steps
Schedule Home Inspection
Get your car inspected at home by Mahindra experts
Choose Your Preferred Warranty
Pick the best-suited plan from the suggested list
Share Your Details
Fill in basic information about your car
2 Mn+ Happy Customers
The Experience of purchasing a used car is very similar to buying a new car with this car&bike Superstore. They have a wide range of well-maintained used cars along with Mahindra Warranty!
Mumbai
Wed Mar 08 2023
Extremely transparent & hassle-free buying at car&bike Superstore, Calicut! There are no hidden charges & staff provides you with a detailed inspection report, you also get warranty with the trust of Mahindra!
Calicut
Tue Mar 07 2023
I had a fantastic experience buying a used car at the car&bike store. The store is very premium & the staff is courteous! I am very thankful for the Mahindra warranty as well!
Calicut
Thu Mar 02 2023