Riding the Waves: In Conversation With Stunt Rider Robbie Maddison
Well there's a brand new version of evel Knievel, a 2.0, if I can say that. But he's not an American, rather an Australian and he's called Robbie Maddisson. It's not often that you get a chance to talk to someone whose nickname is 'Maddo' and ask him a bunch of questions; but well we did and here's his side of the story.
By Ameya Naik
1 mins read
Published on September 25, 2015
In school, my parents always asked me what I wanted to be when I was all grown up. And I never understood why every time I answered this, my right cheek went red and left me in agony. It was after many such reinforcements that I understood that 'I'll become an adult' was always the wrong answer. But, I didn't know what they meant and it was only later that I understood that all the while they were talking about my career.
Well I hadn't decided anything then and had some options which every Indian kid has. Broadly put down, I had a few choices. Looking at my ability to pull out body parts from the Doctor set without setting off the alarm, I could become a doctor. I had broken enough and more window panes and won many a last over matches and this experience could work in my favour if I were to become a cricketer. I had also won many F1 races and received so many radio messages congratulating me in the warm glory of my bed that becoming a racer was also an option.
But nowhere in deciding over what I planned to do with my life, did I say - 'Yes, I will become a stunt rider/driver'. It looks all flamboyant on screen and requires amazing bit of agility, concentration and guts to pull off a stunt; all the abilities I clearly lacked. I was that kind of kid who felt nauseous if I zoomed out of Google Earth, so I knew that I wasn't cut out for it, but I couldn't ignore the masters who were.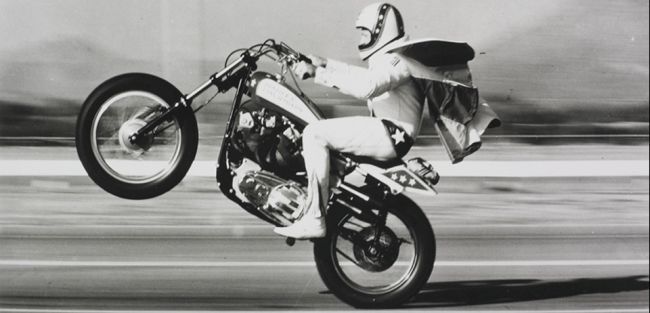 There were not many then, but out of all of them out there, the name Evel Knievel has always stood out. A master, a legend and though surrounded by controversy, he always made sure that the crowd around him had a good time watching him put his life at risk. The amount of bones broken during the stunt hardly mattered, what mattered was the applause and he gathered that every single time he rode on that ramp.
Well there's a brand new version, a 2.0, if I can say that. He's an Australian and he's called Robbie Maddison. It's not often that you get a chance to talk to someone whose nickname is 'Maddo' and ask him a bunch of questions; but well we did and here's his side of the story.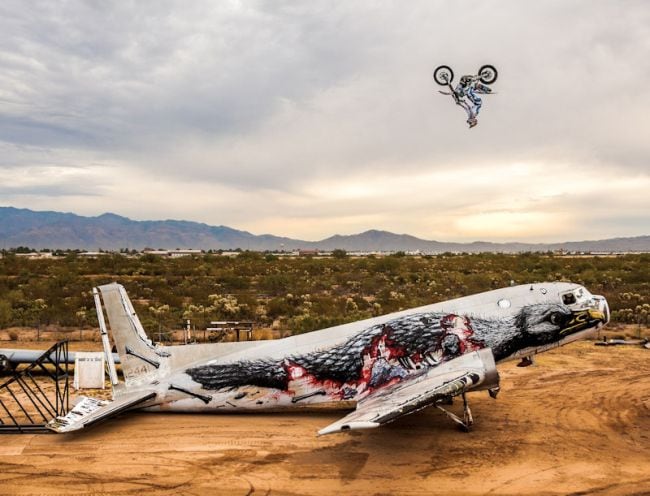 He has a long list of achievements to his name and has a whole bunch of world records under his belt. In 2007 Maddison broke the world motorcycle jumping record traveling 98.34m on a motorbike which he immediately broke in 2008 by traveling 106.98 on the third attempt. He's even jumped 96 feet up onto the Arc de Triomphe in front of Paris Las Vegas and then descended on an 80-foot drop off the monument to return safely to ground level and there's a lot more from where that comes which is why he's been equated to the great Evel Knievel. When we asked him how he felt about this comparison, he said. "Evel Knievel is a legend and I'm flattered my feats are compared to his. There's definitely pressure associated with the stunts but I don't feel the pressure to live up to Evel Knievel's impressive accomplishments. I'm here to create my own chapter in history."
And that he has. But every story has a beginning and we asked him how it all started. "Back then I worked about 72 hours a week, as a qualified electrician. Whilst working I went to see a crusty demon show at Sydney's biggest indoor arena, some of the guys riding in the show I had raced as a kid and beaten them. At that point I knew I could do what they were doing and more, so I was inspired to make it happen from that night on."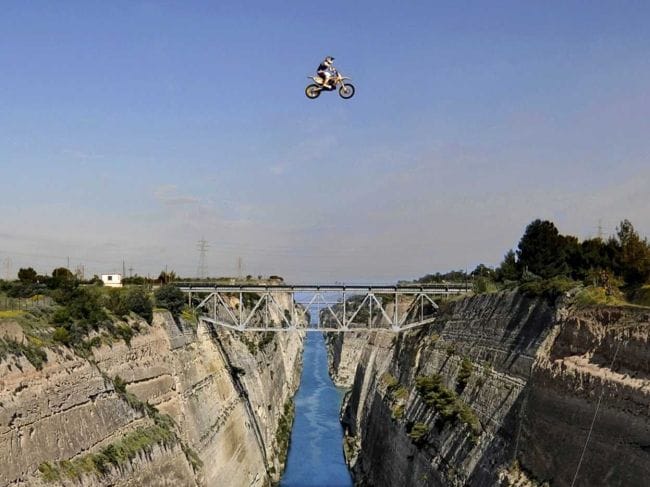 The inspiration has led him conquer the Corinth Canal Gap by jumping 278 feet over it. It is feats like this that have had people call him insane but he reacts strongly to that word and says, "I pity their righteous judgment. I'm just following 'my dreams.' I would never call anyone crazy for doing and succeeding at personal goals in life. Many other people live on the edge and make high stake decisions in other professions too, when they are successful, big things happen. Some of those people run our countries and banks and develop this earth. We're all insane in some way, it depends what window you're looking from."

But well, the past is the past and there has to be something new and this is where the 'Pipe Dream' comes in. He's managed to take his bike and ride the waves and that is something no one has ever achieved. Even when I showed my office colleagues Maddison's video, they were aghast and wondered what made him think about it and so we asked him. "The idea of "Pipe Dream" was spurred from my love of surfing and motocross. Growing up in Australia where I lived across the road from the beach, I spent a lot of time in the water. Spending all that time in the water, I picked up the insight on how to read waves and learned to become comfortable in them. The relationship between the ocean, motorcycles and my life journey bred this idea."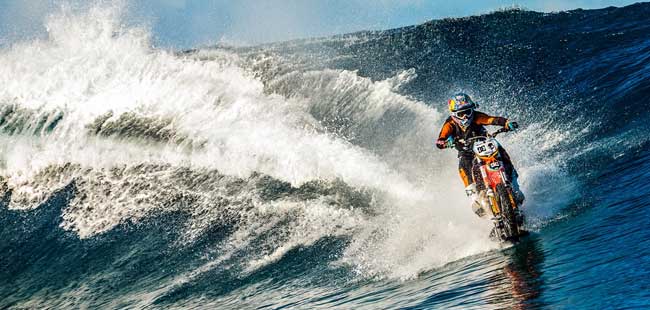 It's taken Robbie two years to realize this dream and the sponsorship from DC Shoes played a huge part. He says, "I've been sold on the success of this concept since I embarked on the journey to make it a reality, I knew it could happen and I proved to Jeff Taylor with undeniable evidence that this "stupid idea" was in fact totally possible."
After having achieved the feat, even DC Global Brand Lead and Pipe Dream Executive Producer Jeff Taylor, couldn't help but praise Robbie and said, "I have been fortunate to witness a lot of things, and this was the biggest gap between an idea and reality I have ever seen. I knew that if this was physically possible, Robbie Maddison would find a way to make it happen."
From his helmet to motocross boots, 'Maddo' was dressed for FMX when he took his dirt bike into the unchartered saltwater terrain of the Pacific Ocean in French Polynesia. And if you wondered whether you can get stuff from DC Shoes in India, well it has its presence here and is retailed out from Quiksilver Stores across the country.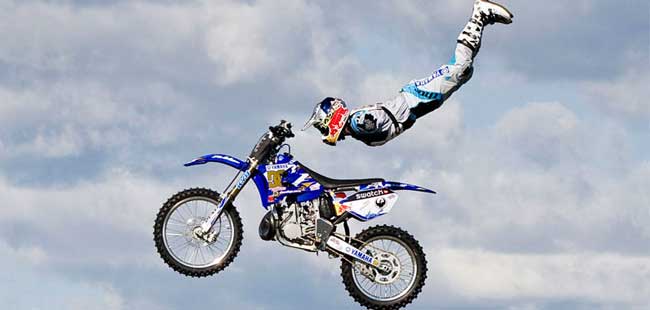 To celebrate Robbie Maddison's "Pipe Dream," DC officially launched his new signature Maddo shoe. With Maddo's signature M logo on the tongue and a DC logo on the side panel, this low-top cupsole shoe features a rugged suede and nubuck upper with breathable mesh quarter panels. Taking about his association with the company Robbie says, "The past eight years have been a highlight, DC was the dream company to be sponsored for shoes, the day I became a part of the DC brand and mark, I felt honored. Working with DC has been a dream come true. I owe the success of "Pipe Dream" to the team at DC. Without Jeff Taylor, this project would have never seen the light of day and since we began this journey and Nate Hawley was there every step of the way."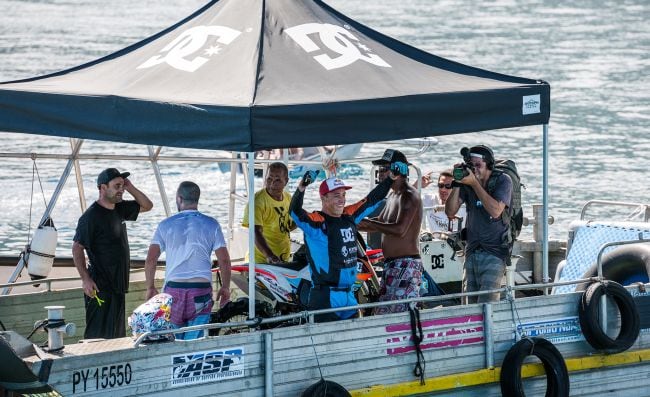 Yes of course the attire mattered but at the crux of this stunt was man, machine and nature - so let's tackle it one at a time. We've spoken at length about the man so we move on to the machine. Riding on water has never been attempted, so we asked Robbie what his benchmark was and how he figured out what all to modify on his KTM 250SX dirt bike. He said, "To be honest, we made minor modifications to the bike. You can view the process throughout the three part series from DC, "Behind the Dream" on YouTube. Our main concern was not to harm the environment so we worked around the clock to seal every component on the bike so that only water could get in and nothing could get out. Then the other thing we worked for was the lightest, fastest bike we could get, so we added a 300cc cylinder on the bike, tricked up the carburation and fuel flow and the rest is history. Oh and we added skis, that was a "must."

As we said earlier, it's taken two years to realise this dream and it was a trial and error process and though it may look like he's got everything under control there's a lot that could have gone wrong. If Robbie did not feed the wheels constantly with power, he would have lost control of the bike and the waves would do the rest of the damage. "The thrill was more scary than rewarding. When I saw the vision of the wave closing in on me, it was honestly one of the scariest things I've ever experienced. The swells in Tahiti are massive and during that moment, I definitely felt I was in the wrong place at the wrong time. The ultimate consequence was drowning."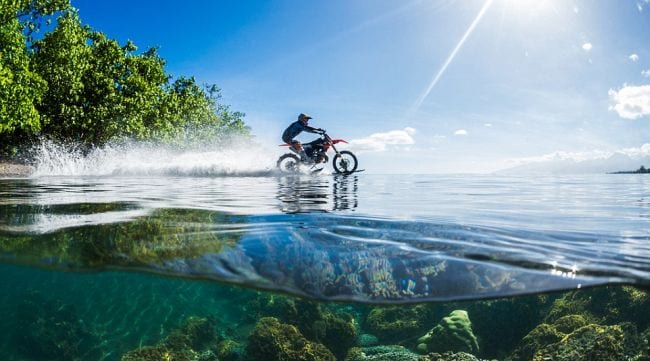 Another person who is aware of all these consequences is Robbie's wife Amy and we asked him how she reacts to all this. "It upsets her to hear I had those thoughts; she never wants anything bad to happen to me. She is always the safety chief, trying to protect her children's daddy."
But here Robbie was against nature, the one thing he could not control. So how did this battle pan out? "I perceived this battle as man and machine with nature. I gained a university degree in practical experience of fluid dynamics. I love Nature, I hate pollution, I recycle every can and bottle that comes through my house and I try to live green. I have a lot of plants to plant in the future that's for sure and I'm conscious of that, I do have a carbon footprint I need to get to work on!"
There's a lot more to come from the 34-year old Australian and he says "I have thoughts of my next idea but I don't think the world is ready for it yet so I'll keep it close to my chest for now." Now that's the kind of suspense one is willing to kill for. But we wish Robbie and his team all the success in their future endeavours and hope to see him in India soon.

Last Updated on September 25, 2015
---
Stay updated with automotive news and reviews right at your fingertips through carandbike.com's
WhatsApp Channel.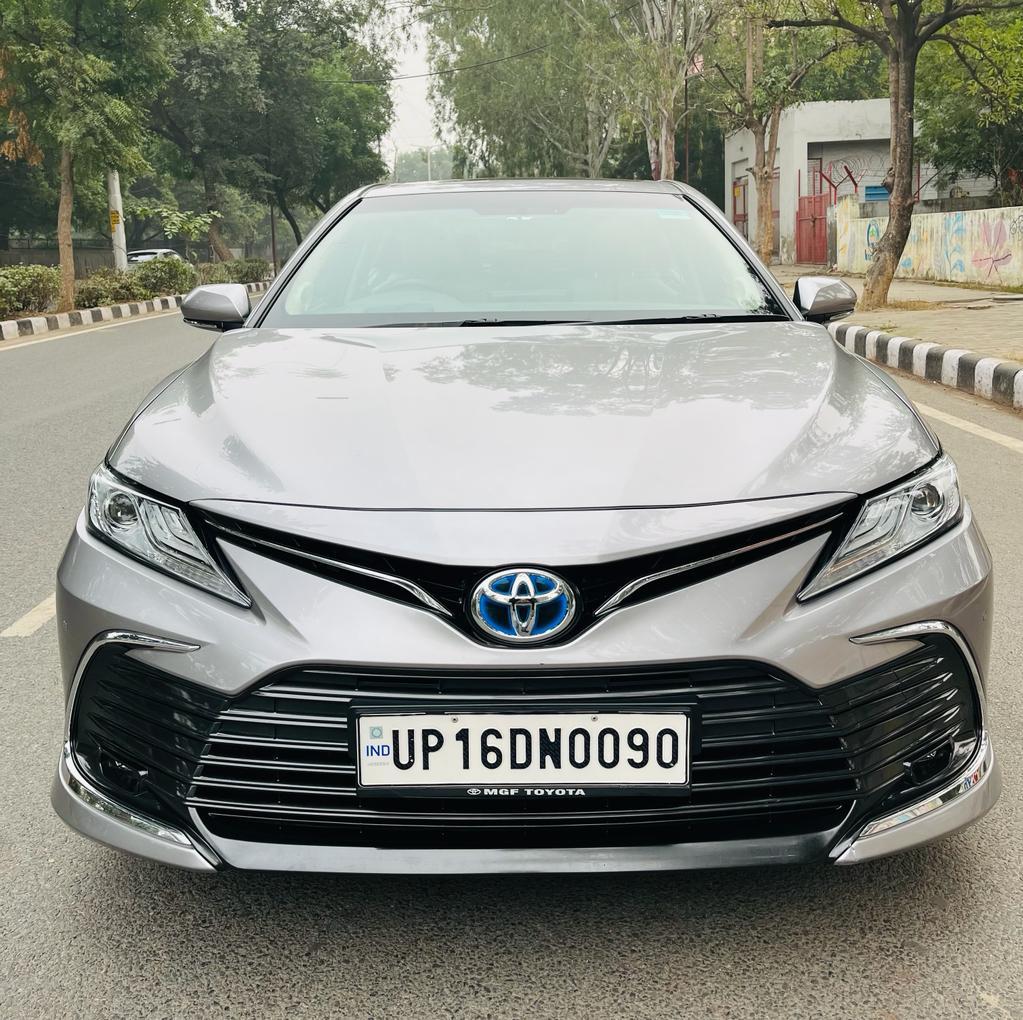 Car Choice Exclusif Amberhai, New Delhi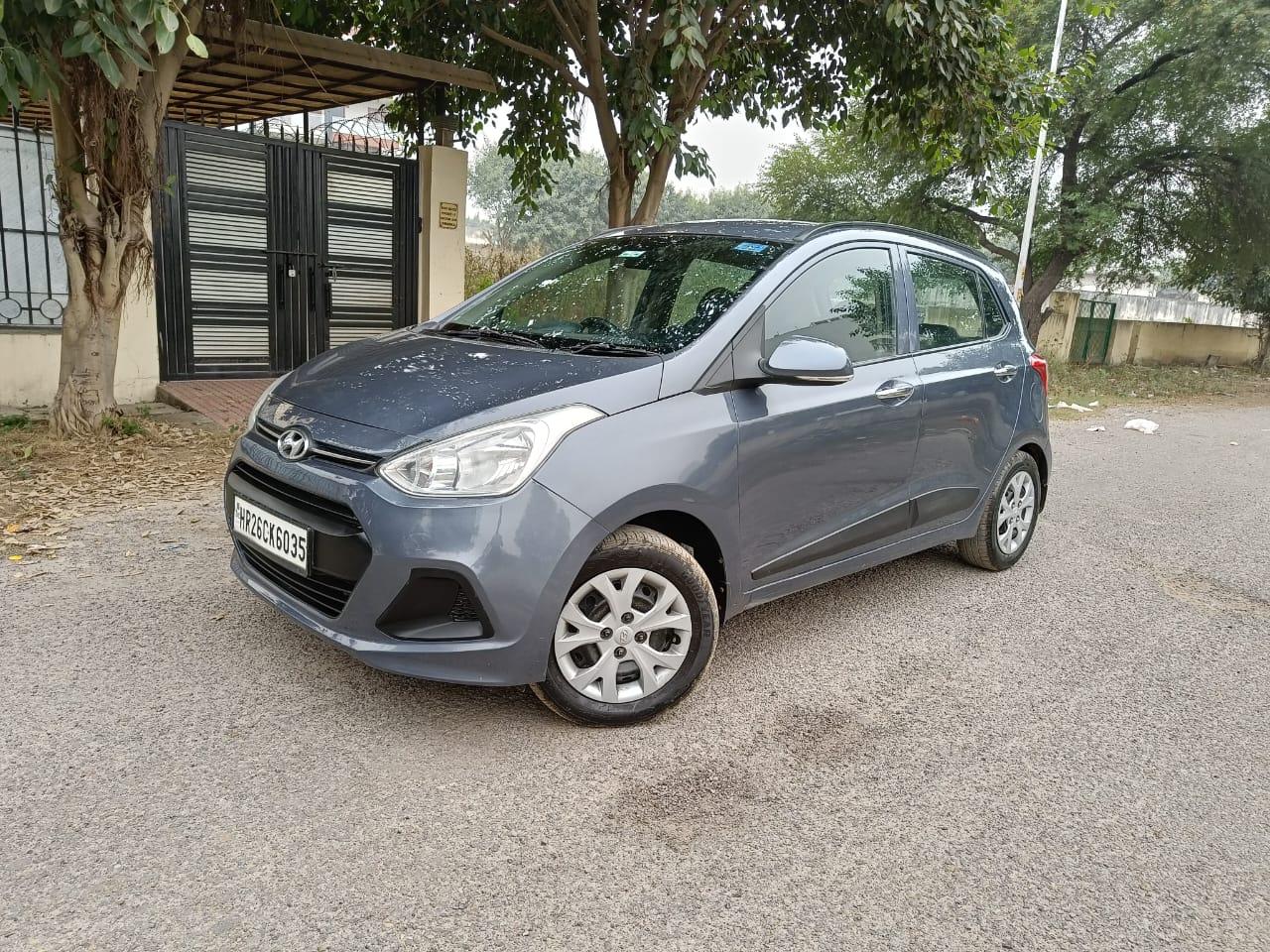 Car Choice Exclusif Amberhai, New Delhi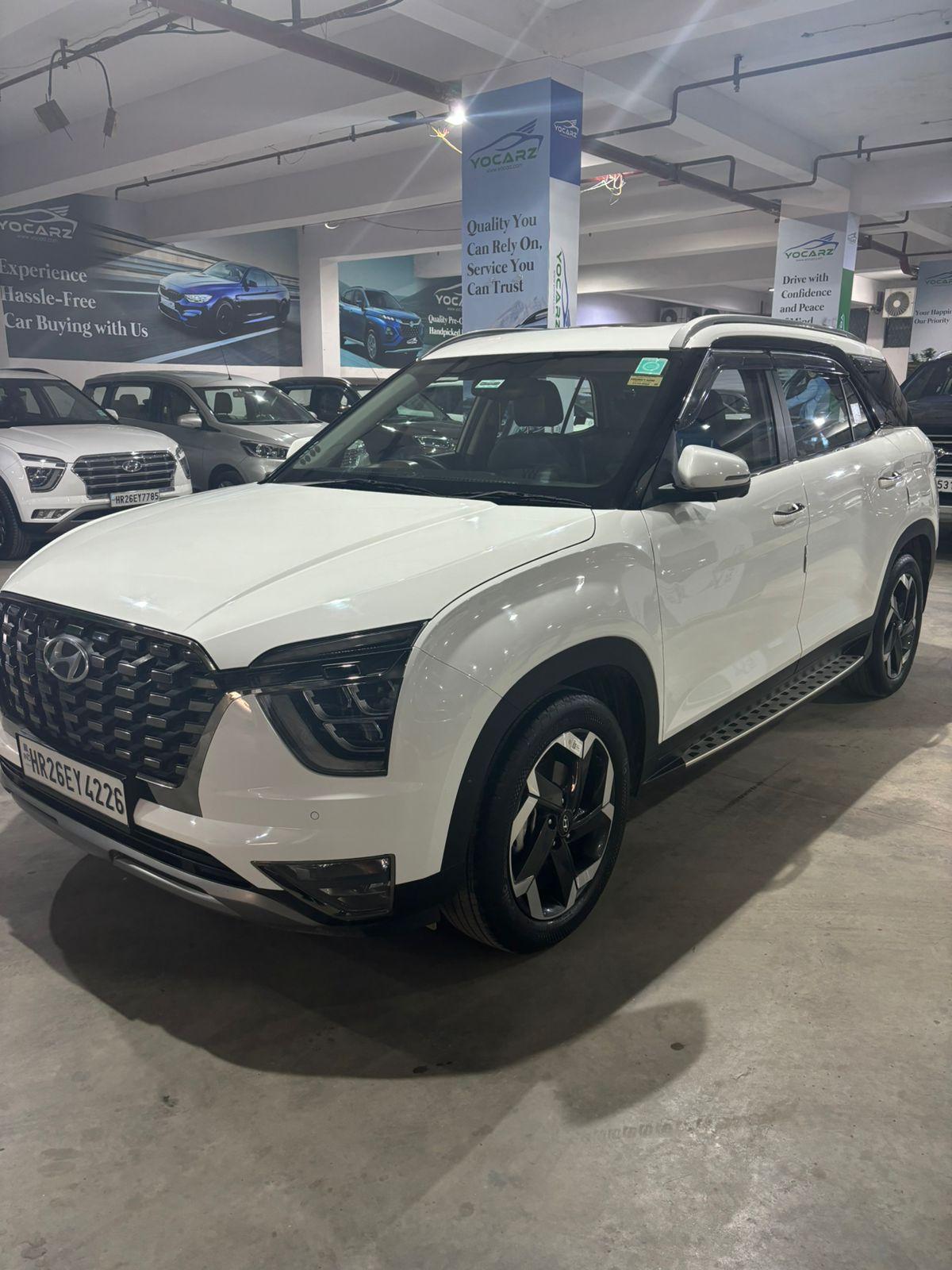 Car Choice Exclusif Amberhai, New Delhi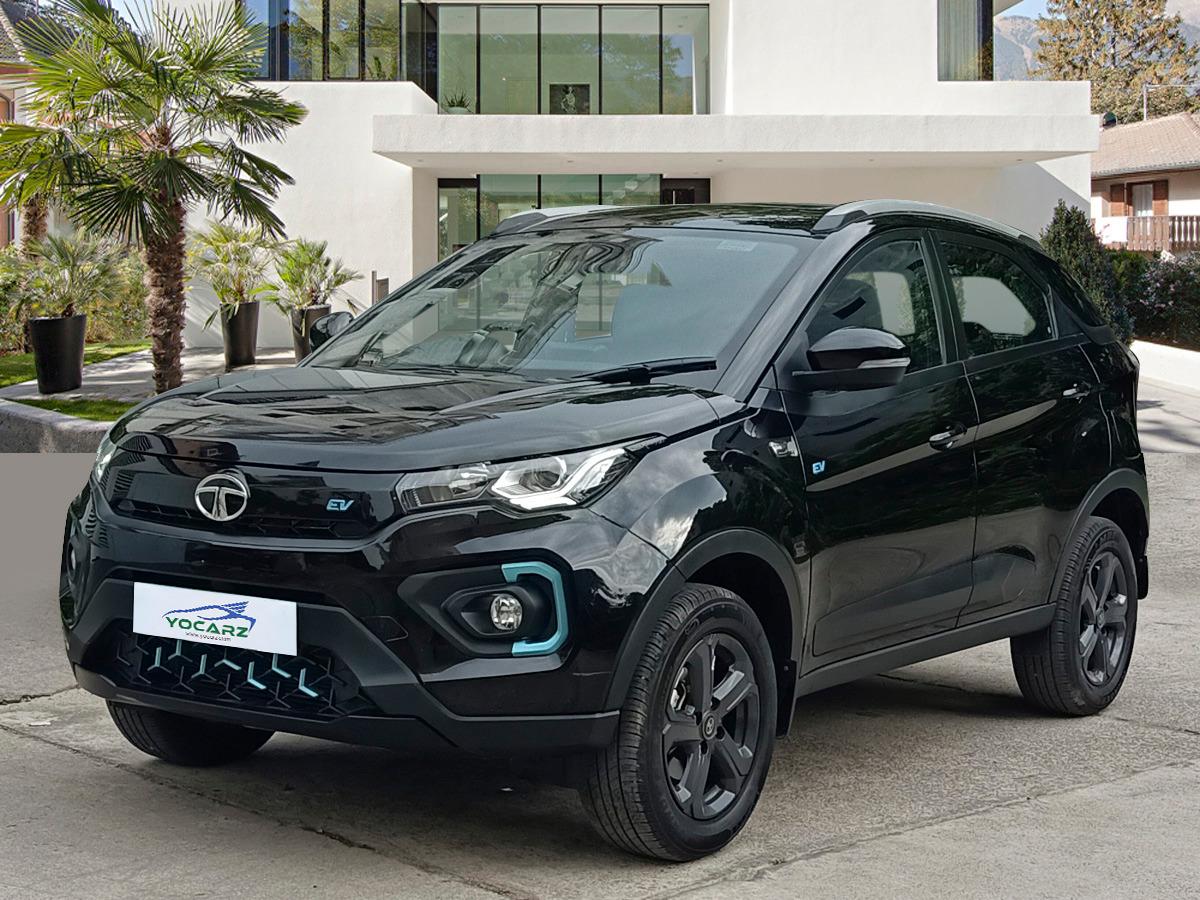 20,156 km
Electric
Automatic
Car Choice Exclusif Amberhai, New Delhi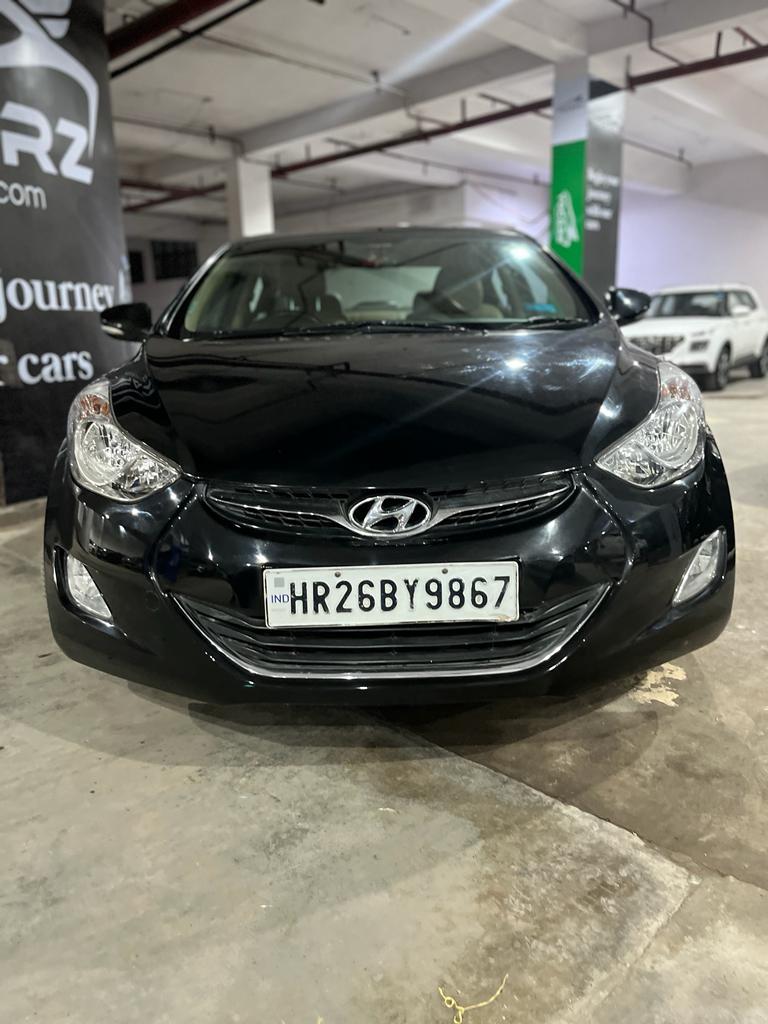 Car Choice Exclusif Amberhai, New Delhi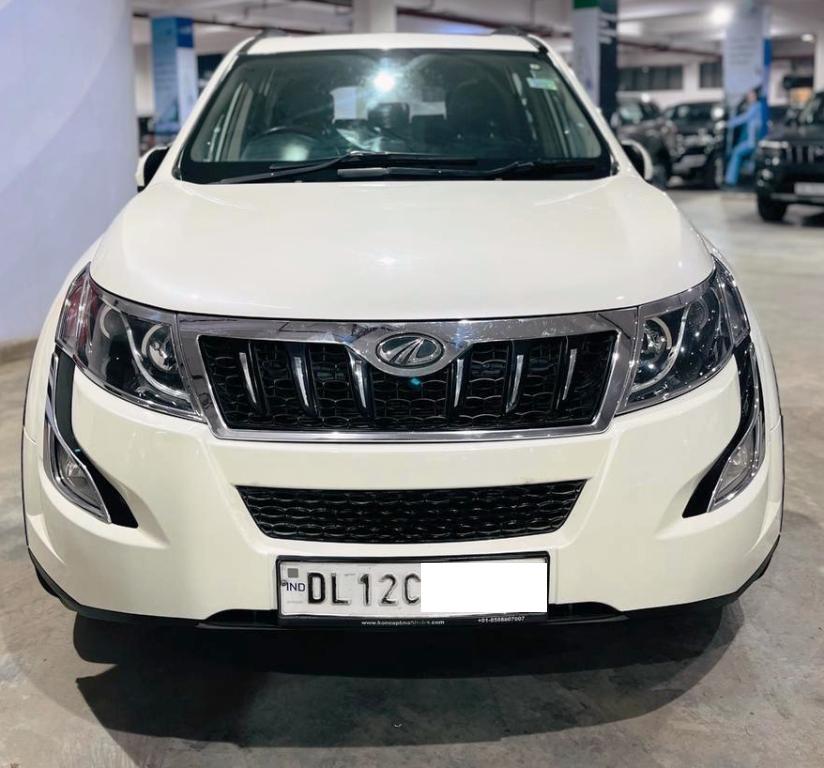 Car Choice Exclusif Amberhai, New Delhi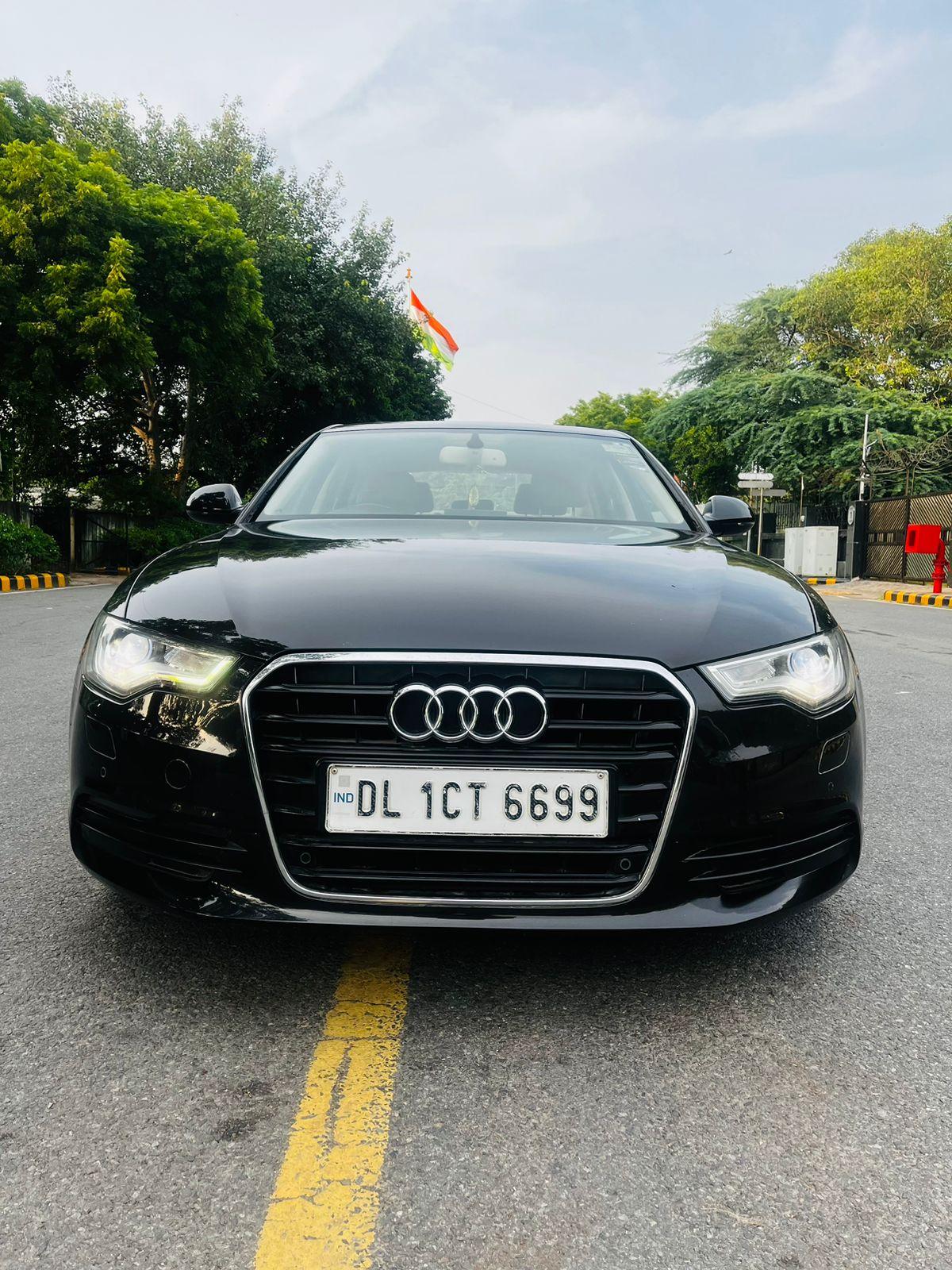 Carz Villa Bank Street, New Delhi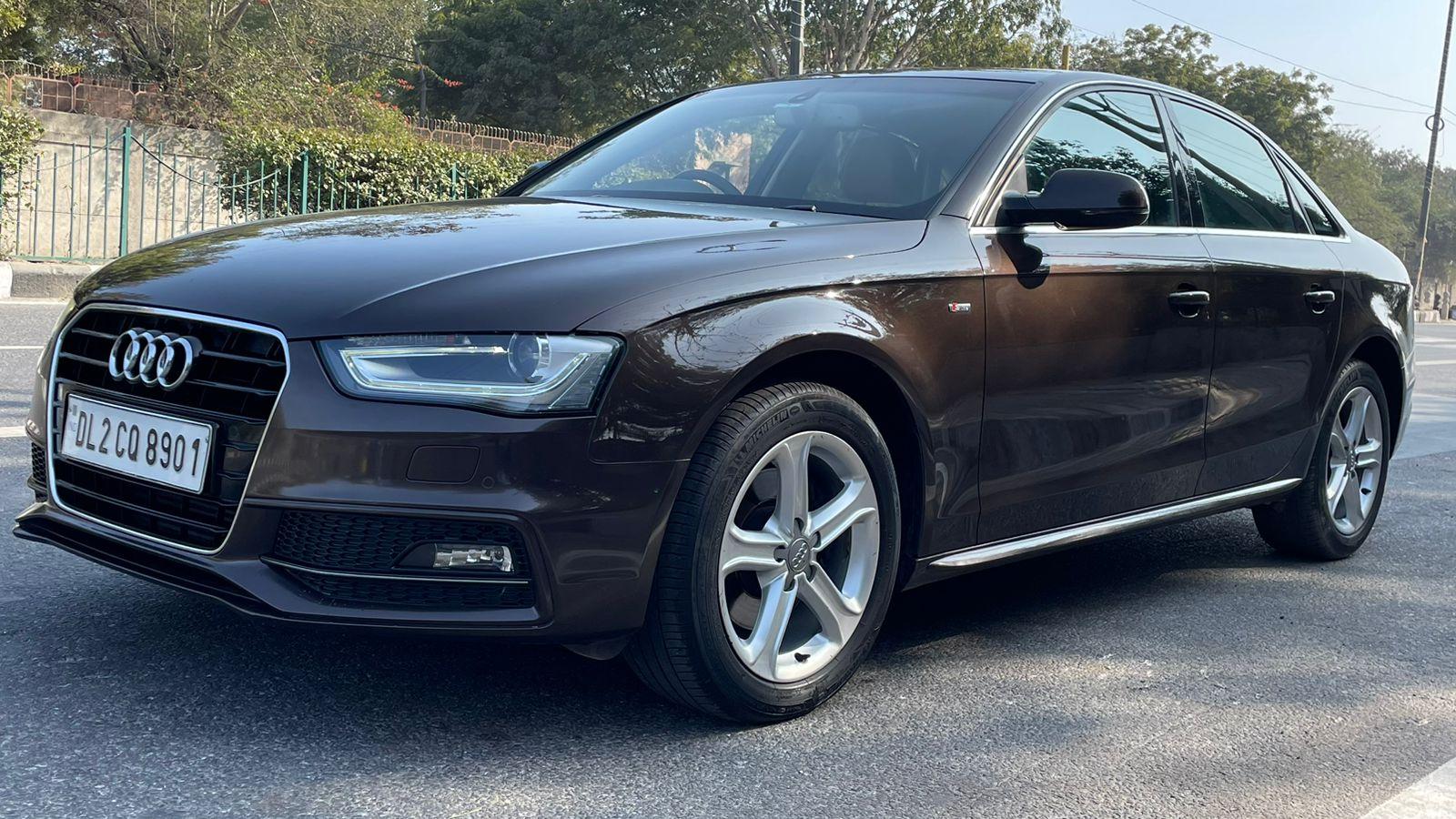 Carz Villa Bank Street, New Delhi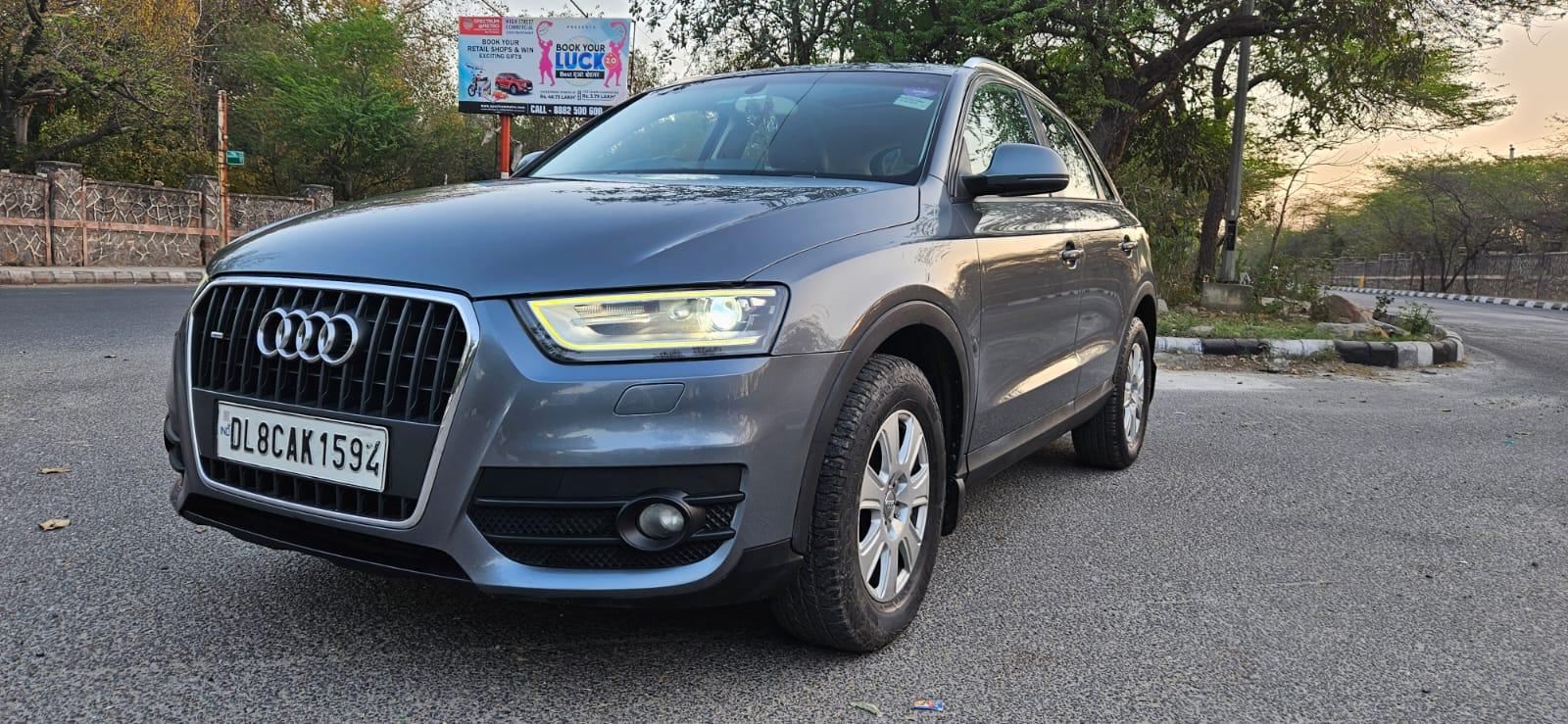 Carz Villa Bank Street, New Delhi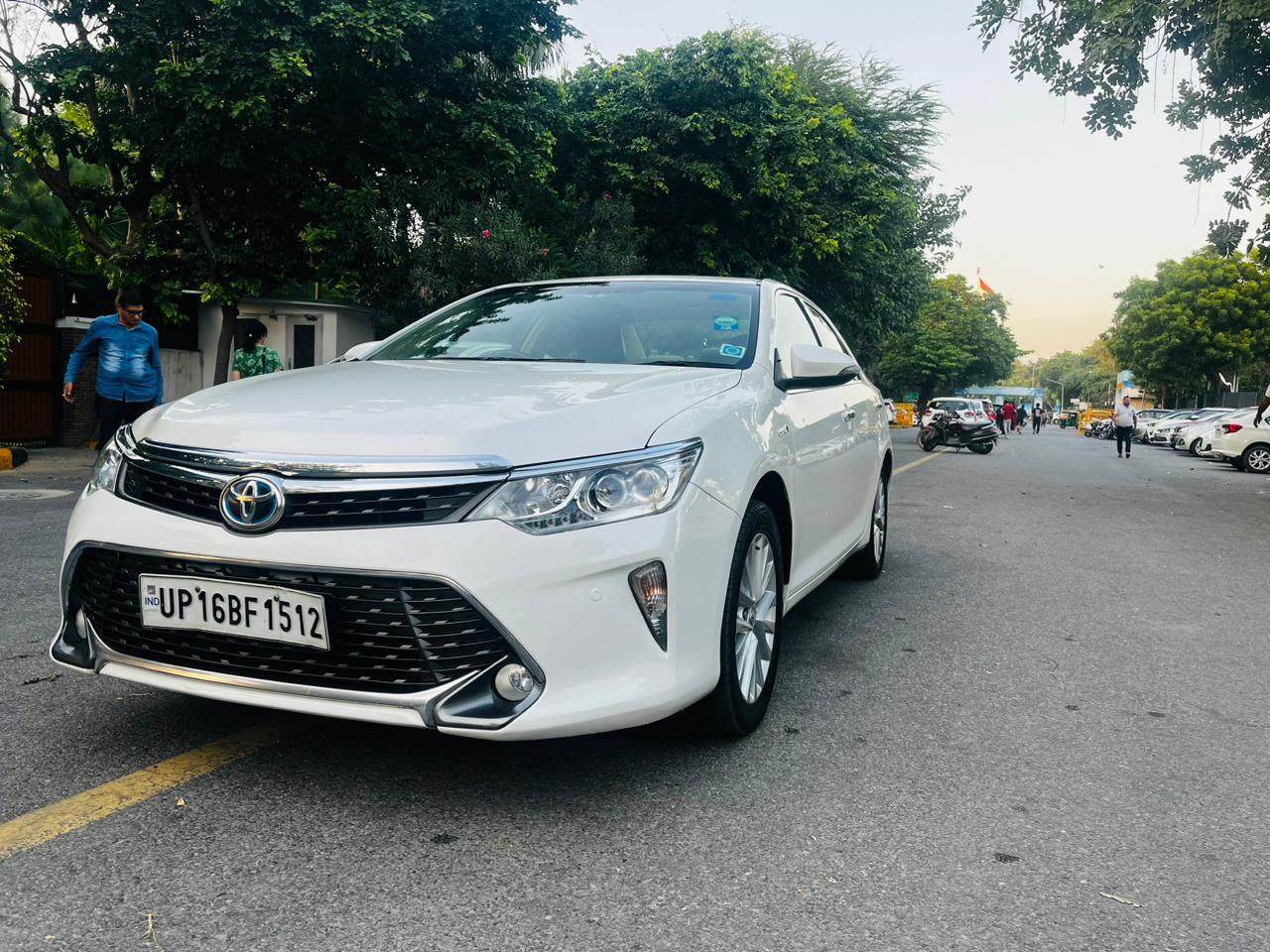 Carz Villa Bank Street, New Delhi
Explore More
Latest News

Related Articles
Freestyle Riders Captivate Mumbai With Electrifying Stunts At Red Bull FMX Jam
By Sameer Contractor
4 years ago
The city of Mumbai saw its iconic Gateway of India landmark turn into a playground for a day as the top motocross riders of the world were here to showcase their electrifying talent. Energy drink maker Red Bull hosted Mumbai's first-ever FMX Jan bringing six riders from across the world including Robbie Maddison, Tom Pages, and Alexey Kolesnikov along with Martin Koren, Radek Bilek and Julien Vanstippen to showcase their skills to an enthusiastic crowd. Red Bull brought the FMX Jam back to India after almost eight years, with the previous edition held in 2011 in Delhi.
Red Bull FMX Jam To Bring Freestyle Riders To Mumbai In February
By Sameer Contractor
4 years ago
Freestyle riders are a treat to watch pulling off some insane stunts on trial motorcycles, and Red bull is planning to put up just that next month in Mumbai. The energy drinks maker is organising the Red Bull FMX Jam on February 3, 2019, in Mumbai that will see a host of global freestyle riders perform in the financial capital. This for the second time that the FMX Jam comes to India. The last round was held in 2011 in Delhi to a crowd of 25,000 spectators. This year, the jam will be held at the monumental Gateway of India, which will certainly make for some spectacular sights.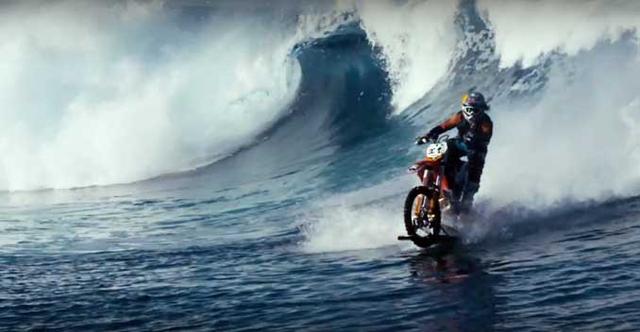 Stunt Man Takes to Surfing With a Dirt Bike
By NDTV Auto Team
8 years ago
Having no knowledge of how to surf is probably a setback for us Indians but you know that something's out of place when you see a bike riding the waves. You read that right, it's a bike; a dirt bike to be precise.