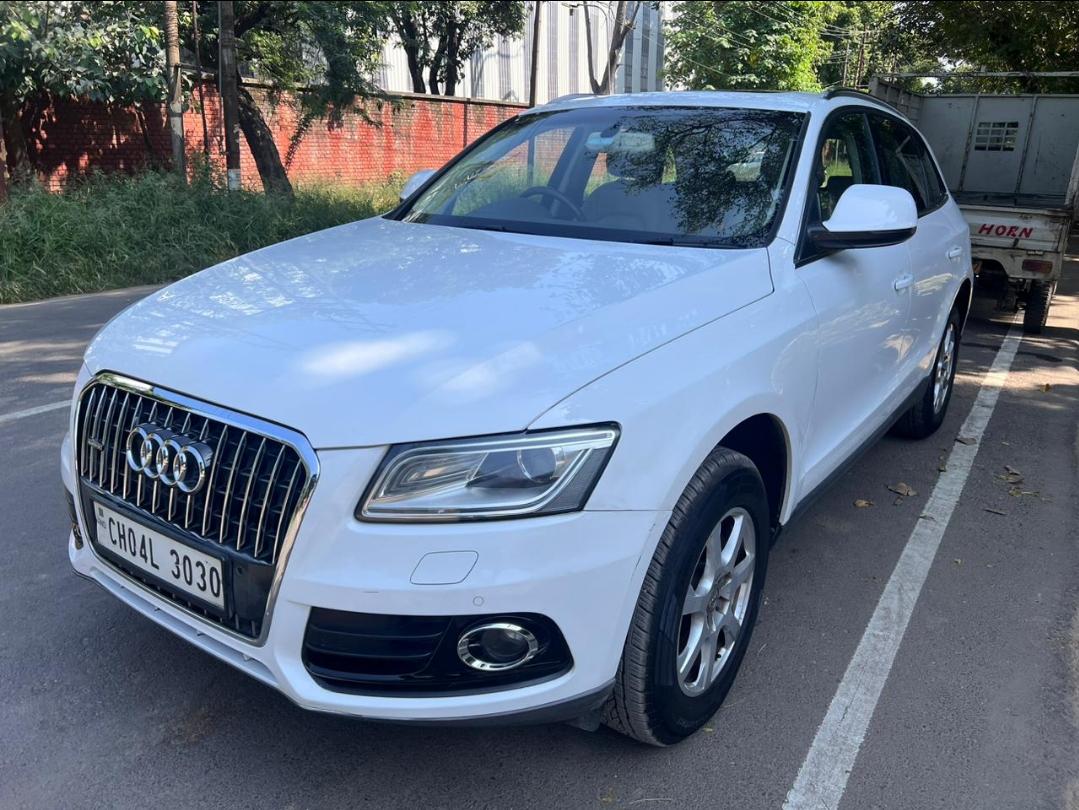 United Autowheelz-Chandigarh Ind Area Chandigarh, Chandigarh
United Autowheelz-Chandigarh Ind Area Chandigarh, Chandigarh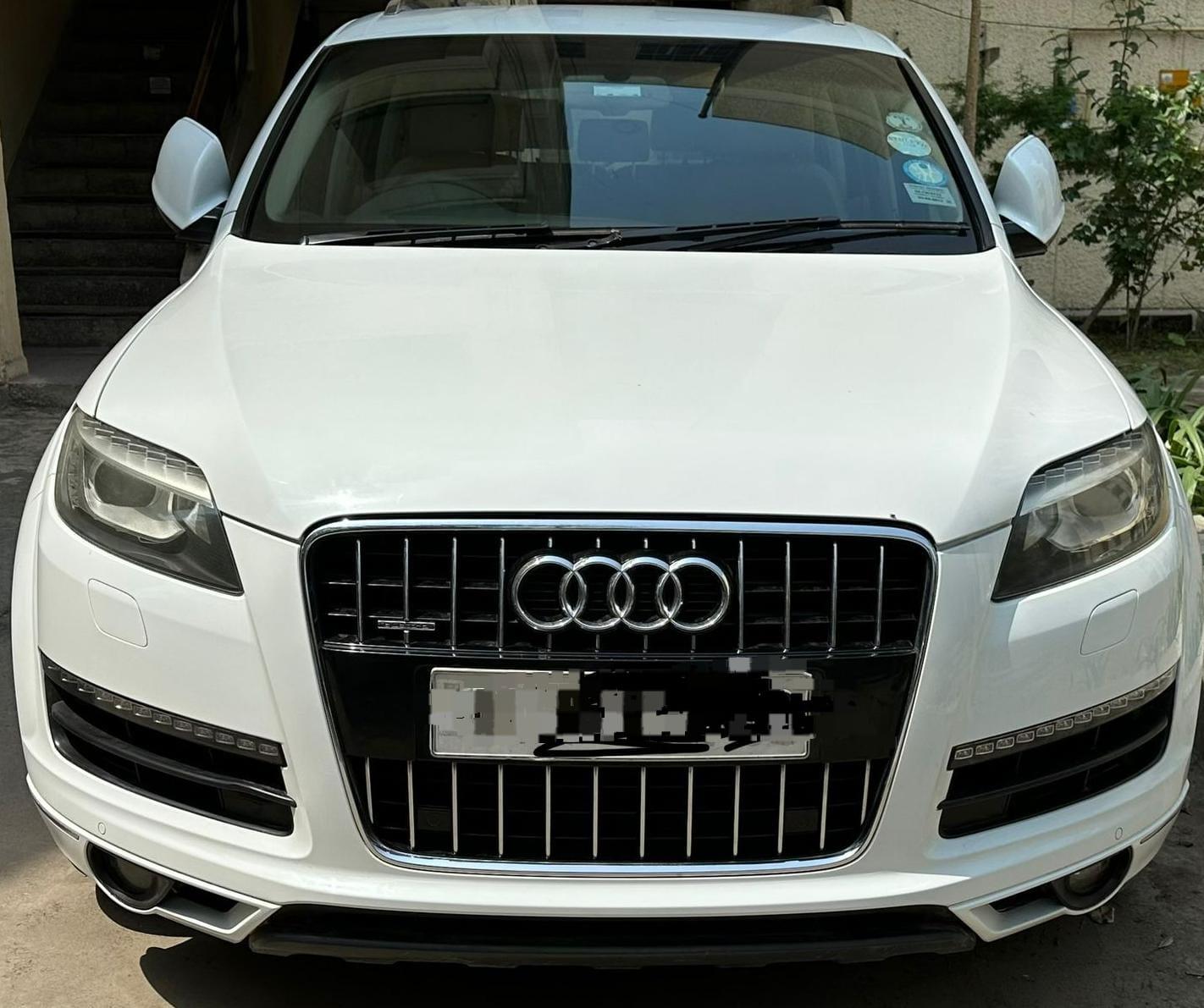 1,26,500 km
Diesel
Automatic
Shree Radha Krishna Motors Gurgaon
Shree Cars Jones Ganj Ajmer, Ajmer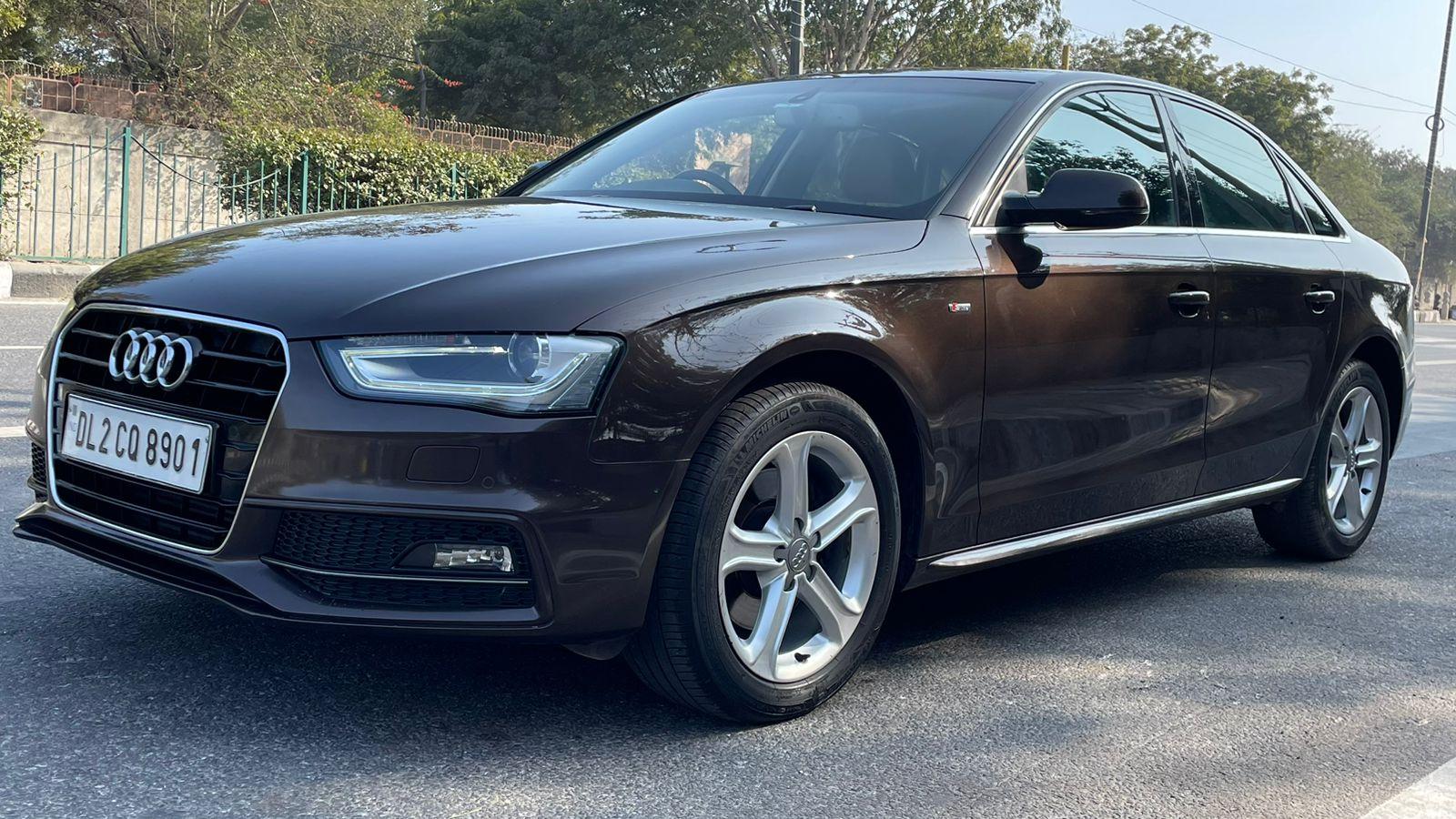 Carz Villa Bank Street, New Delhi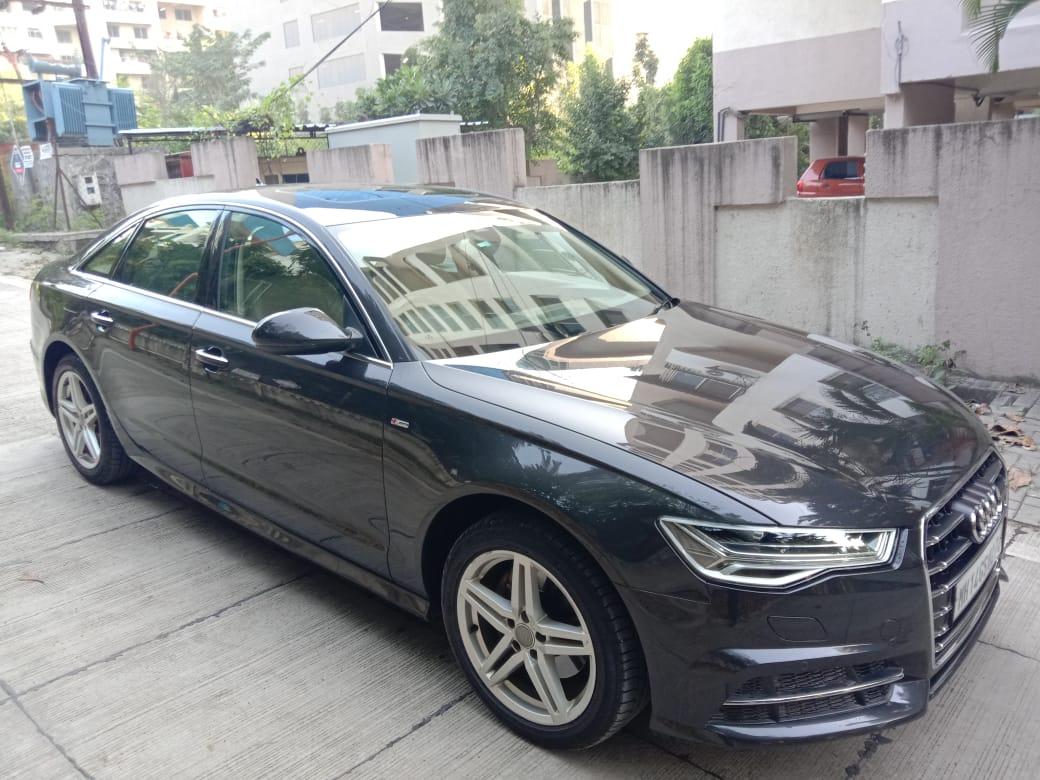 Car&Bike Superstore Pune Pashan, Pune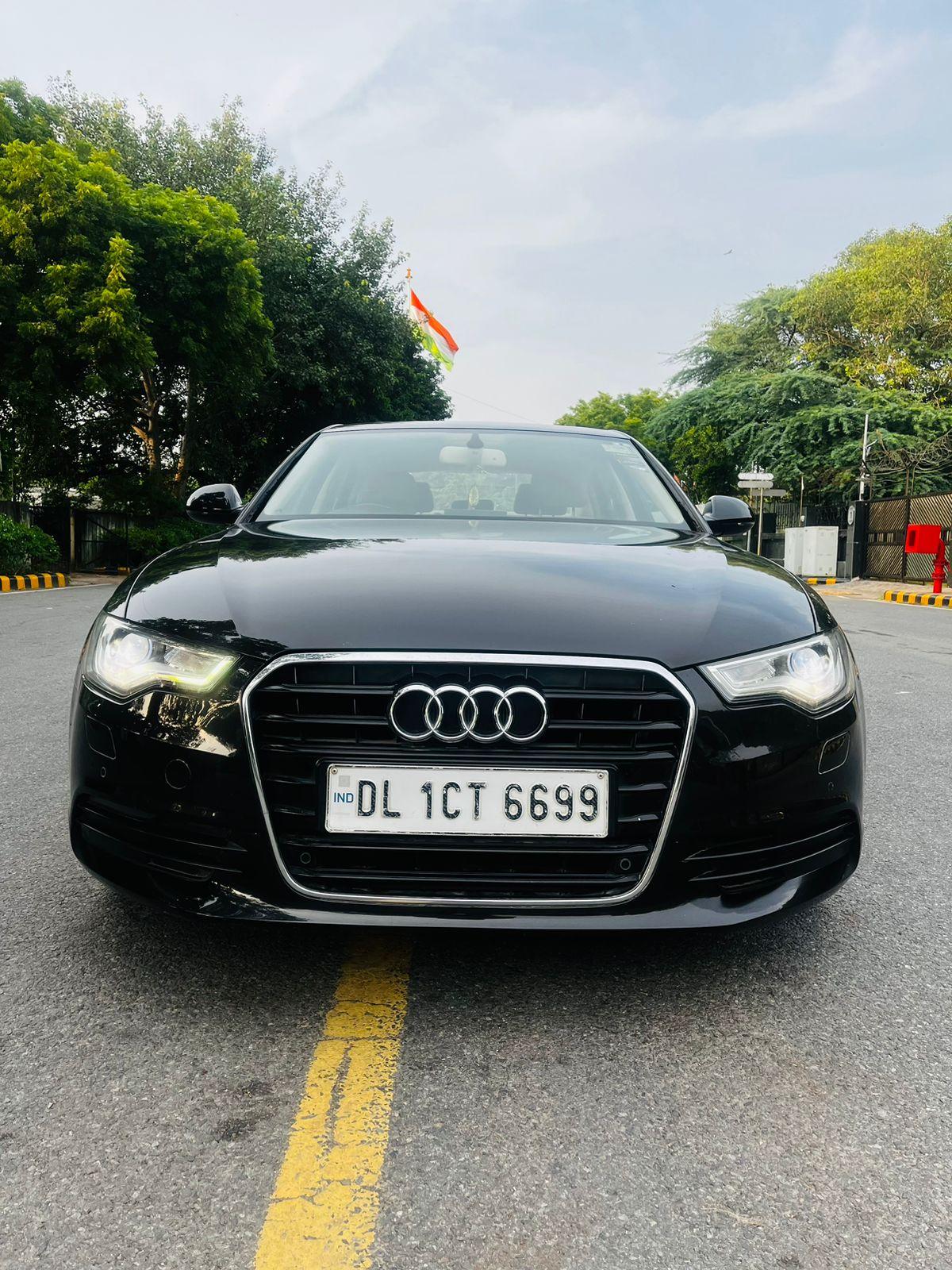 Carz Villa Bank Street, New Delhi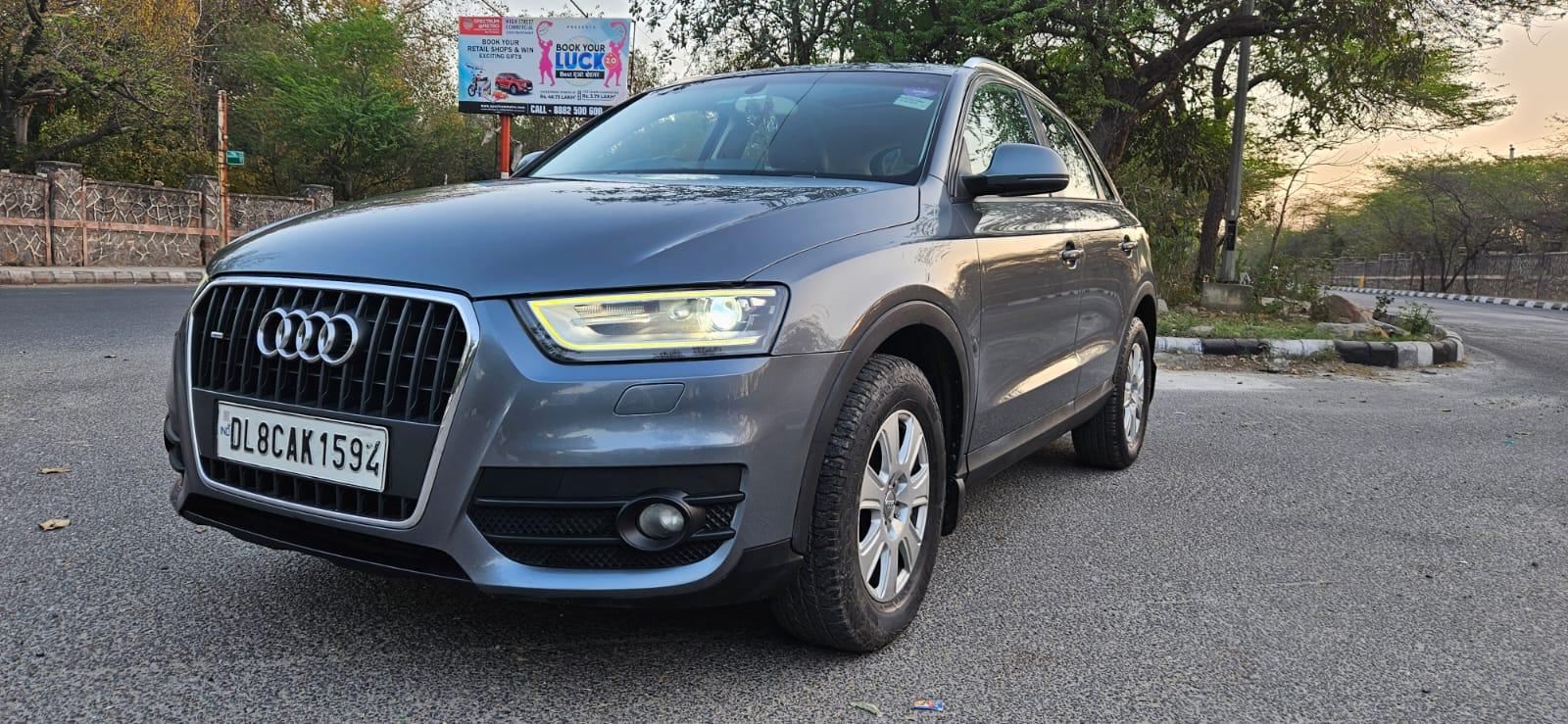 Carz Villa Bank Street, New Delhi
1,36,000 km
Diesel
Automatic
Bhansali Auto Galleria LLP Rahata, Ahmed Nagar
Audi Q2 Overview
| | |
| --- | --- |
| Fuel Type | Petrol |
| Transmission | Automatic |
| Mileage | 15 KM/L |
| Tank Capacity | 55.0 L |
| Seating | 5 Seater |
| Airbags | Yes |
Audi Q2 Prices
Audi Q2 Ex-Showroom price ranges from ₹ 34.99 to 48.89 Lakh. Audi offers Q2 in 6 variants. The top variant of Q2 is Technology and the base variant is Standard.
Variants
Last Recorded Price
1984 CC, Petrol, 15 KM/L, Automatic
1984 CC, Petrol, 15 KM/L, Automatic
1984 CC, Petrol, 15 KM/L, Automatic
1984 CC, Petrol, 15 KM/L, Automatic
1984 CC, Petrol, 15 KM/L, Automatic
1984 CC, Petrol, 15 KM/L, Automatic
Audi Q2 Specifications & Features
Explore an in-depth overview of the Audi Q2 specifications and features, offering comprehensive details on its engine choices, fuel efficiency, torque, power, transmission, dimensions, and trunk capacity. Additionally, gain insights into the car's advanced safety features and infotainment system.
About Audi Q2
Audi India launched the Audi Q2 SUV, with prices starting at Rs. 34.99 lakh (ex-showroom, India). The Q2 is Audi's newest SUV and will be positioned below the Audi Q3 in India. India gets the pre-facelift model of the Q2, whereas globally, the Audi Q2 facelift will be launched soon. Nonetheless, with the festive season around the corner and a burgeoning demand for SUVs, we believe the Audi Q2 has a good opportunity to cash in. It will be offered in five trim options which are - Standard, Premium, Premium Plus I, Premium Plus II and Technology. The top-spec Technology trim is priced at Rs. 48.89 lakh. Overall, the prices of the Q2 variants are pricey!
| | |
| --- | --- |
| Audi Q2 Variants | Prices (ex-showroom) |
| Standard | Rs. 34.99 lakh |
| Premium | Rs. 40.89 lakh |
| Premium Plus I | Rs. 44.64 lakh |
| Premium Plus II | Rs. 45.14 lakh |
| Technology | Rs. 48.89 lakh |
As an introductory offer, Audi India is also offering a 'Peace of Mind' scheme that includes a 5 year comprehensive service package with extended warranty and road-side assistance. This introductory offer aims to enhance the ease of ownership of the new Audi Q2. The Audi Q2 will be the fifth launch from the German company this year, after the Audi Q8, Audi A8L, Audi RS7 and the Audi RSQ8. After a slew of high performance car launches, Audi is finally coming up with a compact SUV, which could get some the manufacturer much needed volume in terms of sales.
The Audi Q2 comes to India as a completely built unit (CBU) and thanks to the government's provision of allowing auto manufacturers to import up to 2,500 units without the need of homologation. While it is part of Audi's 'Q' line-up, the Q2 is more of a crossover. It gets a 2.0-litre turbo charged petrol engine which we have seen on a number of cars from different companies within Volkswagen Group, including Audi, Skoda and Volkswagen itself. Audi claims a 0-100 kmph sprint time of 6.5 seconds, with a top speed of 228 kmph. The Q2 is built on the MQB platform which also underpins the Skoda Karoq and the Volkswagen T-Roc in India.
The engine makes 190 bhp and 320 Nm of torque. The engine is paired to a 7-speed dual-clutch automatic gearbox. In terms of features, the Audi Q2 gets a virtual cockpit, MMI interface, smartphone connectivity in the form of Apple CarPlay and Android Auto, wireless charger, a sunroof and a 180 watt 10-speaker audio system. But, the Audi Q2 misses out on basic features such as a touchscreen system, rear AC vents and electrical adjustment for the front seats. The Audi Q2 does not have a direct rival in India.
Download Audi Q2 Brochure
Official Brochure Available !
Audi Q2 is available in 8 different colors namely Ibis White, Floret Silver Metallic, Daytona Grey Pearl Effect, Arabian Blue Crystal, Mythos Black Metallic, Nano Grey, Quantum Gray & Tango Red Metallic.
Audi Q2 Ibis White
Available for all Variants.
Audi Q2 Floret Silver Metallic
Available for all Variants.
Audi Q2 Daytona Grey Pearl Effect
Available for all Variants.
Audi Q2 Arabian Blue Crystal
Available for all Variants.
Audi Q2 Mythos Black Metallic
Available for all Variants.
Audi Q2 Nano Grey
Available for all Variants.
Audi Q2 Quantum Gray
Available for all Variants.
Audi Q2 Tango Red Metallic
Available for all Variants.
Browse through a collection of 1 high-quality images showcasing both the exterior and interior of the Audi Q2
Quick Compare With Audi Q2 Competitors
| | | | | | |
| --- | --- | --- | --- | --- | --- |
| Audi Q2 | | | | | |
| Ex-Showroom Price | | | | | |
| ₹ 34.99 - 48.89 L | ₹ 35 - 37.9 L | ₹ 35.17 L | ₹ 33.43 - 51.44 L | ₹ 37.99 - 41.39 L | ₹ 30.4 - 37.9 L |
| C&B Expert Rating | | | | | |
| | | | | | |
| Engine | | | | | |
| 1984 cc | 2999 CC | 1984 CC | 2694 CC | 1984 CC | 2755 CC |
| Transmission | | | | | |
| Automatic | Automatic | Automatic | Manual | Automatic | Manual |
| Mileage | | | | | |
| 15 KM/L | 13 KM/L | 13.54 KM/L | 10.01 - 14.22 KM/L | 12.78 KM/L | 12.6 KM/L |
| Fuel Type | | | | | |
| Petrol | Diesel | Petrol | Petrol, Diesel | Petrol | Diesel |
| Seating Capacity | | | | | |
| 5 Seater | 7 Seater | 5 Seater | 7 Seater | 7 Seater | 5 Seater |
| Fuel Tank Capacity | | | | | |
| 55.0 L | 65.0 L | 60.0 L | 80.0 L | 58.0 L | 80.0 L |
| No of Variants | | | | | |
| 6 | 2 | 1 | 9 | 3 | 3 |
| Detailed Comparision | Q2 vs MU-X | Q2 vs Tiguan | Q2 vs Fortuner | Q2 vs Kodiaq | Q2 vs Hilux |
Audi Q2 Expert Review
Audi Q2
Audi is a German company that specializes in luxury vehicles and has been in operation since 1926. They have a long history of producing some of the most luxurious automobiles in the world, and the Audi Q2 is certainly not an exception to this rule. The Audi Q2 is a car that is both fashionable and efficient, and it provides excellent value for money. It comes equipped with a plethora of features, including as all-wheel drive and a turbocharged engine, which make it an absolute joy to use.
How is the Design?
Audi's Design Team, led by Marc Lichte, was responsible for developing the Audi Q2's exterior and interior. The group's objective was to design a vehicle that was forward-thinking and fashionable, as well as one that satisfies severe regulations concerning the environment. The exterior of the Q2 exudes an air of understated luxury while maintaining a streamlined and athletic appearance.The lines of the car's exterior are cut at acute angles, which contribute to its contemporary appearance. Large headlamps and an angular grille take up most of the space at the front end of the car, while the sides feature prominent shapes that promote air flow all around the vehicle. The steeply sloping roofline and the big windows both contribute to great visibility in the rear-view mirror and in all other directions.
This compact SUV has a fantastic design, including sharp edges on both the front and the rear sides of the vehicle. However, judging by its outward appearance, the back of the vehicle appears to be in much better condition than the front part of the vehicle. It also possesses some distinctive characteristics, such as skid plates and dual exhausts, whereas the front part of the vehicle only has V-shaped alloys and a minor facelift. There is no question that the interior as well as the exterior of the Audi Q2 have an appearance that is pretty luxurious. The exterior and the inside both feature a dark colour, and the combination of the two creates a very elegant aspect. In addition to a number of extraordinary features, such as the ability to customize the modes of the cockpit, the multimedia interface of Audi, which includes a navigation feature, the capability to connect with iOS and Android devices, a leather finishing on the steering wheel, sporty seats, a wireless charger, and a nice sound system with 180 watts, the vehicle also comes equipped with a nice sound system. The sunroof is the component that most people gravitate toward when they look at the different options.
How does it perform?
The engine in the Audi Q2 is designed to be frugal with gasoline and to develop torque from a relatively low point in the rpm range. As a result, the vehicle's performance on the road is exhilarating, and the driver will be able to enjoy it. The Audi Q2 is completely prepared to elevate the value of your time spent behind the wheel. In addition to these specifications, it has a 7-speed clutch (dual) gear, a 4-cylinder gasoline engine, and the ability to turbocharge the fuel. It also has a trait that is shared by a few other automobiles, such as Skoda and Volkswagen, and that is that it has a 2.0L turbo charged petrol engine. Because it is capable of reaching a top speed of 228 kmph, driving this SUV will unquestionably provide you with the very finest opportunity to enjoy your time behind the wheel. There is no room for questioning this assertion. It takes the Audi 6.5 seconds to go from 0 to 100 kilometers per hour. This particular SUV has a highly powerful engine that generates a maximum speed of 228 kilometers per hour. The engine has a power output of 190 horsepower and a torque output of 320 Nm.
1. What is the Torque Figure?
The torque of Audi Q2 is 320nm@1500–4180rpm.
2. What is the Power?
The max Power of Audi Q2 is 187.74bhp@4200-6000rpm.
3. What is the Top Speed?
Audi Q2 top speed is 228 Kmph.
How's the Mileage?
The ARAI has stated that the mileage for the Q2 is approximately 15.30 kmpl. The gasoline tank on the Q2 is a 55-liter capacity unit.
How's the Driving Experience?
The suspension's ability to glide over rough spots without making a sound is impressive. Although it soaks up a lot of water, it's a little stiff where the bumps meet the sharper edges. Body control is also excellent, despite some cornering roll. In fact, once you're inside, you might even mistake it for a sporty hatchback rather than an SUV. The Q2 rapidly recovers from the initial roll thanks to the long-travel suspension's tight reins. You can put the power down beautifully, and there's a lot of grip to take advantage of. However, greater effort causes the Q2 to understeer, and the steering might benefit from a little more input. Even so, the overall pleasure of driving it makes it an enjoyable vehicle whether you're going straight or through a sequence of well-designed curves. However, despite the Quattro emblem up front, this is not one of Audi's regular permanent all-wheel-drive setups. The Q2 is based on the VW Group's MQB platform, therefore it has a transverse engine, a front-biased configuration, and an on-demand AWD system based on a multi-plate clutch, rather than the longitudinally mounted engine and Torsen-based Quattro system used in its larger cars.
How's its Off-road Capability?
This mini Audi may not look like it can do much off-road, but it did not disappoint on the Audi Quattro Drives track as per reviews. The car's low power was noticeable on steep inclines. It's a crossover, not an SUV, despite its all-wheel drive. The Audi Q2's 2.0-litre TFSI petrol engine produces 187 horsepower and 320 Nm of torque. A seven-speed automatic transmission powers Quattro's four-wheel drive. In 6.5 seconds, this Audi SUV can reach 100 km/h. The Audi Q2 sports a three-spoke multi-functional flat-bottom steering control with paddle shifters and access to Audi's virtual cockpit. A 10-color ambient lighting system and finely moulded sport seats are available. Circular air conditioners with twist and rotating controls. The suspension cried for compassion as this automobile wobbled over the chicken holes. This small tank won't make you feel unsafe, but you won't feel like you can drive it everywhere. The ground clearance, approach, and departure angles are just acceptable, and it barely cleared most of the obstacles. This automobile can travel off-road, but it won't like it. We knew what to expect from the car's suspension articulation and tilt, and as we feathered the throttle, it completed the course without much trouble. Although Audi had blocked off one such hurdle for this SUV since they knew it might be too extreme for it. if you want a versatile automobile. If you need to go off-road, this baby Audi can take you and won't break the budget.
What's the Interior like?
Given its shadow on the ground, the Q2's packing is good despite its tiny size and interior capacity comparable to a mid-size family SUV. There's enough of room up front, both front seats are supportive and comfy, and finding the correct driving position is straightforward. The somewhat higher driving stance is ideal, though. Front visibility is great, and the dash doesn't appear overly intrusive. It's attractive inside too. Quality is almost as nice as an A4, and the dash includes rotary click-to-shut vents like the TT. The soft-top dash, chrome components, and flat-bottom steering wheel make this a cabin you want to touch and feel. The centre console's knurled metallic knobs and dials are particularly fun to use, and the LED inlay's snakeskin-like look is intriguing. It's comfortable in the back. There's good headroom, knee room, and legroom under the front seats. However, the seat base is short and the backrest is erect, so no extended rear-seat drives. It's also dark and dingy at the back.
Tech and Infotainment
Audi's Virtual Cockpit—a changeable, fully digital instrument panel—a wireless charging tray in the elbow box, and a large sunroof that isn't panoramic all included. However, the slot-like rear windscreen and large C pillars reduce rear visibility. Rear USB sockets are Type C, so you'll need adapters. DAB digital radio, Bluetooth, and a 7-inch touchscreen screen are standard in Audi Q2s. Technik variants lack satellite navigation but come standard with Apple CarPlay and Android Auto smartphone mirroring so you can use your phone's navigation apps on the car's display. The Technology Pack enhances the Audi Q2's fundamental system. The dashboard has an 8-inch monitor, while the steering wheel has a 12-inch Virtual Cockpit screen. Google Maps and digital dials can be displayed on the larger screen. It's bright enough to see in bright sunshine, and steering wheel buttons let you easily modify the display. Scrolling through the dashboard screen's menus is straightforward with the central console's control wheel. The scroll wheel's touchpad lets you draw postcode letters with your index finger. Adding a waypoint to the sat nav is easy.
The Audi Q2's standard radio is loud enough to enjoy your music, but you can add two more speakers and a subwoofer for more bass. If you're serious about sound, Audi has a 705W Bang & Olufsen system with 14 speakers.
Safety Equipment
In terms of security, the Audi Q2 Technology 40 TFSI quattro is equipped with the following features: 6 Airbags (Driver, Front Passenger, 2 Curtain, Driver Side, Front Passenger Side), Seat Belt Warning, Child Lock, Anchor Points for Child Seat, Overspeed Warning, Speed Sensing Door Lock, Anti-Theft Engine Immobilizer, Middle Rear Three-Point Seatbelt, Flashing Emergency Brake Light, and Central Locking.
Which variant to buy?
The Audi Q2 is available in 6 different versions.
| | | | |
| --- | --- | --- | --- |
| Version Name | Ex-Showroom Price | Fuel Type | Transmission |
| Standard 40 TFSI quattro | Rs 35.00 Lakh | Petrol | Automatic (DCT) |
| Standard 40 TFSI quattro | Rs 36.50 Lakh | Petrol | Automatic (DCT)(With Sunroof) |
| Premium 40 TFSI quattro | Rs 40.90 Lakh | Petrol | Automatic (DCT) |
| Premium Plus I 40 TFSI quattro | Rs 44.65 Lakh | Petrol | Automatic (DCT) |
| Premium Plus II 40 TFSI quattro | Rs 45.15 Lakh | Petrol | Automatic (DCT) |
| Technology 40 TFSI quattro | Rs 48.90 Lakh | Petrol | Automatic (DCT) |
Most consumers choose one of three tiers: Premium, Premium Plus I, or Premium Plus II.
Which Cars Compete in this Segment?
The top competitors for the Audi Q2 include the BMW X1, Skoda Kodiaq, Toyota Fortuner, Ford Endeavour, and the Mercedes Benz GLA.
Verdict (Value for Money?)
The Audi Q2 SUV was introduced in India at a starting price of Rs. 34.99 lakh (ex-showroom, India). Audi's newest SUV, the Q2, will sit underneath the Q3. While the updated Audi Q2 will soon be released elsewhere, the current generation vehicle is sold in India Technology trim, the highest one available, costs Rs. 48.89 lakh. The Q2 options are somewhat costly overall.The Audi Q2 is a more affordable luxury vehicle that competes favorably in terms of both its amenities and its performance with more expensive variants. It has been hailed for its value for money, with critics claiming that it offers more than enough features and performance for the amount that it costs. The Q2 has been praised for its excellent fuel efficiency, its comfy seats, and its responsive handling by a number of reviewers. They compliment the car's design, praising its modern appearance as well as its overall feel. Reviewers, on the whole, appear to be pretty pleased with the Audi Q2, since they have awarded it high ratings for being good value for the money.
The Audi Q2 Technology is the trim to have if money is no object, but the Premium I and II trims are the way to go if you'd rather customize the look or the features. It's true that the higher trim levels come with more bells and whistles, but they also come at a larger price. If you're looking at the Q2 as an entry point to the Audi line-up, the Premium variant provides enough extras to make you feel comfortable without breaking the bank. Overall, Audi has succeeded in making the Q2 an enticing proposition for buyers in this segment.
Upcoming Audi Cars
Find expected price range and launch dates of all upcoming Audi cars in India.
Search Audi Dealers & Showrooms