The Auto Expo 2018 may not have had too many two-wheeler companies participating, particularly the premium brands, but this edition of the Auto Expo was clearly about electric motors as the future of two-wheelers. There have been several electric two-wheelers which created quite a stir and generated a lot of audience interest at the Expo. From India's first electric superbike, the Emflux One, to the radically sporty TVS Creon electric scooter concept, the Auto Expo 2018 was a lot about the electric mobility space, and underscores the importance of electric power as a significant growth area in future. Here's a look at the best electric two-wheelers from the Auto Expo 2018.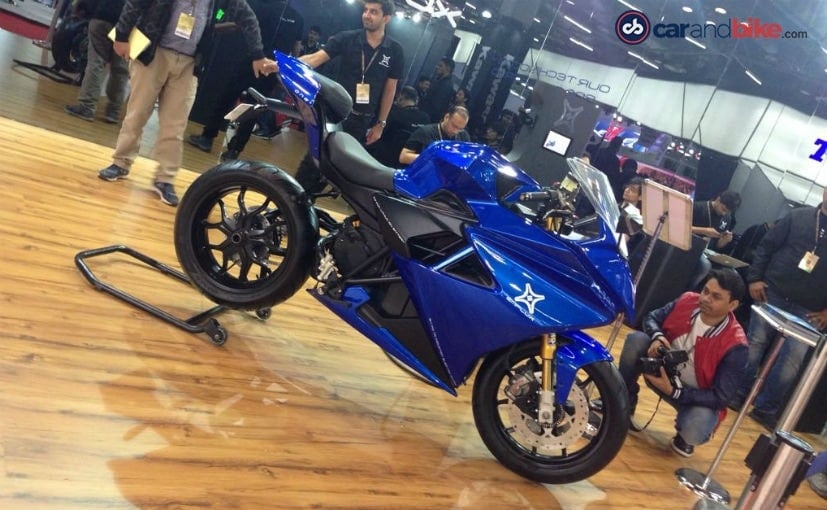 1. Emflux One
Bengaluru-based tech start-up Emflux Motors unveiled what is being touted as India's first electric superbike. The Emflux One, which was showcased at the Auto Expo, is still a prototype, but is almost 70 per cent production ready, according to Emflux co-founder Varun Mittal. The bike has a top speed of 200 kmph, and acceleration of 0-100 kmph in just 3 seconds. The Emflux One is powered by Samsung Lithium Ion batteries with a 60 kW motor. Only 199 bikes have been earmarked for the Indian market and the bike will be available on sale from April 2019 at a price of around ₹ 6 lakh. The top-spec version of the Emflux One comes with Ohlins suspension, Brembo brakes and a single-sided swingarm. Optional carbon fibre bodywork is also available.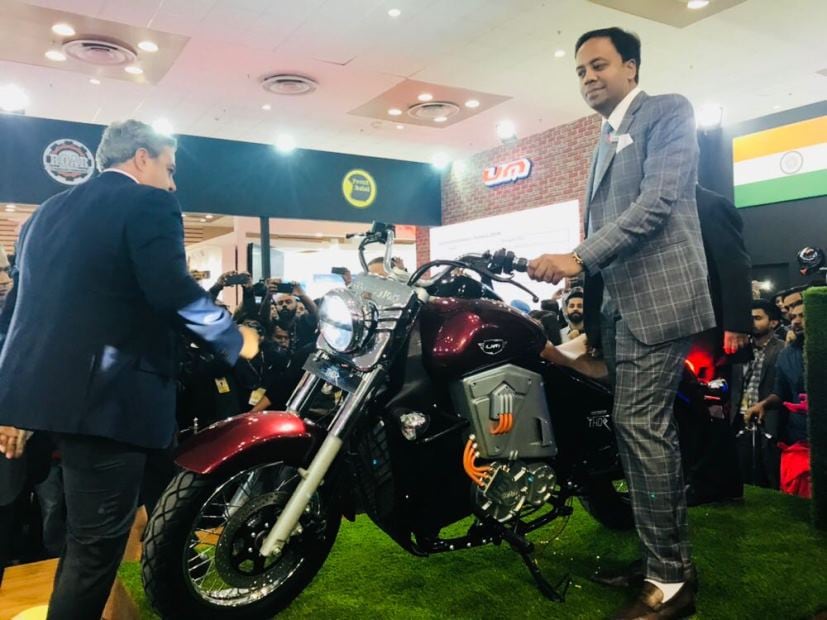 2. UM Renegade Thor
American motorcycle brand UM also unveiled an electric cruiser, called the UM Renegade Thor. The Thor will be available on sale only in 2020, with prices starting at ₹ 4.9 lakh (ex-showroom Delhi). The Thor will be available with three different power options - a low range 7.5 kWh unit that offers a range of up to 80 km, a mid-range 15 kWh battery that offers range of up to 149 km and a top-spec 27 kWh battery with a range of 270 km. Top speed of the Renegade Thor is rated at 185 kmph.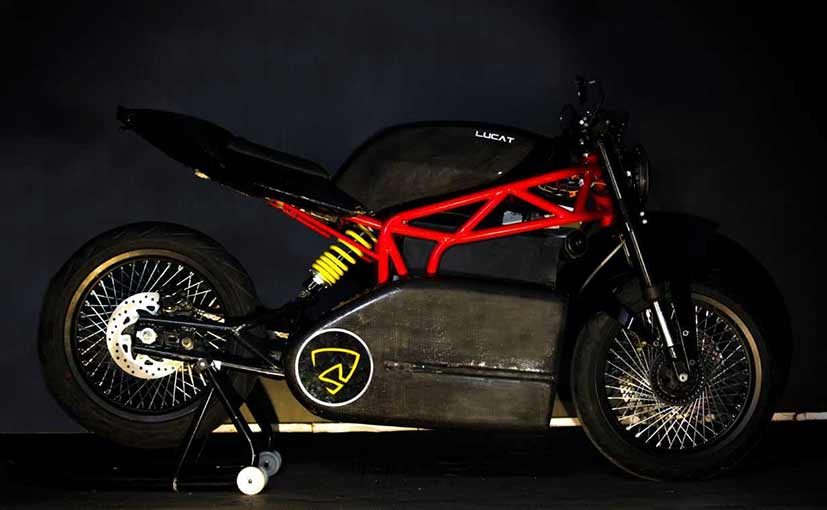 3. Menza Lucat
Menza Motors, an Ahmedabad-based tech start-up, launched its first electric motorcycle, called the Menza Lucat, at the Auto Expo 2018. With prices starting at ₹ 2.8 lakh, the Menza Lucat offers a fully customisable motorcycle, and owners can change specifications like body-type, seat height and footpeg position according to individual choice. The Lucat is also available in optional carbon fibre bodywork. The Lucat is powered by a 18 kW motor which gives the bike a top speed of 120 kmph. There is no transmission and power is fed directly to the rear wheel. The Menza Lucat gets LED lights, and a large tablet-type, touchscreen instrument panel. The Lucat is already available for pre-orders on Paytm Mall for an amount of ₹ 10,000. The Lucat's 72V lithium ion battery is said to give a range of 100 km in city riding, with up to 150 km range in highway use.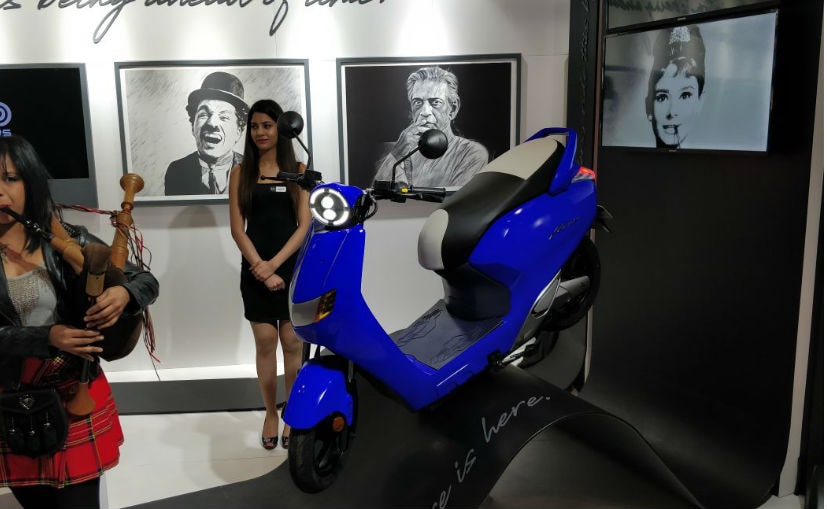 4. Twenty Two Flow
Another Indian electric two-wheeler manufacturer which made its debut at the Auto Expo 2018 is Twenty Two Motors. The company launched its first electric two-wheeler, actually an electric scooter, called the Flow at ₹ 74,740 (ex-showroom). The Flow uses a DC motor that is powered by a lithium ion battery which can be charged in five hours. The battery is said to offer 80 km range on a single charge when the scooter is ridden at a speed of 60 kmph. The Flow gets a full-digital console and also boasts of artificial intelligence, through which the user can track the vehicle remotely. There's plenty of underseat storage as well, with enough space to store two helmets. Other features include reverse mode, cruise control, drag mode that lets the ride use the bike at crawling speeds in case of a puncture, and a SOS function as well. The Flow electric scooter is expected to be available on sale by mid-2018.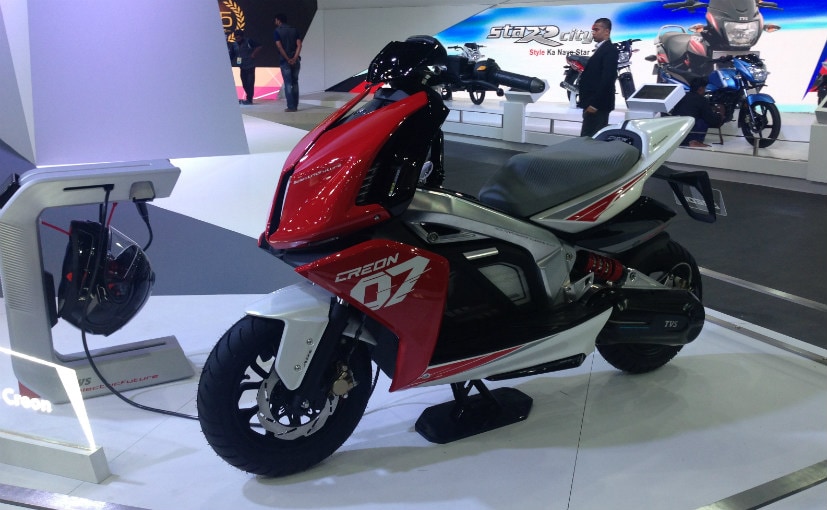 5. TVS Creon
0 Comments
TVS Motor Company unveiled a futuristic looking electric scooter concept called the Creon. TVS says the Creon features a next generation electric motor with acceleration from 0-60 kmph in under 5.1 seconds and with a range of 80 km. The Creon features sharp and edgy styling, with futuristic alloy wheels, and is powered by three lithium-ion batteries capable of delivering 12 kW of instantaneous power. It's still a concept though, and there's no word on when TVS will actually launch a production version. Our guess is, within the next two years or so.
(This story has not been edited by NDTV staff and is auto-generated from a syndicated feed.)
For the latest auto news and reviews, follow carandbike on Twitter, Facebook, and subscribe to our YouTube channel.