Hero Hunk Overview
| | |
| --- | --- |
| Engine Capacity | 149.2 CC |
| Mileage | 53 KM/L |
| Fuel Tank Capacity | 12.4 L |
| Gears | 5 Speed |
Hero Hunk Prices
Hero Hunk price starting from 69,725. Hero offers Hunk in 2 variants.
Variants
Last Recorded Price
Hunk Self Start Disc Brake Alloy Wheel
Petrol, 53 KM/L, 149.2 CC
Hunk Self Start Double Disc Brake Alloy Wheel
Petrol, 53 KM/L, 149.2 CC
Hero Hunk Specifications & Features
Explore an in-depth overview of the Hero Hunk specifications and features, offering comprehensive details on its engine, fuel efficiency, mileage, brakes, max power, and tyre. Additionally, gain insights into the bike's advanced safety features.
| | |
| --- | --- |
| Engine CC | 149.2 CC |
| Fuel | Petrol |
| Mileage | 53 KM/L |
| Brakes | Disc/Drum |
| Max Torque | 13.50 Nm |
| Max Power | 15.60 bhp |
| Tyre | 80/100 x 18 - 47 P, Tubeless / 100/90 x 18 - 56 P, Tubeless |
Hero Hunk is available in 6 different colors namely Bold Brown, Blazing Red, Panther Black, Ebony Grey, Matte Black & Force Silver.
Hero Hunk Bold Brown
Available for all Variants.
Hero Hunk Blazing Red
Available for all Variants.
Hero Hunk Panther Black
Available for all Variants.
Hero Hunk Ebony Grey
Available for all Variants.
Hero Hunk Matte Black
Available for all Variants.
Hero Hunk Force Silver
Available for all Variants.
Browse through a collection of 8 high-quality images showcasing Hero Hunk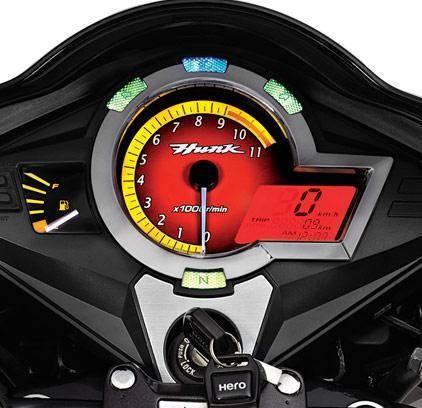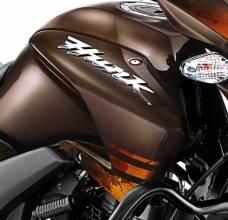 Quick Compare With Hero Hunk Competitors
| | | | | | |
| --- | --- | --- | --- | --- | --- |
| Hero Hunk | | | | | |
| Ex-Showroom Price | | | | | |
| ₹ 69,725 - 72,825 | ₹ 77,378 - 82,878 | ₹ 1.06 - 1.1 L | ₹ 73,400 | ₹ 52,915 - 63,578 | ₹ 1.31 - 1.48 L |
| C&B Expert Rating | | | | | |
| N/A | | | | | |
| Engine CC | | | | | |
| 149.2 CC | 124.7 CC | 162.7 CC | 109.5 CC | 102.0 CC | 199.5 CC |
| Gears | | | | | |
| 5 Gears | 4 Gears | 5 Gears | 4 Gears | 4 Gears | 6 Gears |
| Mileage | | | | | |
| 53 KM/L | 65.00 Km/L | 62.00 Km/L | 74.00 Km/L | 96.90 Km/L | 35.00 Km/L |
| Max Torque | | | | | |
| 13.50 bhp | 11.00 Nm | 14.00 Nm | 9.30 Nm | 8.30 Nm | 18.30 Nm |
| Max Power | | | | | |
| 15.60 Nm | 10.50 bhp | 12.70 bhp | 9.00 bhp | 7.70 bhp | 23.17 bhp |
| Brakes | | | | | |
| Disc/Drum | Drum (Front) / Drum (Rear) | Disc (Front) / Drum (Rear) | Drum (Front) / Drum (Rear) | Drum (Front) / Drum (Rear) | Petal Disc with floating caliper (Front) / Petal Disc with floating caliper (Rear) |
| Fuel Tank Capacity | | | | | |
| 12.4 L | 10.5 L | 13.0 L | 8.0 L | 11.0 L | 12.0 L |
| Colour Count | | | | | |
| 6 | 7 | 3 | 4 | 4 | 2 |
| Detailed Comparision | Hunk vs CB Shine | Hunk vs CB Unicorn 160 | Hunk vs CD 110 Dream | Hunk vs Platina 100 | Hunk vs Pulsar 200 NS |
About Hero Hunk
The Hunk was first launched under the Hero Honda banner in 2007 and in 2011, post Hero split with Honda in 2010, it received a minor update. The bike is all about muscular looks and even the name suggests what the target audience will be. Features on the Hunk include an altered visor, a digital meter console, body-coloured mirrors and LED tail-lamp. It is powered by a 149.2cc, single-cylinder engine which is good for 15.6bhp of power and 13.5Nm of torque.
Hero Hunk Expert Review
Hero Hunk
One of the most well-known and widely used motorcycles in India is known as the Hero Hunk. The fact that it is a versatile bike that can be used for commuting as well as for extended rides contributes to its high level of appeal to a large number of potential buyers. The motorcycle has a robust engine and is outfitted with a wide variety of amenities, both of which combine to make it an appealing option for a wide variety of riders.
In 2007, Hero Honda became the first company to sell the Hunk, and after the two companies severed ties in 2010, Hero released a slightly revised version of the motorcycle in 2011. The bike is designed to have a macho appearance, and even the name gives some indication of who the product is intended for. A modified visor, a digital meter console, body-colored mirrors, and an LED tail lamp are some of the features that come standard on the Hunk. It is propelled by a single-cylinder engine with a displacement of 149.2cc, which is capable of producing 15.6 horsepower and 13.5 Newton-meters of torque.
How is the design?
The Hero Hunk is one of the most attractive bikes in its class thanks to its aesthetically pleasing fuel tank design, which features sharp extensions, its Merritt alloy wheels, its digital-analog dashboard, and its all-black color scheme. The strong stance is further enhanced by the large back tyre, which gives the vehicle an aggressive appearance. The Hero Hunk has an intimidating presence on the road thanks to the combination of all of these design aspects working together. All of its gauges, including the speedometer, tachometer, and fuel gauge, are of the analogue variety. In the front there is a telescopic type suspension, and in the back there is an adjustable gas reservoir type suspension.
The motorcycle has been updated with a variety of new features in addition to its new color schemes. These new features include a modified visor, a digital console, a new design for the side panels, body-colored mirrors, tubeless tyres, LED tail lamps, an exhaust cover, and darker-colored grab rails. On either side edge of the fuel tank, The Hunk is adorned with its very own one-of-a-kind racing bull symbol. The bull emblem has been successful in conveying the image that this is a macho bike, which reinforces the notion of manliness that is typically connected with rough-and-tumble motorcycling. The bull is depicted on the shrouds of the vehicle. There are two different starts available: a kick start and a self-start. The brand new model for 2011 comes with the option of either a rear disc brake or a rear drum brake.
How is the performance?
The Hero Hunk has a rather solid level of performance overall. It is not only capable of quickly reaching high speeds but also gives a ride that is very comfortable. On the other hand, it does not have the most powerful engine in its category, nor does it have the highest fuel economy among vehicles in its category.
The Hunk is equipped with the same 149.2 cc engine that is found in the Honda Unicorn and the Hero Honda CBZ X-treme. This engine has Advanced Tumble-Flow induction Technology (ATFT), which the manufacturer claims will lower both pollution and fuel consumption. The new and improved Hunk has been outfitted with a dashboard that displays information in a semi-digital format, a ridged exhaust cover, tubeless tires, front and rear disc brakes, and a curved visor. In spite of recent modifications to the bike's appearance, the air-cooled single-cylinder engine that powers it remains unchanged. At 9500 revolutions per minute, the Hero Honda Hunk is anticipated to reach 118 kilometers per hour.
What is the Torque Figures?
The engine generates a peak torque of 12.80 Nm @ 6500 rpm.
What is the max Power?
The max power of the Hunk is 10.6 KW (14.4 Ps) @8500 rpm.
What is the Top Speed?
Hero Hunk has a top speed of 107 Kmph.
How does the motorbike ride?
As soon as you hop on the Hero Hunk for the first time, you'll immediately be able to feel how effortlessly it rides. Even over rough terrain, the ride is smooth thanks to the robust but not overly stiff suspension, which also helps to absorb shocks. You are able to lean into the curves very far without the impression that the bike is going to topple over, and the brakes are responsive without being unduly sensitive. In general, the ride is really enjoyable and gives the impression of being extremely safe and secure.
Hero wanted to provide you a dynamic riding posture while also making this bike as comfortable as possible, the company decided to install the foot pegs in the back of the bike rather than the front. You won't have any trouble reaching its handle bar, which is positioned a little bit lower than average and provides a comfortable grip on this bicycle. Additionally, the plastic used for the buttons on this handle bar is of a reasonable grade, and the seat, which features ample padding, provides a comfortable sitting experience that is suitable for extended travel.
How comfortable the motorbike is?
The Hero Hunk is a bike that offers an exceptional level of riding comfort. It has an excellent suspension system that smooths out any and all irregularities that may be encountered on the road. In addition, the seat is very comfortable, and the handlebars have been positioned in such a way that there is no need for you to strain either your back or your arms while you are riding the bicycle. In general, the Hero Hunk is an excellent bike that should be considered by everybody who is looking for a ride that is relaxed.
The Hunk's stepped seat and rear-set foot pegs provide the rider with a dynamic stance without compromising the comfort of the rider in any way. The vibrations may be managed quite effectively. In addition to this, the bike has gas-charged adjustable rear shock absorbers and a rear tire with a tuff-up tube that has a 100/90-18" dimension.
How's the tech?
The Hero Hunk is a bike that has been around for some time, and the technology that it utilizes is of high quality. It is equipped with a fuel-injected engine that has a capacity of 250cc and is cooled by liquid. The chain is used as the primary drive mechanism, and the gearbox has a total of six speeds. The Hero Hunk is equipped with anti-lock brakes (ABS), and it can reach speeds of up to 85 miles per hour in its top speed setting. Additionally, riding it on the street is permitted in the vast majority of states.
How's the mileage of the motorbike?
The Hero Hunk has an estimated mileage of roughly sixty kilometers per liter. According to the manufacturer, the motorcycle has an estimated fuel economy of 57 kilometers per liter (kmpl) when measured under typical laboratory circumstances. However, the mileage that you get could be very different depending on the terrain that you ride on and how you use the bike.
The Hero Hunk is propelled by a single-cylinder, 150cc engine that is capable of producing 14.4 horsepower and 12.8 Newton-meters of torque. This motor is accompanied by a gearbox that features five different speeds. The motorcycle has a curb weight of 143 kilograms and a petrol tank that can contain a maximum of 12.4 liters of fuel. According to the manufacturer, the bike has a mileage rating of 52 kilometers per liter of fuel consumed.
Is the motorbike good value for Money?
Many riders who are looking for a motorcycle that is offered at a reasonable price point select the Hero Hunk as their preferred option. It is a dependable bike that can be purchased at a reasonable price, making it an excellent option for riding on the weekends or during the week. It offers a good amount of power and is easy to ride, both of which are important for navigating the city streets. Riders who are looking for a motorcycle that is economical and dependable and gets good value for their money should seriously consider purchasing a Hero Hunk.
The Hero Hunk is undeniably a fantastic choice for a bike in the middle of the price spectrum, as it provides an outstanding combination of acceleration, mileage, and riding comfort for extended journeys. It exudes an air of masculinity, thanks to the alluring insignia that is shown on its gas tank. You'll feel as though you've bought a bike that will last a lifetime thanks to its impressive performance.
How is the after sales service?
It is safe to say that the Hero Hunk is one of the most well-known motorcycles in India, and its introduction to the marketplace was met with great success. On the other hand, a few of buyers have voiced concerns over the after-sales care provided by the bike. There have been reports of dealers being unable to provide proper assistance and service to their consumers. Additionally, there have been allegations of extremely lengthy wait times for service and repairs.
In order to assist customers with inquiries on these matters, Hero MotoCorp has established a specialized call center. Customers who wish to file a complaint or obtain information regarding the location of the service center that is most convenient to them can do so by dialing the toll-free number 1800 266 0018, which is the number that is assigned to the call center. The company also stated that owners of Hero Hunks will have access to a roadside assistance program that is available 24 hours a day, seven days a week. In the event of a mechanical failure or an accident, clients can contact the program by dialing the toll-free number 1800 103 0303, which is provided as part of the program. After that, a group of highly-trained executives will offer the client assistance in having the motorcycle towed to the location of the closest service center.
Which Motorbikes Compete in this Segment?
During this portion of Hero Hunk, several different types of motorcycles compete against one another. The Honda CBR 250R, the KTM RC390, the Suzuki Gixxer SF250, the Yamaha FZ25, and the TVS Apache RTR 200 4V are just a few examples of the well-known and well-respected motorcycles that compete in this competition. These bicycles each have their own unique selling proposition (USP) and set of characteristics that help them stand out from the competition. On the other hand, the Honda CBR 250R was victorious in this category of the Hero Hunk competition. This brand-new Hunk, which boasts of these added characteristics, competes in the 150cc sector against the market leader, the Bajaj Pulsar 150, as well as recent entrants.
Verdict (Is it Value for Money?)
The Hero Hunk has an excellent price-to-quality ratio and is highly recommended. The bike is of high-quality construction, and in addition to being easy to ride, it has a plethora of additional accessories. The main drawback is that it's not available in all marketplaces at this time. The Viewers' Choice Award for the NDTV Profit Car India & Bike India Awards was presented to The Hunk for their accomplishments in the bike category.
The Hero Hunk is an excellent option to go with in the 150cc class if you are searching for a model that is kind to your wallet. It has a high-quality build and comes standard with components like anti-lock braking system (ABS) and a rear disc brake, both of which are often reserved for more expensive bikes. In addition, because to its upright riding position and cushy seat, it offers a pleasant riding experience for its occupants. The main drawback is that it's not available in all marketplaces at this time.
The actual mileage that you will get out of your Hunk is 11.88 kilometers per liter. The ARAI has determined that the average for Hunk is 53 kilometers per liter. It has a mileage performance that is superior to that of 32% of other bikes. This motorcycle has a petrol tank that can hold up to 12 liters of fuel, which allows it to travel up to 636 kilometers when it is completely full. Therefore, if you are seeking for a reasonably priced bike with a displacement of 200 cc, you should put the Hero Hunk at the top of your list of potential purchases.
Search Hero Dealers & Showrooms