Future Safety Norms In India Explained
Here are some of the norms that will ensure the next generation of cars are a lot safer than what we get in India today.
By Cyrus Dhabhar
1 mins read
Published on September 20, 2016
Highlights
Crash testing will soon become compulsory for Indian cars
Airbags will be made compulsory in new cars launched after 1 Oct., 2018
Government now allows limited use of radar frequencies too
The recent rounds of Global NCAP tests have done more to make people aware about how unsafe most passenger cars in India are than almost any other road safety awareness campaign. The Indian customer is now smarter and as records show, more and more people, especially in the larger metros are opting for safer variants of their cars. India still has a long way to go when it comes to safety - for both passenger vehicles and pedestrians too. But now we have more clarity on some much needed safety norms that India is set to adopt soon. Here are some of the norms that will ensure the next generation of cars are a lot safer than what we get in India today - making the driving environment safer for you and your family.
Bharat NCAP: Crash Tests Norms for Indian Cars: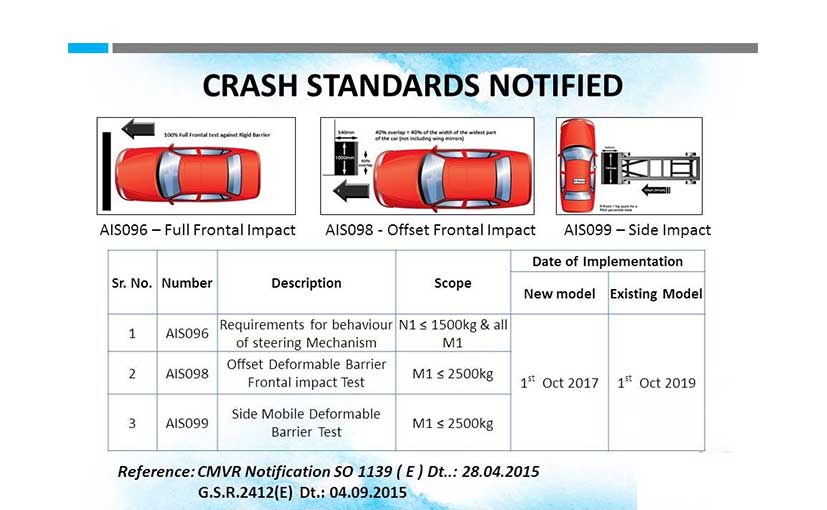 Crash testing will soon become compulsory for Indian cars. According to the Central Motor Vehicle Regulations (CMVR) that are set out by the Automotive Research Association of India (ARAI), crash tests will come into regulation from October 1, 2017 for all new car models. This means that any car launched post October 1, 2017 will have to be certified in crash tests and will have to meet a set standard.
Existing car models will not be spared either and by October 1, 2019, every single car sold in India will have to undergo a crash test certification - meaning some existing models will likely need updating. This will improve the quality of cars greatly in India and will also see some models perish in their current avatars as they may not be able to add on safety features worthy of meeting crash test norms. Every new car will need to clear three tests at a speed of 56Km/h (lower than the 80Km/h European standards, or even the 64Km/h Global NCAP protocol). The first test will be a full-frontal impact test against a rigid barrier. The second front impact test will be at a 40 percent offset (with driver's side bias) and will also be with a rigid barrier. This type of crash is usually very common in high traffic conditions or with approaching traffic conditions - and is indeed the kind of crash tests we have seen from Global NCAP using made-in-India cars so far.
The final test will be a side impact test for deformity and will be done with a moving barrier that will crash into the car at the set velocity. The side impact tests will ensure manufacturers use crossbeams in door structures to ensure a safer cabin structure. The side impact will also bring in the need for curtain airbags to be made part of standard equipment making cars (especially small hatchbacks) much safer. Currently, very few cars like the Ford Figo/Aspire and the Hyundai i20 Elite offer side or curtain airbags as a part of optional equipment.
The full frontal crash tests will be applicable for all passenger cars and all commercial vehicles with less than a 1500kg gross weight. The side and offset front test will be applicable to all passenger cars that weigh less that 2500kg gross weight and not for small commercial vehicles.
The crash tests will also inevitably influence the formation of an organisation called the Bharat NCAP that will give out official crash ratings to all cars sold in India. Although the crash test timeline is confirmed, the Bharat NCAP formation is still under consideration. A task force that was formed in the recent past is said to have approached the Ministry of Road Transport and Highways with its proposal and a decision on the same is pending.
Compulsory ABS in Indian Cars: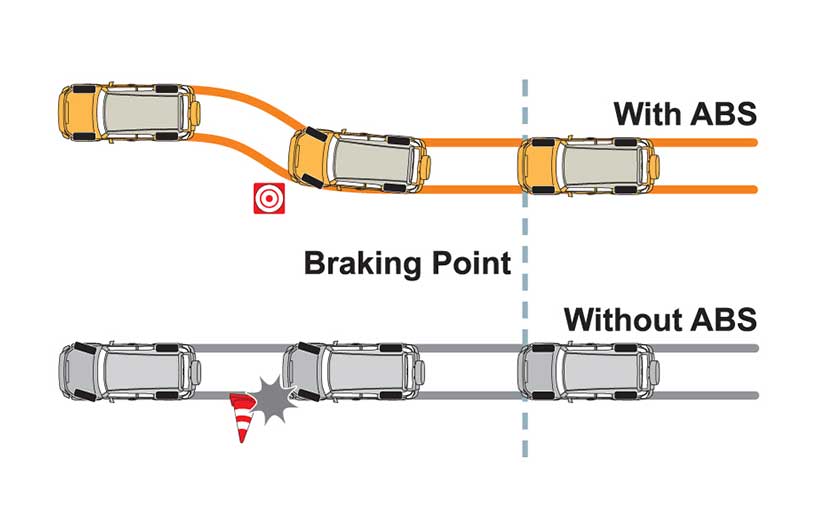 Anti Lock Brakes or ABS is a feature that should have been standard in all cars in India long ago. Sadly, the callous nature of the Indian motorist makes sure that cheaper entry-level hatchbacks still do not receive this life-saving bit of technology. Just like airbags, some manufacturers have started offering ABS as standard kit on all their models while some offer it as an optional pack on select variants and models. Although there is no stipulation from ARAI yet about ABS becoming a CMVR necessity, we believe October 1, 2018 for new cars and October 1, 2020 will apply for ABS technology too.
Manufacturers like Bosch have been heavily lobbying for tech like ABS and ESP to be made compulsory in India just like it is in most western countries. ABS will soon be made compulsory for all two wheelers sold in India very soon and this could instigate a public movement to do the same for 4-wheelers as well.
Compulsory Airbags in Indian Cars: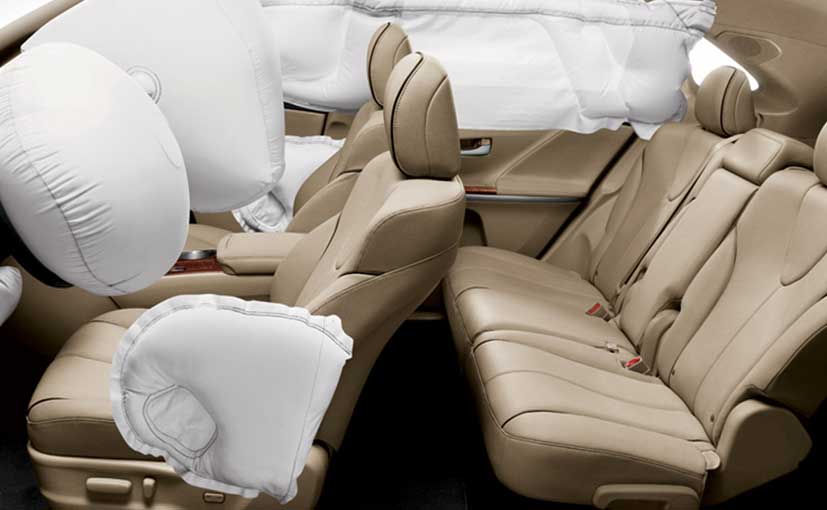 Common sense dictates that a car with airbags is considerably safer than one without airbags. For example, the Honda Mobilio which was crash tested by Global NCAP recently without airbags scored a 0 star rating without airbags and a 3 star rating with airbags. The Volkswagen Polo also scored a 0 star rating without airbags and a 4 star rating with airbags. This resulted in VW making airbags standard across variants. With the increasing safety trend soon catching up, manufacturers have quickly started to respond with optional airbags on most variants of their cars. A few manufacturers also give driver and passenger airbags as a part of standard kit in every single variant while a few other manufacturers offer buyers an optional safety pack on any variant.
Although there has been no official ARAI notification to manufacturers about the installation of compulsory front airbags i.e. driver's and passenger's airbags, according to a few OEMs that we spoke to, October 1, 2018 seems to be the tentative date set by authorities. All new cars launched post this date will have to be installed with airbags as standard equipment. To give time for manufacturers to adapt to the rules, every car launched earlier than the above date will have to be equipped with airbags before October 1, 2020.
Pedestrian Safety: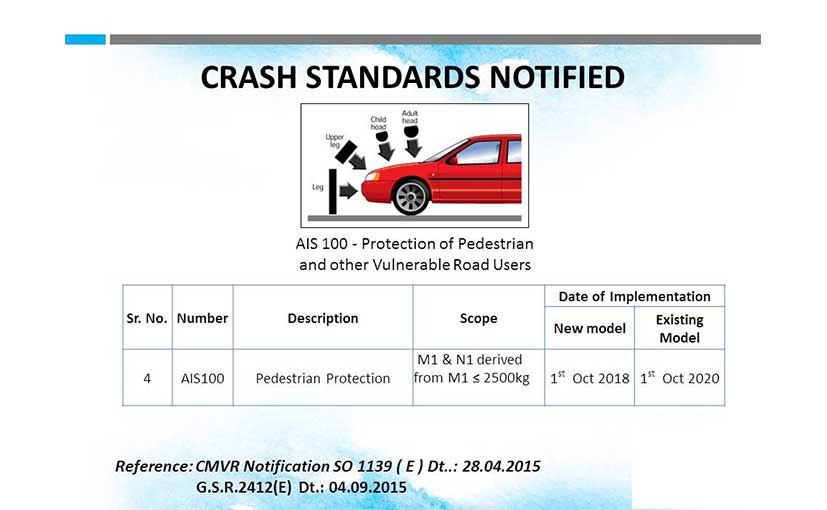 An aspect of road safety that is usually ignored is pedestrian safety. With manufacturers like Volvo already offering car bonnets that pop upwards if a pedestrian incident is detected to widespread change in the way cars are made in general, pedestrian safety has always been passively discussed. The new CMVR norms, which have been formed by ARAI and already passed into law, have strict guidelines for passenger and commercial vehicles that weigh less that 2500kg (gross weight). These norms indicate where impact in case of a pedestrian accident must be directed to so as to negate the risk of pedestrians being swept under a car. These new rules will be applicable from October 1, 2018 for all new cars launched after that date and October 1, 2020 for all cars launched that. This increase in pedestrian safety will also eventually bring in radar guided 'CitySafe' systems that will automatically apply the brakes on the car if it detects an object in the path of the car below a certain speed.
Radar Guided Driver Aids: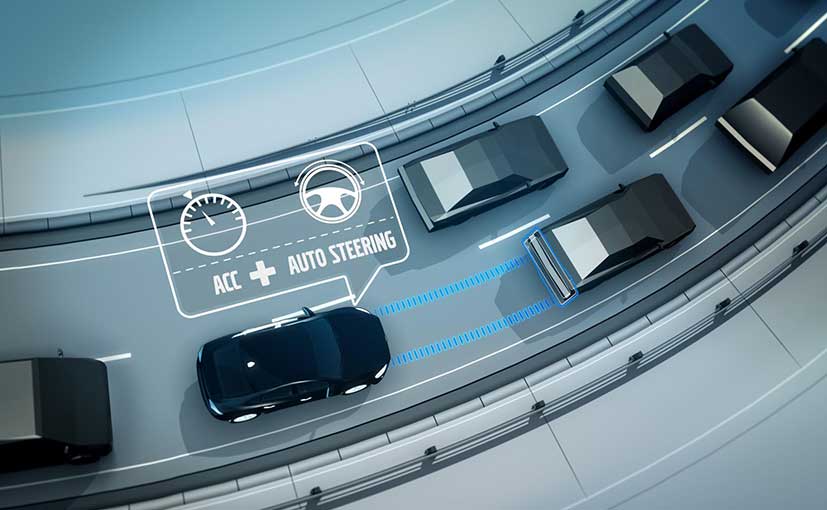 Adaptive Cruise Control
Until very recently, any safety or assist system in automobiles that features radar based technology was barred from use as the Indian government would not let car makers use any radar frequencies. After considerable lobbying from makers like Volvo, the Government has allowed very limited use under certain conditions. Every single car that has been equipped with any sort of radar-based tech has to be individually registered with the Indian government with a 6-month validity. Volvo now has this tech on the XC90, has taken it upon itself to do the process themselves instead of the customers being inconvenienced. That said, radar based technology does offer a lot of advantages to automotive users like adaptive cruise control, lane change assist with blind spot assist, automated parking and of course, emergency braking and collision aversion.
As the norms get relaxed even further, there will be even more radar based tech that gets added to the luxury car segment which will make them a lot safer than they are today. The radar based systems will also eventually help set up a framework for autonomous vehicles. Currently, autonomous vehicles use a mix of camera and radar technology. Cars in the near future will use more radar-based tech and rely less on the camera technology as radar can bypass weather and distance based hurdles that cameras are plagued by. Radar systems can also help create automotive clusters where cars will be able to talk to each other in order to create a safer driving environment.
Where crash tests, ABS, airbags and other passive safety norms are something that we will see in the near future for certain, radar based safety systems and other smart electronics which make our cars easier to drive (or autonomous) are more of a long term plan. Of course, both our road networks and driving sense need to improve before we can rely on these state-of-the-art electronics.
Last Updated on September 20, 2016
---
Stay updated with automotive news and reviews right at your fingertips through carandbike.com's
WhatsApp Channel.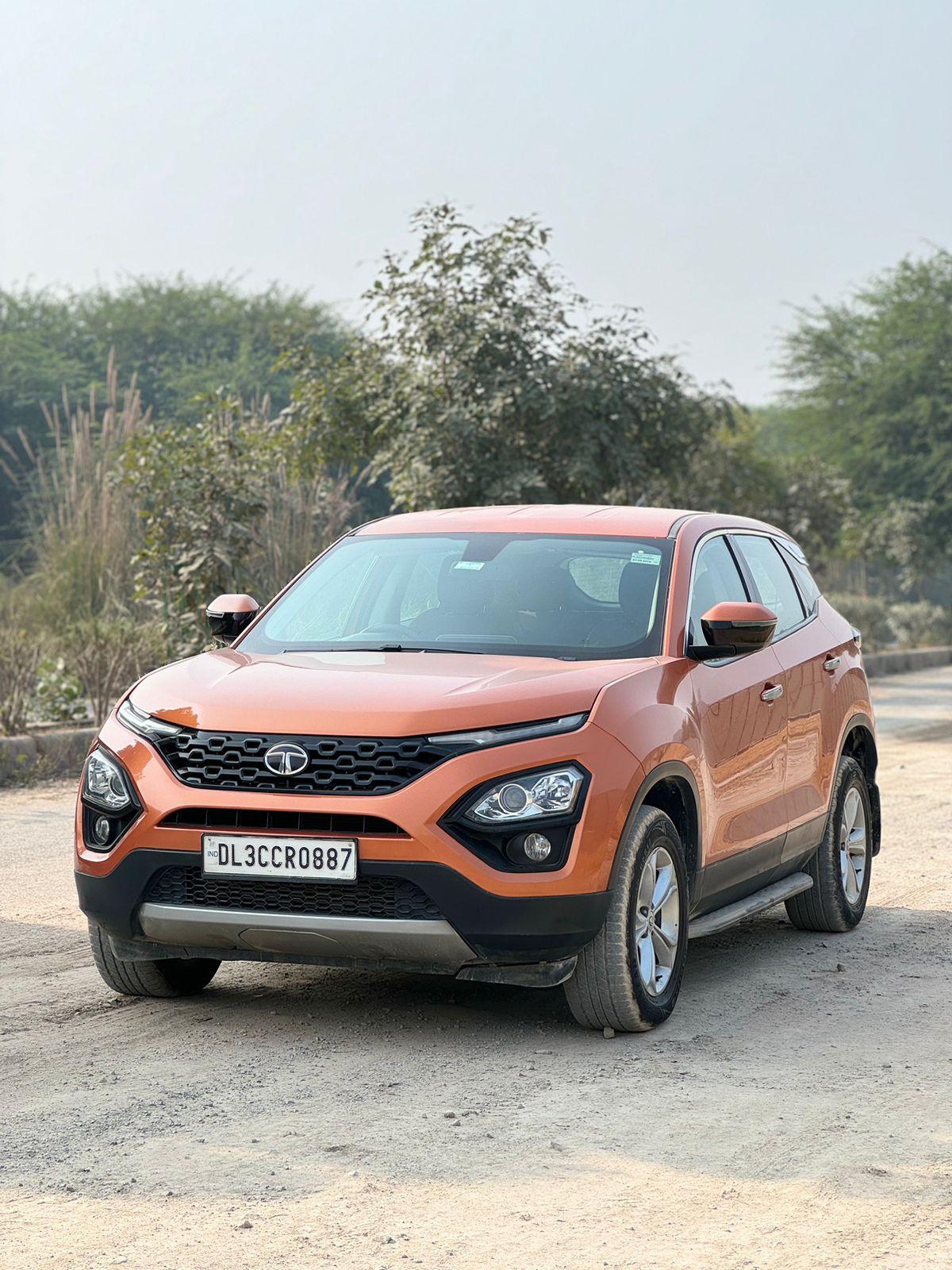 ₹ 11.75 L
₹ 24,848/month 
Car Choice Exclusif Amberhai, New Delhi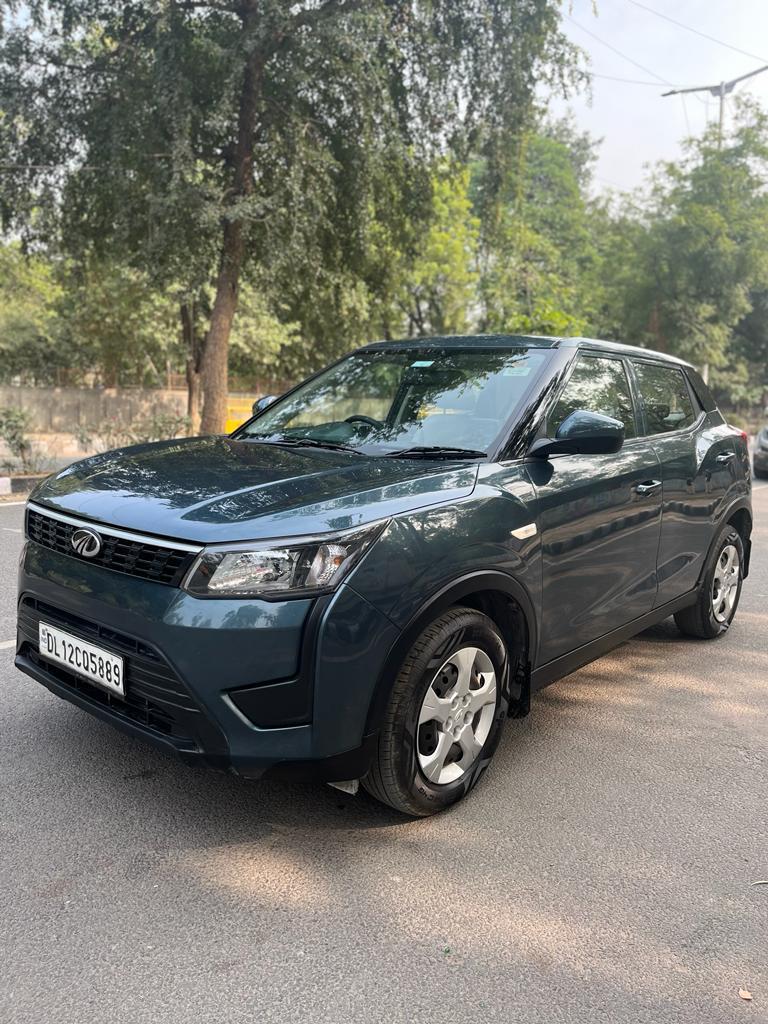 ₹ 7.25 L
₹ 15,329/month 
Car Choice Exclusif Amberhai, New Delhi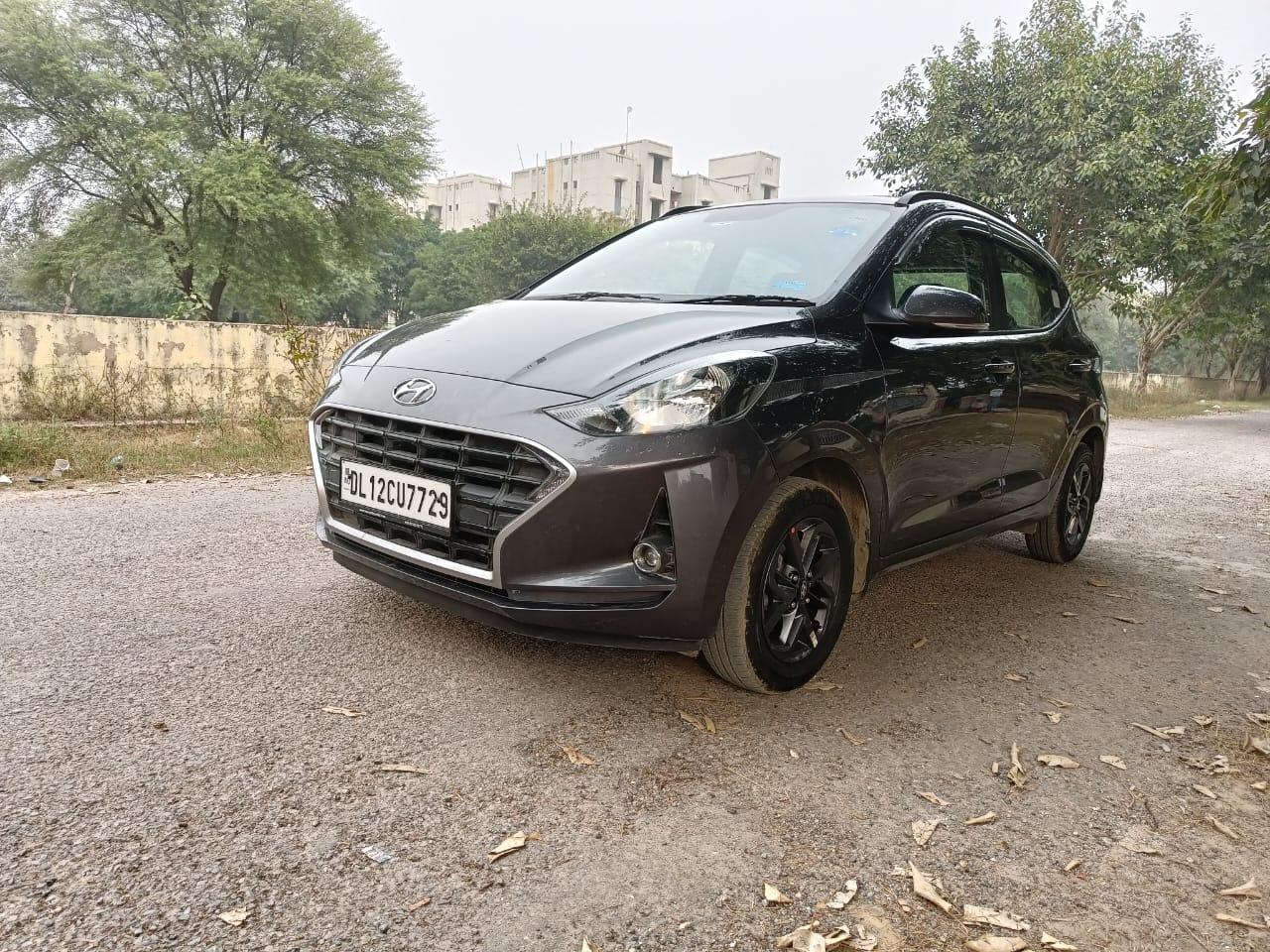 2022 Hyundai Grand i10 Nios
₹ 7.85 L
₹ 17,581/month 
Car Choice Exclusif Amberhai, New Delhi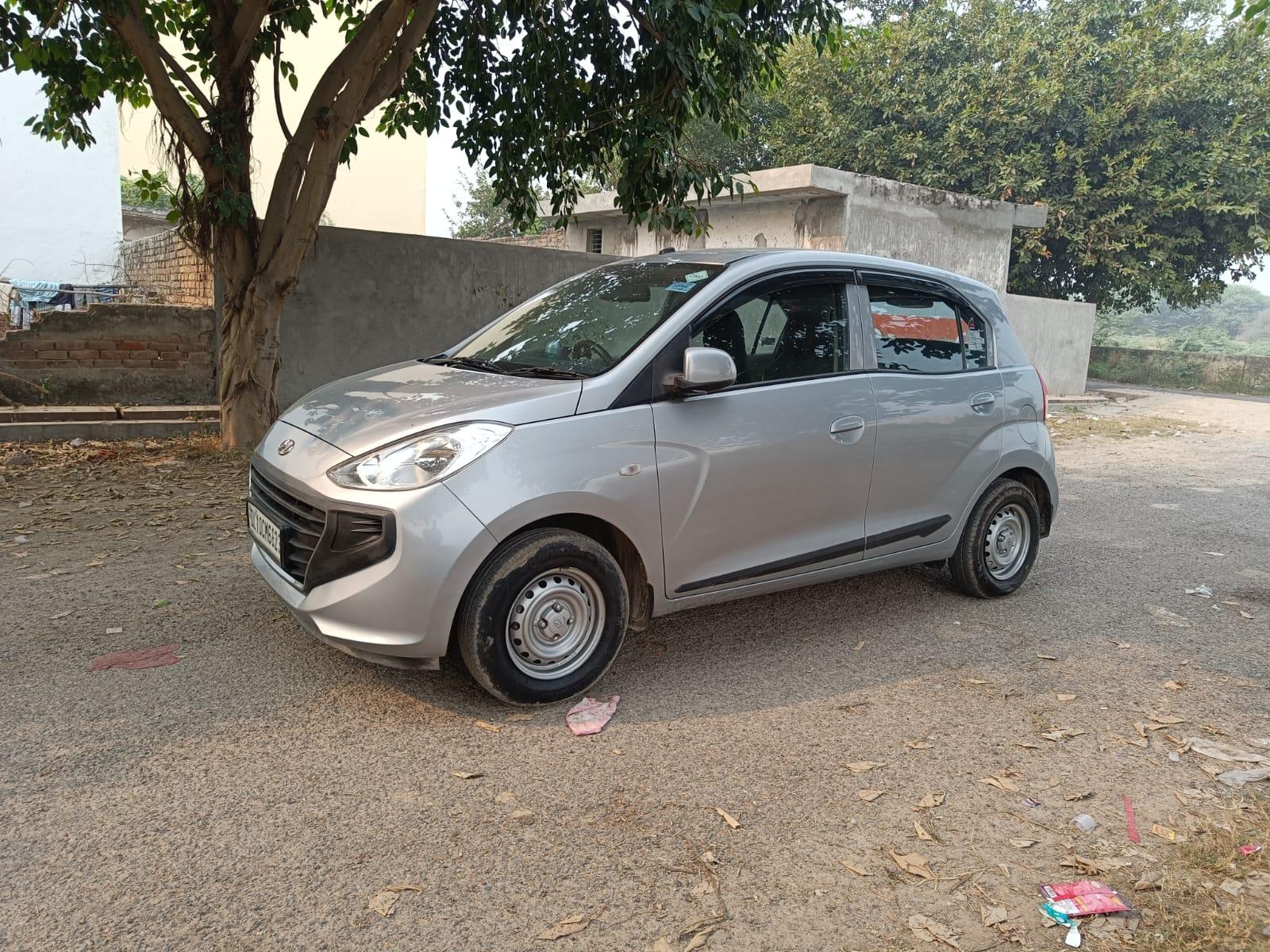 42,000 km
Petrol+CNG
Manual
₹ 5.00 L
₹ 11,198/month 
Car Choice Exclusif Amberhai, New Delhi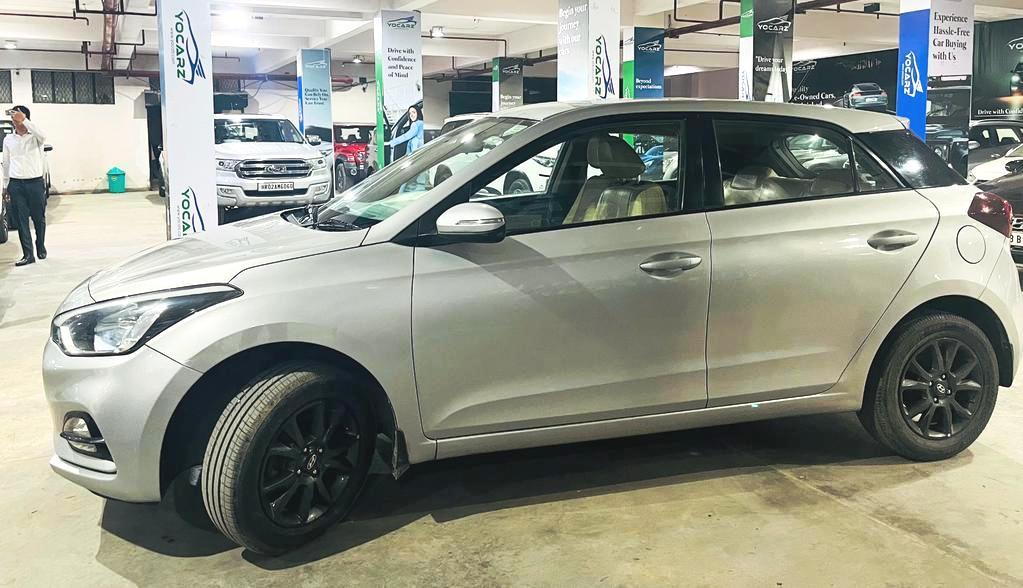 ₹ 6.00 L
₹ 13,438/month 
Car Choice Exclusif Amberhai, New Delhi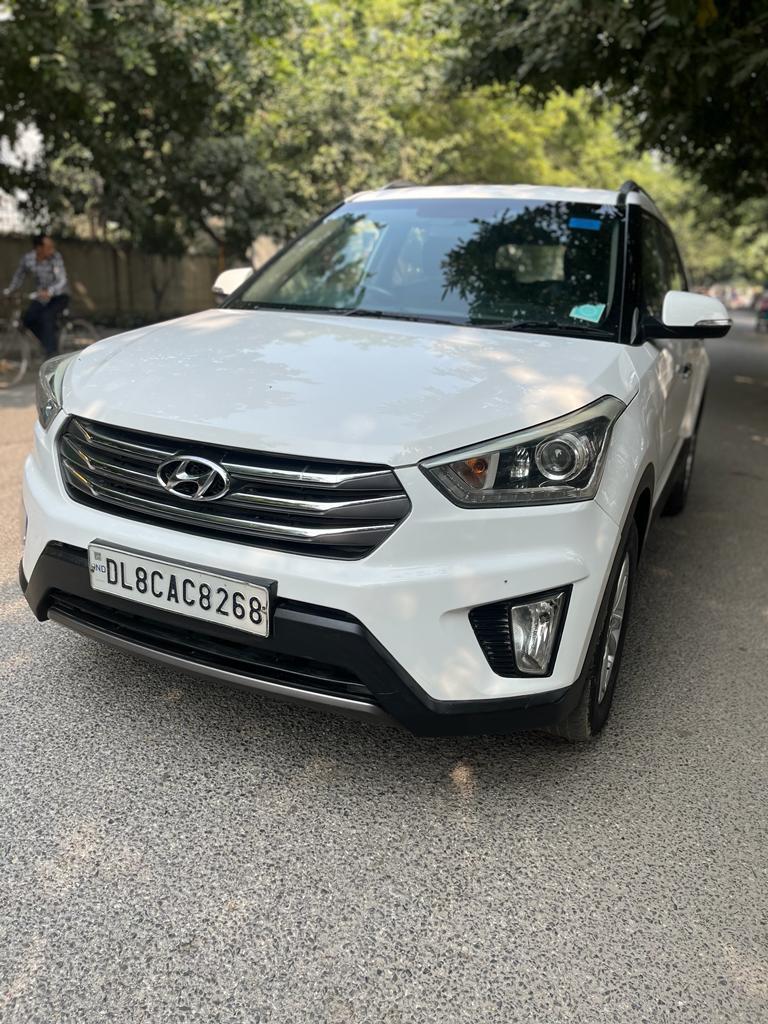 ₹ 8.00 L
₹ 17,917/month 
Car Choice Exclusif Amberhai, New Delhi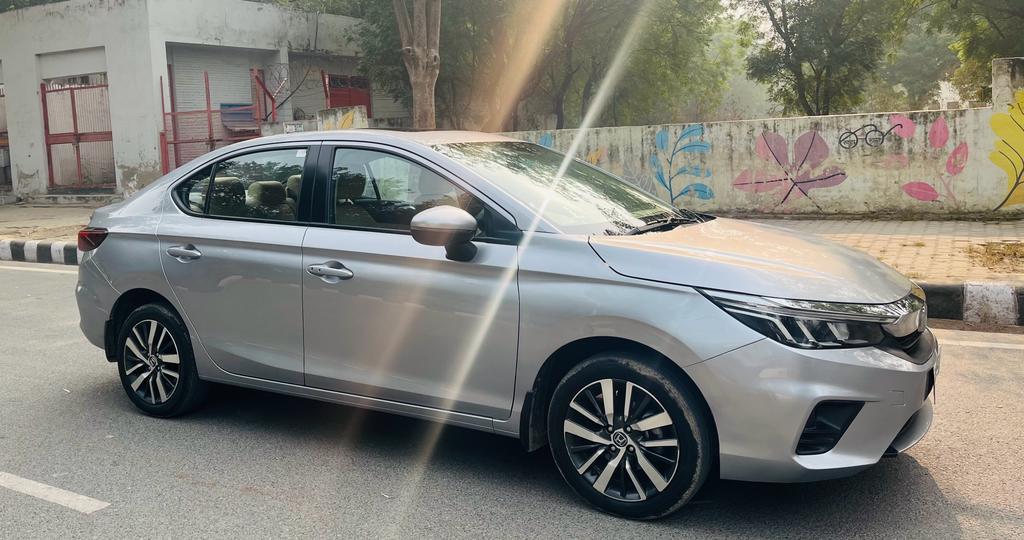 ₹ 12.75 L
₹ 28,556/month 
Car Choice Exclusif Amberhai, New Delhi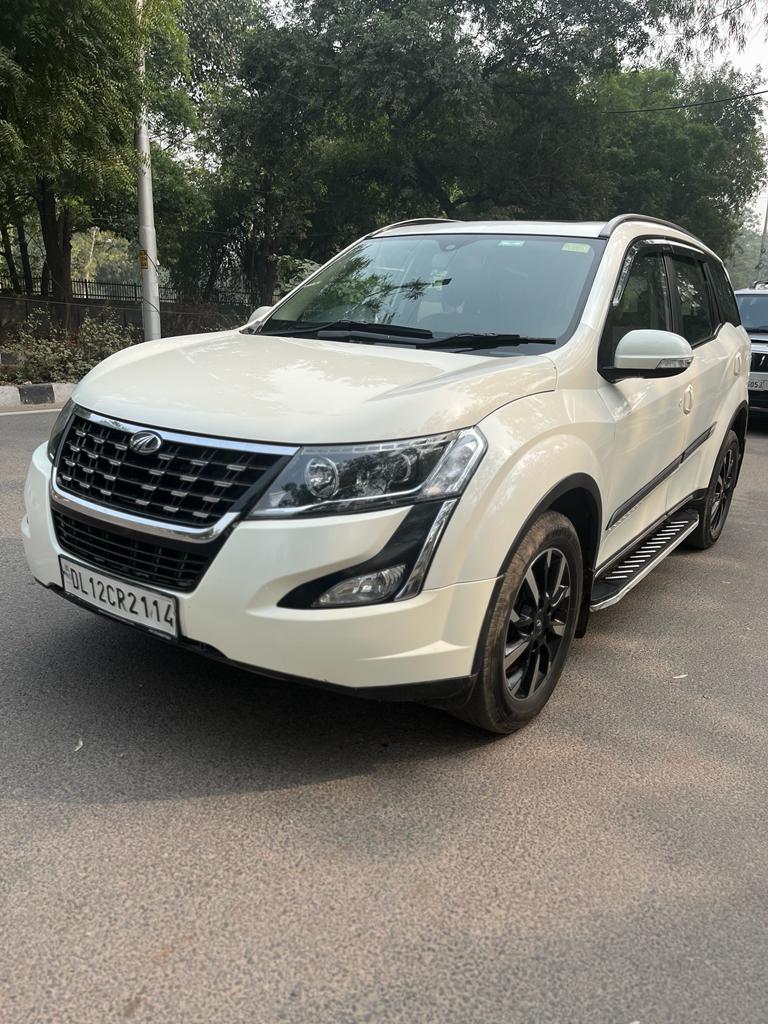 ₹ 14.75 L
₹ 33,035/month 
Car Choice Exclusif Amberhai, New Delhi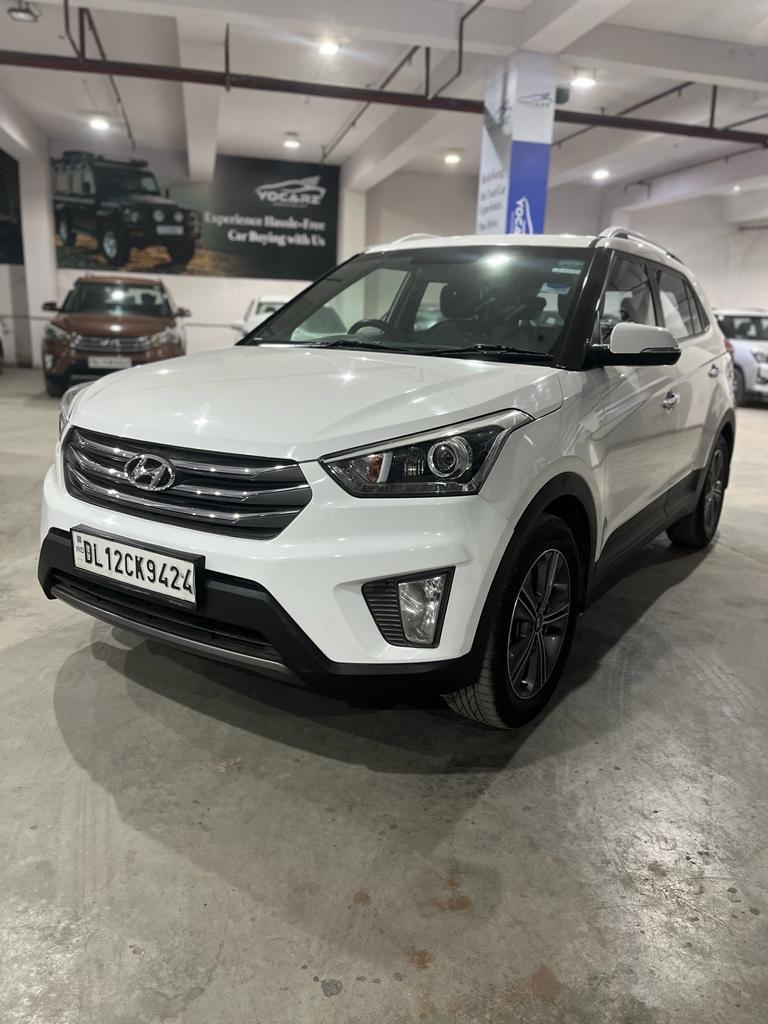 ₹ 8.75 L
₹ 18,502/month 
Car Choice Exclusif Amberhai, New Delhi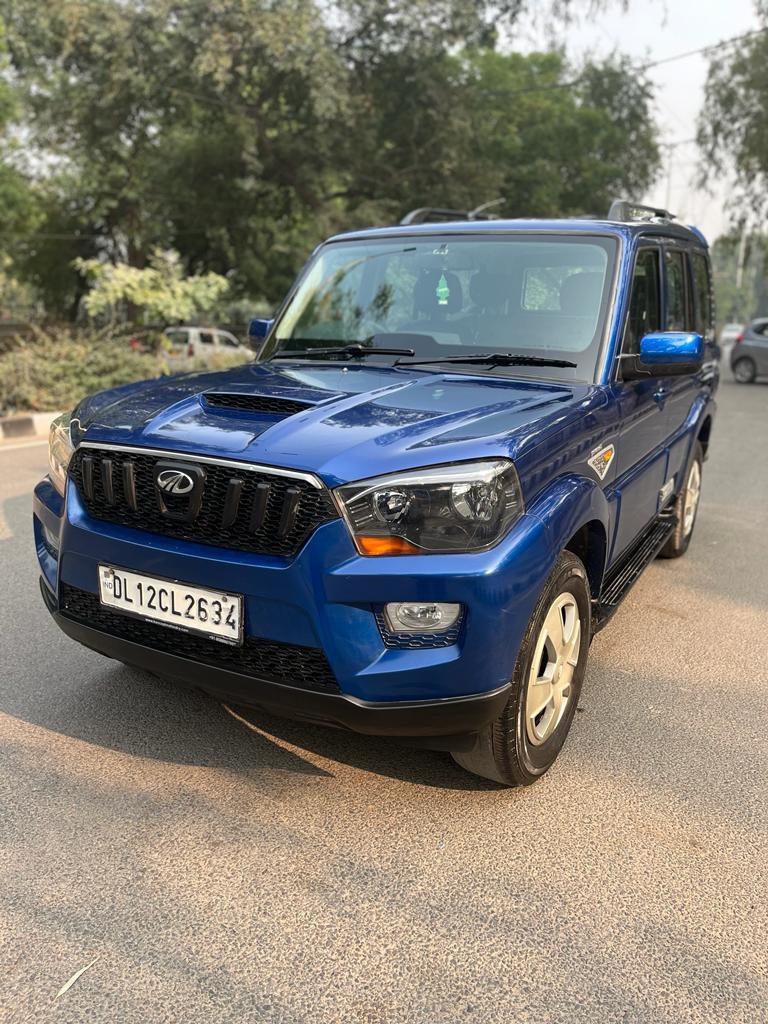 ₹ 9.00 L
₹ 20,157/month 
Car Choice Exclusif Amberhai, New Delhi
Explore More
Latest News

Related Articles