Discontinued
Honda Activa 3G Overview
| | |
| --- | --- |
| Engine Capacity | 109.2 CC |
| Mileage | 52 KM/L |
| Fuel Tank Capacity | 5.3 L |
| Weight | 108 Kg |
Honda Activa 3G Prices
Honda Activa 3G price starting from 50,219. Honda offers Activa 3G in 1 variants.
Variants
Last Recorded Price
Petrol, 52 KM/L, 109.2 CC
Honda Activa 3G Specifications & Features
Explore an in-depth overview of the Honda Activa 3G specifications and features, offering comprehensive details on its engine, fuel efficiency, mileage, brakes, max power, and tyre. Additionally, gain insights into the bike's advanced safety features.
Honda Activa 3G is available in 5 different colors namely Black, Pearl Amazing White, Lusty Red Metallic, Trance Blue Metallic & Geny Grey Metallic.
Honda Activa 3G Black
Available for all Variants.
Honda Activa 3G Pearl Amazing White
Available for all Variants.
Honda Activa 3G Lusty Red Metallic
Available for all Variants.
Honda Activa 3G Trance Blue Metallic
Available for all Variants.
Honda Activa 3G Geny Grey Metallic
Available for all Variants.
Browse through a collection of 11 high-quality images showcasing Honda Activa 3G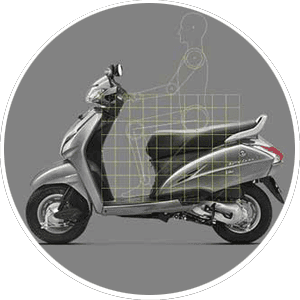 Quick Compare With Honda Activa 3G Competitors
| | | | | | |
| --- | --- | --- | --- | --- | --- |
| Honda Activa 3G | | | | | |
| Ex-Showroom Price | | | | | |
| ₹ 50,219 | ₹ 68,625 - 77,712 | ₹ 1.12 - 1.43 L | ₹ 68,571 - 85,866 | ₹ 60,334 - 63,234 | ₹ 67,016 - 68,693 |
| C&B Expert Rating | | | | | |
| N/A | | | | | |
| Engine CC | | | | | |
| 109.2 CC | 109.5 CC | 125.0 CC | 109.7 CC | 87.8 CC | 109.7 CC |
| Mileage | | | | | |
| 52 KM/L | 55.00 Km/L | 45.00 Km/L | 62.00 Km/L | 65.00 Km/L | 62.00 Km/L |
| Max Torque | | | | | |
| 8.83 bhp | 9.00 Nm | 10.11 Nm | 8.00 Nm | 5.80 Nm | 8.40 Nm |
| Max Power | | | | | |
| 8.00 Nm | 8.00 bhp | 9.60 bhp | 7.30 bhp | 4.90 bhp | 7.88 bhp |
| Brakes | | | | | |
| Drum/Drum | Drum (Front) / Drum (Rear) | Ventilated Disc (Front) / Drum (Rear) | Drum (Front) / Drum (Rear) | Drum (Front) / Drum (Rear) | Drum (Front) / Drum (Rear) |
| Fuel Tank Capacity | | | | | |
| 5.3 L | 5.3 L | 7.4 L | 5.0 L | 5.0 L | 5.0 L |
| Kerb Weight | | | | | |
| 108 Kg | 105 Kg | 115 Kg | 109 Kg | 95 Kg | 97 Kg |
| Colour Count | | | | | |
| 5 | 6 | 11 | 16 | 8 | 6 |
| Detailed Comparision | Activa 3G vs Dio | Activa 3G vs Vespa | Activa 3G vs Jupiter | Activa 3G vs Scooty Pep Plus | Activa 3G vs Scooty Zest 110 |
About Honda Activa 3G
Acquiring Zenith in scooter segment, Honda's stellar performer Activa underwent a series of updates in its itinerary so far. Having been around for a long time, the 110cc scooter is currently running in third generation. Design largely remains same, but this apart, it has received various updates such as new winkers, side panels, tail lamp etc. Power is derived from the 113cc mill which comes mated to a CVT tranny.
Honda Activa 3G Looks
Propelling to third generation changes nothing much in terms of design and styling, although the scooter comes with a number of additional features. The scooter radically remains unchanged wearing the same silhouette. Moreover, the massive stance is also retained, this somewhat segregates it from being mistaken a scooty. Handle bar in front features head lamp flanked by side indicators. The large seat is well cushioned offering great ride experience to the rider as well as pillion. Grab rail at rear is fitted for the safety of pillion and there is enough space for storage under seat and around the foot area.
Honda Activa 3G Engine Specifications & Transmission
Powering Activa 3G is the reliable 109.2cc, air-cooled, 4 stroke SI engine good for 8bhp of max power at 7500rpm along with top torque of 8.83Nm at 5500rpm. The air-cooled engine is paired to a V-Matic transmission.
Honda Activa 3G Features
Up front, Activa 3G features reworked head lamp and side indicators and lift-up independent cover that enables easy and fast service. Other vital features like combi-brake system, comfortable large seat, edgy side panel, new tail lamp, instrument panel with fuel gauge and indicator, under seat storage space, 3D emblem etc are available also on the Activa 3G.
Honda Activa 3G Performance & Mileage

The 110cc petrol mill achieves claimed top speed of 82 kmph, moreover the spring loaded hydraulic suspension set up is responsible for keeping the scooter balanced on road. The frugal petrol engine is capable of returning promising mileage of 60 kms in a litre.
Honda Activa 3G Braking & Handling

Braking action is dependent on 130mm dual drum brakes and a combi-brake system is also incorporated to add force to the stopping power.
Honda Activa 3G Wheels and Tyres
Tyres measuring 90/100-10 are fitted in front and rear featuring 10 inch rims. The tyre size although could have been a tad bigger considering the massive body of the scooter.
Honda Activa 3G Competition
Clearly the segment leader, Activa has maintained its pinnacle over the years. In fact Activa was a crucial product in giving the feeble segment a new lease of life. With the popularity increasing manifold, two-wheeler manufacturers have brought in their models to grab a pie of the popular segment. TVS' Jupiter is the prime rival climbing up the popularity chart, besides, rivals like Hero Maestro, Mahindra Gusto and TVS Wego also compete with Activa.
Pros:
Imposing fuel economy, reliability, affordable and feature loaded
Cons:
nder-sized tyres and lethargic suspension
Upcoming Models are the Activa 7G, Forza 350, CRF300L and PCX 160
Honda Activa 3G Expert Review
Honda Activa 3G
In the category of beginner scooters, Honda has recently introduced their new Activa 3G model, which they call a scooter. It is an improvement over the previous Activa 2G and comes equipped with a variety of additional functions. The new Activa 3G comes with a variety of alterations to its outward appearance as well as a few additional capabilities. It is now offered in the following color options: black, white, red, and silver. Additionally, the 3G has an updated instrument console that features a digital fuel gauge. The motorcycle and the scooter both use the same 109 cc engine to propel them. The motorcycle is called the 2G. Nevertheless, it only generates 8 horsepower at 7500 revolutions per minute and 9 Nm of torque at 5500 revolutions per minute. The transmission, which is a V-matic with Honda's Eco Technology, also continues in its previous form (HET).
This very popular automatic scooter once came in a 110cc version, however that version has since been superseded by the Honda Activa 3G. The new Honda Activa 3G has been one of the most popular choices for consumers looking to purchase a two-wheeler in the country. The Activa is so well-liked that on a few instances, it has even been able to outsell the Hero Splendor, which was previously unbeatable in terms of sales. There are now three versions of the Activa available for purchase from HMSI: the 110cc 3g, the Activa I and the Activa 125cc. Nevertheless, the Activa 3g appears to be the most well-liked of these options.
How is the design?
The global two-wheeler design philosophy of the corporation served as a source of inspiration for the design of the Honda Activa 3G. The scooter has an aggressive appearance with clean, angular body lines. The seat itself has been lengthened and widened to make it more comfortable. The instrument console is positioned in the middle of the cabin, and it features an analog speedometer as well as an odometer. The seat features a step that makes it simple to descend to the ground below. The scooter has a kerb weight of 109 kilograms, and its front suspension is made up of telescopic forks while the rear suspension is made up of coil springs. Drum brakes of 130 millimeters in diameter are installed at both ends to fulfill braking responsibilities.
The progression to the third generation does not bring about significant changes to the look and feel of the scooter, but it does come with a number of new and improved functions. The scooter has not undergone any significant changes and still has the same general outline. In addition to that, it has maintained its huge stance, which prevents it from being confused for a scooty in some ways. A head lamp is mounted on the handle bar up front, and it is surrounded by side indicators. The spacious seat has plenty of padding, making for a comfortable ride not just for the rider but also for the pillion passenger. There is sufficient space for storage underneath the seat and all around the foot area, and there is a grab rail installed at the rear to ensure the safety of the pillion.
How is the performance?
The performance of the Honda Activa 3G is remarkable. It boasts a robust engine, which contributes to its rapid acceleration and overall speed. Additionally, the suspension is of high quality, which contributes to the vehicle's overall ride comfort. The braking system works well, and the tires have a decent amount of grip. The Honda Activa 3G, in general, is a solid performer and offers excellent value for the money. The dependable 109.2cc, air-cooled, four-stroke SI engine that powers the Activa 3G generates a maximum of 8 horsepower at 7500 revolutions per minute and 8.83 Newton-meters of torque at 5500 revolutions per minute. The V-Matic transmission is mated to the air-cooled engine in the vehicle.
What is the Torque Figures?
It generates maximum torque of 8.83 Nm @ 5500 rpm.
What is the max Power?
It provides a maximum power of 8.11 PS @ 7500 rpm.
What is the Top Speed?
The Honda Activa 3G's top speed as promised by the company is 82 kmph and an increase in mileage upto 15% as compared to its predecessor.
How does the motorbike ride?
The Honda Activa 3G is a lightweight and fuel-efficient scooter that rides smoothly on both city streets and highways. Its name comes from the fact that it is the third generation of the Honda Activa. Its small size makes it simple to navigate through traffic, and the ride is made more comfortable thanks to the vehicle's huge wheels. The Activa 3G Scooter comes equipped with a robust engine that is capable of reaching top speeds of up to 40 miles per hour (64 kilometers per hour).
How comfortable the motorbike is?
Assuming that you are talking about the Honda Activa 3G, it is a really comfortable scooter that has a seat that is well padded and offers a lot of space for your legs. The suspension is firm without being overly rigid, which results in a ride that is smooth even over bumps. Additionally, the handlebars may be adjusted, allowing you to select a riding posture that is most comfortable for you.
How's the tech?
The Honda Activa 3G is fitted with a potent engine that has a capacity of 110 cc and provides outstanding performance. The seat of the scooter is both comfy and roomy, and it is easily large enough to accommodate two persons. Even while traveling over rough terrain, the scooter's ride remains comfortable thanks to its superior suspension system. The scooter also has very good brakes, which allow for sufficient stopping strength when applied. The fuel efficiency of the scooter is also extremely good, and it is easily capable of traveling between 40 and 50 kilometers (km) on a single liter of gasoline. The redesigned head lamp and side indicators, as well as the lift-up independent cover, seen on the Activa 3G's front end, make maintenance simple and straightforward. Other important features, such as a combi-brake system, a comfortable wide seat, an edgy side panel, a new tail lamp, an instrument panel with a fuel gauge and indicator, under seat storage space, and a 3D symbol, are all available on the Activa 3G. The braking action is provided by dual drum brakes measuring 130 millimeters in diameter, and there is also a combi-brake system installed for additional stopping power.
The front and back of the Honda Activa 3G have been outfitted with wheels and tires measuring 90/100-10 and having 10 inch rims respectively. Taking into consideration how large the body of the scooter is, the size of the scooter's tires could have been a little bit larger.
How's the mileage of the motorbike?
The fuel efficiency of the Honda Activa 3G is rated at 60 kilometers per liter. You should be able to save some money on gas thanks to this, which is very good for a scooter. The 110cc gasoline engine is capable of reaching a top speed of 82 kilometers per hour, and the spring loaded hydraulic suspension set up is accountable for maintaining the scooter's equilibrium when it is being driven on the road. The fuel-efficient gasoline engine has the potential to achieve an impressive mileage of 15.85 kilometers to the liter. The Activa 3G is driven by a 110cc Honda Eco Technology (HET) engine that has been proven and tested. This engine produces 8 horsepower and 8.8 Nm of torque and is mated to a CVT transmission. It has hydraulic spring loaded suspension and drum brakes measuring 130 millimeters on both ends of the vehicle.
In addition, The ARAI mileage for the Activa 3G is 16.11 kilometers per liter. According to the owners of Honda Activa 3Gs, the vehicle gets 45 kilometers per liter of fuel.
Is the motorbike good value for Money?
The Honda Activa 3G offers an excellent price-to-performance ratio. It is distinct from other scooters in its price range in that it provides a number of features that are not offered by competing models. For example, it boasts a fuel economy that is superior to that of the majority of scooters that are sold in its price range, clocking in at 60 kilometers per liter. It also includes a tubeless tyre and an alloy wheel, which together make it more resistant to wear and tear as well as safer to ride on uneven terrain. In addition to this, the Activa 3G scooter boasts a roomy storage compartment located beneath the seat that is large enough to hold a full-face helmet.
How is the after sales service?
The after-sales service that Honda provides for the Activa 3G scooter is of the highest caliber. Finding an authorized Honda dealer or service center should not be difficult, as they are spread out over the country and can be found in a variety of locations. These dealerships and service centers employ technicians who have extensive expertise and extensive training in Honda car maintenance and repair. They will have the ability to rapidly diagnose and repair any issues that you may be experiencing with your scooter. In addition to that, they will also be able to offer you guidance on how to properly maintain your scooter so that it continues to operate without any problems.
Which Motorbikes Compete in this Segment?
The Honda Activa 3G faces off against competitors such as the TVS Jupiter, the Suzuki Access 125, the Hero Maestro Edge, and the Yamaha Fascino in the 125cc scooter class. Customers are going to have a difficult time making a decision because all of these scooters offer comparable features and technical details. The Honda Activa 3G, on the other hand, stands out from the crowd because to its aesthetically pleasing design, potent engine, and comfortable ride quality. It is also one of the most reasonably priced scooters in its category, coming in at a price of Rs. 52,462 (ex-showroom Delhi) for the base model.
Activa is without a doubt the market leader, and it has remained at the top of its game throughout the years. In point of fact, Activa was an essential product in breathing fresh life into the sluggish sector of the market. Two-wheeler manufacturers have introduced new models in response to the exponential growth in popularity in order to secure a larger market share in the popular sector. Activa faces competition from a number of automobiles, including the TVS Jupiter, the Hero Maestro, the Mahindra Gusto, and the TVS Wego. TVS's Jupiter is the primary competitor that is ascending up the popularity chart.
Verdict (Is it Value for Money?)
Since the beginning of the last decade, Honda has referred to the Activa as the undisputed "King of Scooters," and they are not exaggerating when they make this claim. The scooter has been India's best-selling scooter ever since it was first introduced there in the year 2000.
The most recent version of the well-liked unisex automatic scooter is known as the Honda Activa 3G, which stands for the third generation. And while though the Activa 3G isn't that much different from the model that came before it in terms of functionality, it does get some small visual upgrades as well as six new color options. The Activa 3G maintains the same understated appearance as its forerunners because to its design team's commitment to continuity.
The appearance of the Activa 3G has been upgraded thanks to the addition of new color schemes as well as a new set of 3D badges. Even though the instrument cluster and the vast majority of the other components have been carried over from the previous model, the tail lamp assembly has also been modified to seem more like the larger Activa 125 scooter. This makeover was done in conjunction with the scooter's larger size. The quality of the metallic paint has also significantly increased over the past few years. The Honda Activa 3G is a fantastic scooter that provides excellent value for the money. It has a lot of useful functions, and riding it is a pleasant experience. It is not difficult to maintain, and it is trustworthy. The cost of the scooter is not prohibitive, and one need to consider purchasing one.
Upcoming Honda Bikes
Find expected price range and launch dates of all upcoming Honda bikes in India.
Honda Activa 3G Alternatives
Search Honda Dealers & Showrooms