We all know how people need to have deep pockets to buy an Aston Martin, but not this one. After having spent years on making race cars, Aston Martin has finally brought out something that a common man can afford. Over 104 years ago, early Aston Martin cars were designed for hill-climb racing so all that knowledge can now be turned on its head. It's not great news for those who love the sound of a V8 or V12 engine as the power source for this event much quieter…gravity! With design and engineering by Aston Martin and the build taking place at Aston Martin Works in Newport Pagnell, the Aston Martin challenger is all set to hit the race track.

The miniaturized V8 Vantage GTE was created specifically for the Red Bull Soapbox Race and it was one of the challengers in the "24 Seconds of Le Ally Pally" event and tackle the corners using a gravity-propelled vehicle. Aston Martin's first entirely electric car will be the RapidE scheduled to come out in 2019 but this soapbox car doesn't have an electric powertrain, nor does it run on hydrogen, yet it still does not pollute the environment and stays silent all of the time considering that its fuel source is gravity.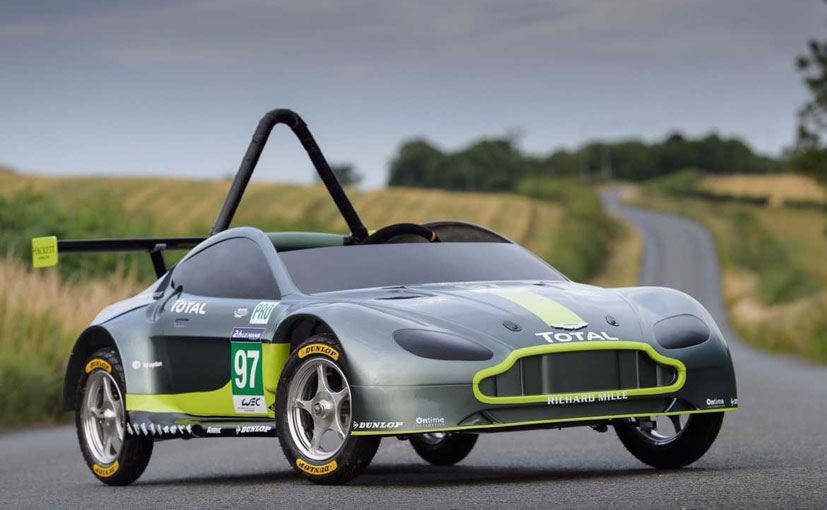 The miniaturized V8 Vantage GTE is one of the challengers in the "24 Seconds of Le Ally Pally" event
David King, President of Aston Martin Racing said, "When taking on a challenge as big as this it is important to rally your troops and throw everything you've got at it. Aston Martin has enjoyed great on-track success with the V8 Vantage GTE so it was the obvious choice for the design of our soapbox entry. I don't think we'll be putting our race drivers in it though as we need them to be in one piece for their next World Endurance Championship race the following week!"
Entrants are judged on speed, obviously, and creativity of design. They are also judged on showmanship and this is where Le Mans winners Darren Turner (GB) and Jonny Adam (GB) can help. Well-known for their ability to put on a great show, the two racers will be on hand to support Alex Summers, Aston Martin Prototype Operations Senior Engineer who has volunteered to race the mini-Vantage.
0 Comments
For the latest auto news and reviews, follow carandbike on Twitter, Facebook, and subscribe to our YouTube channel.