Tata Nexon Price
Tata Nexon ex-showroom price starts at ₹ 7 Lakh and goes upto ₹ 12.7 Lakh. The top variant Tata Nexon on road price is ₹ 14.86 Lakh*. Tata offers Nexon in 36 variants
Variant
Ex-Showroom
Specification
Compare

Nexon Revotron XE

₹

7 Lakh

1199 cc, Petrol, Manual, 17 Kmpl

Nexon Revotron XM

₹

7.85 Lakh

1199 cc, Petrol, Manual, 17 Kmpl

Nexon Revotron XM (S)

₹

8.36 Lakh

1199 cc, Petrol, Manual, 0 Kmpl

Nexon Revotron XMA AMT

₹

8.45 Lakh

1199 cc, Petrol, Automatic, 17 Kmpl

Nexon Revotron XZ

₹

8.85 Lakh

1199 cc, Petrol, Manual, 17 Kmpl

Nexon Revotron XMA (S) AMT

₹

8.96 Lakh

1199 cc, Petrol, Automatic, 0 Kmpl

Nexon Revotron XZ Plus

₹

9.65 Lakh

1199 cc, Petrol, Manual, 17 Kmpl

Nexon Revotron XZ Plus Dual Tone

₹

9.85 Lakh

1199 cc, Petrol, Manual, 17 Kmpl

Nexon Revotron XZ Plus (S)

₹

10.25 Lakh

1199 cc, Petrol, Manual, 0 Kmpl

Nexon Revotron XZA Plus AMT

₹

10.25 Lakh

1199 cc, Petrol, Automatic, 17 Kmpl

Nexon Revotron XZ Plus (S) Dual Tone

₹

10.45 Lakh

1199 cc, Petrol, Manual, 0 Kmpl

Nexon Revotron XZA Plus Dual Tone AMT

₹

10.45 Lakh

1199 cc, Petrol, Automatic, 17 Kmpl

Nexon Revotron XZ Plus (O)

₹

10.55 Lakh

1199 cc, Petrol, Manual, 17 Kmpl

Nexon Revotron XZ Plus (O) Dual Tone

₹

10.75 Lakh

1199 cc, Petrol, Manual, 17 Kmpl

Nexon Revotron XZA Plus (S) AMT

₹

10.85 Lakh

1199 cc, Petrol, Automatic, 0 Kmpl

Nexon Revotron XZA Plus (S) AMT Dual Tone

₹

11.05 Lakh

1199 cc, Petrol, Automatic, 0 Kmpl

Nexon Revotron XZA Plus (O) AMT

₹

11.15 Lakh

1199 cc, Petrol, Automatic, 17 Kmpl

Nexon Revotron XZA Plus (O) Dual Tone AMT

₹

11.2 Lakh

1199 cc, Petrol, Automatic, 21.5 Kmpl

Nexon Revotorq XE

₹

8.45 Lakh

1497 cc, Diesel, Manual, 21.5 Kmpl

Nexon Revotorq XM

₹

9.2 Lakh

1497 cc, Diesel, Manual, 21.5 Kmpl

Nexon Revotorq XM (S)

₹

9.7 Lakh

1497 cc, Diesel, Manual, 0 Kmpl

Nexon Revotorq XMA AMT

₹

9.8 Lakh

1497 cc, Diesel, Automatic, 21.5 Kmpl

Nexon Revotorq XZ

₹

10.2 Lakh

1497 cc, Diesel, Manual, 21.5 Kmpl

Nexon Revotorq XMA (S) AMT

₹

10.3 Lakh

1497 cc, Diesel, Automatic, 0 Kmpl

Nexon Revotorq XZ Plus

₹

11 Lakh

1497 cc, Diesel, Manual, 21.5 Kmpl

Nexon Revotorq XZ Plus Dual Tone

₹

11.2 Lakh

1497 cc, Diesel, Manual, 21.5 Kmpl

Nexon Revotorq XZA Plus AMT

₹

11.6 Lakh

1497 cc, Diesel, Automatic, 21.5 Kmpl

Nexon Revotorq XZ Plus (S)

₹

11.6 Lakh

1497 cc, Diesel, Manual, 0 Kmpl

Nexon Revotorq XZ Plus (S) Dual Tone

₹

11.8 Lakh

1497 cc, Diesel, Manual, 0 Kmpl

Nexon Revotorq XZA Plus Dual Tone AMT

₹

11.8 Lakh

1497 cc, Diesel, Automatic, 21.5 Kmpl

Nexon Revotorq XZ Plus (O)

₹

11.9 Lakh

1497 cc, Diesel, Manual, 21.5 Kmpl

Nexon Revotorq XZ Plus (O) Dual Tone

₹

12.1 Lakh

1497 cc, Diesel, Manual, 21.5 Kmpl

Nexon Revotorq XZA Plus (S) AMT

₹

12.2 Lakh

1497 cc, Diesel, Automatic, 0 Kmpl

Nexon Revotorq XZA Plus (S) AMT Dual Tone

₹

12.4 Lakh

1497 cc, Diesel, Automatic, 0 Kmpl

Nexon Revotorq XZA Plus (O) AMT

₹

12.5 Lakh

1497 cc, Diesel, Automatic, 21.5 Kmpl

Nexon Revotorq XZA Plus (O) Dual Tone AMT

₹

12.7 Lakh

1497 cc, Diesel, Automatic, 21.5 Kmpl
Tata Nexon Latest Update
Tata Nexon Price
The Tata Nexon received styling, features updates and BS6 compliant powertrain options. The BS6 Nexon facelift is priced at Rs. 6.95 lakh (ex-showroom) for the base petrol variant, going up to Rs. 11.20 lakh (ex-showroom, Delhi) for the top-end petrol automatic. Prices for the BS6 Nexon diesel start at Rs. 8.45 lakh and go all the way up to Rs. 12.70 lakh for the top-end diesel automatic variant. The carmaker recently launched a new XZ+ (S) variant to the line-up, which is based on the top-end model, XZ+ (O)
Design
Based on the new IMPACT 2.0 design language, the Tata Nexon facelift looks very much similar to the Nexon EV. The overall design of the SUV is accentuated by an all-new grille featuring tri-arrow design theme giving the SUV a bolder and an aggressive look. The SUV's coupe inspired aerodynamic design layout is underlined by new projector headlamps with LED DRLs, revamped bumper, new fog lamps with C-shaped chrome elements, piano-black ORVMs, 16-inch diamond-cut alloy wheels, tri-arrow LED tail lamps and more.
Interior
On the inside, the SUV gets Tri-arrow theme interior that is highlighted by layered three-tone finish giving a premium appeal to the cabin. The harmonic colour scheme and premium material with textures add character to the interior. The SUV also gets a floating 7-inch touchscreen infotainment system by Harman with Android Auto and Apple CarPlay compatibility. It also gets multi-functional steering wheel, electric sunroof, grand central console, digital instrument cluster, rear-seat AC vent, a rear armrest and more.
Features
Feature-wise, the Nexon SUV comes equipped with several features including automatic headlamps, 8-speakers from Harman, reverse camera assist, cooled glove box, Xpress cool, tyre pressure monitoring system, rain-sensing wipers and more. The SUV also packs Tata's new iRA connected technology app. For safety, the SUV is loaded with dual front airbags, ABS with EBD, Electronic stability program, Electronic traction control, Roll-over mitigation, Hydraulic Brake Assist, Hill hold control, Electronic brake pre-fill, Brake disc wiping, Follow me home lamps and much more.
Engine And Gearbox
Under the hood, the Tata Nexon facelift is offered with a choice of petrol and diesel engine, wherein both the powertrains are BS6 compliant. The petrol unit is a 1.2-litre turbocharged Revotron motor making 108 bhp and 113 Nm of power figures. The oil burner, on the other hand, is a 1.5-litre turbocharged Revotorq unit making a maximum power of 108 bhp and 260 Nm of peak torque. Both the engines are mated to a 6-speed manual gearbox along with an optional AMT transmission. The Tata Nexon rivals the likes of the Maruti Suzuki Vitara Brezza, Hyundai Venue, Mahindra XUV300 and Ford Ecosport.
Upcoming Tata Models are the Gravitas, HBX and New Tigor EV
Tata Nexon Mileage
91%
better mileage than other

SUV
Tata Nexon mileage is 0 to 21.5 Kmpl, as per ARAI. The Manual Petrol engine has a mileage of 17 Kmpl. The AMT Petrol engine has a mileage of 21.5 Kmpl. The Manual Diesel engine has a mileage of 24 Kmpl. The AMT Diesel engine has a mileage of 21.5 Kmpl.
| Fuel Type | Transmission | Mileage |
| --- | --- | --- |
| Petrol | Manual | 17 Kmpl |
| Petrol | AMT | 21.5 Kmpl |
| Diesel | Manual | 24 Kmpl |
| Diesel | AMT | 21.5 Kmpl |
Its good .....................
Its good.............
Total wast of money don't buy bulldozer
Subject: Unsatisfied service for TATA Nexon XM model Hello Sir, This email is regarding the complaint of unsatisfied vehicle service. I am Mr. Ranjit Lohar, purchased TATA Nexon XM Diesel model in Aug 2018 from Concorde Motors, Baramati.(MH). First PDI servicing of general checkup I did at Phaltan Naveen Motors. I went for second servicing of my vehicle in Concorde Motors Tathawade, Pune. At that time service provider has not updated vehicle software and they told me that they have updated. For third free servicing, I went to HEM Motors Div.pvt.ltd., Satara from Phaltan around 65km just to get hassle-free service and to avoid what happened in second servicing. But here also it is disappointed me a lot. When I went to servicing center I told them about software update, engine oil and oil filter change. Vehicle running was 9500km. They called me after 2 hours and hand overed the vehicle with wash. Hardly I traveled my vehicle around 1km and automatically pick up was going down and oil indicator was highlighted. I stopped my car and opened Bonet. I saw oil filter was not tightened properly and entire oil was licked. When I checked it with oil gauge there was no oil left on engine. I called to service advisor 7-10 times from my phone. But it was useless. I called to customer care of TATA Motors,they registered my complaint I have also given my email id which is ranjitlohar1686@gmail.com They said, they will send the complaint registration details over my email but I haven't received yet. This entire scene happened today on Pune-Banglore highway. After this all scene service advisor called me, then HEM Motors breakdown team came to look into the issue. They filled oil in the vehicle and tightened oil filter. After some time we start vehicle but there acceleration in vehicle and rpm was below 2. They routed us back to HEM Motors service center. I met to shop manager named Kazi. I was explaining him all the things but he haven't co-operated rather he suggested to do servicing at the location from where I brought the vehicle. Later on they checked vehicle and they told me that vehicle turbo charger is failed and they were advising me not to raise complaint we will do it. But I already raised it. They told me to keep the vehicle for 4-5 days in their Servicing center. And dropped me to bus stop, asked me to leave. Where I travelled 65km back to my home. Overall here I want to say, only after 9500km of running with less use, if my vehicle is facing these kind of engine issue. This is completely unacceptable and unsatisfactory. I am so much depressed and stressed due this entire scene happened today. Now I want my vehicle as new as it was when I purchased. I don't any issues in my vehicle engine. I request you to kindly look into the matter closely and help me to get my vehicle hassle-free. Otherwise I would have to raise complaint in district consumer forum against TATA MOTORS (Concorde Motors) and Hem Motors. Hoping for your kind support ASAP.
Tata Nexon a Master Piece - Loving It.
I have bought Tata Nexon XZ+ Diesel Silver Color 10 days ago and driven around 900 KM so far on both highway and city. After 10 days of use I can say simply that I am loving it. 1.5 L with 110 BHP with 260 NM torque, its full of power and very smooth. It zooms to 140 KM per hour without any effort. Interiors are simply superb abd The Harmab sound system is fantastic. I owned Hyundai Xcent 1.2 L Petrol before that and not after buying Nexon I feel proud to own Nexon. Also I have got mileage of arounf 19 to 20 with mix of highway and citt drive with AC. Specially its driving modea City and Sports are very useful.
Very bad experiance from Tata Sales and Service
While purchasing Tata Nexon XZA+, they didn't give wearable Peps Key. Last one month I am fighting with this stupid team, still not get this item yet. That sales and service is not doing anything for our complaints.
I am proud to say that i have selected Best SUV
I have past 15 years of driving experience on Maruti Alto & Maruti Dzire.When i have decided to buy SUV, I have taken test drive of Creatta , Scross & Tata nexon Disel.Among all i have observed Tata nexon as best performence & high end feature loded primium car.From my 15000 km driving experince on Tata nexon i will say it is really value for money.If any one is planing to by suv then i will recomand fot Nexon.Tata service is also improved , i can say it is as good as other best brands in India.City mileage is 15.49 km/l & highway is 23 km/l
All Tata Nexon User Reviews (73)
Tata Nexon Expert Reviews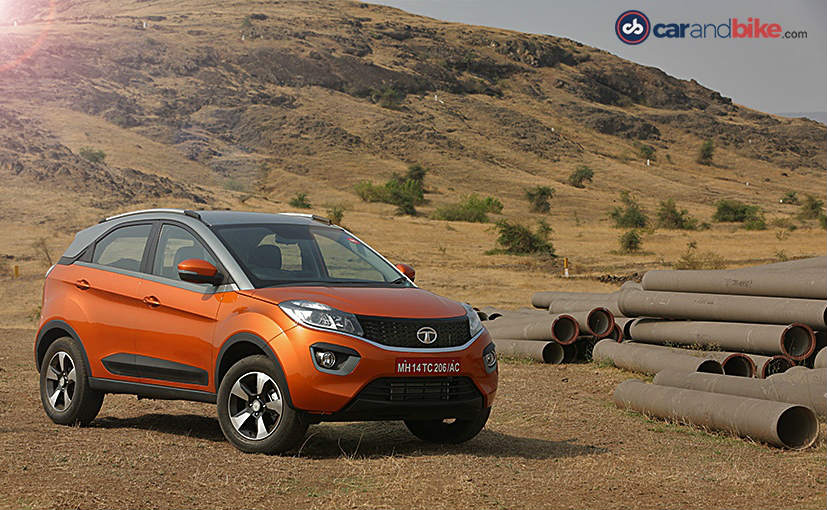 Yes this is the much-awaited variant on a car that's only gaining in popularity. The Tata Nexon AMT version is here at last and we test both its diesel and petrol avatars. The launch is expected in a few days' time, and we expect aggressive pricing on what looks to be a well-executed economical automatic SUV. Read Tata Nexon Review in Detail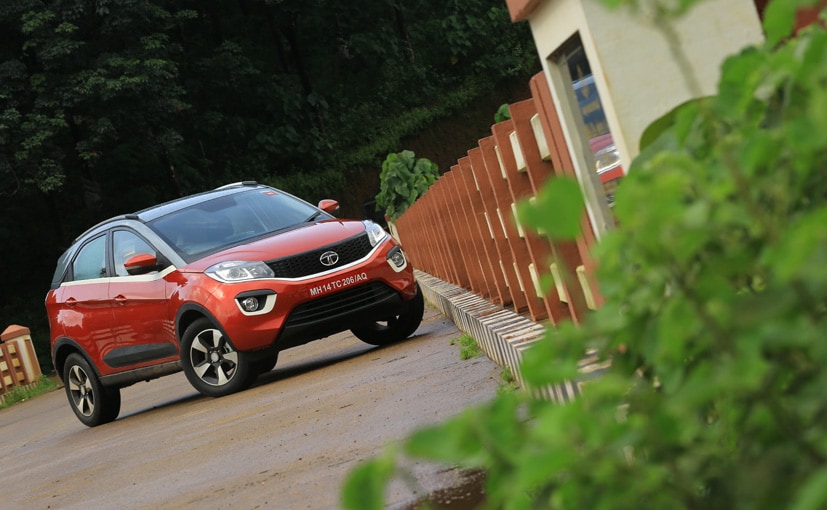 The sub 4-metre subcompact SUV segment is one of the most popular and most aspirational automotive segments in the country. Maruti Suzuki consistently sells over 10,000 units of the Vitara Brezza every month and the Ecosport single handedly helped recover Ford India's lull a few years ago. Mahindra has four SUVs in this segment too - the TUV 300, the Bolero Power+, th... Read Tata Nexon Review in Detail
Tata Nexon Specifications
| | |
| --- | --- |
| Engine CC | 1199/1497 cc |
| Mileage | 0 - 21.5 Kmpl |
| Max Power | 108/118 bhp |
| Max Torque | 170/260 Nm |
| Fuel | Petrol/ Diesel |
| Transmission | Manual/ AMT |
| Length/Width/Height | 3993/1811/1606 mm |
| Boot Space | 350 mm |
Tata Nexon Features
Xpress Cool

All power Windows

Rear Power Outlets 12V Behind the Rear Seat

Rear AC vents

Roof Rails

Antenna Length Increased

Fast USB Charging

ConnectNext Infotainment System by Harman-KardonTM

7-inch touchscreen infotainment system
Tata Nexon FAQs
What is the On-Road & Ex Showroom Price of Tata Nexon?

Tata Nexon ex-showroom price in New Delhi starts at Rs. 6.95 Lakh and goes upto Rs. 12.7 Lakh.. The Tata Nexon on road price in New Delhi is Rs. 17.48 Lakh. Check Tata Nexon price in Pune, Bengaluru, Mumbai & other cities here.

What is the mileage of Tata Nexon?

As for the claimed fuel efficiency, the Tata Nexon base Diesel returns 21.50 Kmpl, whereas its base Petrol counterpart gives 21.50 Kmpl.

Is Tata Nexon a good car?

According to the experts, Yes this is the much-awaited variant on a car thats only gaining in popularity. The Tata Nexon AMT version is here at last and we test both its diesel and petrol avatars. The launch is expected in a few days time, and we expect aggressive pricing o...

What is the Seating capacity of Tata Nexon?

Tata Nexon has a seating capacity of 5 people.

What are the Top variants of Tata Nexon?

Tata Nexon comes with total 32 variants. Revotron XZA Plus Dual Tone AMT, Revotorq XE, Revotorq XM are the most popular ones.

Which car is better between Nexon vs Venue?

The price of Nexon starts at Rs. 6.95 Lakh (ex showroom) and the Venues price starts from Rs. 6.7 Lakh. Get detailed comparison between Nexon and Venue on the basis of specifications, mileage, price & others.

What are the Expert opinions/reviews on Tata Nexon?

Check out the genuine reviews and ratings about Tata Nexon from the industry experts, professionals and also from the owners of Nexon. Experts advices are important for making the right choices.
Tata Nexon Comparison
(Ex-Showroom Price New Delhi)
Apply Loan for Tata Nexon
Price
₹

12,70,000

(Ex-showroom price in

New Delhi

)
Loan Amount

₹

Interest Payable

Total loan payment

₹
₹
Calculated on Ex-showroom Price
Change Car
Or Choose From Similar Cars
Thank you for sharing your details.
We recommend the following competing cars.
Select your City
or select from popular cities