Honda Navi Overview
| | |
| --- | --- |
| Engine Capacity | 109.2 CC |
| Mileage | 60 KM/L |
| Fuel Tank Capacity | 3.5 L |
| Weight | 99 Kg |
Honda Navi Prices
Honda Navi price starting from 44,775. Honda offers Navi in 5 variants.
Variants
Last Recorded Price
Petrol, 60 KM/L, 109.2 CC
Petrol, 60 KM/L, 109.2 CC
Petrol, 60 KM/L, 109.2 CC
Petrol, 60 KM/L, 109.2 CC
Petrol, 60 KM/L, 109.2 CC
Honda Navi Specifications & Features
Explore an in-depth overview of the Honda Navi specifications and features, offering comprehensive details on its engine, fuel efficiency, mileage, brakes, max power, and tyre. Additionally, gain insights into the bike's advanced safety features.
| | |
| --- | --- |
| Engine CC | 109.2 CC |
| Fuel | Petrol |
| Mileage | 60 KM/L |
| Brakes | Drum/Drum |
| Max Torque | 8.94 Nm |
| Max Power | 8.00 bhp |
| Tyre | 90/90-12 (Tubeless)/ 90/90-12 (Tubeless) |
Honda Navi is available in 6 different colors namely Patriot Red, Black, Shasta White, Ladakh Brown, Sparky Orange & Ranger Green.
Honda Navi Patriot Red
Available for all Variants.
Honda Navi Black
Available for all Variants.
Honda Navi Shasta White
Available for all Variants.
Honda Navi Ladakh Brown
Available for all Variants.
Honda Navi Sparky Orange
Available for all Variants.
Honda Navi Ranger Green
Available for all Variants.
Browse through a collection of 2 high-quality images showcasing Honda Navi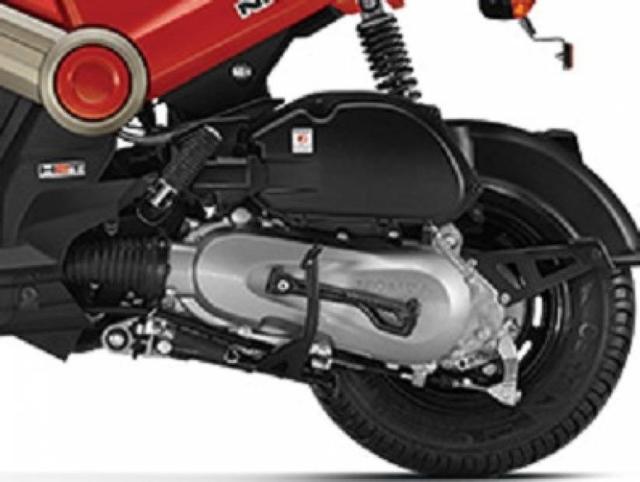 Quick Compare With Honda Navi Competitors
| | | | | | |
| --- | --- | --- | --- | --- | --- |
| Honda Navi | | | | | |
| Ex-Showroom Price | | | | | |
| ₹ 44,775 - 47,110 | ₹ 68,625 - 77,712 | ₹ 1.12 - 1.43 L | ₹ 68,571 - 85,866 | ₹ 60,334 - 63,234 | ₹ 67,016 - 68,693 |
| C&B Expert Rating | | | | | |
| N/A | | | | | |
| Engine CC | | | | | |
| 109.2 CC | 109.5 CC | 125.0 CC | 109.7 CC | 87.8 CC | 109.7 CC |
| Mileage | | | | | |
| 60 KM/L | 55.00 Km/L | 45.00 Km/L | 62.00 Km/L | 65.00 Km/L | 62.00 Km/L |
| Max Torque | | | | | |
| 8.94 bhp | 9.00 Nm | 10.11 Nm | 8.00 Nm | 5.80 Nm | 8.40 Nm |
| Max Power | | | | | |
| 8.00 Nm | 8.00 bhp | 9.60 bhp | 7.30 bhp | 4.90 bhp | 7.88 bhp |
| Brakes | | | | | |
| Drum/Drum | Drum (Front) / Drum (Rear) | Ventilated Disc (Front) / Drum (Rear) | Drum (Front) / Drum (Rear) | Drum (Front) / Drum (Rear) | Drum (Front) / Drum (Rear) |
| Fuel Tank Capacity | | | | | |
| 3.5 L | 5.3 L | 7.4 L | 5.0 L | 5.0 L | 5.0 L |
| Kerb Weight | | | | | |
| 99 Kg | 105 Kg | 115 Kg | 109 Kg | 95 Kg | 97 Kg |
| Colour Count | | | | | |
| 6 | 6 | 11 | 16 | 8 | 6 |
| Detailed Comparision | Navi vs Dio | Navi vs Vespa | Navi vs Jupiter | Navi vs Scooty Pep Plus | Navi vs Scooty Zest 110 |
About Honda Navi
Honda Motorcycle and Scooter India (HMSI) has introduced the 2018 Navi moto-scooter in the country priced at Rs 44,775 (ex-showroom, Delhi). Launched in 2016, the 2018 Honda Navi gets subtle cosmetic upgrades over the current version, while there are two new colour options on offer, taking the total count to six. The 2018 Navi is priced at a premium of ? 1991 over the existing model for the standard version. The moto-scooter is the first product to be designed completely by Honda R&D India, and shares its underpinnings with the popular-selling Honda Activa scooter. HMSI also exports the Navi to markets in Latin America.

Honda NAVI Looks
Dimensionally, NAVI is identical to Activa measuring 1805mm long, 748mm wide and 1039mm high. But this is all they both have in common when it comes to styling and design. To make it a fun vehicle, Honda has added new elements to it that lend it individuality. Draped in black, the splashes of contrast colour on the fuel tank and side panels are refreshing. The large head-lamp in front adds value to its visual appeal. There are certain bits that have been used to strip-down the cost. It is essentially a funky two-wheeler with the soul of Activa. With the advent of two more editions - Adventure and Chrome, buyers now have even sportier options to consider.
Honda Navi Adventure Edition
The Adventure Edtition features a slightly rugged and outdoorsy styling with handguards, a flyscreen, a brown colour theme and a bashplate of sorts too along with options to further customise it with storage compartments etc.
Honda Navi Adventure Edition
Honda Navi Chrome Edition
The Chome version of Navi, as its name explains, features chrome panels on the body, which adds to the bling factor and rest everything remains the same. The Chrome Kit comes with an additonal cost of Rs. 5065.
Honda Navi Chrome Edition
Honda NAVI Engine Specifications and Transmission
Power is drawn by a 110cc, single cylinder, four stroke, air-cooled petrol engine offering maximum power of 8bhp at 7000rpm and 9Nm of peak torque at 5500rpm. A V-Matic automatic transmission is mated to the 110cc engine, used for channelizing power to wheels.
Honda NAVI Performance and Mileage
Powered by the Activa's 110cc petrol engine, NAVI is quite frugal, with the claimed fuel economy rated at 60km/l.
Honda NAVI Braking & Handling
NAVI gets 130mm drum brakes up front and rear for retarding power.
Honda NAVI Wheels and Tyres
In the front a 12 inch wheel is fitted whereas rear gets a 10 inch wheel. A 90/90-12 tyre is equipped in front and rear gets 90/100-10 sized tyre.
Honda NAVI Competition
Honda India carved a new segment with NAVI, a cross between scooter and motorcycle. The fresh looks bring it novelty and segregate it from the conventional looking scooters in the 100cc space. Considering its unique stance, NAVI has no direct competition as of now.
Upcoming Models are the Activa 7G, Forza 350, CRF300L and PCX 160
Honda Navi Expert Review
Honda Navi
Over the course of their more than half a century in business, Honda has acquired a superb reputation as a maker of reliable and high-quality automobiles. This reputation has helped Honda gain a phenomenal market share. However, a significant number of individuals are unaware of the fact that Honda is also responsible for the production of a number of the most cutting-edge navigation systems that are on the market today. The navigation systems that Honda offers stand out from the competition due to the fact that they combine cutting-edge technology with an intuitive design. Because of this, they are suitable for use in both professional and personal contexts, making them very versatile. If you are looking for a navigation system that is at the top of its game, it is strongly suggested that you give some serious consideration to the possibility of acquiring a Honda navi. Continue reading to find out why they are such an excellent choice, as well as the actions you need to take in order to get one for yourself, and then go ahead and get started!
How is the design of Honda Navi
The Honda Navi has a distinctive appearance that is sure to get people's attention due to its one-of-a-kind design. It is easy to see that, throughout the process of designing this car, both aesthetics and practicality were given equal weight and consideration. This vehicle is a visual treat in every possible manner, from the elegant curves of the body to the cutting-edge features. It is a car that will make your jaw drop.
One of the elements of this product that is considered to be among the most intriguing and thrilling is the way that it seems to have come from the future. Because of its sleek design and modern aesthetic, you will get the impression that you are driving something that came right out of a science fiction movie when you are behind the wheel of this vehicle. Because of how user-friendly and pleasant the interior design of the car as a whole is, it is an ideal option for meeting the requirements of ordinary transportation.
One of the many exceptional aspects of the Honda Navi is that it has a spacious interior. This is only one of its many advantages. Because this vehicle can accommodate your whole family as well as a large number of additional passengers, it is a good option for travelling for an extended period of time or travelling over the weekend. Because of its cutting-edge design, you'll feel like you're riding in a luxury vehicle even while you're only driving about the city. This impression will be created regardless of how far you go.
The Honda Navi is an incredible car that, in general, succeeds in every aspect, including the design, performance, and value for the money that is spent on the vehicle. If you are looking for a stylish new automobile that will not completely devastate your finances, putting this at the very top of your list of priorities is very necessary.
How is the performance of Honda Navi
The new Honda Navi technology is designed to make driving more enjoyable while while lowering the amount of gasoline that is used. The system utilises a number of different sensors, including as radar, cameras, and GPS, in order to give drivers with information that is current and accurate on the surroundings of their vehicle. You have the choice of activating the system by either pushing a button on the centre console or by following audio instructions. Either way, you will have access to the features of the system.
The navigation system is outfitted with a variety of features that are designed to make the experience of driving more enjoyable throughout the time that is spent behind the wheel. For example, the system is able to monitor the current status of traffic and provide suggestions for alternative routes depending on the information that it gathers. In addition, the navigation system is able to display warnings if it concludes that there is a potential of an accident or if there are weather conditions that could impair visibility. This would be the case if the system detects that there are circumstances that might reduce visibility. In conclusion, the navigation system has a pedestrian detection capacity that, depending on the gravity of the situation, may either automatically slow down the vehicle or bring it to a full stop. This action is taken by the vehicle in response to the detection of a pedestrian.
How does the Honda Naviride
The Honda Navi is a high-end vehicle that has been created with the intention of providing its drivers with a pleasurable experience. It is the goal of the company that designed this automobile to provide a vehicle that is not only easy to run but also easy on the driver's body and provides exceptional mileage.
The Honda Navi is a luxurious automobile that has a number of convenient amenities, like leather upholstery, air conditioning, and cruise control. In addition to that, it comes equipped with a variety of different safety measures, such as anti-lock brakes and traction control. Since the engine of the vehicle is both strong and efficient, it is able to propel the car to high speeds without resulting in driver tiredness or increased emissions.
The Honda Navi, in general, offers a pleasurable ride quality that is certain to satiate the requirements of anyone seeking for a premium automobile.
How comfortable is Honda Navi
Nothing can be disregarded when you're the one operating a motor vehicle. Because Honda puts a focus on the ease of mobility and happiness of its customers, the manufacturer offers a broad range of seating configurations for the cars that it creates. This is done in order to meet consumer demand. The following is a list of the many seating arrangements that are available, along with the ratings that correspond to those sitting arrangements:
The rear seat comfort rating is a perfect five out of five.
Four out of five for the Front Seat in Terms of Comfort
A pretty comfortable seat that can be found in the rear of the Honda Navi can be found there. The backrests are able to be adjusted and give an adequate amount of support, and the proportions of the seat itself are appropriate. Adults won't have any trouble finding a comfortable posture at the back of the vehicle since there is plenty space for their legs to move about in there. The fact that the dimensions and curves of the user may be readily moulded into the seat makes it an outstanding candidate for usage throughout lengthy periods of time spent travelling by automobile. Passengers may enjoy a comfortable sitting experience for shorter lengths as well as for longer stretches of time when they are seated in the front seats of the vehicle because of the ample cushioning and supportive construction of the front seats. On the other side, they do not provide nearly as much cushioning as the seats in the back, which means that it is possible for adults to wind up feeling a little bit uncomfortable after travelling for a significant amount of time in that location. In general, each of the seating configurations offers a great degree of comfort, which is especially noteworthy when one considers the affordable price.
How's the tech of Honda Navi
If you're looking for a top-of-the-line navigation system, the Honda Navi is definitely worth considering. This system comes packed with features and capabilities that will make driving much easier.
The Honda Navi uses a variety of technologies to help you get where you need to go. First, there's the GPS system that helps you track your location and route. Additionally, the navi can use mapping software to create a personalized map of your area. This information can be used to find your way around town or even out in the country.
The navi also has several other features that can help you while driving. For example, it has an onboard traffic receiver that can provide real-time updates on traffic conditions. Additionally, the navi has a hands-free calling feature that allows you to make calls without taking your hands off the wheel. Finally, there's also a backup camera that can help you see what's behind you while driving.
How's the mileage of Honda Navi
Honda has not released any official mileage figures for the Navi, but online reviews suggest it is around 10-12 kmpl in city driving and 18-20kmpl on highways. Honda is expected to price the new Navi at Rs 30 lakh which makes it one of the most affordable cars in its category.
Is the Honda Navi good value for Money
In Honda's latest offering in the market, they have introduced the Navi. This is a new vehicle that offers a lot of value for its price tag. Not only does it offer great performance and fuel economy, but it has a sleek design that is sure to turn heads. So if you are looking for a car that will deliver on both performance and style, the Honda Navi should definitely be at the top of your list.
Another great thing about the Navi is that it comes standard with many features that are not typically found on vehicles at this price point. For example, you get a backup camera, air conditioning, and satellite radio all as standard equipment. All of these amenities add up to make the Navi one of the most affordable cars available on the market today.
If you are looking for an affordable car that will still offer great quality and performance, then look no further than the Honda Navi.
How is the after sales service of Honda Navi
The Honda Navi after sales service is a great way to ensure that you are taken care of if there is ever anything that goes wrong with your car. The team at Honda Navi are available 24/7 to help you out with whatever you need, and they will go above and beyond to make sure that you are satisfied with your purchase. If there is ever an issue with your bike that needs fixing, they will get it done as quickly as possible so that you can continue driving it safely.
Which Motorbikes Compete Honda Navi in this Segment
The Honda Navi is a marvelous motorcycle that competes well against other motorcycles in its segment. It has excellent fuel efficiency, which makes it a great choice for commuters. It also has a variety of features that make it an outstanding choice for riders who want an enjoyable ride.
One of the coolest things about the Honda Navi is its design. It has a sleek and modern look that is sure to turn heads when you take it out on the open road. This bike also has impressive maneuverability, which makes it great for tight city streets and tight trails.
The Honda Navi is also one of the most reliable motorcycles on the market. Its engine is highly durable, and its suspension is praised for its smoothness and durability. If you're looking for a bike that can take you anywhere you want to go, the Honda Navi is definitely worth consideration
Verdict (Is it Value for Money?) of Honda Navi
The Honda Navi is a mid-sized SUV that has been on the market for quite some time now. It has quickly become one of the most popular options on the market, and for good reason. The Honda Navi offers a lot of value for money.
One of the biggest strengths of the Honda Navi is its price. You can buy a model relatively affordably without sacrificing too much in terms of features or performance. Additionally, the Honda Navi is incredibly versatile and can be used for a variety of purposes. Whether you're looking for an option to use as your primary vehicle or you just need something to transport your family around, the Honda Navi will have everything you need and more.
Another great thing about the Honda Navi is its performance. Whether you're driving in urban or rural areas, the Honda Navi will handle everything with ease. Plus, its spacious interior ensures that everyone in your car will be comfortable regardless of their size.
Overall, the Honda Navi is a great option whether you're looking for an affordable car that can handle anything you throw at it or want something that's versatile and reliable. If you're considering purchasing one, we would definitely recommend giving it a try!
Upcoming Honda Bikes
Find expected price range and launch dates of all upcoming Honda bikes in India.
Search Honda Dealers & Showrooms