Mercedes-Benz India today launched the 2017 GLA facelift at a starting price of ₹ 30.65 lakh (ex-showroom). This is the seventh new product launched by the Stuttgart based car maker this year and the first Mercedes-Benz model to be launched in India post the implementations of the new Goods and Service Tax a.k.a. GST. As per the new GST rates, taxes on cars like the Mercedes-Benz GLA have gone down by 12 per cent, as an effect of which the updated model has become cheaper up to ₹ 3.8 lakh than the pre-facelift GLA SUV.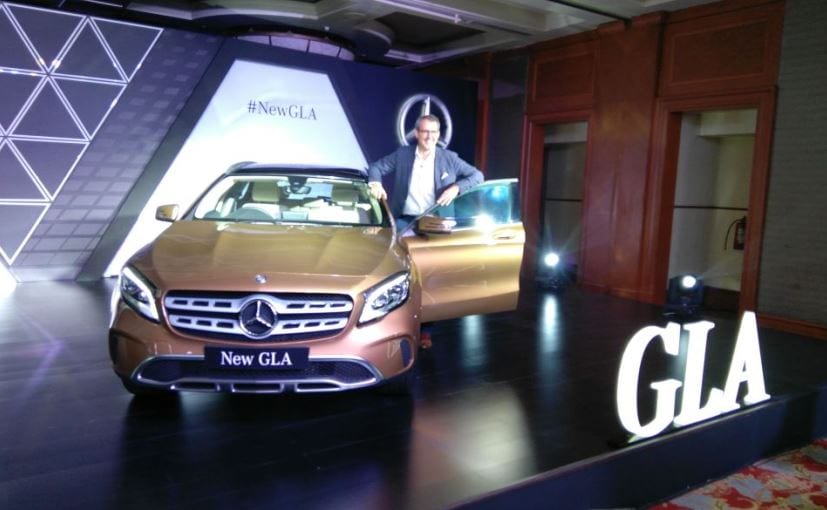 Interestingly, Mercedes-Benz was one of the first carmakers to announce a price reduction on cars of up to 4 per cent and that to prior to the official roll out of GST in the country. As per the new GST structure all cars sold in India will attract a standard 28 per cent tax over and above which there will be a cess of either 1 per cent, 3 per cent or 15 per cent. All cars that are longer than 4-metres in length, irrespective of body type, segment and engine capacity, will fall under the 15 per cent cess bracket; plus the 28 per cent slab brings the total to 43 per cent compared to the pre-GST tax rate of 55 per cent. Considering these details were already known before the GST roll out, Mercedes-Benz India had a good head start to plan the GLA's pricing.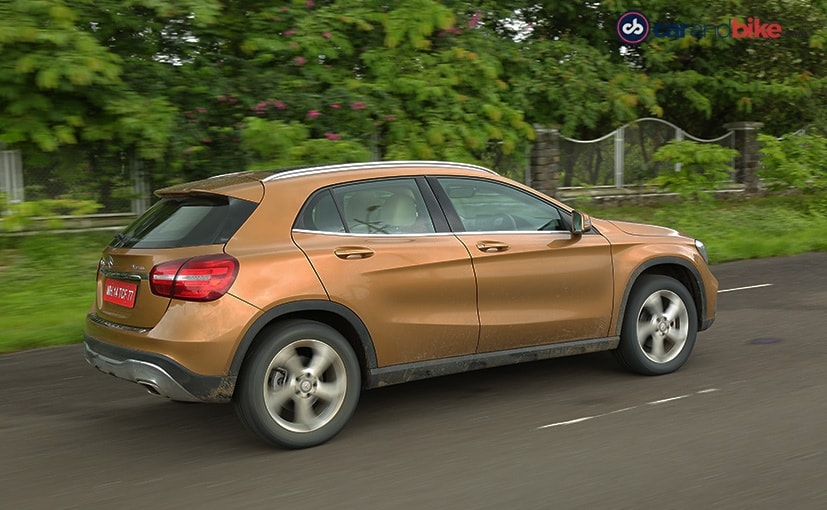 The Mercedes-Benz GLA facelift is available in 3 trims - GLA 200, GLA 200d & GLA 220d 4MATIC
Mercedes-Benz India primarily offers the GLA facelift is three trim options - GLA 200, GLA 200d and GLA 220d 4MATIC. The base model GLA 200d also comes in two variants - Style and Sport. Among the older and the facelift, the biggest price difference is between the petrol-powered GLA 200. Launched at ₹ 32.20 lakh, the updated GLA 200 is a good ₹ 3.8 lakh cheaper than the pre-facelift model. The diesel models - 200d Style and 200d Sport are now priced at ₹ 30.65 lakh and ₹ 33.85 lakh respectively, compared to the pre-facelift models that were priced at ₹ 32.75 lakh and ₹ 36.90 lakh. As for the top-of-the-line GLA 220d 4MATIC, which we drove recently, is priced at ₹ 36.75 lakh against the ₹ 38.51 lakh price tag of the previous version.
2017 Mercedes-Benz GLA Prices - Old vs New
(Ex-showroom Prices)
| | | | |
| --- | --- | --- | --- |
| Mercedes-Benz GLA Facelift | Old Prices | New Prices | Difference |
| GLA 200d Style | ₹ 32.75 lakh | ₹ 30.65 lakh | ₹ 2.1 lakh |
| GLA 200 | ₹ 36 lakh | ₹ 32.20 lakh | ₹ 3.8 lakh |
| GLA 200d Sport | ₹ 36.90 lakh | ₹ 33.85 lakh | ₹ 3.05 lakh |
| GLA 220d 4MATIC | ₹ 38.51 lakh | ₹ 36.75 lakh | ₹ 1.76 lakh |
0 Comments
The 2017 Mercedes-Benz GLA facelift will continue to feature the same 2.1-litre diesel engine available in two options - 134 bhp 200d and 168 bhp for 220d models. Mercedes also offers a 2-litre petrol engine with the GLA 200 model that makes over 180 bhp. Transmission options will include the 7-speed automatic, while AWD was recently introduced on the model and will make it on the facelifted version as well.
For the latest auto news and reviews, follow carandbike.com on Twitter, Facebook, and subscribe to our YouTube channel.