Honda has a fair amount riding on the BR-V. At the outset let me say it will need to be very aggressive on price if it hopes to realise any volume ambitions with this car. I will explain why through this piece. The Honda brand was one we expected to get nothing wrong - always shrewd with the right products - always cutting edge with the right interior and equipment - and always attractive on design. It was the reason the Japanese brand could always command a premium on pricing and yet stay in demand. In fact 'premium' was the most commonly associated word with Honda cars. All that has gone and the Honda BR-V is another product that does little to try and revive that old Honda feeling!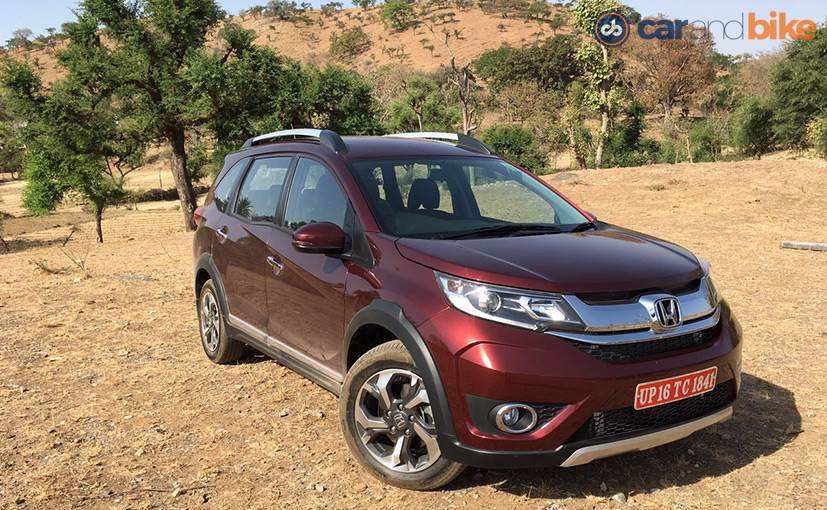 (Honda BR-V Front Section)
I have already stated why it should have been the Honda HR-V and not the Honda BR-V that we should have got. So I won't get into that. I get why it makes economical sense for Honda to use the Mobilio/Amaze as a base for the BR-V. But it could have (and should have) done much more on the car's design. Just like the Amaze is much shorter than the Mobilio, the Honda BR-V could have been a more compact, sharper design. But then you wouldn't have got the third row of seating I suppose. And I agree that it would have cost more to re-engineer the platform and create those many more body panels. Yes, the Honda BR-V is a 7-seater and yes its side body panels seem to be a direct carryover from the Mobilio.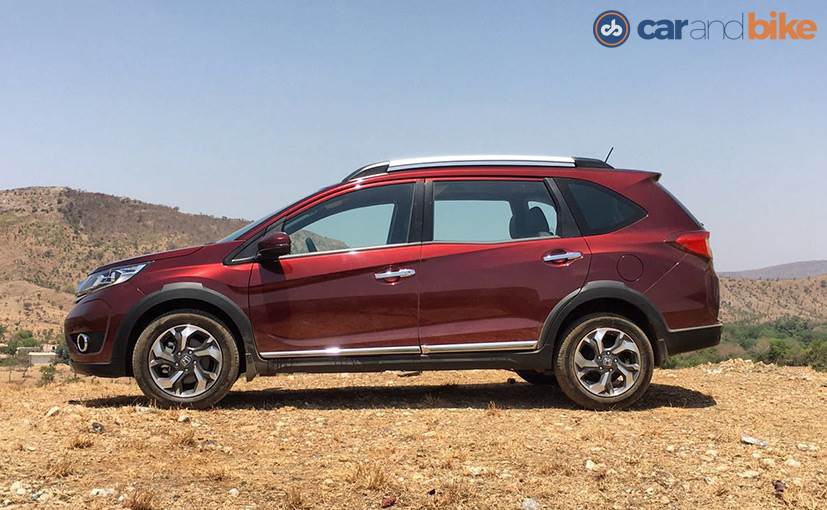 (Honda BR-V Side Profile with Sharp Character Lines)
So the car appears stretched when viewed side-on and very van-like (Mobilio-like I mean!). The low height and non-SUV stance get further accentuated by this. Maybe bigger wheels would have helped? The face is more in line with Honda SUVs globally and the tailgate (though attractive) looks more like a minivan's too.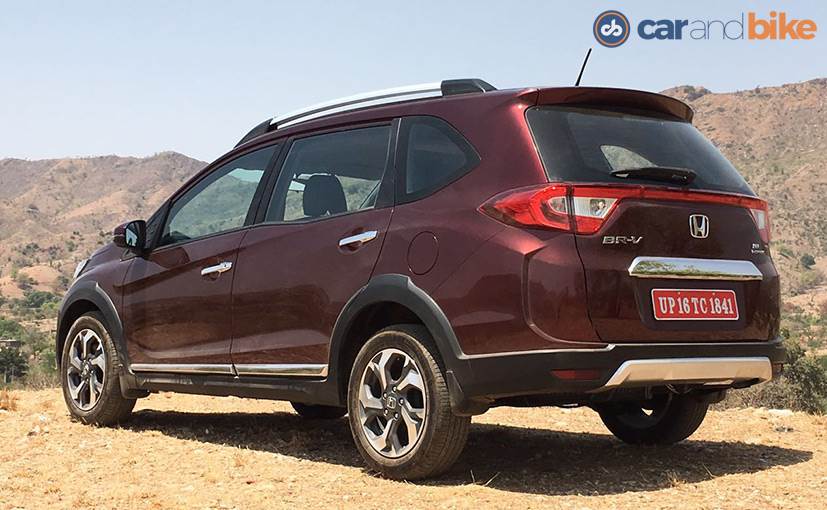 (Honda BR-V Rear Section)
The car's cabin will be its USP. I am alluding more to the interior space rather than layout or equipment though. Honda has shaved off space from the seats (they're pretty thin) and as a result if you thought the Mobilio was spacious then the Honda BR-V is even more so. The second row offers generous leg and headroom, and the third row is also not too bad in terms of legroom. Though it's strictly not for tall people - especially on long drives! The 7-seat configuration is standard, but it's easy to fold up the third row bench to get tonnes of cargo space. The low height means the cargo loading bay is very easy to access - though again that's non-SUV like.


The roof mounted AC vents do manage to cool the big cabin fairly well. On the top end VX you get black leatherette seating and door panel trim. The black fabric version on the V is also quite smart though. Both variants also have the Start/Stop button, keyless entry and climate control - all nice to have. While Honda isn't divulging much about variants and trims as yet, I know about the VX and V since the two cars I drove carried those trims! The VX was the 1.5 i-DTEC oil burner, and the V was the 1.5 i-VTEC petrol with CVT (though we did check out the VX trim with petrol manual). The manual transmission on offer is a 6-speed on both fuel types and Honda says its assessing the need for a diesel auto - which means don't expect one in a hurry!

Also Read: Honda BR-V Launched in India
Both engines are very familiar aren't they? Yup think City and Mobilio. Honda says its reworked them though and it's immediately apparent that it's been done largely to get great mileage. Honda claims segment best figures at 21.9 km/l on the diesel and on the petrol it's 15.4 km/l (manual) and 16 km/l (CVT). So on to the performance then. The CVT is pleasant and convenient but certainly lacks punch. The petrol in general seems lacklustre and certainly not what you expect from an i-VTEC motor. But the CVT comes across as refined and will certainly feel much smoother (primarily in city traffic) than the clunkier auto from the Creta or the AMT in the Duster. The engine gets noisy and very rev-happy when you put it from D to S mode (or use the rather welcome paddle shift) but it is more noise and less action as performance only enhances marginally. There's no cruise control on offer either, which is a bit of a miss.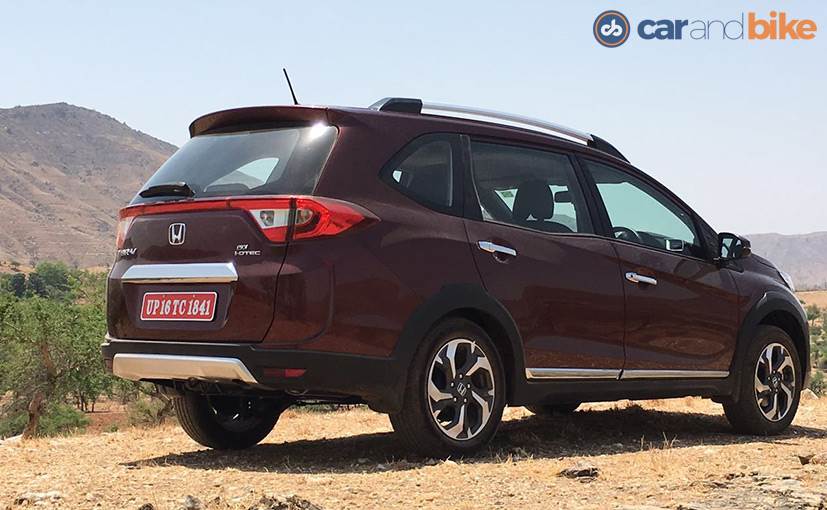 (Honda BR-V Features)
On the diesel things get better. The engine is much more responsive and has great low and mid torque. This affords a nice city driving experience - with infrequent gear changes, and also gives you a good highway cruising character. But even though Honda says a lot of work's been done on reducing NVH the loud common rail engine easily filters into the cabin. That's quite disappointing, especially since the BR-V is meant to be more premium than the rivals. The new 6-speed gearbox though is a delight - very smooth and very forgiving too. Lag is controlled and overall the diesel will give you the nicer drive; the extra weight up front also makes the diesel variant feel more planted.
Dual airbags will be standard across the range - and I applaud that. ABS is standard on all diesel variant but the base petrol trim will be the only one not equipped with it. ESP is not an option at all. There is Bluetooth connectivity but the lack of a cool touchscreen or navigation (or CarPlay and the like) - even on the top end - is a definite problem.
The driver's seat on the variants I drove was height adjustable. It feels a bit unnatural to raise it (given the low profile of the car) but you simply have to if you want to feel like you're driving an SUV. Keep it low and it's more sedan-like (but more comfortable). The steering is adjustable for height too but is not telescopic - that would've helped when the seat is raised to find an ideal commanding SUV driver position.
They say it's name stands for 'Bold Runabout Vehicle'. Go figure! Spending time with it makes you think it could also be 'Based Really (on a) Van'! So the BR-V underwhelms. It isn't really an SUV, though ground clearance is decent at 210mm. It isn't really a fire-starter, though great claimed mileage figures assuage some of that. It isn't as premium as you'd expect (yes we've all been thinking CR-V haven't we?) and so boom - that's where pricing becomes the crucial factor. Hyundai has run away with this segment with the Creta. That car, though overpriced, offers enough SUV appeal, cabin comfort and equipment (the top end has touch screen navigation) to stay ahead.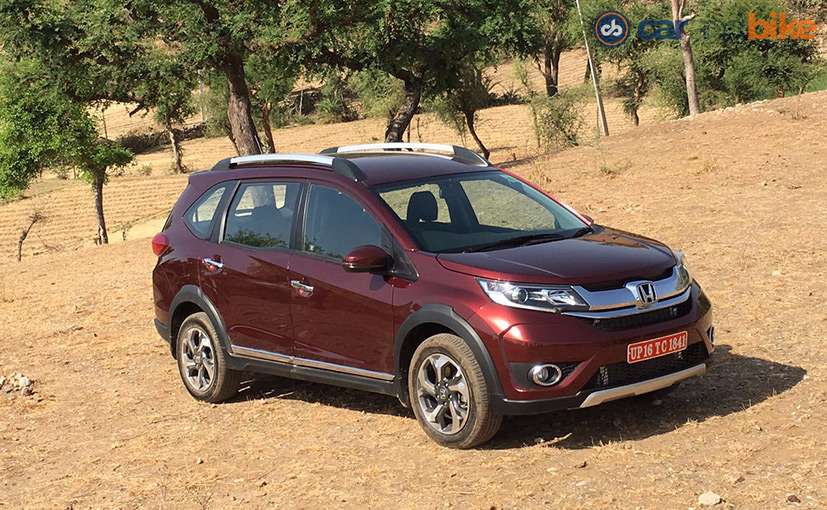 (Honda BR-V Compact SUV)
So back to my opening statement. Honda will have to get off its high horse, gets its hands dirty and fight it out by undercutting the rivals if it wants big volumes from the BR-V. There's no way around that. Like in its other cars, the automatic (CVT) will play an important role with its core constituents and loyalists especially in the big cities. The CVT is being offered in two trims but the higher V sits one-below-the-top-trim. So, with killer prices the BR-V could easily become a popular option in this compact SUV space. With a premium positioning though, it will be relegated to an also-ran. Over to Honda now to decide what it really wants from the BR-V.

Dimensions
Length
4,453mm
Width
1,735mm
Height
1,666mm
Wheelbase
2,660mm
Ground Clearance
210mm
| | | |
| --- | --- | --- |
| Engine | 1.5-Litre Petrol | 1.5-Litre Diesel |
| Displacement | 1,497cc | 1,498cc |
| Max Power | 117bhp | 98bhp |
| Max Torque | 145Nm | 200Nm |
| Transmission | 6-Speed MT / CVT | 6-Speed MT |
0 Comments
For the latest auto news and reviews, follow carandbike on Twitter, Facebook, and subscribe to our YouTube channel.