TVS Victor Overview
| | |
| --- | --- |
| Engine Capacity | 109.7 CC |
| Mileage | 72 - 76 KM/L |
| Fuel Tank Capacity | 8.0 L |
| Gears | 4 Speed |
TVS Victor Prices
TVS Victor price starting from 54,042. TVS offers Victor in 4 variants.
Variants
Last Recorded Price
Petrol, 76 KM/L, 109.7 CC
Petrol, 76 KM/L, 109.7 CC
TVS Victor Specifications & Features
Explore an in-depth overview of the TVS Victor specifications and features, offering comprehensive details on its engine, fuel efficiency, mileage, brakes, max power, and tyre. Additionally, gain insights into the bike's advanced safety features.
| | |
| --- | --- |
| Engine CC | 109.7 CC |
| Fuel | Petrol |
| Mileage | 72 - 76 KM/L |
| Brakes | Drum/Drum |
| Max Torque | 9.40 Nm |
| Max Power | 9.37,9.46 bhp |
| Tyre | 2.75 X 17/ 3.00 X 17 |
TVS Victor is available in 9 different colors namely Black, Matte Series Silver, Blissful Blue, Restful Red, Serene Silver, Generous Grey, Beatific Black SIlver, Balanced Black Red & Matte Series Blue.
TVS Victor Black
Available for all Variants.
TVS Victor Matte Series Silver
Available for all Variants.
TVS Victor Blissful Blue
Available for all Variants.
TVS Victor Restful Red
Available for all Variants.
TVS Victor Serene Silver
Available for all Variants.
TVS Victor Generous Grey
Available for all Variants.
TVS Victor Beatific Black SIlver
Available for all Variants.
TVS Victor Balanced Black Red
Available for all Variants.
TVS Victor Matte Series Blue
Available for all Variants.
Browse through a collection of 9 high-quality images showcasing TVS Victor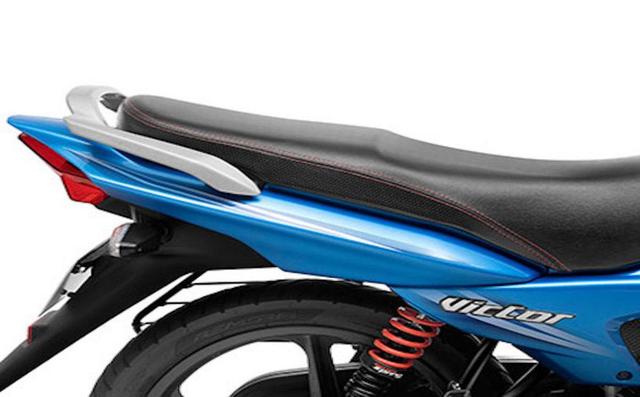 Quick Compare With TVS Victor Competitors
| | | | | | |
| --- | --- | --- | --- | --- | --- |
| TVS Victor | | | | | |
| Ex-Showroom Price | | | | | |
| ₹ 54,042 - 57,022 | ₹ 77,378 - 82,878 | ₹ 1.06 - 1.1 L | ₹ 73,400 | ₹ 52,915 - 63,578 | ₹ 1.31 - 1.48 L |
| C&B Expert Rating | | | | | |
| N/A | | | | | |
| Engine CC | | | | | |
| 109.7 CC | 124.7 CC | 162.7 CC | 109.5 CC | 102.0 CC | 199.5 CC |
| Gears | | | | | |
| 4 Gears | 4 Gears | 5 Gears | 4 Gears | 4 Gears | 6 Gears |
| Mileage | | | | | |
| 72 - 76 KM/L | 65.00 Km/L | 62.00 Km/L | 74.00 Km/L | 96.90 Km/L | 35.00 Km/L |
| Max Torque | | | | | |
| 9.40 bhp | 11.00 Nm | 14.00 Nm | 9.30 Nm | 8.30 Nm | 18.30 Nm |
| Max Power | | | | | |
| 9.37,9.46 Nm | 10.50 bhp | 12.70 bhp | 9.00 bhp | 7.70 bhp | 23.17 bhp |
| Brakes | | | | | |
| Drum/Drum | Drum (Front) / Drum (Rear) | Disc (Front) / Drum (Rear) | Drum (Front) / Drum (Rear) | Drum (Front) / Drum (Rear) | Petal Disc with floating caliper (Front) / Petal Disc with floating caliper (Rear) |
| Fuel Tank Capacity | | | | | |
| 8.0 L | 10.5 L | 13.0 L | 8.0 L | 11.0 L | 12.0 L |
| Colour Count | | | | | |
| 9 | 7 | 3 | 4 | 4 | 2 |
| Detailed Comparision | Victor vs CB Shine | Victor vs CB Unicorn 160 | Victor vs CD 110 Dream | Victor vs Platina 100 | Victor vs Pulsar 200 NS |
TVS Victor Reviews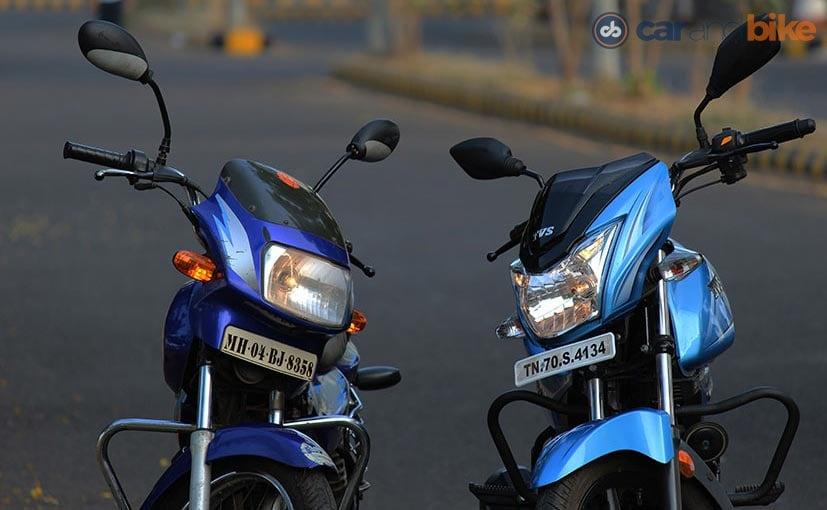 Comparison Review: 2016 TVS Victor vs Old TVS Victor
7 years ago
1 mins read
View All TVS Victor Reviews
TVS Victor has 1 videos of detailed review, pros & cons, comparison & variant explained, test drive experience, features, specs, interior & exterior details and more.
About TVS Victor
Born in 2001, TVS' Victor was a renowned name in the commuter segment back then. Attributed by promising economy, superior ride quality and great ergonomics Victor soon became a household name garnering a fair number of sales every month. While basking in glory, Victor got fenced in by emerging competition which led to a steep fall in demand. Unable to recoup its position, TVS thought to call it a day for the once popular model. Years after Victor's termination from commuter segment, TVS has resurrected the brand to start afresh. To ensure Victor's success, TVS did a lot of homework before giving it a final shape, hence the new version is not just a reworked avatar of the previous model but it features aplenty new elements that are quite visible. Engine powering the commuter bike is a new unit and it is notably the most prominent change over the model it precedes. Pricing is spot on positioning the 110cc bike aggressively amid fierce competition.
The well-proportioned muscular contours reflect TVS' contemporary approach for the reincarnated model. Styling has been done tastefully which complements the chiselled silhouette. Sharp lines are present all across the length of the body and graphics further accentuate the premium look. Cockpit gets a part-analog speedometer but it isn't all digital. Instrument panel on the whole is not complicated and offers great visibility. The long and wide single piece seat offers enough room for rider as well as pillion.
Victor Engine Specifications & Transmission

Power is drawn by a 110cc, single cylinder, air-cooled engine borrowed from TVS' Ecothrust engine family. The engine is good for 9.46bhp at 7500rpm along with 9.4Nm of torque at 6000rpm. Moreover, the engine features a combustion chamber oil cooling jacket which improves the performance, lessens the NVH levels and heightens the throttle response.
Victor Features

Among the various features aboard, a switch gear, hazard lights, digital tripmeter, digital odometer, exhaust muffler, a single piece seat, a large clear lens head light, grab rail, hexagonal tail lamp and clear lens indicators are included.
Victor Performance & Mileage

The new engine pulls off impressive performance managing to achieve a top speed mark of 94 kmph. As for the performance, the engine runs smoothly without showing any signs of strain between 70 kmph to 80 kmph. Mileage delivered is impressive making it a frugal option in the commuter segment.
Victor Braking & Handling

Stopping power is delivered by 240mm petal disc brakes in front and 110mm drum brakes at rear. Ride quality is not exceptional but it is comfortable even on erratic surface. Handling is fairly good on the sharp corners.
Victor Wheels & Tyres

The Remora tyres offer good grip even on the wet surface all thanks to the reduced rolling resistance.
TVS Victor Competition

The all new TVS Victor 110 will rival the likes of Honda Livo, Hero Passion Pro and Mahindra Centura in the highly competitive 110cc commuter segment.
Pros

New 110cc Ecothrust engine
Comfortable ride & handling
Imposing mileage
Cons
Elementary design
Simple styling
TVS Victor Expert Review
TVS Victor
Over the course of the last few years, the term TVS Victor has become virtually interchangeable with quality and dependability in reference to the production of motorcycles in India. TVS Victor was first introduced in the market in the year 2001 and quickly became famous for its aggressive and athletic design aesthetic. TVS Victor'smotorcycles are well-liked not just in their home country of India, but also in other parts of the world, such as the United States and Europe. TVS Victor's motorcycles are made in India. In this piece, we will investigate the motorcycle brand TVS Victor in greater detail and talk about the aspects that lead to the brand's widespread appeal.
How is the design of TVS Victor Bike
The TVS Victor bike is a sophisticated and fashionable bicycle that can be utilised for a variety of purposes, including travelling to and from work as well as riding for pleasure. Because of the way in which the bike was developed and put together, many people believe that it is currently one of the most inventive bicycles that can be purchased in the market that is currently available. This is because the most modern advances in manufacturing technology were utilised in the production of the bike, which is the reason why it has such a high quality. It is a fantastic choice for travelling on longer bike excursions because the sitting arrangement of the bike allows for comfort. In addition to this, potent engines have been put on the motorcycle, which contributes to the fact that it is one of the quickest motorcycles that can now be purchased on the market.
How is the performance of TVS Victor Bike
The TVS Victor is the motorbike model that the firm has released to far that features the highest level of technological advancement. The lightweight aluminium used in the construction of the frame contributes to the item's overall low weight of 68 kg. As a direct result of the robust nature of its engine, it is feasible to achieve high speeds of up to more than 100 kilometres per hour. The Victor comes standard with a number of wonderful features and conveniences, such as an automatic transmission, front and rear suspension, and a seat that is very comfortable to sit in. In addition to that, the Victor offers a remarkable level of performance.
How does the TVS Victor Bike ride
When looking for a vehicle to use for daily commuting, the TVS Victor is a worthy contender to take into consideration. It is not only simple to use, but also offers a nice riding experience, making it an excellent solution for longer commutes. This is one of the reasons why it is so beneficial. Due to the fact that the bicycle's suspension system is of such a high quality, the bicycle is pretty steady when you are riding it due to the fact that it was constructed so well. You also have the ability to alter the height of the handlebars so that the bike is a good fit for your height when you purchase it.
How comfortable is TVS Victor Bike
The TVS Victor is a comfortable motorcycle that provides a comfortable ride and is an excellent choice for use on commuting. Because of its flexible seating posture and broad handlebars, it offers a riding experience that is both comfortable and enjoyable. A bicycle that has a suspension system installed on it provides the rider with a more comfortable and enjoyable experience overall. The TVS Victor is, in general, a fantastic alternative for commuters who are seeking for a travel that is easy as well as comfortable, and it is a decision that should not be overlooked.
How's the tech of TVS Victor Bike
It was India's first mass-produced electric bike, and it quickly acquired a reputation among commuters as a reliable and cost-effective mode of transportation. In fact, it was the first electric bike in the world to be mass-produced. The first electric bike to be manufactured in India on a mass scale was the TVS Victor. The bicycle has a modern appearance and comes standardly outfitted with a number of useful features, such as front and rear lighting, an integrated speedometer, and an LCD display that makes it simple to keep track of both your speed and your mileage. Other standard features include a chain guard and a rear rack. The asking price of the bicycle includes all of these additional components and accessories.
In addition, the bicycle is fitted with a number of different safety features, such as an automated braking system that brings the bicycle to a stop in the event that the rider loses control of the bicycle and an electronic suspension system that ensures a smooth ride even over more bumpy routes. Both of these systems are designed to protect the rider in the event that they lose control of the bicycle. In the event that the rider loses control of the bicycle, both of these features are intended to safeguard the rider from potential harm. Because the battery that is included as standard on the TVS Victor has a range of up to 50 kilometres, this motorcycle is a good choice for travelling longer distances on open highways as well as for commuting in and around the city.
How's the mileage of TVS Victor Bike
Because it gets such great gas mileage, the TVS Victor is currently one of the most popular bikes that can be purchased from a dealership. The company brags that the bike can travel up to 1,500 kilometres on a single charge, which is an impressive feat in and of itself. On the other hand, similar to the disadvantages associated with riding other kinds of bicycles, this one has a few of its own. In relation to TVS Victor, the following is a collection of information that is very pertinent:
The exhaust fumes that are produced by the motorcycle's engine are due to the fact that it is fueled by petrol.
It is not the simplest bike to ride, and riders who have never done it before may discover that they require some practise before they can do so with confidence.
The suspension is not the best and, at various times throughout the ride, it can cause a great deal of discomfort for the passenger.
Is the TVS Victor Bike value for Money
Investing in a TVS Victor is something you should give serious consideration to doing if you are seeking for a motorcycle that features all of the bells and whistles that are now available on the market. This design is one of the many potential choices that you ought to give some thought to. This motorcycle comes standard with a robust engine as well as a wide range of additional features that are designed to be useful in a variety of situations. But considering everything it has to offer, is the price of a room at the Victor reasonable? Shall we have a closer look at this matter, if you don't mind, shall we?
The Victor is without a doubt one of the most pricey bicycles that can be purchased, and its price tag, which begins at over 7,000 pounds, is not exactly coin of the realm. The Victor is available in a variety of colours. Having saying that, it does come with a plethora of features that are guaranteed to pique the interest of particular riders. One may say that this is a strength of the product. For instance, the Victor features a robust engine that is capable of reaching high speeds of up to 201.17 kilometres per hour; as a result, it is an excellent option for those who are interested in competing in races. The Victor stands apart from its competitors thanks to a multitude of other characteristics that distinguish it in a variety of ways, and this is yet another domain in which it demonstrates its superiority. These features include a seat that is not only comfortable but also provides enough support, as well as brakes and tyres that are of a higher quality than standard models. In conclusion, the TVS Victor is an excellent choice that should be taken into consideration if you are looking for a bike that has a high degree of adaptability and is easily able to deal with a wide range of environmental circumstances. This is because the TVS Victor is equipped with a dual-channel electronic fuel injection system, which allows it to perform well in both wet and dry conditions. If you are interested in purchasing a machine of this kind, you should give considerable consideration to this alternative.
How is the after sales service of TVS Victor Bike
The customer service that is provided by TVS Victor Bike is of the greatest possible standard, even after the purchase has been completed. Following the completion of the sale, they offer the new bike owners any and all assistance that they might require in the event that they have any queries or reservations about the product. The crew is constantly available, no matter the time of day or night, and they are always ready to help you with any issue that may be affecting your bicycle in some way. In addition to this, they are really quick, and they will provide a speedy response to any and all of your inquiries that you may have. Overall, the quality of their service is rather high, and I would have no issues in referring them to anyone who was looking for a reliable after-sales service for their motorcycle. They have an excellent reputation in the industry.
Which Motorbikes Compete TVS Victor Bike in this Segment
TVS, a firm that is situated in India and produces bikes, develops a wide variety of motorcycles with the intention of competing in a number of different categories of the market. At the Auto Expo in 2016, TVS presented their brand-new motorcycle, which is called the Victor, to the public for the first first time. It is expected that the Victor will compete with other bikes already available on the market, such as the Harley-Davidson Street 800 and the Yamaha FZ09.
The Victor is driven by an engine that has a displacement of 368 cc and is liquid-cooled. This engine generates 37 horsepower and 28 Nm of torque. The engine receives its cooling from the liquid. It has the capability of reaching its maximum speed of 145 kilometres per hour and can accelerate to 100 kilometres per hour in just 6.2 seconds. It is capable of reaching a top speed of 145 kilometres per hour. In addition to this, TVS has integrated their very own patented fuel injection technology in the Victor. This technology was developed by TVS. The Victor is a great option for those who need a motorbike for commuting since it offers a comfortable ride without sacrificing power or performance. One of the assertions that have been made regarding it is that it is one of the most agile motorcycles that are currently available for purchase.
Verdict (Is it Value for Money?) of TVS Victor Bike
If you are in the market for a motorcycle and want to get the most value for your money, the TVS Victor is a model that you ought to think about purchasing; in other words, it provides a lot of bang for the buck. If you are in the market for a motorcycle and want to get the most value for your money, the TVS Victor is a model that you ought to think about purchasing. A ride on it is a very delightful experience, and it comes with a lot of features that might come in handy in many situations. In addition to this, it comes with a guarantee that is valid for a period of two years and indicates that during this time, any problems that may arise with the product will be repaired or replaced at no additional cost to you. The guarantee is included in the purchase price of the item. A manufacturer backs up this promise with their name and reputation. In general, we believe that the TVS Victor is an excellent choice for anyone who is looking for a dependable motorcycle that will not blow their budget but will still provide them with a high level of service. This is because the TVS Victor combines affordability with a high level of service delivery.
Upcoming TVS Bikes
Find expected price range and launch dates of all upcoming TVS bikes in India.
Search TVS Dealers & Showrooms