Kia EV6 Overview
| | |
| --- | --- |
| Fuel Type | Electric |
| Transmission | Automatic |
| Battery Range | 425/528 Km/Full Charge |
| Charging Time | 73 Min |
| Seating | 5 Seater |
| Airbags | Yes |
C&B Verdict On Kia EV6
Now, only 100 units of the EV6 are coming to India so, the big play then is exclusivity! And it's selective dealerships where it will be available. We expect prices to be around the 55 to 60 lakh rupees quadrant and that means it will go up against the likes of the Volvo XC40 recharge. But with what the EV6 has to offer, I am very sure, Kia will sell the first batch of these cars with ease. There will be takers and those who want a comfortable, futuristic and absolutely sexy EV in their garage.
Pros & Cons of Kia EV6
Things We Like
Bold Design And Styling
Premium Interior And Tech
Has A 5-Star Safety Rating From Euro Ncap
Things We Don't Like
It Is Quite Expensive
Only Offered In Limited Cbu Models
Visibility From Cabin Is Not The Best
Kia EV6 Prices
Kia EV6 Ex-Showroom price ranges from ₹ 59.95 to 64.95 Lakh. Kia offers EV6 in 2 variants. The top variant of EV6 is GT Line AWD and the base variant is GT Line RWD.
Variants
Ex-Showroom Price
Compare
Electric, 528 Km/Full Charge, Automatic
Electric, 425 Km/Full Charge, Automatic
Kia EV6 Specifications & Features
Explore an in-depth overview of the Kia EV6 specifications and features, offering comprehensive details on its engine choices, fuel efficiency, torque, power, transmission, dimensions, and trunk capacity. Additionally, gain insights into the car's advanced safety features and infotainment system.
About Kia EV6
Kia EV6 electric crossover finally makes its way to India in two trims- GT Line RWD and GT Line AWD. The GT Line RWD is priced at Rs 59.95 lakh (ex-showroom, India), while the GT Line AWD is priced at Rs 64.95 lakh (ex-showroom, India). Kia EV6, the South Korean carmaker's electric flagship, is making its way to India via the CBU route, and the 100 units allocated for our market are already sold out. In fact, the company received an overwhelming response as it registered 355 pre-bookings for the electric car, and will make up for it by allocating more units to India. Bookings for the Kia EV6 commenced on May 26, 2022, for an initial token amount of Rs 3 lakh. Kia's EV expansion will be led by 15 dealers in 12 cities, and the deliveries for the new Kia EV6 will begin in September 2022.
The two variants of the Kia EV6 launched in India have predominantly only one difference, the drivetrain. The RWD version of the Kia EV6 gets a single motor, that delivers 226 bhp and a healthy 350 NM of torque, while the AWD version gets a dual motor setup, delivering a combined output of 320 bhp and a whopping 650 Nm of instant torque. Both the versions get the same 77.4 kWh battery pack, with the claimed range on RWD being 528 km. The AWD version gets a much-reduced range, due to the dual-motor setup, and Kia claims that it can travel up to 425 km on a single charge.
To match with the futuristic looks, the Kia EV6 electric crossover is loaded to the gills with features. The car gets two screens which take the centre stage on the dash, ADAS features like multi-collision braking, AEB, lane-keeping assist, lane follow assist, and blind-spot collision warning with rear cross-traffic collision avoidance, and some other features like parking collision avoidance assist, a reverse surround view monitor with a 3D model and a blind-spot view monitor. There is also a tyre pressure monitoring system (TPMS) built in. The car comes with ABS, BAS, ESC, Hill Hold Assist, Highway Driving Assist, and Vehicle Stability Management.
Kia EV6 Price By Fuel
| Fuel Name | Price Range |
| --- | --- |
| Electric | ₹ 59.95 - 64.95 Lakh |
Download Kia EV6 Brochure
Official Brochure Available !
Kia EV6 EMI Calculator
Calculate EMI for Kia EV6 using our EMI calculator and know about the interest rates and monthly cost.
Ex Showroom Price:
₹ 59.95 L
Duration (5 Years)
5 Years
EMI ₹ 1.24 L
for 5 year @9%* Interest Rate
*Interest rate may vary subject to your credit score.
Calculate EV6 EMI
Kia EV6 Mileage
99 %
Better mileage than other SUV
Kia EV6 mileage is 425 to 528 Km/Full Charge as per ARAI The Automatic Electric engine has a mileage of 528 Km/Full Charge.
Fuel Type
Transmission
Mileage
Electric
Automatic
528 Km/Full Charge
Check EV6 Mileage in Detail
Kia EV6 is available in 5 different colors namely Aurora Black Pearl, Moonscape, Yatch Blue, Runway Red & Snow White Pearl.
Kia EV6 Aurora Black Pearl
Available for all Variants.
Kia EV6 Moonscape
Available for all Variants.
Kia EV6 Yatch Blue
Available for all Variants.
Kia EV6 Runway Red
Available for all Variants.
Kia EV6 Snow White Pearl
Available for all Variants.
Browse through a collection of 34 high-quality images showcasing both the exterior and interior of the Kia EV6
Kia EV6 Exterior
Kia EV6 Interior
Watch 2 Kia EV6 review videos, curated specically for you by our experts of features, performance, and driving experience.
Kia EV6 has 1 videos of detailed review, pros & cons, comparison & variant explained, test drive experience, features, specs, interior & exterior details and more.
Kia EV6 Comparison with Similar Cars
Compare Kia EV6 with other SUV cars, and know how it stands out for its interior, range of advanced safety features, and intuitive infotainment system. Compare one on one specification, features, colour, price and all other relevant components.
Kia EV6 Expert Review
Kia Motors Corporation has presented the world with its brand-new flagship model, the Kia EV6. This electric vehicle has design and technology that are at the bleeding edge, making it a one-of-a-kind choice for motorists who are seeking for a car that is both high-quality and fashionable. Because it comes standard with a wide variety of cutting-edge amenities, the Kia EV6 is an outstanding option for motorists of any age or set of requirements. It has a remarkable range of 238 miles on a single charge, which makes it simple to go great places without becoming fatigued. Additionally, the automobile has plush seating and an aerodynamic design, all of which will help you stand out while you're driving. Kia is dedicated to assisting drivers in lowering the amount they spend on their monthly energy bills and living a lifestyle that is less harmful to the environment. The Kia EV6 is the ideal vehicle for motorists who wish to maximise the quality of their driving experience while also minimising their impact on the surrounding natural environment.
How is the Design?
Electric vehicles are gaining popularity since they are considered as a more environmentally friendly option that does not emit any pollutants that are harmful to the environment. The Kia EV is one of the most recent electric cars to hit the market, and it is one of the options that is particularly appealing due to the many advantages that it provides.
The Kia Electric Vehicle has a range of approximately 100 miles, which should be sufficient for the vast majority of drivers. It also includes a quick charging technology, which enables you to fully recharge it in approximately an hour's time at the most. The car has a variety of other qualities that make it an appealing prospect, such as its streamlined appearance and comfortable seating, and these features contribute to the car's overall appeal.
The Kia EV is an attractive and sophisticated electric vehicle. The design is uncomplicated and up-to-date, and it has a sleek profile that makes it seem fantastic when driven. Because of its user-friendly touch screen interface, operating the vehicle is both simple and enjoyable. You only need a few clicks on the screen to control everything, from the playlist to the temperature of the room.

In addition, the Kia EV offers a very good range. Because the battery has a capacity of 73 kilowatt-hours, it has the ability to go up to 352 kilometres on a single charge. That eliminates the need for you to be concerned about your battery running out no matter where you go. Because it is equipped with cutting-edge technology, the Kia EV will continue to perform faultlessly even while you are driving for extended periods of time. You can travel with complete peace of mind.
How does it perform?
Kia has just recently made the announcement that they will be manufacturing an electric vehicle known as the Kia EV. Late in 2014 is when the Kia EV, which is built on the Samsung SM3 platform, will be made available to the public for the first time. About 35,000 dollars will be required to purchase one, and it will have a range of approximately 200 miles.
The cost of ownership of the Kia EV is one of its most appealing features. When it finally hits the market in the latter half of 2014, it will be one of the most affordable fully electric vehicles available. The driving range of the Kia EV is another selling factor for the vehicle. It is projected to have a range of about 200 miles on a single charge, which ought to be sufficient for the vast majority of users.
Kia says the battery pack in the all-electric Kia EV is capable of achieving an estimated range of 240 miles, with a charging time of just over three hours. The car also has an "Instant Charging" feature that allows drivers to charge up to 80% of their battery capacity in just 20 minutes using a standard 120 volt outlet. Additionally, the Kia EV offers DC fast charging capabilities that can bring the car's battery pack up to 80% of its capacity in as little as 30 minutes.

While it's still early days for the electric car market, Kia is already offering some compelling features that could make it a popular choice among consumers. And with similar prices to traditional gasoline-powered cars, the all-electric Kia EV may be a good option for those looking for an environmentally friendly transportation choice.
The Kia Electric Vehicle is not without its flaws. The Kia Electric Vehicle does not have a particularly long range, which is one of its drawbacks; as a result, customers who routinely travel further than 200 miles may not be able to utilise it. It doesn't have a very huge battery pack, which is one of the reasons why it isn't very powerful overall, and this is another one of its drawbacks.
Torque Figures of BMW 3 Series Car
The Kia EV6 is a plug-in hybrid electric car that offers high performance and great fuel economy. It has an EPA estimated range of 82 miles on a full charge, and features a powerful electric motor that delivers 367 horsepower and 376 lb.-ft. of torque. This power allows the EV6 to accelerate from 0-60 mph in just 5.9 seconds, while also providing excellent fuel economy, with an estimated 34 mpg in the city and 43 mpg on the highway.
Power of BMW 3 Series Car
Kia EV6 is a sleek and powerful electric car that offers drivers an exhilarating driving experience. The all-electric powertrain provides a smooth and efficient ride, while the intuitive controls make driving easy and enjoyable. With a range of up to 130 miles, Kia EV6 is perfect for long drives or weekday commutes. Plus, the compact footprint makes it ideal for city streets and parking spaces. Whether you're looking for an environmentally friendly way to get around town or you're curious about how an electric car compares to its gasoline counterparts, Kia EV6 is the perfect choice.
The Kia EV6 electric car is capable of reaching speeds exceeding 100 mph. The top speed of the Kia EV6 is 124 mph.
What's the range?
The Kia EV has a price range of between 30,56,539.18 Indian Rupee and 38,00,222.68 Indian Rupee. The Kia EV is currently one of the most reasonably priced electric vehicles available on the market given its price point. The Kia EV has a range of 186 miles and is capable of being charged to 80 percent using a regular household outlet in as little as 30 minutes.
How's the Driving experience
The Kia EV ushers in a brand-new era for electric vehicles. It is equipped with an electric motor that is both powerful and efficient, resulting in a ride that is both smooth and silent. You will no longer need to be concerned about the state of the environment or the current oil problem if you purchase this vehicle. The Kia EV comes standard with a lengthy range that may transport you up to 435 miles in a single charge.
Kia EV is the best electric car for you if you're looking for an affordable and practical option. The car has impressive driving range, good acceleration, and excellent braking. Plus, it's available in a variety of colors and styles to fit any lifestyle.

The Kia EV is perfect for urbanites who want to reduce their environmental impact while commuting. It's also a great option for families who need an affordable vehicle that can accommodate multiple passengers and cargo. The car has a comfortable interior with plenty of storage space, making it the perfect choice for long trips.

Overall, the Kia EV is an excellent choice for drivers who are looking for an affordable and practical electric car.
What's the interior like?
The Kia EV is an excellent option for urban commuters as well as people who are environmentally conscious. Its low starting price of 28,92,102.50 Indian Rupee makes it an excellent choice for people who are interested in reducing the amount of carbon dioxide emissions they produce. The electric vehicle (EV) has a contemporary and stylish cabin, and there are a large number of charging stations located all around the city.
The Kia EV is a sleek and futuristic electric car. It's been designed with comfort and convenience in mind, with an interior that's both spacious and stylish. The EV features high-quality materials and finishes, making it a luxurious car to drive.

For drivers who need plenty of space, the EV offers plenty of legroom and comfort. There's also plenty of storage space, including a large trunk area. In terms of convenience, the EV features electronic parking assist and a variety of clever driving aids to make driving easier.

Overall, the Kia EV is a great choice for those looking for an electrified car that offers excellent performance and luxury amenities.
Tech and infotainment
This year will see the introduction of a brand-new electric vehicle manufactured by Kia called the EV. The vehicle has a maximum speed of 95 miles per hour and a range of approximately 100 miles. It also comes with a variety of different technological and multimedia capabilities, all of which combine to make it an appealing option for motorists.
The affordable cost of the Kia EV is one of the most significant advantages offered by this vehicle. The price of the vehicle begins at slightly under 28,92,102.50 Indian Rupee and can go as high as 35,94,470.25 Indian Rupee, depending on the type. Because of this, it is a fantastic alternative for people who are searching for an economical electric car but still has some features and capabilities that are available on more expensive versions.
One of the things that makes the Kia EV such an attractive option is how simple and straightforward its user interface is. The numerous touch screen displays that are located all over the car make it easy for everyone, including those who aren't used to working with electronic devices, to operate the car's various features. This is because the displays are installed all over the automobile.
Battery Capacity and Electric Motors
When opposed to gasoline engines, electric motors have a variety of advantages that make them preferable. Electric motors are both more efficient and quieter than their internal combustion engine counterparts, meaning that they require less fuel to generate the same amount of power. In addition, electric motors can be driven by batteries, which can then be recharged using a standard wall socket, making electric vehicles an efficient and environmentally friendly mode of transportation.
When shopping for an electric vehicle, battery capacity is another factor that should not be overlooked. There are certain versions that have smaller battery packs than others, which results in a reduced overall range. When shopping for an electric vehicle, it is essential to take into account not only your preferences and financial constraints, but also the capacity of the battery pack that is offered by each model.
Safety Equipment
The all-new Kia EV will make history in the United States when it goes on sale early in 2019, becoming the first mass-produced electric vehicle to be offered in that market. Additionally, the Kia EV is the least expensive electric vehicle currently available on the market.
If you are considering purchasing an electric vehicle, there are a few things you really must be aware of, including the following:
Safety Equipment
The National Highway Traffic Safety Administration (NHTSA) suggests that all drivers keep safety equipment in their vehicles at all times. This equipment should include a fire extinguisher and a smoke alarm that is in good functioning condition. Make sure you have a way to charge your battery in case you get caught somewhere without power, even if your car doesn't have those capabilities already built in. Having a charging wire on hand when the power goes out could save your life.
Putting Your Vehicle on Charge
When you own an electric vehicle, one of the most critical responsibilities you have is to ensure that your vehicle is always charged. It is less probable for your battery to fail to start up in cold conditions or when there is a limited amount of range left on your battery when the battery is fully charged. You should make sure that there is a charging station nearby so that you may plug in anytime you have the opportunity when the batteries are getting low. You can always have access to energy whether you are driving around town or going to work if you get a supplemental charger that attaches to the socket in your house and uses it.
What's the warranty on the battery?
The Kia EV comes with a warranty that covers three years and up to 36,000 miles. Please get in touch with the Kia dealer in your area for any additional information.
Which cars compete in this segment?
One of the newest autos available on the market that is designed to compete in this area is the Kia EV. It has a range of about 150 miles and can be recharged using either a regular outlet or a charging station that requires overnight charging. Additionally, the Kia EV stands out from other vehicles in its class due to its elegant design, which sets it apart from the competition.
Stay thoroughly informed about the Kia EV6 by delving into 18 news articles that provide comprehensive coverage on its launches, updates, specifications, and comparative insights.
Upcoming Kia Cars
Find expected price range and launch dates of all upcoming Kia cars in India.
Other Used Kia Cars
₹ 18.50 L
₹ 41,434/month
Car Choice Exclusif Amberhai, New Delhi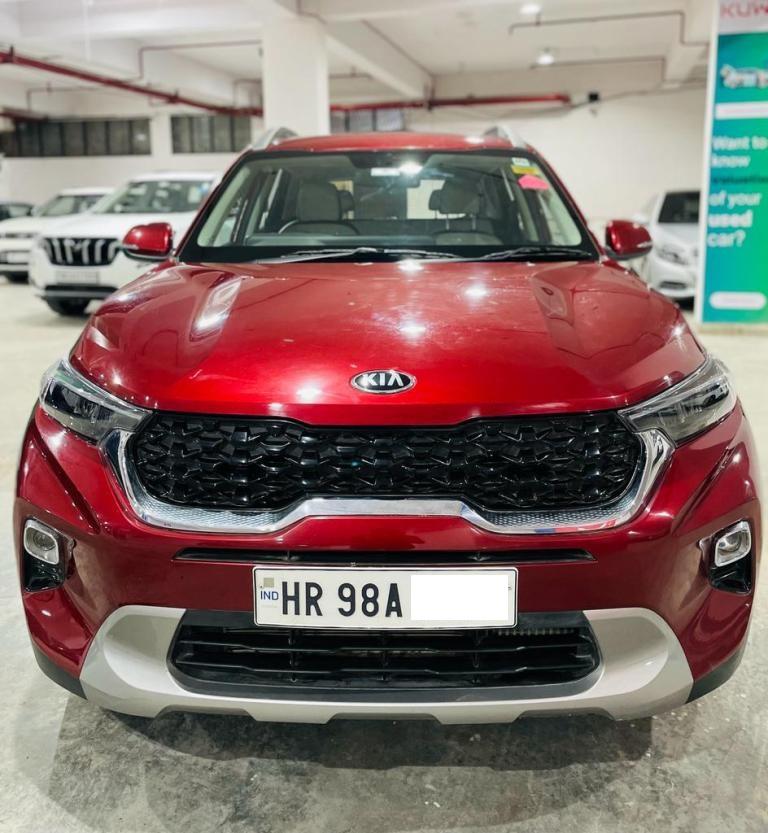 ₹ 12.75 L
₹ 28,556/month
Car Choice Exclusif Amberhai, New Delhi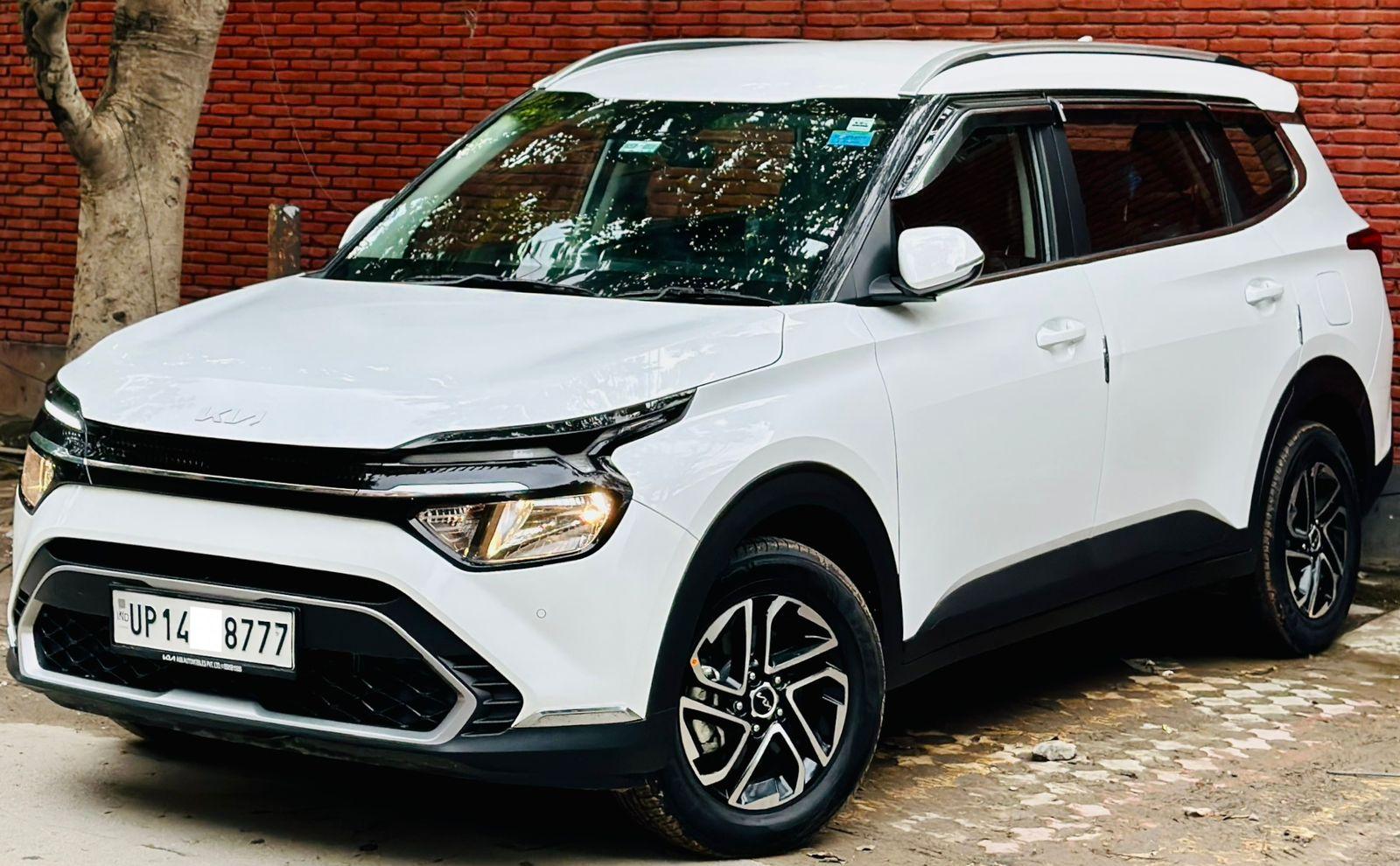 ₹ 14.65 L
₹ 32,811/month
Max Motors Yozna Vihar, New Delhi
₹ 11.25 L
₹ 23,790/month
Max Motors Yozna Vihar, New Delhi
₹ 15.85 L
₹ 33,520/month
Car Choice Exclusif Amberhai, New Delhi