Santa Fe - the capital of New Mexico isn't really a greatly talked-about city. It's relatively laid-back, has a very defined old-world charm and is very inspiring in its own little ways. The mechanical kind - Hyundai's Santa Fe - is quite the opposite. It's very edgy and full of modern lines. You'd not really find the elegance and sensitivity of El Santuario de Guadalupe in it. It would've been quite apt if Hyundai called it Las Vegas instead.
I don't understand the point of having a Crossover segment in the automotive spectrum. I get classified as being odd because of such oblique views. See, I'm all cool with hardcore SUVs - from expensive globetrotters like Rangies, Land Cruisers, Wranglers to agricultural budget-deals like Thar, Bolero etc. They have a clear purpose - go off-road like it's no one's business. Similarly, I get the point of sedans and hatchbacks. I also understand the separation between sports cars and super/hyper cars.
The thing is - crossovers are big, burly vehicles that pretend to be great SUVs. Fact is - they're not. I think any crossover is just a glorified alternative to a people carrier. Now, if you need practicality and space more than a sedan, there are MUVs. But that's just not cool enough. You can't really get around saying you have a van as your family car - in today's day-and-age, that'll be humiliating. A van is almost like a mini-bus.
I've always liked station wagons (or estates, if you may). They offer great practicality and are still quite cool. Such cars have been big success stories globally, but in India, they've never really been famous as family-transportation solutions.
So, there you have it - SUVs didn't cut it as they were too purposeful (and quite rudimentary at the lower-end cost bracket), station-wagons weren't cool enough and vans made you commit suicide. Crossovers, as it turns out, are perhaps the answer.
The Santa Fe then - it's a comfortable thing. It's smooth rather than sporty and, I reckon, would appeal to almost everyone. It's got a lot going for it - it looks quite striking and modern. But that's a very subjective matter and I don't like to stress a lot on it.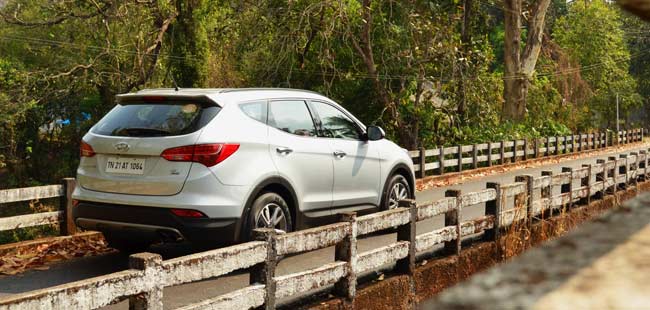 Hyundai has understood the Indian market dynamics and consumers' interest like no other - their brochure reads of endless equipment levels. It's pretty much the same with the Santa Fe as well. You get everything from Xenon headlamps and foglamps with cornering function to touch-screen infotainment system and cooled glovebox. But of course, these are essentially for the feel-good factor; what really matters is the active safety features that are on offer. There are many things here - BAS, TCS, VSM, HAC, DBC, ESC, ATCC. A book in plain English is being written, as you're scratching your head, about what each of those abbreviations mean.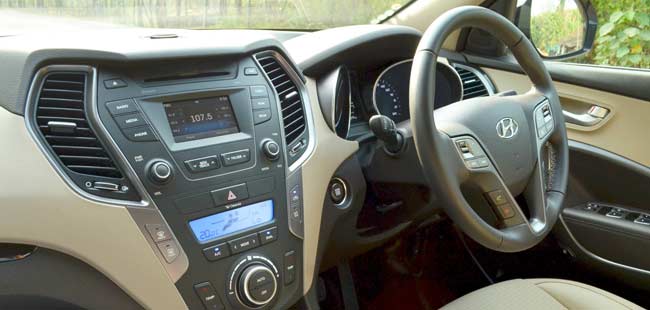 The cabin is - in a word - reasonably good. The quality of materials is definitely as respectable as that offered on Japanese rivals, if not of the level of the European ones. The space in the front and rear is pretty good, too. I wouldn't possibly be able tell you about the third row because to fit into that, I'd have to cut my body in two halves - which I wasn't prepared to do. So I guess it is best suited for people like Peter Dinklage.
The last-gen Santa Fe was a Clootie with some wheels attached to it. This third-generation one feels like some grease monkeys worked on it with proper tools. The Santa Fe may not really feel overtly sporty but it does feel composed when clearly your mind isn't. Hyundai has never really been able to pull off a connected steering system - they've always lacked feel. Quite a bit of our drive was along straight city roads and the steering was good at doing its business in a straight line. But, surprisingly, it was good at doing its business even when the roads got twisty. Sure, it still has a bit of an artificial feel, but the response and resulting directional changes are fairly instant. The steering mechanism in the Santa Fe has three modes - Comfort, Normal and Sport. I'd advise you select Sport and leave it there. The Normal mode feels slightly more attached than the uninterested systems on other Hyundais; Comfort reduces the steering effort by 10% and moves perilously closer to being absolutely dazed.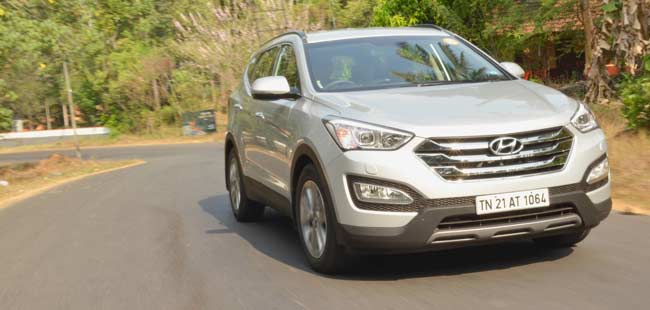 The only variant lined up for the media to drive was the 6-speed automatic, four-wheel drive one. The engine is a 2.2-litre common-rail direct injection affair that's mated to a traditional torque converter - a 6-ratio automatic gearbox. To be honest, I had a bit of an apprehension - I thought this will be a lazy drive with absolutely no spirit and driver involvement. I was wrong.
The engine-gearbox combination is quite good and though it doesn't serve up with the urgency of a dual-clutch system, it's actually not that bad. The engine itself is quite reasonably powerful (194bhp and 436Nm) and hauls the bulk of this two-tonne crossover with relative ease. Go through the gears in the manual mode on the shift gate, and it even becomes an entertaining drive.
This was just a brief drive experience, but it was sufficient enough to make me come home with a surprised expression - surprised in a good way, that is. That doesn't happen easily.
---
0 Comments
Technical Specs of the variant driven:
Engine: 2199cc, turbocharged, 16 valves, DOHC
Fuel: Diesel
Power: 194bhp @ 3,800rpm
Torque: 436Nm @ 1,800-2,500rpm
Transmission: 6-speed automatic
Price (Ex-showroom, as tested): ₹ 29.25 lakhs
For the latest auto news and reviews, follow carandbike.com on Twitter, Facebook, and subscribe to our YouTube channel.