Cars are something of a given for families in India; today's day and age. Catering to the demands of these families are car manufacturers, who try their best to give them what they want. In fact, the number of manufacturers in India has doubled in the course of just a decade and from what we know, there are more entering the automotive scene. This translates into more cars on the road and a cry out for safety.
India's track record has not been good when it comes to road safety. 1.4 million people die every year due to road accidents and the number is increasing as the days pass. Safety of the occupants and pedestrians cannot be taken lightly and even car manufacturers have started to realise that. Volkswagen recently announced that dual airbags will be offered as standard equipment on their cars in India and even Toyota has offered ABS as standard on their cars, so there is a silver lining after all.
But how important is road safety? We got a chance to ask the people who are the pioneers in that field - Bosch. In fact the company is also celebrating the Global safety week which started from the 4th of May and goes on to the 10th.

Also Read: Bosch Inaugurates Sixth Plant in India
Bosch has always been at the forefront of innovation. May it be servo brakes in 1927, to Anti-Lock Braking Systems in 1978 to Traction Control Systems in 1986 and finally ESP in 1995. However, that is not where they stop; because they have another challenge when it comes to India - making all these systems affordable.
Kartikeya Joshi, Marketing and Sales Head, Bosch Chassis Systems says, "It's a challenge for a company like ours to meet the demand of the market especially when it comes to affordability. The ABS systems in the market now cost less than before but we are trying to further cut it down so that the end customer gets the benefits of our technology." According to him, the adoption of the Anti-Lock Braking System in cars in India is growing and has a 28% installation rate; but more needs to be done.
Why just cars, the two-wheeler market in our country is growing too; it is the second largest market in the world after all. Hence, safety of the rider and pillion cannot be left only to the use of a helmet and that's where ABS for two-wheelers comes into the picture. Currently, we have sports bikes in India which come with all these frills but commuter bikes need these too. Bosch has developed a single channel ABS which works on both disc and drum brakes. ABS on bikes will mean more stability, better braking distances and a safer ride.


Kartikeya tells us about MSC (Motorcycle Stability Control), which is developed for high-performance motorcycles. The system reduces the chances of accidents even when braking hard in bends. It continuously monitors multiple data streams like lean angle, acceleration, braking pressure, pitch angle et al and intervenes when it recognizes there's a critical situation. This helps in coming to a steady halt rather than the wheels locking and the rear lifting off the ground.
But ABS is just one of the many safety features which Bosch is working on. In international markets, they're already pioneering the fields of safety features like seatbelts, airbags, child occupant protection, adult occupant protection and safety assist.

The emerging technology out of these is AEB (Autonomous Emergency Braking) which is already available on cars like the Ford Kuga. The technology uses radars, sensors and cameras to judge the situation and if need be, applies the brakes for you. It's a technology that is developing and though a far cry for India, we can expect it here in the next decade. However, Kartikeya is optimistic and says that if global OEMs decide to bring such technology to India soon, it could be here in the next two to three years.

Also Read: New Cars in India to be Crash Tested at 56km/h
"It's always safety first, and at Bosch we cater to global audiences and so we are always ready with the technology and can easily adapt to the demand of our customers here" says Kartikeya. So are car manufacturers shying away from bringing such technology to India?
"Not really. OEMs are more than ready, but price plays a huge part and that's why we are working on bringing out safety features with affordability in mind."
Currently, Bosch is working on the AB12 platform which is targeted at emerging nations. There are two variants to this - the base and the plus. In the base variant high-g sensors and optional rollover sensors are integrated into the control unit which operates the airbags.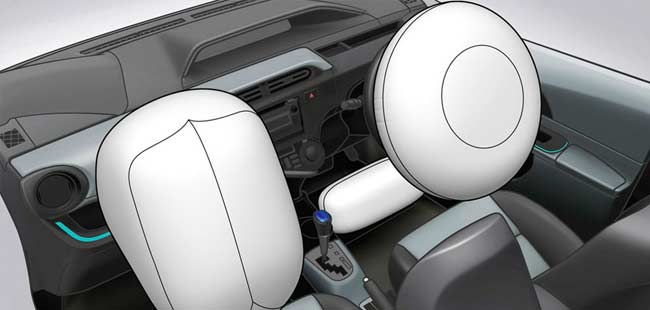 The plus variant sees a concept which integrates the airbag control and the ESP inertial sensors into one compact airbag control unit and this saves both space and cost. The design of these units consists of a metal base plate and a plastic housing which helps Bosch in customizing the design as per the OEMs requirement.
0 Comments
The dynamics in India when it comes to road safety are changing. The government too is all set to bring in crash test regulations by 2017, which will be a step in the right direction. Safety features in cars are the present and the future of the growing automotive market and demanding them in our cars is our right. It's time we charted a course to achieve the goal for safer streets.
For the latest auto news and reviews, follow carandbike on Twitter, Facebook, and subscribe to our YouTube channel.