Driving an electric car today is still somewhat of a novelty, but that is the first notion to get partly dispelled when you start driving the Jaguar I-Pace. It feels like a proper car! The first drive experience I got on the new I-Pace was on the sidelines of the Geneva Motor Show, where Jaguar had set up a small circuit with dynamic cones to be able to get a good feel of what this car can do. Dynamic cones? Yes another new thing - which I will explain shortly! The Jaguar I-Pace under show lights and outdoors under the sun (or well, under the clouds in my case) was a different car. It looked better, with very obvious design cues that give it its own unique character, and yet enough there to know it's a Jag! A cab-forward design (since there's no engine up front) with its short hood, is accentuated by the large wheel arches and rising rear. It is more crossover than SUV in that sense, but still looks tough. The 432 lithium-ion battery cells make a 90kWh pack, and are housed in the car's floor, giving it a unique design advantage, as Ian Callum - Jaguar's Design lead - has already shared with us. You can watch that interview here. The car's looks were only enhanced by the photon red colour I drove it in - and yes like all new cars off late from the JLR family, there is a First Edition!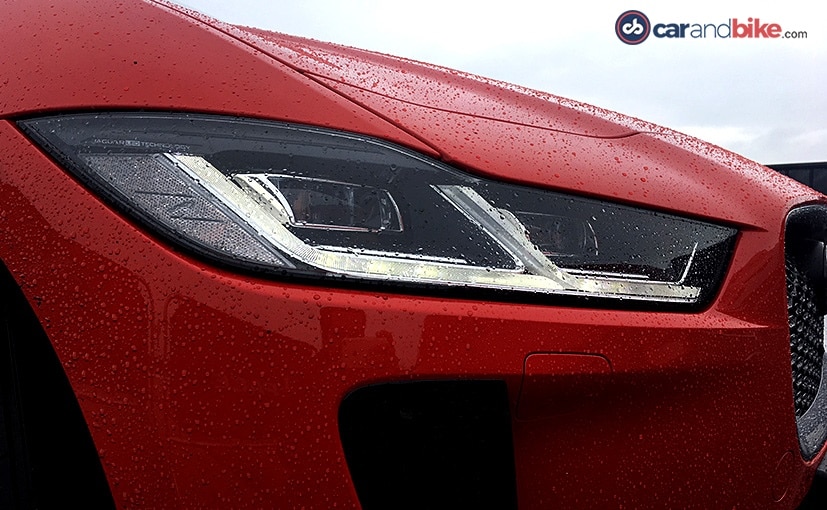 (The I-Pace borrows design cues from the F-Pace and the F-Type)
The car's interior will surprise many with its ample space and very comfortable layout - something you don't expect when you see the car from the outside. There is that immediate advantage of the electric powertrain , which gives you a generous wheelbase. The cabin is very car-like - and that is a good thing, as people would want their electric car to be well, a car.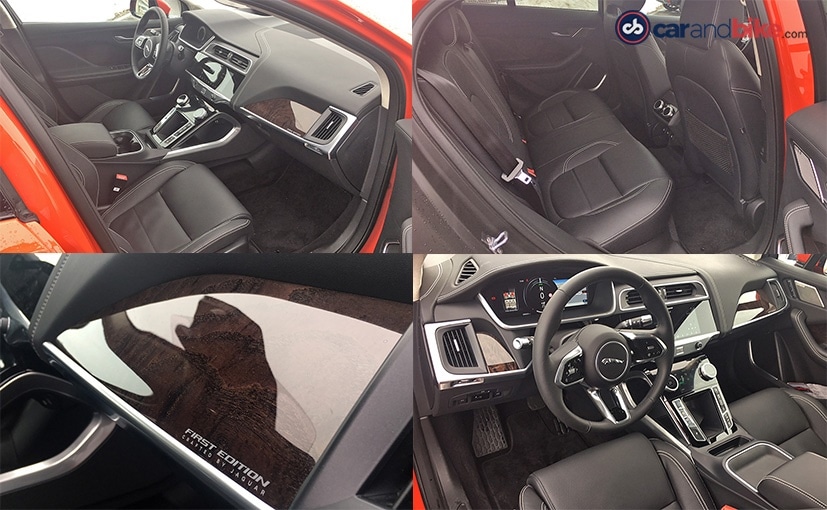 (The cabin of the I-Pace is spacious as it gets generous wheelbase)
And not some stuffed up show pony. There is a display that tells you how much charge (and driving range) the car has left on board. The instruments are virtual and there are two touchscreens to control in-car comfort and infotainment functions (where buttons would have been) on the central console - somewhat of a borrow from the Range Rover Velar. The floor will feel a bit high but you get used to the driving position fairly quickly once you adjust the seat to your liking.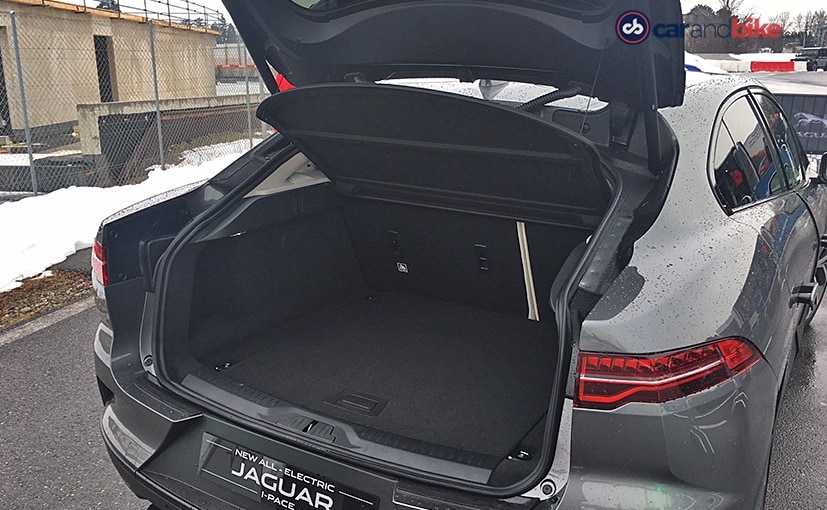 (The boot looks large enough to accommodate three large bags)
The boot is a surprising 656 litres and that is expandable to 1453 litres with the rear split seats folded down. The little 30-litre space up front under what you think is the bonnet can be used to store the charging cables. But now what you all want to know - if this is the first credible Tesla rival from any carmaker, then does it drive like one?
What I got was a short course as I said, but those dynamic cones gave it a credibility, most such experiences cannot. You see the cones laid out on the tarmac each had LED lights mounted on the top. These lights would randomly change from red to green - indicating where you need to head next. So it was not a predictable route, but an ever-changing one. And it challenged not only your attention span, but also the car's maneuverability and control. And this was ideal then to experience two things straight away - the car's nimble feel and very direct, precise steering.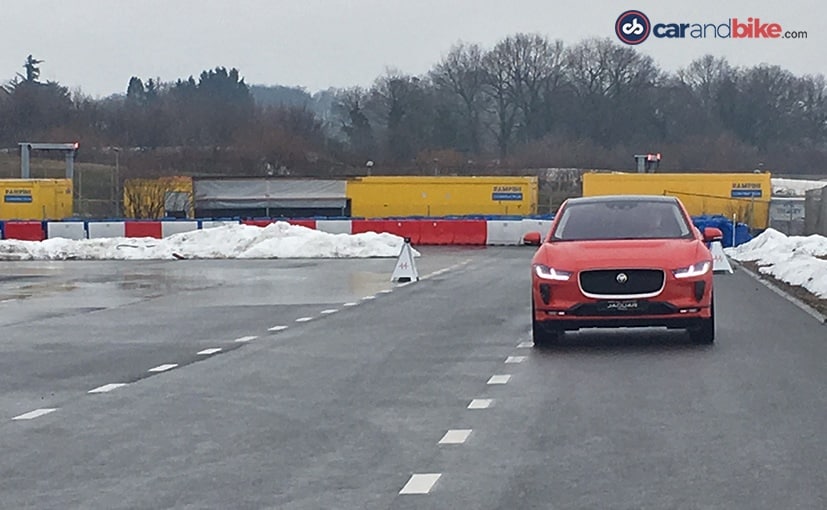 (The cabin is silent but you can hear the two electric motors under hard acceleration)
It also showcased the advantages electrics have with instant torque that you have from the get-go. The I-Pace also uses the one-pedal idea, with the car braking to a halt simply by lifting off the gas pedal. And that is very effective by the way - and it is amazing how quickly you get used to that, and forget about using the brake pedal (which is very much there!). The large wheels don't take away from ride comfort or handling. The lack of engine noise makes the car's cabin almost too hushed (road noise is barely perceptible too) and you only hear the whine of the two electric motors when you accelerate hard. Yes there are two motors - one at each axle - and they use synchronous permanent magnet technology.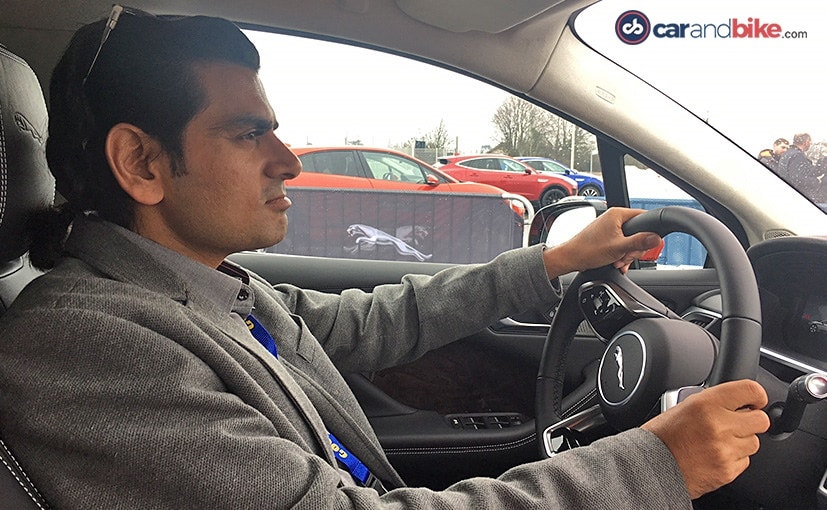 (The driving range of the I-Pace is around 480 kilometres)
This I am told allows for the I-Pace to be more efficient than current electrics. The driving range is an impressive 480 kilometres and a quick 40-minute rapid charge will give you 80 per cent power. The I-Pace is quick, with 392 bhp and a massive 696 Nm of torque to play with. While I am not saying the performance will blow your mind, the sceptics will certainly come away with a smile on their faces! And so even as I handed the car back to the Jaguar team, I cannot wait to be able to spend more time with it, in a real-world sense. Will it come to India? Theoretically I suppose the answer is yes; but perhaps not for some time to come. As a first all-electric offering from JLR it is certainly a great effort, since it is not just technologically impressive, but also fun to drive.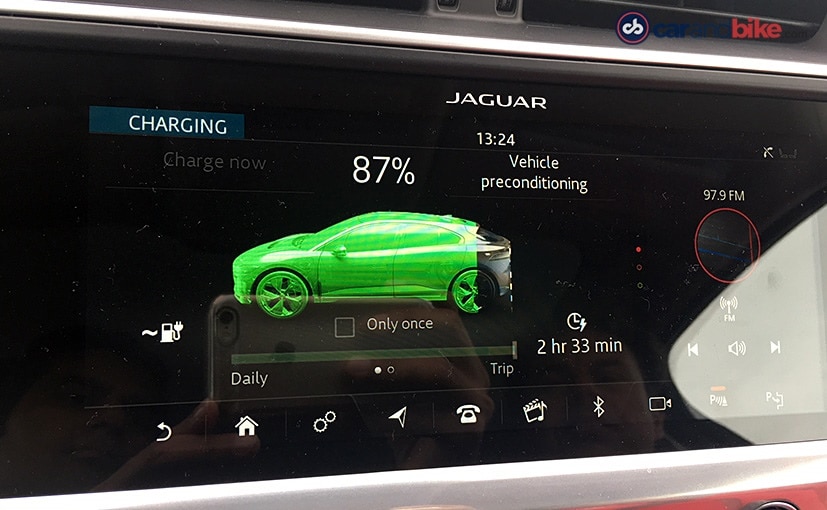 (The I-Pace can be charged upto 80 per cent in just 40 minutes)
I think having Jaguar take the lead on electrics within the Tata-JLR family, was a smart idea. The logic of why that has been done was explained in our earlier report, which you can read here. That Jaguar is also the entity that fields a team in the Formula E Championship, and has announced its own electric car racing series - will also provide tremendous learning to the brand for its future electric models. And yes - there are several coming, and coming sooner than you think.
0 Comments
For the latest auto news and reviews, follow carandbike.com on Twitter, Facebook, and subscribe to our YouTube channel.