It is one of the very few cars that plays the dual role many sports sedans and coupes wish to play - most effectively. It can be your stately saloon, your racy 4-door coupé, and also a thoroughbred sports fiend!
The Audi RS7 first arrived in 2013 as the pumped up version of the A7 Sportback. Audi has chosen to already give it a facelift, within a year of its arrival globally, primarily to be able to introduce some new technologies into the car. Most changes are purely cosmetic though - thankfully!
I say that because the RS7 has already established a great performance benchmark in this space. And so there are no mechanical changes on the tweaked car. What has changed is the face - with a slightly more pronounced and aggressive grille, a tweaked bumper, sharper slimmer headlamps with a new LED daytime running lamp signature, and Audi's much-touted matrix LED light system.

Also Read: Audi RS7 Sportback Launched at ₹ 1.4 crore
Inside you now get slightly better contoured and well-bolstered sports seats, the latest generation of Audi's MMI or Multimedia Interface, and some carbon-fibre finish trim highlights. Audi India has changed the suspension option on the car, but I will come to that in just a bit.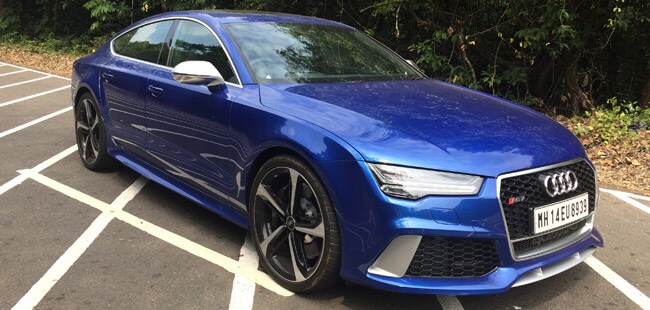 First a quick reminder of this wolf in sheep's clothing. The car is powered by the now-familiar and extremely potent twin-turbo V8 that bridles in 560 horses. Yes I will let that figure settle in as it rings many a bell! The engine is mated to the very capable 8-Speed ZF gearbox with paddle shifters. The transmission is pure delight - more so in manual or sports mode. It is precise, engaging, ridiculous fun on the downshift and extremely responsive.
The RS7 does exactly what you want it to. It is the type of car that gets you smiling, and for the most part keeps that smile firmly pasted on your mug! Of course, good roads have to be a vital ingredient to that wonderful experience. I drove the car up winding twisty and hilly bits, as well as on an expressway. And I am happy to report it remains a driver's delight.
The car has cylinder on demand, which means that when the extra power is not needed, 4 cylinders shut off, and help you save a little fuel in the bargain. Audi has now put in three top speed versions buyers can opt for - 250/280/305 km/h. This is down to retuning the engine, but the buyer has to ask for one of the three at the time of purchase. Peak torque at a massive 700 Nm kicks in as low as 1750 rpm by the way - and really comes in handy. Especially when you want to quickly accelerate up a ghat stretch, or overtake someone in a flash.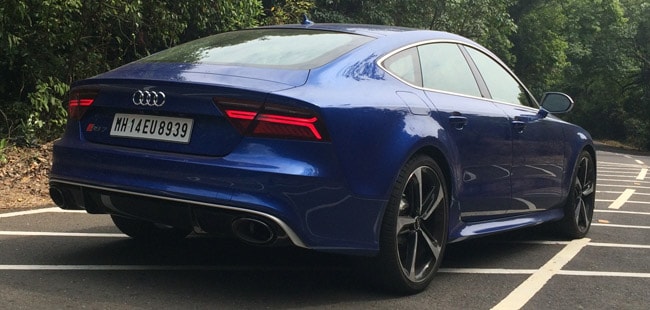 Meanwhile Audi India has rather inexplicably decided not to offer the car with the adaptive air suspension anymore - and has instead gone with the new sport suspension with Dynamic Ride Control. While that sounds fancy and superior, it kind of lets you down in India conditions. You see the suspension is now fixed at a rather stiff tuning parameter, unlike the adaptive suspension the car first came with last year.

What this means is sportier, more dynamic handling but a rather hard ride quality, which Indian buyers may not appreciate. The Air Suspension used to suit this car just fine. Of course despite this you can play around with the car's dynamics using Audi's Drive Select that allows you to change the car's character somewhat.
0 Comments
The new RS7 is priced at 1.4 crore rupees. It is the car to spend these big bucks on - if you don't simply want a souped-up sedan like the S6 or even E 63 AMG, nor want an out and out sports car like the Porsche Cayman. The new face is bold and striking, but yes this car will sadly be restricted to a few units in India.
For the latest auto news and reviews, follow carandbike.com on Twitter, Facebook, and subscribe to our YouTube channel.