Steelbird helmets have been around for over 50 years in India. The company recently came up with their Ares A1 range of helmets and we have been given one for review. Here's the lowdown on the good and not so good about the Steelbird Ares A1 helmet.
Design and styling
The Steelbird Ares range is targeted towards the youth, so the designs and graphics are done accordingly, and it looks quite nice. While some people like their helmets to be plain and wear just one solid colour, I like mine to have multiple colours and bright graphics on it. The one we are using is painted brightly in Black, White, Yellow and a bit of Orange; not only does it look good in pictures and on TV (ahem!) but also has more chances of being visible at night or in low light conditions. So the Ares A1 range definitely scores well is that department.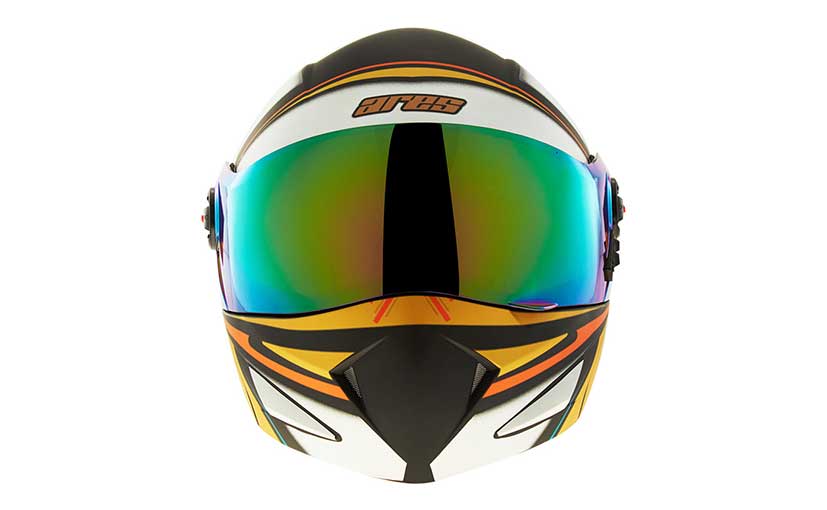 (Steelbird Ares A1 helmet)
The visor too is tinted in a shade of gold which comes as a blessing while riding in the blazing sun. On the flip side, the tinted visor also is a problem, if you are riding after sunset. You may need to flip it up while riding in the dark, and this means there is hardly any respite from dust and smoke.
Practicality, fit and finish
The Ares model that we are reviewing is a modular helmet. A modular helmet makes sense, especially if you are into long distance touring, because one does not need to take it off every now and then. For example, if you are stuck in unfamiliar surroundings and need to ask someone for directions, you can just press a button and flip the chin piece up. It's also a boon, if you want to have a quick stop and need to rehydrate; taking a quick sip from a water bottle is easy, since you don't need to take the helmet off.
The fit and finish of the helmet are not exactly up to the mark and could have felt a little more solid. After all it has been deputed with the task of protecting your grey matter and your face as well. The visor has been billed as scratch resistant but daily use will lead to wear and tear (scratches in this case). Overall, the surface of the helmet is smooth and is comfortable to wear even for long commutes, although the jaw piece could have been made slightly bigger.
Protection and retention
Right! While we did not have an opportunity to crash test the helmet (thankfully), we definitely have a few comments to make. Personally, I would rather go in for a full-face helmet rather than a modular or a half-face helmet. The reason being that in case of a crash, at least the face is protected in its entirety. The structural rigidity in a modular helmet is compromised while the lower portion of your face does not have any protection at all in case of a half-face helmet. The shell used in the Ares A1 series is made of high-impact polycarbonate-ABS blend. The helmet conforms to ISI standards.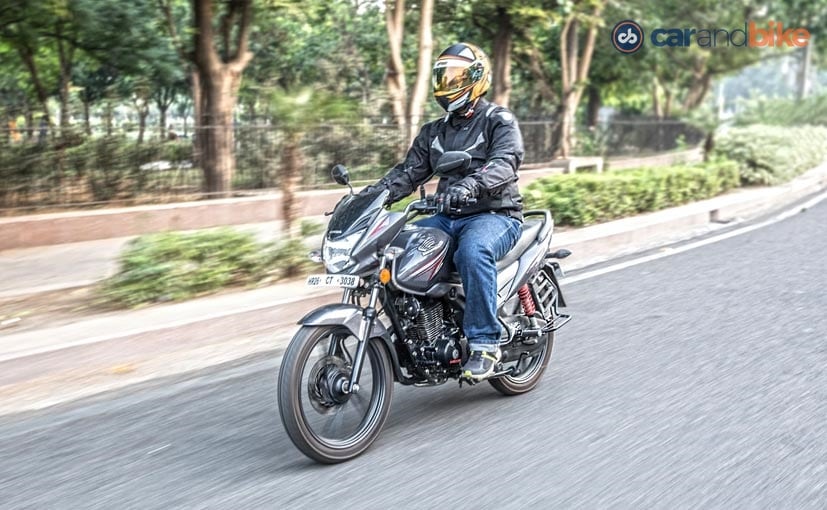 (Steelbird Ares A1 helmet)
The inner lining feels a little flimsy and Steelbird could definitely have given a thicker padding. Also, the liners are not removable and therefore cannot be washed. For retention, a ratchet mechanism is made use of and the chin strap can adjusted as well. There is a locking mechanism for the visor which may/may not be useful. There are no air vents as well, which means sweating will be a problem while riding in summers.
Verdict
0 Comments
The Steelbird Ares A1 range has been priced at Rs 2,999. Another ₹ 500 less and it could have been a killer deal. The helmets in this range look cool and offer decent enough protection for its price. The fit is snug and comfortable. Long commuting rides should not be a problem. The tinted visor though limits visibility drastically after dark so that reduces the practicality by a fair bit. The helmets from the Ares A1 range are stylish and will sit well with the youth and will be a good companion on daily commutes.
For the latest auto news and reviews, follow carandbike on Twitter, Facebook, and subscribe to our YouTube channel.