The Ford Endeavour generated quite a fan following when it was launched in India over 10 years ago. It was big, brash, and really quite American! It was however, a little rough around the edges. And, a few years later, when the Toyota Fortuner was introduced it didn't stand a chance frankly.
But this is an all-new model. In the rest of the Asia Pacific region, it's known as the Everest, but Ford wasn't able to trademark that name in India so it'll continue to be called the Endeavour when it's launched at the Auto Expo next year - if not even slightly sooner, perhaps in January 2016.
The first thing that strikes you when you set eyes on the new Endeavour is that it looks really good. And you can be sure that it's still as imposing as its predecessor. The trapezoidal grille that makes up the Ford family face finds its way onto this butch SUV, and it's actually quite nicely executed in this avatar. In profile, it's a bit more sedate but still adequately muscular with bulging wheel arches and large wheels. The front fender also proudly states which engine and gearbox you have under the hood. The number of gears, of course, is a constant - since both the manual and automatic versions come with six-speed transmissions.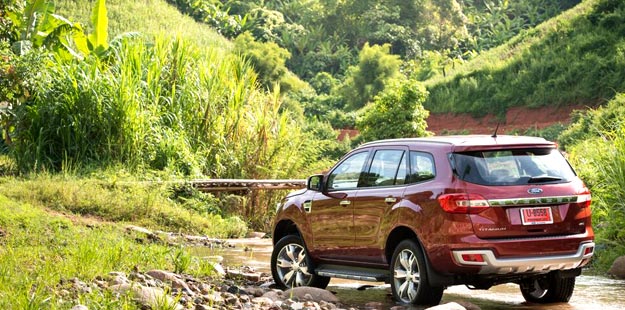 We only got to sample the automatic, which is Ford's 6R80 box that's shared with the F-series range of trucks. Don't forget, the F-150 pick up is the best selling vehicle in the United States. So it doesn't come as a surprise that the gearbox responds quite well. Moreover, the Ford engineers tell us that the transmission will learn your driving habits within an hour of you being behind the wheel - and then adapt the way it shifts to suit your driving style. Unfortunately, we didn't get quite that much uninterrupted time in the car so I can't confirm their claim. Suffice to say that the gearbox was quick to respond when shifting manually in Sport mode. In fact, I would even have liked paddles behind the steering wheel to change gears.

Also Read: Upcoming Cars from Ford India in 2015
Now before you think that I've gone completely bonkers demanding steering mounted paddles on a machine that weighs two-tonnes, has a ladder-frame chassis, and a solid rear axle, remember that this is a Ford - and Fords are known for their impressive driving dynamics. So, while the previous Endeavour may have been an anomaly in that respect, this one more than makes up for it.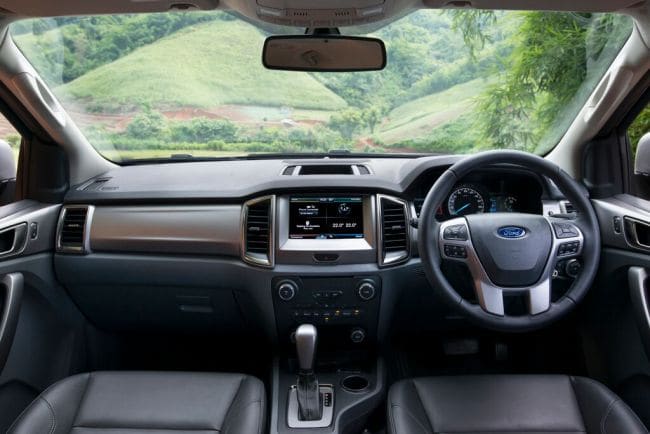 The driving position is spot on, despite the fact that the steering wheel is only height adjustable - and doesn't adjust for reach. The wheel itself is a nice sporty three-spoke wheel that feels great to hold. Plus, it has buttons for every possible application you can think of. The instrument cluster consists of an analogue speedometer with two TFT screens on either side. One displays the entertainment options, mirroring the 8-inch touchscreen on the centre console, while the other provides useful information such as fuel, temperature, mileage, etc. It also provides very useful off-road information, such as angle of roll, pitch, and even the amount the front wheels are turned - much like a Land Rover would in fact. And the similarities to a brand that Ford once owned don't end there. Ford's Terrain Management System is strikingly similar to Land Rover's Terrain Response System.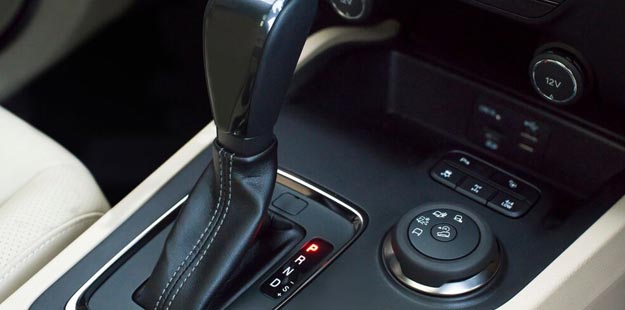 Also Read - New Ford Endeavour: What to Expect

The Ford system provides various modes, which themselves are very similar to what you would find on a Range Rover for instance - Normal; Snow, Mud, Grass; Sand; and Rock. The four-wheel Endeavour also comes with Hill Descent Control, Hill Launch Assist, an active transfer case with a low range gearbox, and an electronically locking rear differential. It also has a ride height of 225mm, a wading depth of 800mm, approach and departure angles of 29-degrees and a ramp-over angle of 21-degrees. So, if there's serious off-roading on your agenda, then the Endeavour will serve you very well indeed.
Ford had charted out an off-road trail in the foothills just above the paddy fields of Chang Rai in Northern Thailand to give us a taste of just what the Endeavour is capable of. I suppose it would have been a challenge for lesser SUV's. The Endeavour, however, didn't even break a sweat. On occasion, it showed off its suspension articulation. But, from within the cabin, you wouldn't have known it because it felt completely composed and supremely serine.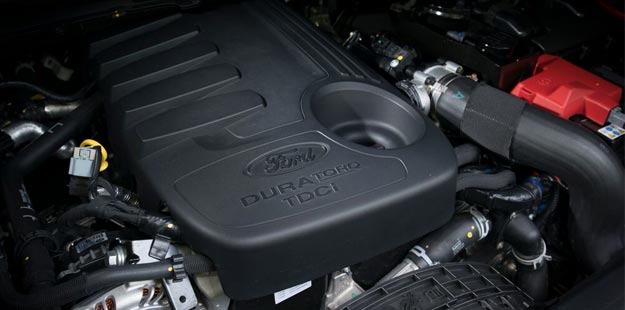 And if it's serenity you're after, you've come to the right place. On the road, it was even more composed. We first sampled the 3.2 litre Duratorq five-cylinder turbo-diesel, which produces 190 horsepower and 470Nm of torque. And the first thing that strikes you is just how silent it is inside the cabin. To achieve this, Ford has employed what it calls Active Noise Cancellation. This system uses mikes in the cabin to gauge engine noise, which signals the Active Noise Cancelling control module that then generates opposing sound waves that are transmitted through the speaker system. It works very much like a pair of Bose Noise Cancelling headphones - and I have to say, much to my surprise, it does actually work.
Overall levels of refinement, in fact, are really quite good. There's even a leather-stitched dashboard on the higher models. On the whole, the cabin is clean and uncluttered. It is littered with 12-volt power sockets however, which are actually quite useful. The Titanium variant even has a 230-volt plug point in the second row. It also gets a power folding third row and rear tailgate. So, clearly Ford is providing the impression that the new Endeavour is quite an upmarket machine. The Sync 2 touch-screen infotainment system is very easy to use, but the voice-activation is as frustrating as ever. Considering that all the controls are within easy reach of the driver however, you don't have cause to complain too much.

But back to the 3.2 litre engine, which is strong and smooth. It's quite punchy at low rpm, and really comes on song at 2,000rpm. But it runs out of grunt quite quickly past 4,000rpm. The 2.2 litre, four-cylinder Duratorq four cylinder turbo-diesel, meanwhile, isn't quite as impressive. The numbers aren't bad - 158bhp and 385Nm - but it just doesn't seem to translate on the road. It feels a little lacking in grunt, since it's missing that satisfying surge of power at low speed. Once past 2,000rpm though, it does come on song. So, it gets the job done - but not quite effortlessly as its bigger brother. Moreover, engine noise isn't quite as well insulated and you do feel slight vibrations through the throttle pedal at high rpm.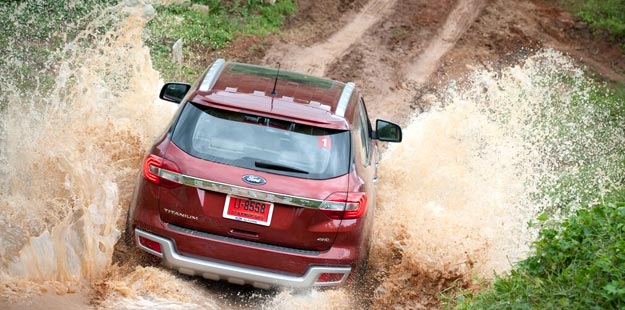 The standout characteristic of the Endeavour, however, is the ride quality. Even fitted with 20-inch wheels (the 2.2 litre engine comes with 18-inch rims), the Endeavour comfortably dismisses potholes in its wake. Even in the rear seat, it has none of that shake, rattle and roll that you'd expect in a ladder frame SUV - and that you get in a Fortuner for instance!
Handling and driving dynamics is something that we didn't quite get to test to the fullest, but initial impressions are quite good. The electronic power steering is impressive. At parking speeds it's light, while on the move it weighs up nicely - and it's progressive and direct. Body roll is well controlled and the Endeavour goes exactly where you point it. In fact, it feels like a monocoque from behind the wheel - which is a good thing. On the whole, this is an extremely refined and highly capable full-size SUV.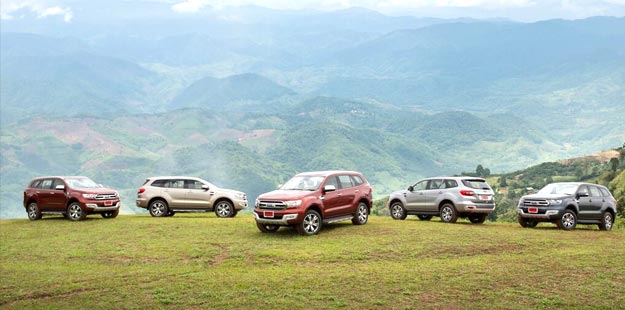 0 Comments
This Endeavour will be positioned squarely against the next generation Toyota Fortuner when it's launched early next year. Fortunately for Ford, it's at least a few generations improved from the last one. The only trouble the company will have is convincing customers that it can be as trouble-free and economical to maintain as the best from the Toyota stable. The company is working very hard to ensure that it's after sales quality is on par with its product quality, but that's a process that takes time. If they can revamp their image as successfully as they've done with this product, then they've clearly got a winner on their hands.
For the latest auto news and reviews, follow carandbike.com on Twitter, Facebook, and subscribe to our YouTube channel.