Remember Clash of the Titans? It's just about an average 70mm effort I think, but it has one really pretty saving grace - Gemma Arterton. She wears a warrior dress, embarrasses the crap out of Sam Worthington while teaching him how to tackle the snake-headed Medusa, is a formidable force throughout and is a fine example of beauty. The F-Type Coupe is exactly that - saving grace in the segment of sportscars. It's gladiatorial but packs modern firepower and manages to be a style icon for others. As a matter of fact, I feel Jaguar got the name of the car wrong - it should've had 'Stunning' or 'Gorgeous' somewhere, too.
If you were the really nerdy nutcase of a chap, the Jaguar F-Type Coupe would surely seem to have more negatives than positives. You might compare the F-Type Coupe to something like a Nissan GT-R (Godzilla, its sexier name) or the Porsche 911 (glorified Beetle, as a few Brit chaps call it). The GT-R is, of course, a result of some really anal levels of meticulous production techniques and the 911 flaunts a gearbox that no one can pronounce correctly (PDK, in its most condensed form), technology that decouples the engine from the transmission to save fuel and sundry abbreviations like PDCC, PAA and God knows what all!
The Jag fight backs - it tries. The F-Type Coupe might not be as heavy on rocket-science level of technology, but it will try and please with a couple of tricks. Firstly, it is made completely of Aluminium - a very light and strong material which is also quite difficult to play with as it doesn't bend in shapes easily. Jaguar had to use some really complex manufacturing methods and the entire body side is created from a single piece Aluminium. It is, therefore, a bit odd that the Coupe weighs just a bit shy of 1700 kilos - still quite heavy for a sportscar made entirely of Aluminium, in my view.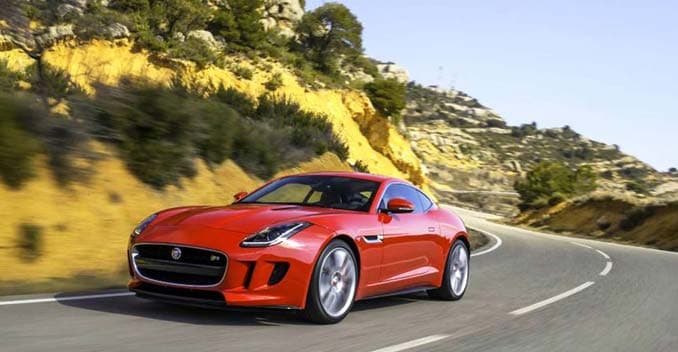 On the tech front, there's an updated e-diff (electronic differential) which redistributes torque between the rear wheels based on the way you're driving. There's something called Torque Vectoring as well - clever stuff that's gaining on popularity these days. Only here, in the F-Type Coupe, it's attributed to intelligent application of braking force to the inner wheels while you're being a complete fool going around a corner. Just tuck the car into a bend, and if you feel the front washing away, get off the accelerator and the trick computer does the rest. You're back in check after a slight wiggle of the back side. Clap clap - you look like hero material to the ladies admiring the body shape of that car.
Ah, so you didn't quite feel as pleased? Didn't like the slight oversteer moment - accidental oversteer moment, that is? You weedy moron...
I'm not really the geek sort, so, I love that kind of naughtiness in a car. For a simple, fun-loving chap, the F-Type Coupe is magnificent. Firstly, it's nothing less than stellar to look at. I quite like the F-Type in its convertible form, but the Coupe is crisper, immensely more special. It's the first two-seater sports car by Jaguar since the legendary E-Type and though I don't think the F-Type Coupe will ever be able to match the E-Type for its greatness despite beings hailed as its spiritual successor, the design will have historic importance in the global automotive industry a few decades down.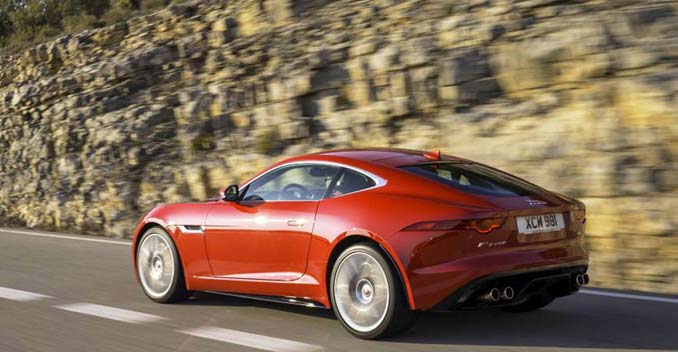 Despite its tech credentials, the F-Type Coupe isn't a car deserves elaborate tech-talk. It's got a proper old-school feel to it deep-down. It's a small, super powerful, noise making fun capsule. It fits no more than one passenger. And because the growling exhausts give you arousal tendencies, I'd say you choose your passenger very carefully! But then again, you'd not take anything less than a pretty woman in a mechanical pleasure-giver of a car like this. And I don't see homosexuals driving the F-Type Coupe - it's just an appropriately raw, properly involving and hairy-chested sports coupe which is a bit too unfavourably cool for them, so that's alright then... the world's in order. Go on, favour yourself with a wide grin.
I first drove the V6 in its S trim that has 375 horsepower pumping out of the 3.0-litre supercharged engine. The handling is crisp and the ride, though a bit hard, suits the Coupe's mad personality. It's more than satisfactory on performance and you'd believe that you don't necessarily need any more than that as a car you'll go out in over the weekends. But then you drive the 5.0-litre sledgehammer that Jaguar offers as the top of the range option and you'll realize the magnitude of the mistake you'd have committed had you signed the cheque for the V6.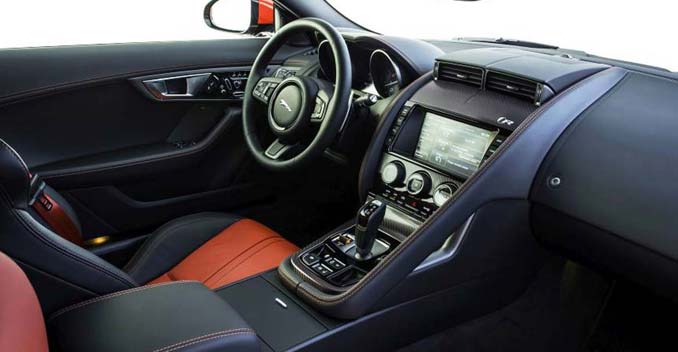 I do agree that the V6 is appositely suited for most applications - it's perhaps even a bit more forgiving than the V8, but if you were to have a shouty, sensuous thing, why not have it in its wildest form? That would only be most sensible, wouldn't it?
The 5.0-litre V8 - did you know it plays a small part in making earthquakes happen? No, it doesn't. But it's engineering like this that's keeping the faith of enthusiasts alive. The bangs and pops are addictive and there're very few motors that match it for soundtrack. And it's not all about noise either - the performance is fascinatingly grippy and you really just keep laughing most of the time. I was on the track and I was supposed to be doing a video piece for the TV show (Car and Bike Show) but I was having so much fun that I couldn't talk straight and decided I'll do some voice overs later on - it is a massive grin-maker, the F-Type Coupe.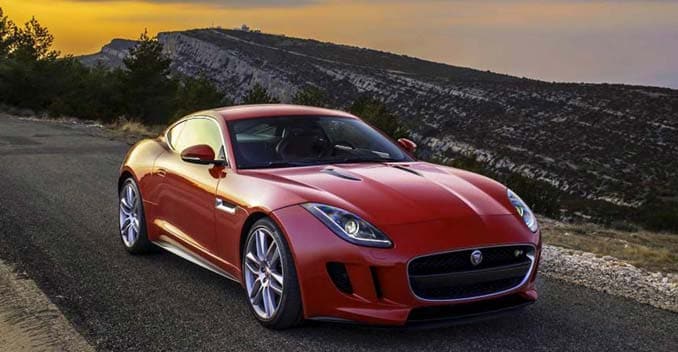 The clever computer witchcraft controls vertical body movement, roll and pitch rates. In the R version, the spring rates have gone up by 4.3% at the front and 3.7% at the rear and the dampers are constantly reprogrammed based on the computer that does 500 calculations per second based on driver inputs! The F-Type Coupe has the most rigid structure of any Jaguar ever. Jaguar claims that the torsional rigidity is 33kNm/degree - whatever that means.
The recalibrated e-diff goes from fully open to fully locking torque in merely 200 milliseconds. It offers really good traction and gives you a sense that it's talking to you all the time and you know what going on at either end and what it's going to do.
This 8-speed ZF gearbox is a delight! It's fairly prompt and is almost as good as the best mainstream dual clutch systems. The steering is magnificent. Jaguar engineers have made the rack a bit faster and the whole mechanism has got slightly more weight and very good feel to it. Throwing the car around bends is a real blast. The optional carbon ceramic affair on the S and R trims is worth investing in if you have unnecessary money lying around. Those are extremely fade resistant and the braking mechanism also comes with a pre-fill system that loads up the pedal the moment you get off the accelerator pedal. The magnitude of priming the pedal is based on the speed you're driving at. This ensures ferocious braking and makes your eyes pop out of the sockets. But frankly, if you're not going to be doing a lot of track business, steels would be just fine.
But, for a car going over - well over - a crore, the cabin doesn't have the mega appeal of its bodyshell. There are some flaunt items like the gold-coloured details in the centre console and the aircon vents that rise up, but otherwise this is an about-acceptable place to be. The plastics definitely could be better in some places and the fake carbon look in the top of the range V8 should just be banned - it's a complete turn-off!
But the business end in this cabin is spot on - the seat is just right, and all the controls are well in reach and fairly intuitively placed. The support and padding in the seat is near perfect, too.
To sum it up, the F-Type Coupe is a modern car but has an enjoyable analogue character to it. It has spine that many of the new-age sportscars have lost in favour of surgical precision. It likes a good laugh and will indulge you in silly, childlike behaviour. It's got a sense of purpose towards driving so pure that if you'd go back to the brilliantly engineered German rivals, you'll immediately start missing the entertainment value of the F-Type Coupe - it is that good. It's that thing - soul and character... sense of humour that the F-Type Coupe offers. In the modern, electronically-controlled-everything word, it keeps the spirit of driving alive.
Specifications:
Jaguar F-Type Coupe
Engine: 3.0-litre, Supercharged, V6
Power: 335bhp@6,500rpm
Torque: 450Nm@3500-5000rpm
Transmission: 8-speed 'Quickshift'
Acceleration (0-100km/h): 5.3 seconds (claimed)

Jaguar F-Type S Coupe
Engine: 3.0-litre, Supercharged, V6
Power: 375bhp@6,500rpm
Torque: 460Nm@3500-5000rpm
Transmission: 8-speed 'Quickshift'
Acceleration (0-100km/h): 4.9 seconds (claimed)

Jaguar F-Type R Coupe
Engine: 5.0-litre, Supercharged, V8
Power: 542bhp@6,500rpm
Torque: 680Nm@3500rpm
Transmission: 8-speed 'Quickshift'
0 Comments
Acceleration (0-100km/h): 4.2 seconds (claimed)
For the latest auto news and reviews, follow carandbike.com on Twitter, Facebook, and subscribe to our YouTube channel.