2017 Triumph Bonneville Bobber Test Ride Review
The Triumph Bonneville Bobber is a rider-only factory custom, based on the Triumph Bonneville T120 and boasts stripped-down 1940s bobber design. Is it more than just a style statement? We spend some quality time with the stunning new Bobber

By Preetam Bora
1 mins read
Published on April 27, 2017
Highlights
Triumph Bonneville Bobber based on Bonneville T120
Blend of classic 1940s style and modern performance
Factory custom incorporates hard-tail 'bobber' design
You could say, "beauty is only skin deep", or something to that effect. Strangely, that is the vague kind of preconceived notion I had about the new Triumph Bonneville Bobber. Everyone who had ridden the Bobber before was raving about it, but to me, it all sounded too good to be true. How much better can a glorified Bonneville T120 get? Yes, the Triumph Bonneville Bobber is based on the Bonneville T120, but that's only partly accurate. We'll get to that in a minute.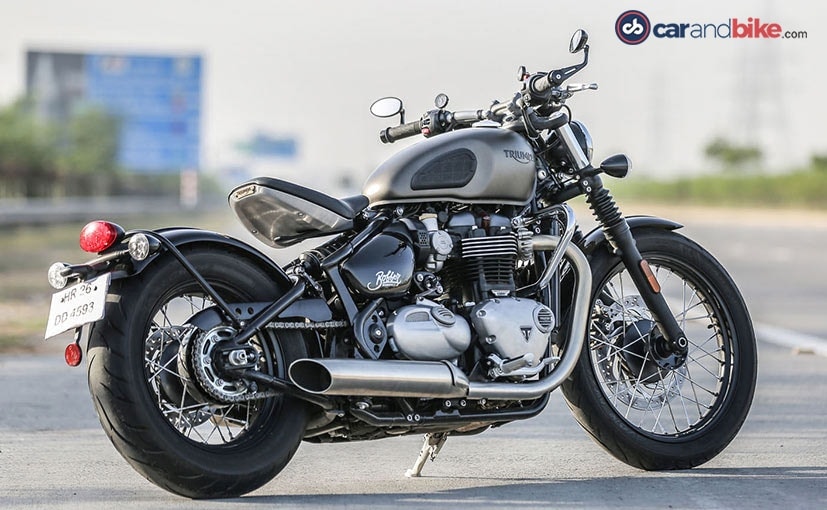 The fact of the matter is - the Triumph Bonneville Bobber looks good, very good. In fact, it looks even better in "flesh and blood" or "metal and oil", if you will, than in pictures. But how different can a bike get on an engine which is shared with an existing model? And to top it all, the Bobber gets an extended wheelbase, lower ground clearance and a solo-seat with a hard-tail look. Of course, it can't be that different! Don't get me wrong here. We were quite impressed with the Bonneville T120, but just that my personal expectations from the Bobber weren't sky high, which brings me back to the preconceived notion I had mentioned earlier. It's just a Triumph design job on the T120, I thought.
The Bobber name
The Bonneville Bobber takes inspiration from the "bob jobs" of the 1940s - essentially, garage-built, stripped down bikes customised and highly personalised by builders. The '40s bobbers had completely stripped down bodywork to reduce weight. In some cases, front and rear fenders were removed or chopped off, but the overall build job was done around the original frame and geometry. Additional details and minor cosmetic parts were hand-built.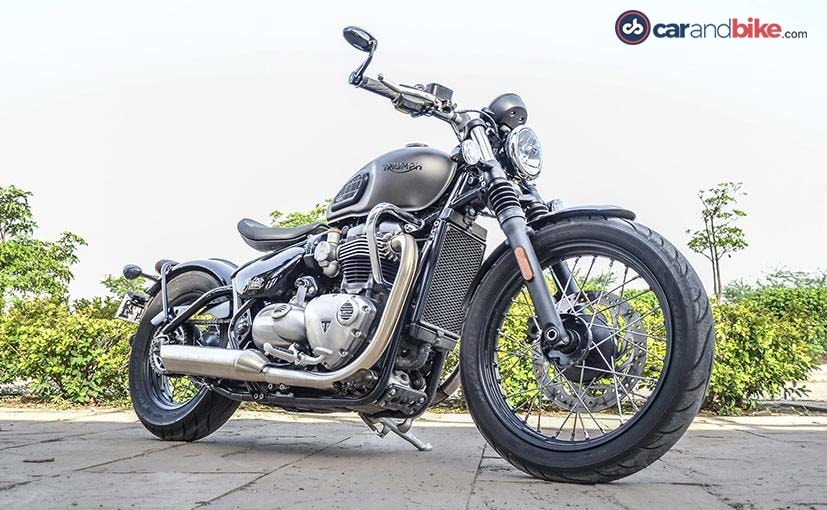 With a sort of, 'back to the original custom bobber' drawing board, Triumph sprang a surprise with this factory custom. In essence, it's a stripped down T120, and it retains the Bonneville DNA, but incorporates minimalistic styling, and muscular stance of a genuine, hand-built bobber. The name has had mixed reactions, more so from the purists, who say the term "bobber" is used more in a generic sense and to call the bike 'Bonneville Bobber' is kind of strange, since it's not garage-built in the first place. Factory-built it may be, but the Bonneville 'Bobber' has caught on; and just on looks alone, it has the power to turn many heads on the street.
Design
The Triumph Bonneville Bobber is a gorgeous motorcycle, period. Any angle you look at it, it oozes desirability. Park it somewhere, or ride it around town, it attracts approving glances from all kinds of people, not just limited to motorcycle enthusiasts. It may be based on the Bonneville T120, but it certainly doesn't look anything resembling the T120; in fact, you could say it's an all-new motorcycle model. The overall shape and silhouette is typical Triumph modern classic, but it's the attention to detail that underscores how fabulous a job the Triumph designers did on the Bobber. The more you look at it, the more it begins to grow on you, this beautiful piece of modern engineering and classic design.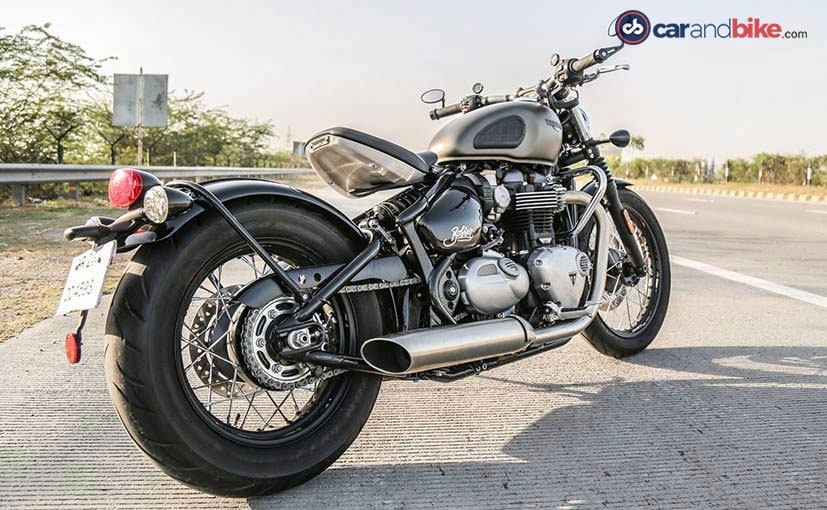 All the high-tech electronics and the accompanying wiring are neatly tucked away from plain view. The ignition key has been moved to the side, the single-pod instrument panel gets an analogue speedometer and a small digital screen with multiple information display. The bar-end mirrors keep things neat and tidy on the handlebar and the single-seat pan hides the concealed rear shock underneath. There's an authentic 'vintage' battery box with a stainless steel strap, and the throttle bodies are designed like old-school carbs.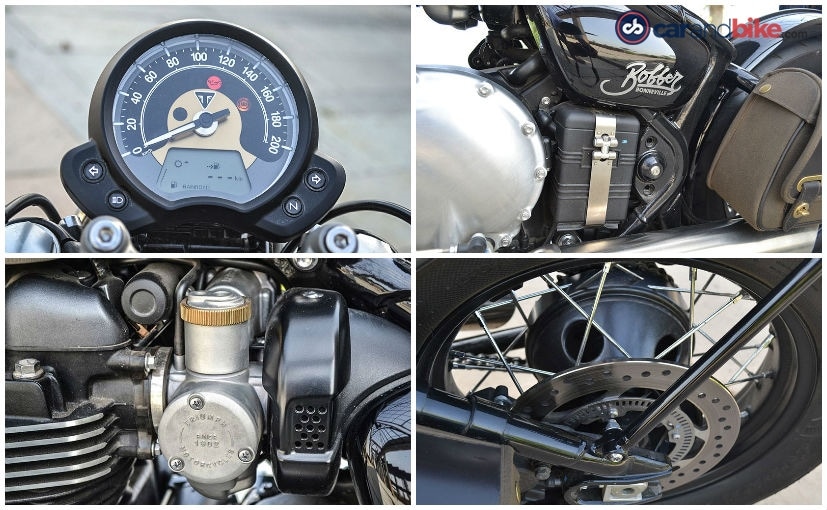 The rear wheel hub is inspired by 'drum brake' styling, although the bike sports a rear disc brake along with anti-lock braking system. The rear fender gets a distinctive mudguard loop, a signature feature of the Bonneville classics. The wheels are wire-spoked to complete the old-school look, but shod with specially designed Avon Cobra tyres. The minimal body work, muscular stance and hard-tail look complete the "classic" bobber look. The bike looks absolutely stunning, and full marks to Triumph for completely changing the game in the modern classic genre. And to top it all, there are over 150 genuine accessories to further personalise your Bobber to add more muscle and style.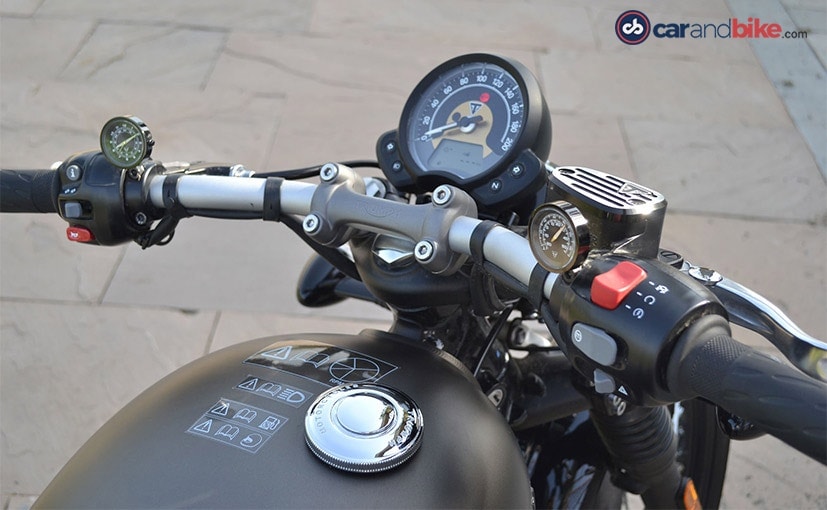 Performance and Handling
The engine is the same 1200 cc, liquid-cooled parallel-twin motor of the Bonneville T120, but it makes more torque and power comes in lower in the rev range. What that translates to is sedate, comfortable cruising in the city streets without the rider needing to frequently change gears. The torque-assist clutch makes city riding easier with a light feel at the lever, and gear shifts are precise and slick. The twin slash cut peashooter silencers give you that classic hot-rod sound, designed to make the rider admire the music as much as to others hearing the parallel-twin burble from the rear.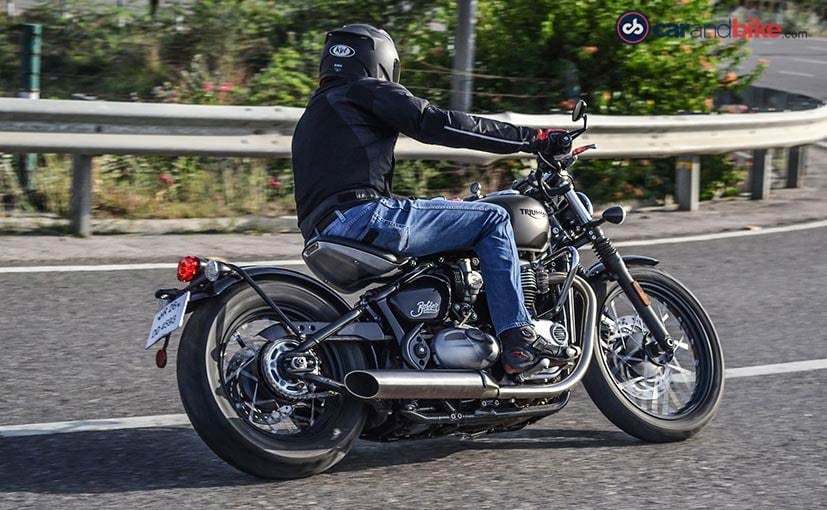 Take it out into the open road and you could comfortably settle into a 100 kmph cruise at a languid 2500 rpm. Short shift through the gears and it's easy to be fooled into thinking that it's a well-mannered 'cruiser-type' bike to make a style statement with. It's only when you begin to 'explore' the performance side of the Bobber that you are treated with surprise and amazement. The Bobber pops and crackles as you accelerate through the gears, and at anything above 3,000 revs, you are treated with a rush of torque that completely changes the character of this well-mannered gent into a street hooligan personality.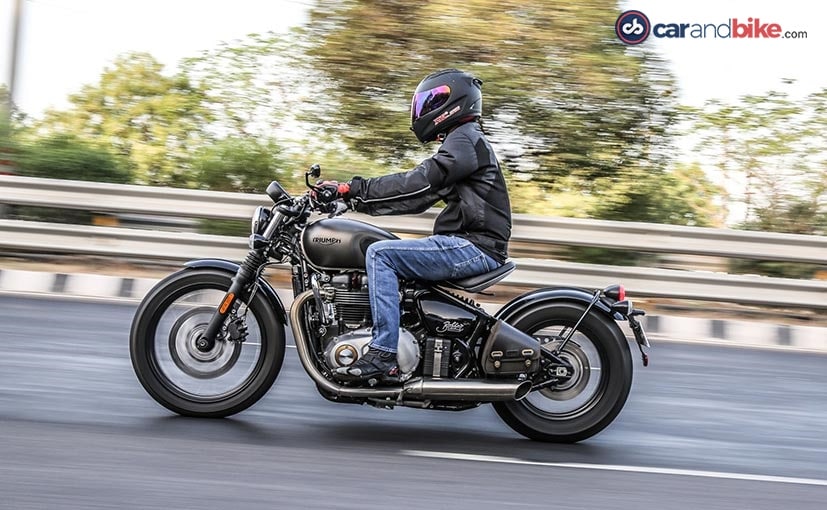 Safety aids include standard anti-lock brakes, which by the way are quite effective in shaving off triple digit speeds, and switchable traction control, just in case the torque rush gets too much to handle if you have an over-eager right hand. There are two riding modes - Road and Rain - offering full power from the engine, but with different throttle response. Rain mode is more well-behaved and gentle, naturally for slippery road conditions, but Road mode feels more like 'Sport' once you switch over from 'Rain' on dry tarmac.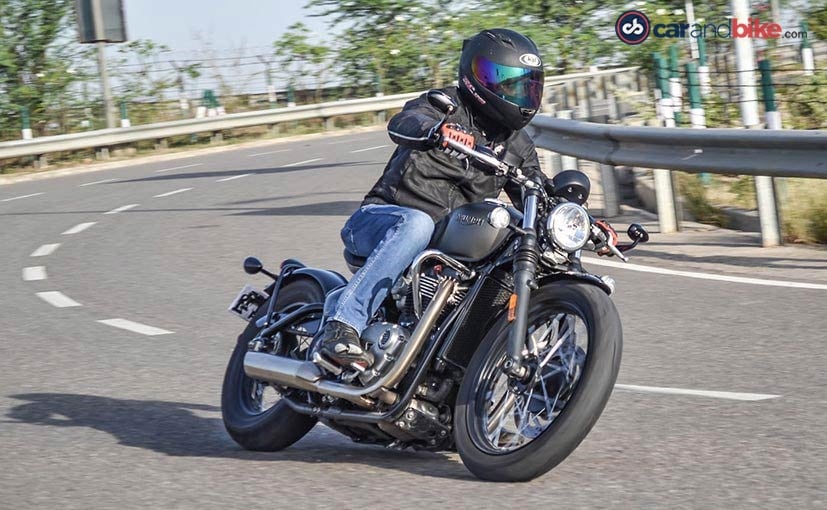 What is surprisingly good is the handling; like me, if you think that this elongated version of the T120 may not be as willing to take on corners, you'd be setting yourself up for more surprises. The Bonneville Bobber is a heck of a handler, willing to dip into and out of corners, while giving a feeling of planted stability. It's only when you begin to scrape the pegs that you realise that the bike is probably capable of more than what its design limits it to.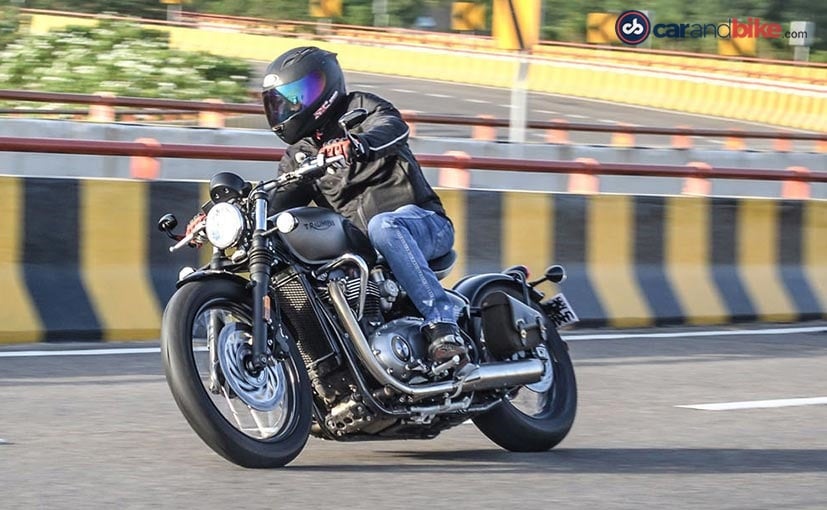 Verdict
The Triumph Bonneville Bobber is designed for a single rider only, so if you're thinking of occasionally getting a pillion on board, this isn't the bike for you. And no, there is no option of installing an accessory pillion seat as well. But what it offers is probably the best of both worlds - a stylish bike with the right performance which will entertain you on each and every ride. Range may be limited with the 9.1 litre fuel tank, but during our test ride of combined highway and city riding, the Bobber returned fuel consumption figures of over 20 kmpl, and that translates to close to 190-200 km range on the highway, if you're so inclined. At Rs 9.09 lakh (ex-showroom Delhi), the Triumph Bonneville Bobber is very good value for money, if you are into cruiser-type bikes and want to make a style statement with your ride.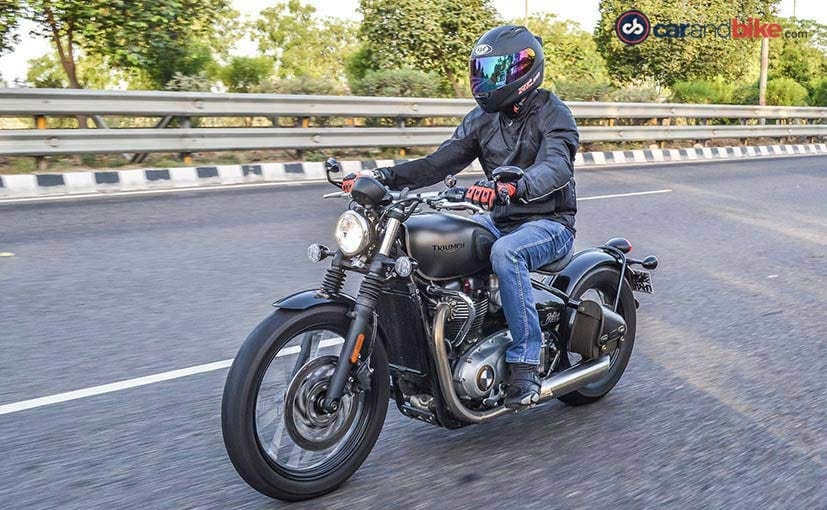 So, is this the near-perfect modern classic? Not really. The taut handling certainly gives the bike good road manners, but the stiff suspension makes you feel each and every small rut, pothole and road undulation, and they feel more pronounced in our road conditions. Then, there's the ground clearance; it's not just about scraping pegs on a curve, but every speed bump you encounter, you will have to be extra careful with the Bobber. It may not be perfect, it may not be the bike to go over broken roads, or made for covering long distances in the saddle, but what the Bonneville Bobber offers is a unique blend of vintage style and modern performance that makes it an irresistible package - practicality be damned!
Stay updated with automotive news and reviews right at your fingertips through carandbike.com's
WhatsApp Channel.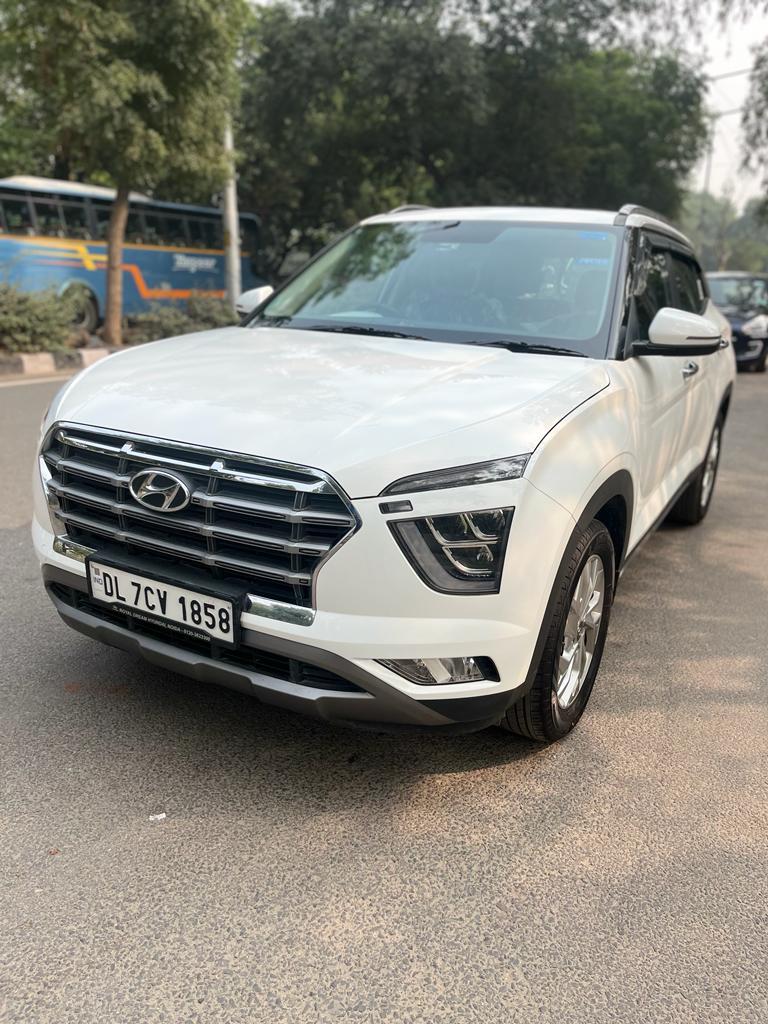 ₹ 15.85 L
₹ 33,520/month 
Car Choice Exclusif Amberhai, New Delhi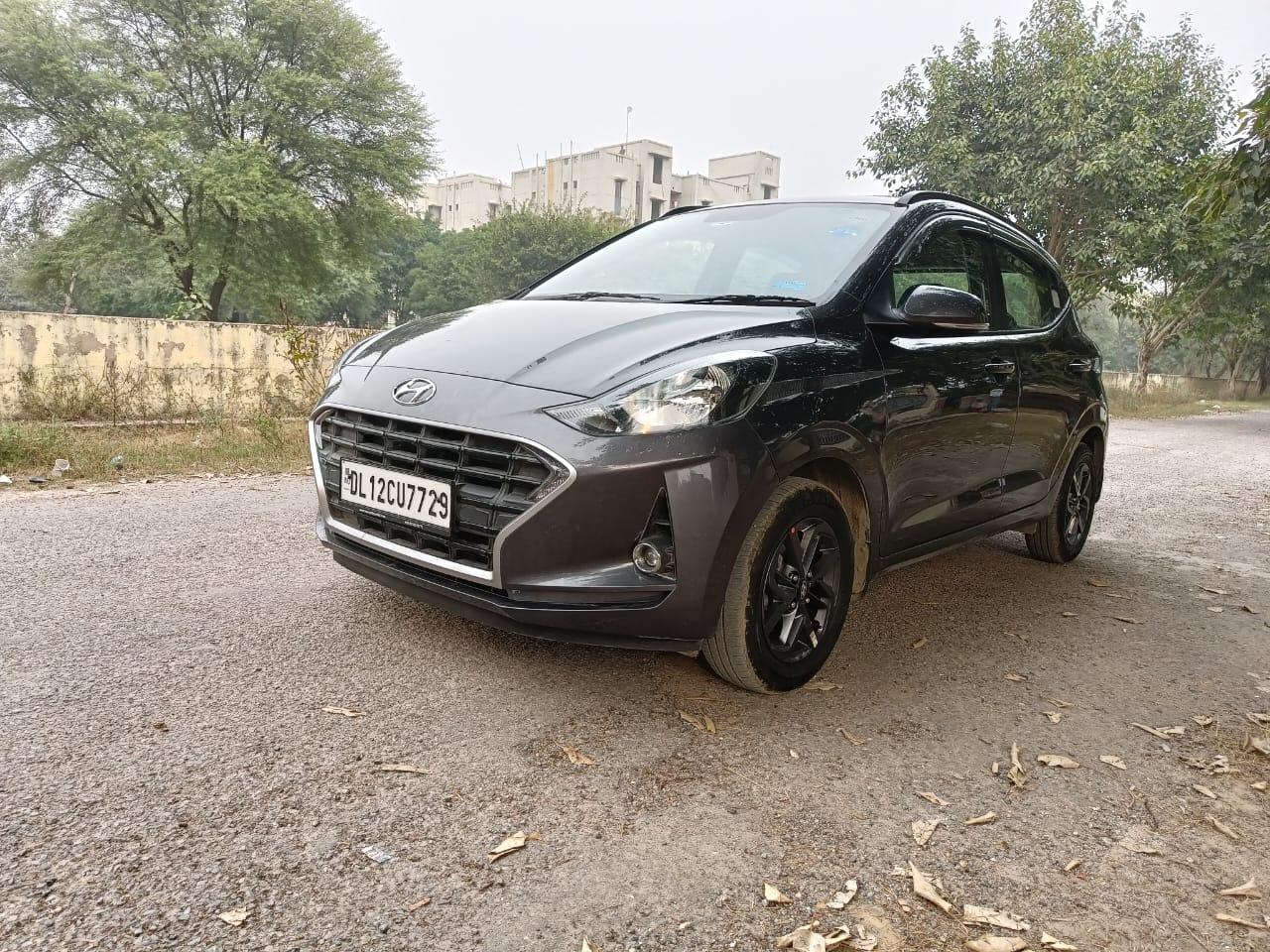 2022 Hyundai Grand i10 Nios
₹ 7.85 L
₹ 17,581/month 
Car Choice Exclusif Amberhai, New Delhi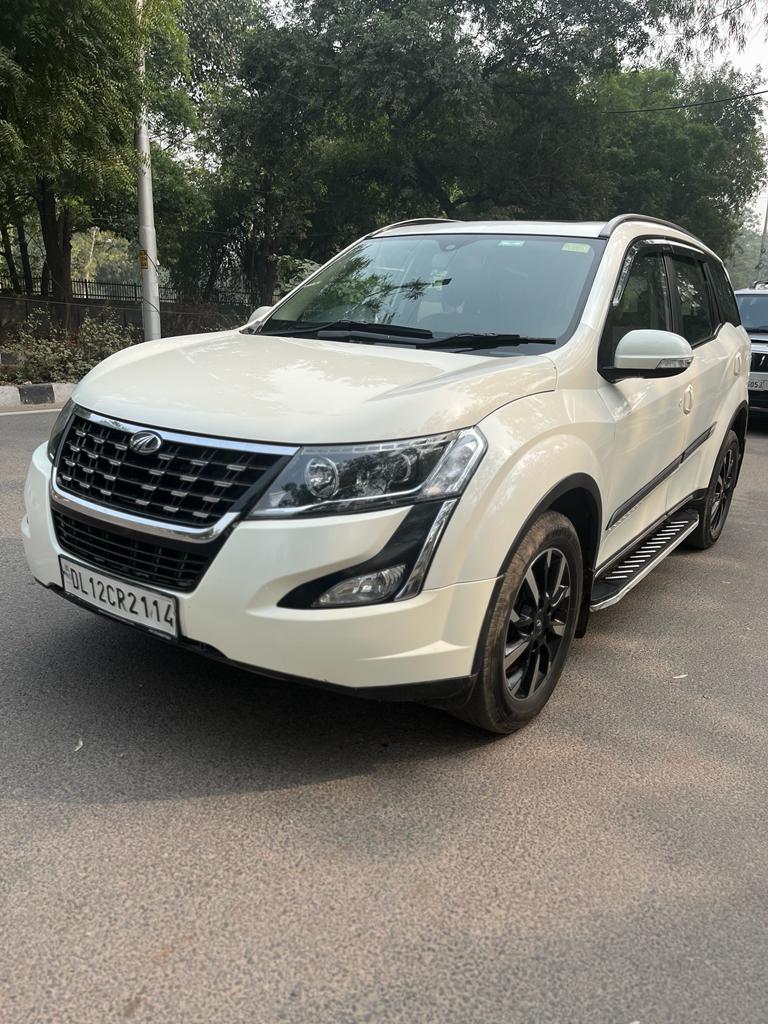 ₹ 14.00 L
₹ 31,355/month 
Car Choice Exclusif Amberhai, New Delhi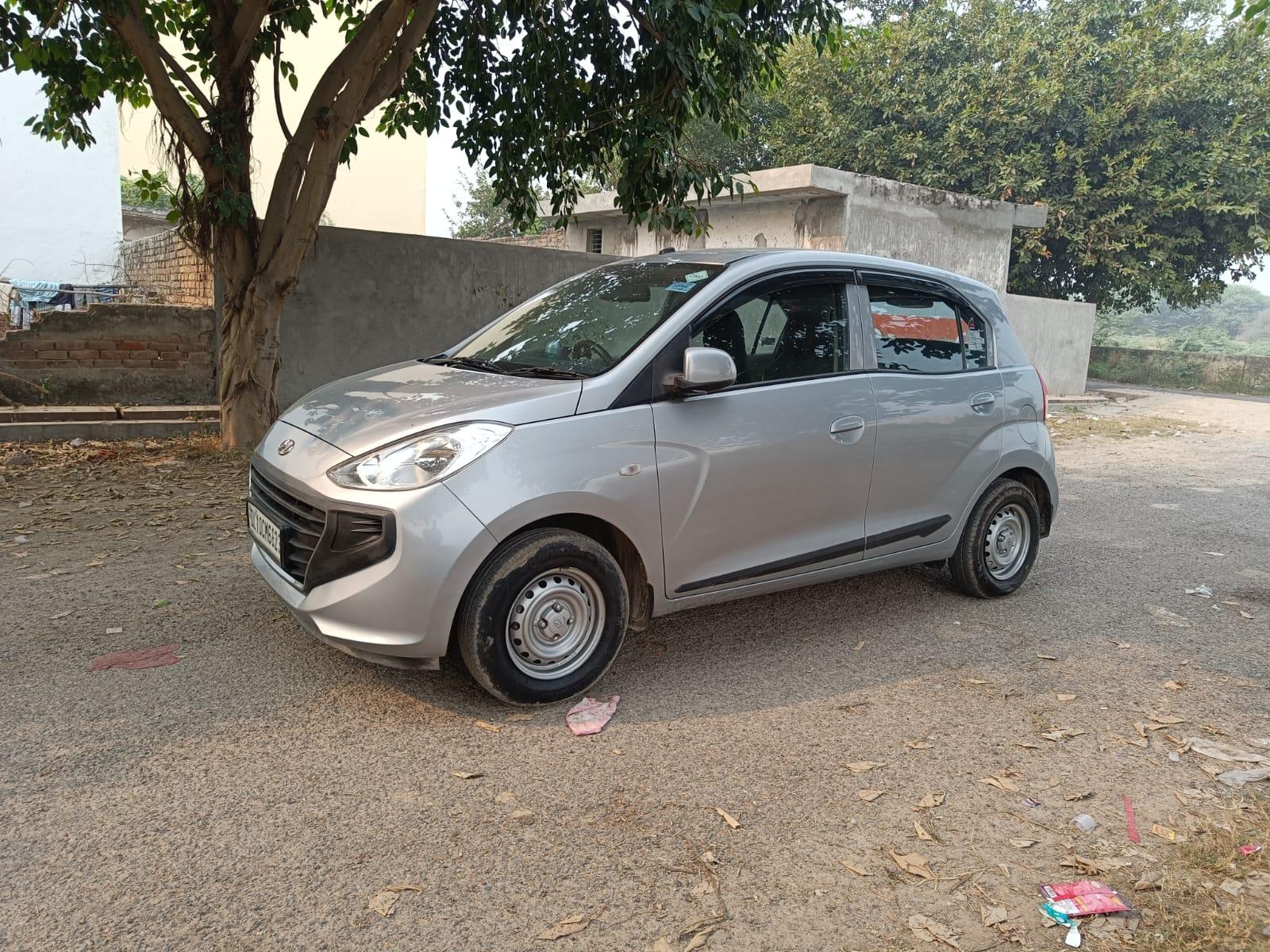 42,000 km
Petrol+CNG
Manual
₹ 5.00 L
₹ 11,198/month 
Car Choice Exclusif Amberhai, New Delhi
₹ 27.90 L
₹ 59,015/month 
Car Choice Exclusif Amberhai, New Delhi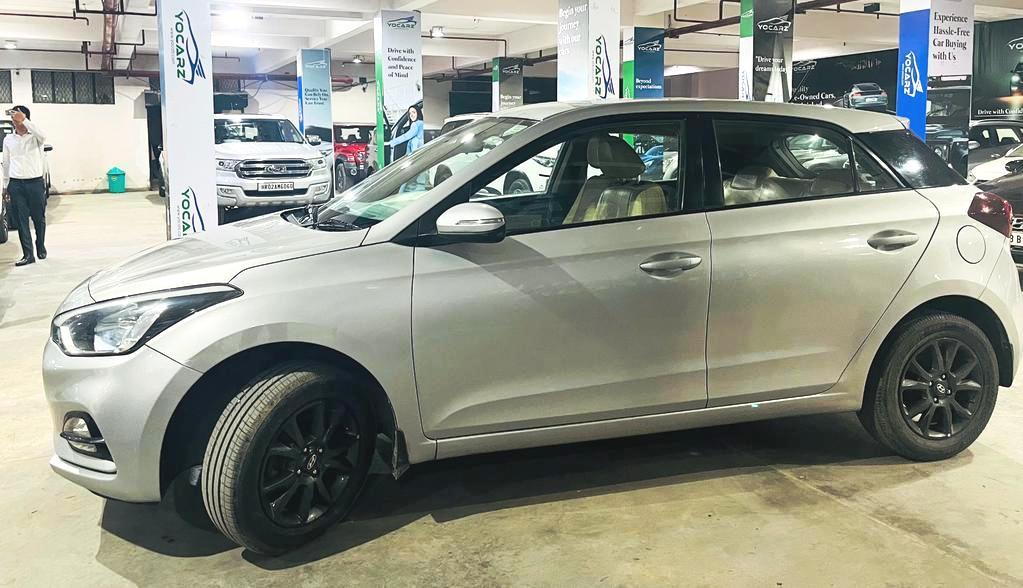 ₹ 6.00 L
₹ 13,438/month 
Car Choice Exclusif Amberhai, New Delhi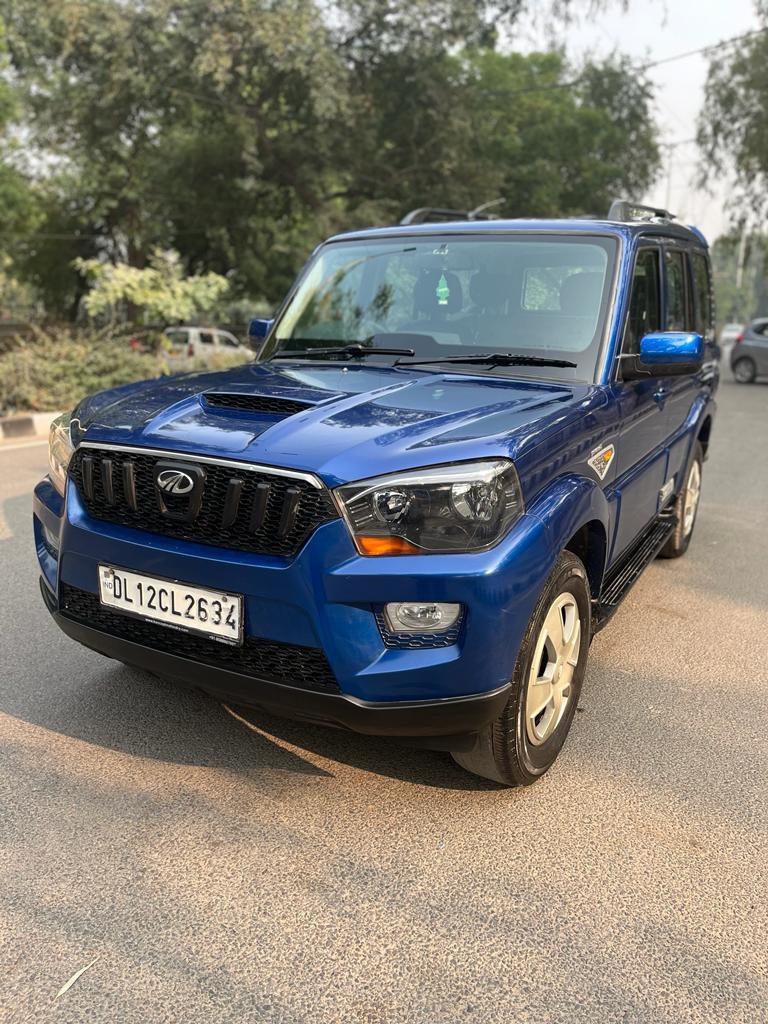 ₹ 9.00 L
₹ 20,157/month 
Car Choice Exclusif Amberhai, New Delhi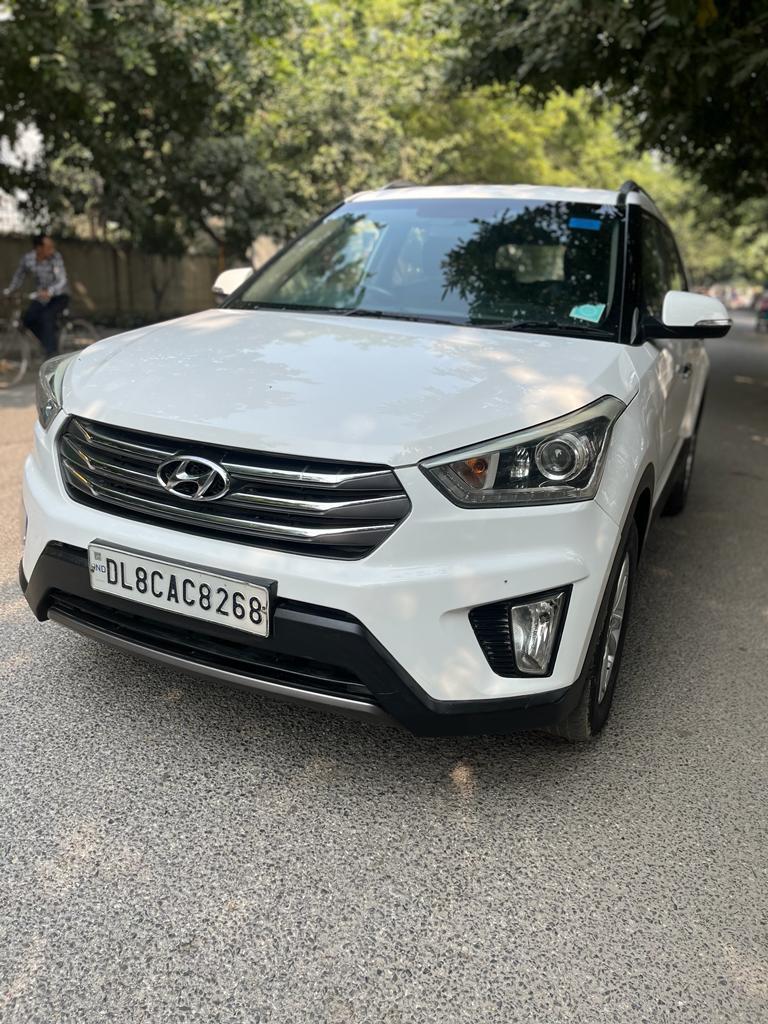 ₹ 8.50 L
₹ 19,037/month 
Car Choice Exclusif Amberhai, New Delhi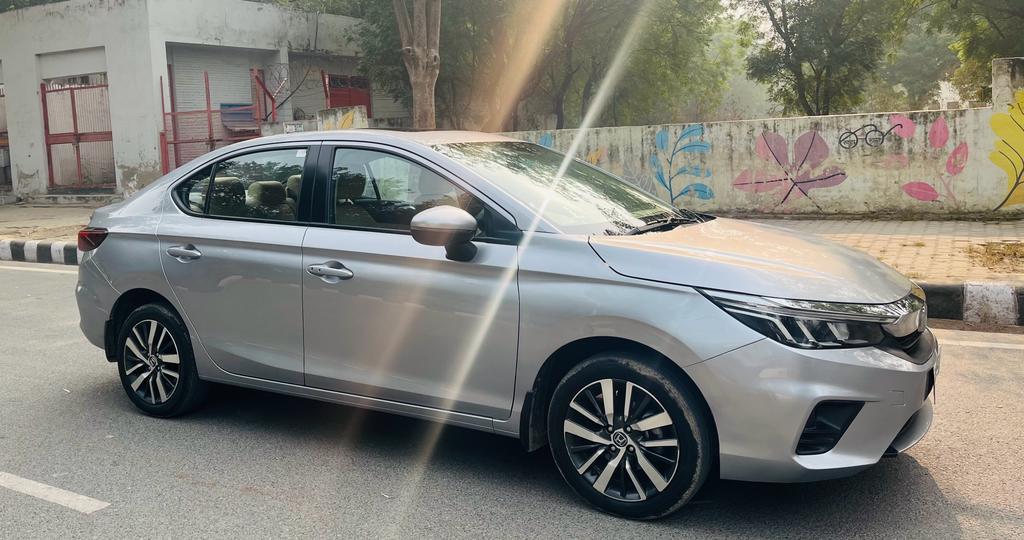 ₹ 12.75 L
₹ 28,556/month 
Car Choice Exclusif Amberhai, New Delhi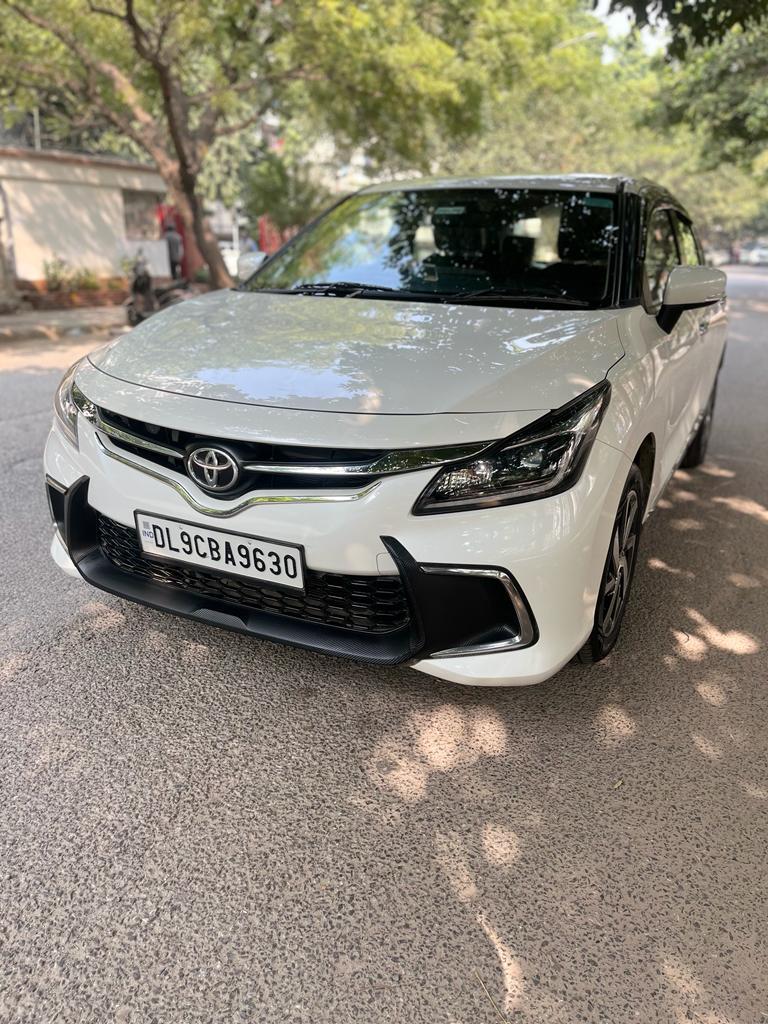 ₹ 8.50 L
₹ 17,979/month 
Car Choice Exclusif Amberhai, New Delhi
Explore More
Latest Reviews

Related Articles