Discontinued
Yamaha Saluto Overview
| | |
| --- | --- |
| Engine Capacity | 125.0 CC |
| Mileage | 78 KM/L |
| Fuel Tank Capacity | 7.6 L |
| Gears | 4 Speed |
Yamaha Saluto Prices
Yamaha Saluto price starting from 58,800. Yamaha offers Saluto in 8 variants.
Variants
Last Recorded Price
Petrol, 78 KM/L, 125.0 CC
Saluto Matt Green Drum UBS
Petrol, 78 KM/L, 125.0 CC
Petrol, 78 KM/L, 125.0 CC
Petrol, 78 KM/L, 125.0 CC
Petrol, 78 KM/L, 125.0 CC
Saluto Matt Green Disk UBS
Petrol, 78 KM/L, 125.0 CC
Petrol, 78 KM/L, 125.0 CC
Petrol, 78 KM/L, 125.0 CC
Yamaha Saluto Specifications & Features
Explore an in-depth overview of the Yamaha Saluto specifications and features, offering comprehensive details on its engine, fuel efficiency, mileage, brakes, max power, and tyre. Additionally, gain insights into the bike's advanced safety features.
| | |
| --- | --- |
| Engine CC | 125.0 CC |
| Fuel | Petrol |
| Mileage | 78 KM/L |
| Brakes | Mechanical Leading Trailing Drum Brake/Mechanical Leading Trailing Drum Brake |
| Max Torque | 10.10 Nm |
| Max Power | 8.20 bhp |
| Tyre | 80/100-18 47P Tubeless/ 80/100-18 54P Tubeless |
Yamaha Saluto is available in 4 different colors namely Sparky Cyan, Matt Green, Brave Black & Armada Blue.
Yamaha Saluto Sparky Cyan
Available for all Variants.
Yamaha Saluto Matt Green
Available for all Variants.
Yamaha Saluto Brave Black
Available for all Variants.
Yamaha Saluto Armada Blue
Available for all Variants.
Browse through a collection of 7 high-quality images showcasing Yamaha Saluto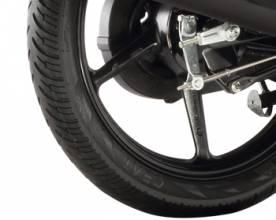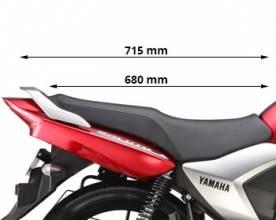 Quick Compare With Yamaha Saluto Competitors
| | | | | | |
| --- | --- | --- | --- | --- | --- |
| Yamaha Saluto | | | | | |
| Ex-Showroom Price | | | | | |
| ₹ 58,800 - 62,580 | ₹ 77,378 - 82,878 | ₹ 1.06 - 1.1 L | ₹ 73,400 | ₹ 52,915 - 63,578 | ₹ 1.31 - 1.48 L |
| C&B Expert Rating | | | | | |
| N/A | | | | | |
| Engine CC | | | | | |
| 125.0 CC | 124.7 CC | 162.7 CC | 109.5 CC | 102.0 CC | 199.5 CC |
| Gears | | | | | |
| 4 Gears | 4 Gears | 5 Gears | 4 Gears | 4 Gears | 6 Gears |
| Mileage | | | | | |
| 78 KM/L | 65.00 Km/L | 62.00 Km/L | 74.00 Km/L | 96.90 Km/L | 35.00 Km/L |
| Max Torque | | | | | |
| 10.10 bhp | 11.00 Nm | 14.00 Nm | 9.30 Nm | 8.30 Nm | 18.30 Nm |
| Max Power | | | | | |
| 8.20 Nm | 10.50 bhp | 12.70 bhp | 9.00 bhp | 7.70 bhp | 23.17 bhp |
| Brakes | | | | | |
| Mechanical Leading Trailing Drum Brake/Mechanical Leading Trailing Drum Brake | Drum (Front) / Drum (Rear) | Disc (Front) / Drum (Rear) | Drum (Front) / Drum (Rear) | Drum (Front) / Drum (Rear) | Petal Disc with floating caliper (Front) / Petal Disc with floating caliper (Rear) |
| Fuel Tank Capacity | | | | | |
| 7.6 L | 10.5 L | 13.0 L | 8.0 L | 11.0 L | 12.0 L |
| Colour Count | | | | | |
| 4 | 7 | 3 | 4 | 4 | 2 |
| Detailed Comparision | Saluto vs CB Shine | Saluto vs CB Unicorn 160 | Saluto vs CD 110 Dream | Saluto vs Platina 100 | Saluto vs Pulsar 200 NS |
Yamaha Saluto has 1 videos of detailed review, pros & cons, comparison & variant explained, test drive experience, features, specs, interior & exterior details and more.
About Yamaha Saluto
Attributed by practicality, the 125cc bike from Yamaha is claimed to return segment best fuel economy. The light weight of 112 kg further works in favour of bike's performance in terms of economy enabling to yield 10 per increased mileage. Power is drawn from a frugal 125cc, air-cooled, four stroke engine belting out 8.3PS at 7000rpm and 10.1Nm at 4500rpm. The single cylinder engine is mated to a constant mesh, four-speed gearbox vouching to deliver 78 kmpl. Telescopic forks in front and swingarm absorbers are at charge for keeping the bike composed. Braking action is dependent on dual drum units and large tubeless tyres provide grip on the road.
Upcoming Models are the MT-03, New YZF R3 and XSR155
Yamaha Saluto Expert Review
Yamaha Saluto
The Yamaha Saluto is an excellent choice for anyone in the market for a cheap and dependable two-wheeled transportation option. It's great for commuting in the city or even going off-road for short distances. The Saluto is an enjoyable motorcycle to ride because to its excellent suspension and supportive seat.
How is the design?
Sculptural Artistry in Motion is the guiding principle behind the design of the Yamaha Saluto, which was created with that company's philosophy in mind. The appearance of the motorcycle is contemporary and sporty, and it has a threatening stance. You may get it in two different colors, including Candy Red and Matte Green. The Yamaha Saluto motorcycle is easily identifiable thanks to the one-of-a-kind headlight cowl design that it features. Good ergonomics have been incorporated into the design of the fuel tank, and a slick taillight has been added to the back. The bike has an outstanding design overall, and it has a nice appearance when it is ridden on the road.
The Yamaha Saluto is a sensible and lightweight motorcycle that has the looks of a regular commuter bike. It is a motorcycle that you will like riding due to its low weight. The aesthetic value of the motorcycle is enhanced by features such as a halogen headlamp, an aerodynamic front cowl, clear-lens front turn blinkers, a convenient rear grab rail, a blacked-out engine, 18-inch alloy wheels, a long comfortable seat with adequate padding, and a 7.6-litre fuel tank that embraces all-new graphics and a muscular design. All of these features contribute to the bike's overall appearance. The color schemes that are available are not only easy on the eyes but also work well with the overall design of the bike. The manufacturer has equipped it with an electric start switch so that it may be started quickly and with a positive attitude.
On the other hand, there is also a kick that serves as a backup. The odometer, fuel gauge, and speedometer are all analog displays that are housed in the instrument console. The bike's upright riding position is perfect for daily commuting, which, when combined with the bike's well-cushioned seat and rear grab rail, adds to the convenience of riding not only for the rider but also for the passenger sitting behind them. Because of its small structure, lightweight construction, appropriate riding position, and broad handlebar, navigating the bike's terrain is a breeze. The manufacturer has given it a generous ground clearance of 180 millimeters, taking into account the condition of roads it will travel on. This ground clearance makes it a great bike to purchase, particularly in India.
How is the performance?
The performance of the Yamaha Saluto is really impressive overall. It comes with a 125cc engine that is powerful enough for riding in the city as well as on the highway. The mileage is also fairly decent, giving between between 15.85 and 18.50 kilometers per liter. The bicycle offers a pleasant riding experience and is simple to use. For a motorcycle with a displacement of 125 cubic centimeters, the Saluto delivers respectable power and torque ratings. It is capable of producing 10 PS at 7500 RPM and 10 Nm at 6000 RPM as its peak torque and power output respectively. These numbers are comparable to those of its competitors. However, in comparison to its rivals, the Saluto stands out thanks to its remarkable fuel efficiency rating of 82 kilometers per liter (as per ARAI). This indicates that you should anticipate getting close to 650 kilometers out of a full tank of gasoline.
The astonishing and commendable fact that the bike's performance is not compromised in any way by the Blue core engine's efficiency enhancements is consistent with the norms of the industry. It achieves a fuel economy of 78 kilometers per hour when the conditions are optimal. As a result of its low curb weight, it is simple to operate in the dense traffic of the city, improves performance statistics, and boasts an impressively low fuel consumption.
What is the Torque Figures?
The engine generates a peak torque of 10.1Nm at 4,500rpm.
What is the max Power?
The engine is mated to a 4-speed gearbox, produces max power of 8.3PS at 7,000rpm.
What is the Top Speed?
Yamaha Saluto has a top speed of 95 kmph.
How does the motorbike ride?
An wonderful time can be had behind the handlebars of a Yamaha Saluto. The bicycle is not only very light but also very easy to handle. It has a relaxing ride and a seat that is very comfy. Because of how nicely the suspension handles bumps, riding the bike is a very comfortable experience. If you are searching for a lightweight bike at a reasonable price, the Yamaha Saluto is a fantastic option to consider.
The design of the Saluto is the very first thing that grabs your attention about it. The bicycle has a fairly contemporary appearance and does not look like the kind of mundane commuter bike that most people use. It even comes with alloy wheels, in addition to a full-LED headlight and an all-digital instrument dashboard (a rarity in this segment). The construction quality is also very high, and the bike has a rock-solid feel when riding along the road.
How comfortable the motorbike is?
Assuming that you are referring to the Yamaha Saluto RX, it is a bike that offers a high level of comfort. The seat is roomy and comfortable, the handlebars are positioned at an appropriate height, and the footpegs are positioned in the optimal position. Because of the relatively soft nature of the suspension, the ride is rather smooth over uneven terrain. When combined, these features provide a bicycle that is comfortable to ride for extended periods of time without causing muscle strain or fatigue.
How's the tech?
The Blue Core engine that comes standard on the new Yamaha Saluto has 125 cc and provides excellent mileage for its size. The engine generates 8.2 horsepower at 7,000 rpm and 10 Nm of torque when it is rotated at 4,500 rpm. It is paired with a gearbox that has four speeds. The starting weight of the motorcycle is 110 kilograms, and the capacity of the fuel tank is 10 liters. At the front, it has a telescopic fork suspension, while at the back, it has a coil spring suspension. The bicycle has a ground clearance of 165 millimeters and is equipped with drum brakes at both ends of the frame. It comes standard with an all-digital instrument dashboard and wheels measuring 18 inches in diameter that are fitted with tubeless tires.
How's the mileage of the motorbike?
For a bike with 125 cc engine capacity, the Yamaha Saluto gets excellent mileage. It has the ability to achieve a fuel economy of approximately 70–75 kilometers per liter, which is reported to have the best fuel efficiency in its segment, which is attributed to the bike's practicality. The low weight of the motorcycle, which comes in at just 112 kilograms, is another factor that works in favor of its performance in terms of fuel efficiency and enables it to provide 10 percent increased mileage. The power comes from an efficient 125cc four-stroke engine that is air-cooled and produces 8.3PS at 7000rpm and 10.1Nm of torque at 4500rpm. The manufacturer of the motorcycle asserts that it has a gasoline tank that can hold 8.2 liters of fuel and that it can travel around 600 kilometers on a single tank of gas. The engine has a single cylinder and is coupled to a constant mesh, four-speed gearbox, which together are guaranteed to generate 78 kilometers per liter. The stability of the bike is maintained by telescopic forks located in the front and absorbers located in the swingarm. Dual drum units are responsible for providing the braking action, and huge tubeless tyres are what offer grip on the road.
Is the motorbike good value for Money?
The Yamaha Saluto is a bike that offers a lot of bang for the buck. The vehicle is uncomplicated and dependable, making it an excellent option for navigating the city. The build quality is outstanding, and it comes standard with some nice extras, such a front disc brake and an LED headlight, among other things.
The bicycle has a diamond-shaped frame, which gives it the necessary strength and agility for riding in the city. The frame is bolted together. Both the front and the rear suspension of the Saluto are carried out by a combination of a telescopic fork and a swingarm that features an adjustable pre-load. The assembly is good enough that it allows one to see through the flaws in the road. Drums are installed on both ends of this vehicle's braking system. In addition to that, customers have the option of selecting a front disc that is 245 millimeters in diameter. Tubeless tyres with an 80/100-18 section are used on both the front and back wheels of the vehicle. This ensures that there will be no instant flats and that the vehicle will respond as quickly as possible.
Therefore, The Yamaha Saluto is an excellent choice for any extended journey. It provides a high level of service assistance as well as excellent relations with customers.
How is the after sales service?
There is a three-year warranty included with the purchase of the Yamaha Saluto, which is very typical for motorcycles in this price range. Additionally, for an additional fee, the company provides an extended warranty that lasts for 5 years. We believe that Yamaha performs a really decent job in terms of the after-sales service that they provide. Even though we didn't have any serious issues with our bike, the personnel at the shop was really knowledgable and helpful whenever we did take it in for maintenance. The after-sales service that Yamaha provides is satisfactory, all things considered.
Which Motorbikes Compete in this Segment?
There are a lot of other motorcycles in the 125cc category that compete with the Yamaha Saluto. The TVS Apache RTR 125, the Honda CB Shine, the Bajaj Pulsar 125, and the Hero Glamour are a few examples of these models. One of the reasons that each of these bicycles is such a well-liked option in this category is that each one comes with its own distinctive collection of features and advantages. On the other hand, the Yamaha Saluto comes with some additional characteristics that make it a suitable alternative for individuals who are seeking for an option that is more affordable.
Verdict (Is it Value for Money?)
The Yamaha Saluto is a 125cc motorcycle with an entry-level engine that was introduced to the Indian market in November of 2015. The commuter market is the bike's primary focus, and it sits in a price bracket below that of the Yamaha SZ-RR. The Saluto comes in two different versions: regular and disc brake. Both of these versions have different brake systems (ex-showroom Delhi).
The Yamaha Saluto, which is marketed as a family commuter, is designed for consumers who are seeking for a ride that is economical and can be used for a variety of purposes, including everyday commuting, travel to and from the workplace, shopping trips, and weekend hauls in the immediate area. The bike features a modest and somewhat upscale design that will excite you to the very depths of your being. New dual-tone graphics and a chiseled appearance have been added to the aesthetically pleasing fuel tank. In order to achieve unheard-of levels of performance and fuel economy, the weight of the bike has been kept under control. Its kerb weight of 112 kilograms is believed to be the best in the sector, which not only assists in effortless maneuverability but also elevates the fuel efficiency by up to ten percent. The generous ground clearance of 180 millimeters is just right for the roads in India. For purchasers who value safety as one of the most significant characteristics of a product, the availability of the disc brake option is the frosting on the cake. It is propelled by a Blue Core Engine, and in addition to grippy tubeless tyres, it has a durable pre-load adjustable rear suspension that is fully adjustable. The Saluto Disc has a starting price of INR 56,364, while the Saluto Drum has a starting price of INR 53,898 (Ex-showroom, Delhi). The Saluto Drum is available in three different color tones, including black, matt green, and red (Ex-showroom, Delhi).
Upcoming Yamaha Bikes
Find expected price range and launch dates of all upcoming Yamaha bikes in India.
Yamaha Saluto Alternatives
Search Yamaha Dealers & Showrooms