Most of us in India make rational decisions when it comes to buying a car. There's everything you can get here now - entry level hatchbacks, sub-4 metre hatchback, sedans, SUVs and we all weigh our choices, listen to the family and then go ahead with what we need to buy for our daily commute.
Not all car buying decisions are rational and though I have understood the emotion behind buying a supercar or a sports car (if you have deep pockets that is), I seem to lack connect with the person who says s/he would like to buy a Volkswagen Beetle.
And whenever I've asked the reason for anybody buying one, there was a long winded explanation which contained the words, small, nice and cute but no one ever said practical. The Beetle, when conceived by Ferdinand Porsche, was meant to be practical and that was the brief given to him by Adolf Hitler.
It was a car for the masses, so it had to be practical, didn't it? But over the years we've seen a transformation and the practical car for the masses soon shed that perception. In India, though, it was never meant to serve that purpose and it was brought in for those who could afford a car that cost more than ₹ 21 lakh and yes this 'cute' car managed to draw in a few fans - all 500 of them and that was that. Demand fell and there was no point continuing with it in India which is why we wondered if any of its following generation would actually land up on our shores.
Volkswagen announced that the 2015 Beetle it would indeed make its way to India and we will see the car make a comeback in December this year. For the world, it's come a long way from being a rear-engined, rear wheel drive car to a front engine compact car but for India, the car was always a cute and cuddly one and there were no expectations attached other than the fact that the engine should have been a bit more powerful and the automatic transmission, for want of words, sophisticated.
The previous one to come here had a 2.0-litre petrol engine which produced 115bhp and the 6-speed auto-box was clearly a disappointment (well it was a torque convertor, so we weren't expecting much to begin with). So, the face is a familiar one but now the bug's gotten buggier. It still looks the same, the two circular headlamps and the clamshell bonnet while the overall profile of the car remains intact to the DNA of its forefathers but there are a few additions which make it look sportier.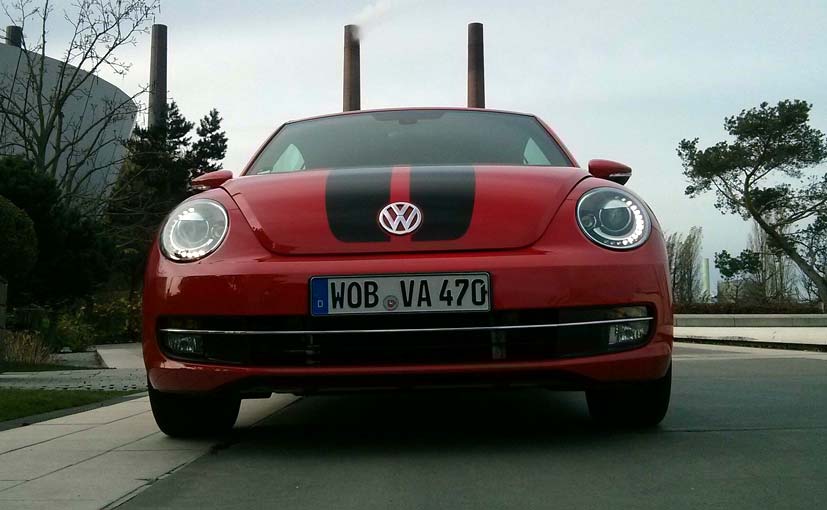 At the front, there are the bi-xenon headlamps with range adjustment and the LED day-time running lights are a good addition too. Then there is the rear tail gate spoiler which Volkswagen has given it to try and make it look sporty and it works. But it's the 16-inch alloy wheels which make it stand out and that's when you truly understand the change it's been through.
The sporty looks continue inside as well as the seats are all draped in leather, while the three-spoke steering wheel too gets a dash of leather. The car we drove had a flat bottomed steering wheel and we may see that too in the car which comes to India. The glove box is a tiny one and you can probably store a couple of soda cans in them. There is seating for four people but from I stood, the Type 1 had more space at the rear than this one for a tall chap like me.
The one coming to India will come with a bunch of features like USB interface and Aux-in, Bluetooth connectivity while the instrument cluster comes with an electronic speedometer, odometer and trip odometer, tachometer. There is also dual-zone climate control and for those wanting to put their heads out of the roof, Volkswagen has equipped it with a panoramic sunroof. Safety features come in the form of Electronic Stability Control, ABS, ASR, EDL and EDTC and there is also driver and passenger airbags with combined side and curtain airbags.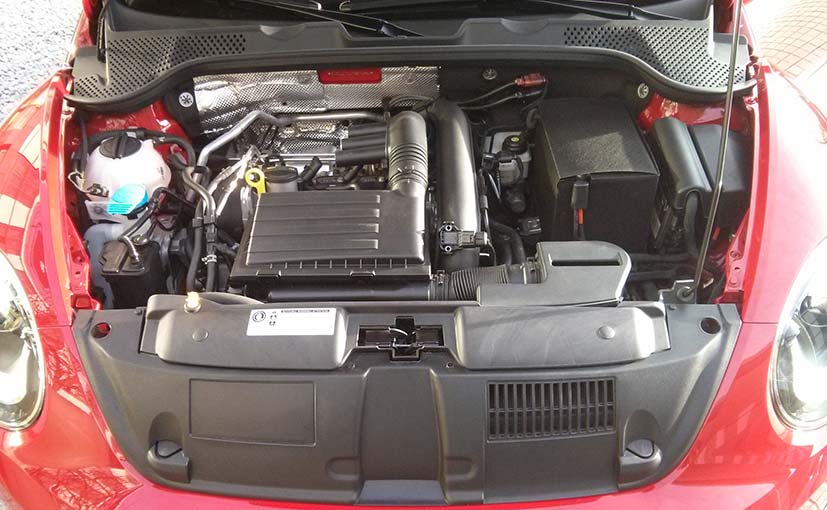 All-in-all, there's a lot on offer but the biggest change that has come into the car is what's under the hood. The Beetle gets a 1.4-litre TSI petrol engine which does duty on the Jetta. Now the displacement is less than the previous one but the power it churns is more - all of 147 bhp (which is more even than the Jetta). But it is the transmission that puts a smile on your face and what adds to its 'sporty' credentials. Volkswagen has equipped the Beetle with a 7-speed DSG which has proved itself in the other cars from the VW fleet.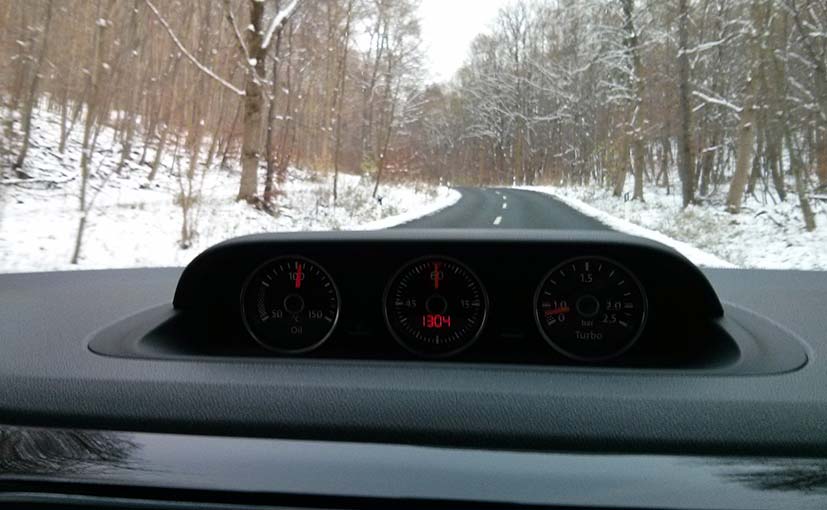 The car we drove came with paddle shifters and that too is something of a boon as there is power at your disposal. The DSG reacts quickly to your inputs and that makes a lot of difference to your thought process too because when you compare it to the previous one and the 2015 version is a world apart. It drives well too as the gear shifts keep up with your throttle input and this makes for an engaging drive.
Even on the slight slippery roads that we drove on, the Beetle kept its composure but that can be attributed to the winter tyres that it was equipped with. The electromechanical steering does its job well and it's a breeze to drive it in and around the city. Push it a little and it does not show any signs of running out of breath. Engage into Sport mode and the exhaust growls a little and the gear changes are at higher rpms, but there is no drama and the Beetle takes it in its stride.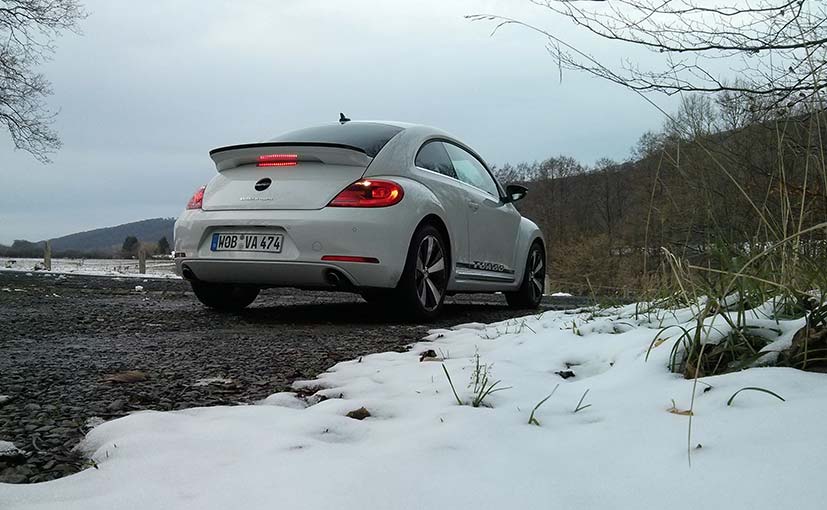 It would be better at dealing with the potholes in India too; as the suspension is a bit on the softer side when compared to rivals like the Fiat 500 and the Mini Cooper. The Beetle then shines out when compared to its past life and it's travelled a long way to shed its image of just being a cute car. It's gotten more power and it's more evolved but retains the charm it always had. So, you would still say it's cute but is it a practical buy? No.
0 Comments
When the car comes to India it will come via Mexico as a completely built unit (CBU) and this will see the price cross the ₹ 30 lakh mark. Volkswagen India isn't looking at the Beetle to be their volume seller rather, it's an addition to their portfolio and a flagship model of sorts which will spearhead the company's assault on the Indian industry next year. There are no changes in the plans for India when it comes to Volkswagen and the Beetle promises to be just a tiny glimpse of what's about to come.
For the latest auto news and reviews, follow carandbike.com on Twitter, Facebook, and subscribe to our YouTube channel.