It's a Sports Activity Coupé. Yes that is one term that still made little sense to me when BMW first launched the original X6 in 2008. 260,000 units later and it still doesn't. But clearly my opinion doesn't count; given the success BMW has had with it. It's a big hulk of an SUV, with full-size SUV proportions - well nearly! Because the roofline tapers down sharply into a coupé like stance. The first time I saw it, I could only think of a vicious Doberman that is always missing its tail! But the second generation is now here, and it arrives 6 years after the first one - which is enough time to get used to the shape I suppose.
The timing of this 2nd gen is crucial for BMW, as it arrives before the competition does. Given BMW's success, Mercedes-Benz is all set to rollout the MLC or ML Coupé. Yes it's essentially the ML Class with a coupé roof! But we will discuss that car at another time and place. Today I am in Spartanburg, SC, in the US of A, to drive the new X6. Spartanburg is where BMW has had a plant for 20 years, and since 2008, its been exclusively making the X models only. (Barring the X1 that is made in Europe).
So it was apt to come to the home of the BMW SUV! The new X6 looks very similar to the old one - in that it maintains a similar stance, proportions and overall look. But look closer and there are definite changes - a more muscular and chiselled hood, a more flamboyant X-shaped bumper with smart air inlets, sharper sculpting on the sides, and very sexy taillights. The kicker for me is still that roofline, but hey like I said - its not targeted towards buyers like me anyway.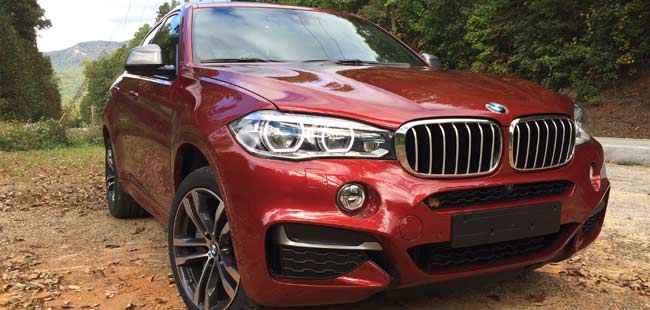 So once I got past that aspect, I have to say the new X6 is a smarter, more attractive and more agile looking car when compared to its predecessor. Inside too, the design is bold, and smart. The vehicle maintains its command seating position for the driver, and the dash is better sculpted. The company is offering a choice of 3 diesel variants and 2 petrols.
In India we will get the 4.4 litre, 445 bhp V8 xDrive50i which is the range-topping petrol, the 254 bhp xDrive30d, the entry diesel, and its M Performance avatar - the M 50d. Yes both the diesels mentioned here use the same 3 litre block, but the M performance treatment means you get a tri-turbo unit that makes a massive 381 horsepower. That is the car I have been driving around in the South Carolina countryside. And guess what - with all that power, BMW still claims mileage of 15 kmpl!
The first impression you get front he new X6 is that its very well suited tot he the new BMW Driving Dynamics Control system, This means you can go from Eco to Comfort to Sport and Sport Plus modes. So you can basically go from a smoother shifting, lighter steering feel car, to a slighter suspension, more responsive beast.
The guys at BMW were hard pressed to tell us this is one of those rare SUVs that can be a mild off roader and a sports car all in once. So we got to not just drive around on a mix of highly and country roads, but also got the X6 on a test track, and an off road course.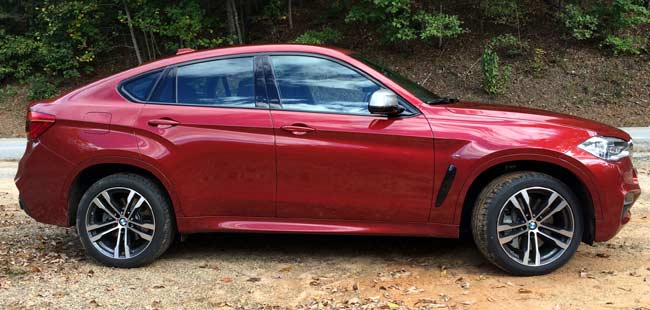 First the track. We got a chance to throw the car around, take it through some sharp racing corners, and really test its agility. I have to say the results were surprising, even for the cynical minded. The car maintains its X5-like driving character, but does take things top a notch when negotiating tight turns and holds a decent racing line!
The reason for this is the torque vectoring at the rear axle. The xDriveM50d has a potent 381 bhp engine and there is a generous amount of torque - try 760 Nm! So all of that torque is distributed to different wheels - the outer rear wheel on a sharp banking turn for instance, so that it doesn't skid or lose control. The advantages are many - safety being the highest one I suppose. But in effect you get a punchier, more exhilarating car to drive hard. And that was a surprise.
We even had a go on a wet track, turned off traction control, put the car in sport plus mode, and drifted this hulk. I cannot tell you how much fun that was - possibly more so because it was unexpected. This is where that lower roofline and new reduced body roll play a large role. BMW says it has worked hard on making the car stiffer, and yet the new rear anti roll bar disengages when on a bunny road so ad to not transfer the ride to the other axle. Pretty neat and very effective.
On the off road track, we got to see some minor wading skills, and hill climbing, hill-hold and hill descent control systems at work. The addition of a new grille-mounted front camera means you can see where you are going even on a steep incline, where the diver usually sees nothing but blue sky out the front windscreen.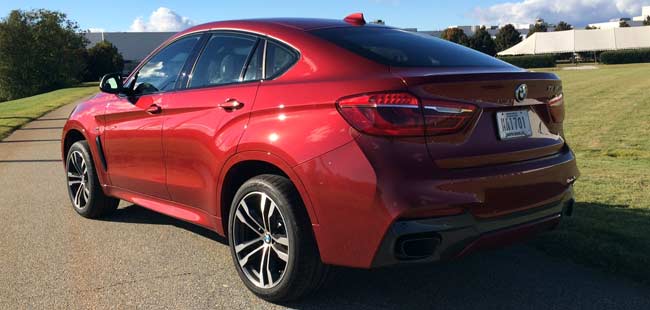 BMW has paid attention to comfort overall, and despite the compromised cabin space due to - you guess it - the lower roofline, the new X6 is more comfortable now. The seating at the rear is especially nicer, and the front too has thoughtful elements like a driver and passenger knee pad in the central console. It's a 5 seater, and unlike the earlier car we weren't shown any optional 4- seat version. Nor one with reclining rear seats - a must at this end of the SUV market.
0 Comments
Yes the X6 isn't cheap! It costs ₹ 1.15 crore (ex-showroom Delhi) and BMW will get busy shipping these to its buyers which will be primarily the US and Chinese market. But there is a buzz here at Spartanburg.

The company has decided to invest an additional billion dollars here, to expand capacity by 5-% to 450,000 units annual production by 2016. I got a chance to see some of that work already in full swing, and construction seems brisk. The plat currently produces the X3 and X4 in Hall 52, and the X5 and X6 in Hall 50. The new construction will not just take into account the greater demand for the existing vehicles, but also the X7 full size 7 seater SUV that will arrive in 2016 as well.

Also Read: New BMW X6 Launched in India
For the latest auto news and reviews, follow carandbike.com on Twitter, Facebook, and subscribe to our YouTube channel.