Riding a bike to the mountains is quite common these days, but what's not is when 11 divas, from across the country, decide to ride to the Himalayas, on an 110cc scooter; well, the TVS Scooty Zest to be precise.
TVS calls it the Himalayan Highs and it first took shape in September 2015, when 20-year old Anam Hashim challenged herself to reach one of the highest Motorable roads - Khardung La - on an 110cc TVS Scooty Zest. This year, in its second edition, Himalayan Highs saw 10 more women being shortlisted, from across the country, based on their psychographics, physical fitness and mental strength. They were then trained, as they came with diverse riding prowess; and though I was not a part of this selection, I still managed to grab the chance to ride with them on their run from Mandi in Himachal Pradesh to Leh and be a part of their exciting adventure and achievement.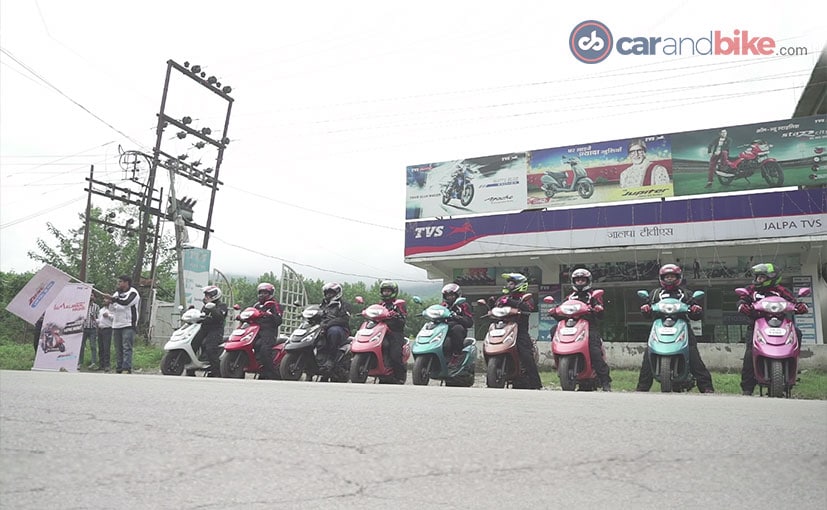 Anam Hashim was also a part of this edition and she was happy and surprised to see her fellow riders, who hailed from different parts of the country. "Seeing ordinary girls riding in such terrains, I'm sure women can take up riding really well, if they really want to and if they are really determined. It's not impossible, nothing is!"
The ride kicked-off from Mandi, HP on 11th August 2016. We were to cover a massive 700 km journey from Mandi - Manali - Jispa - Sarchu - Pang - Leh - Nubra and then back to Leh . There was no doubt, we were looking forward to this ride, as we would encounter picturesque landscapes, back-breaking terrains, dubious weather and water crossings, but of course none of these obstacles could dampen this ride or rider's spirit in any way, as the riders kept moving forward, defeating every obstacle in their way.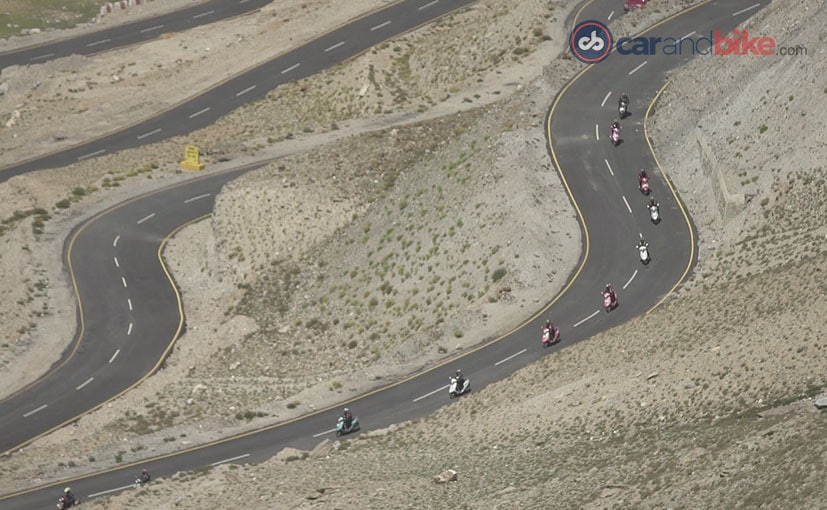 Their ride from Mandi to Leh had its owns advantages - that of witnessing the most gorgeous views and experiencing the toughest terrains in the world and with it came the risk that one has to take to achieve something like this and that too on a Scooty! Roshni Somukar, who hails from Nagpur, said, "We had rains, we had frost bites, we had windy roads, we had dusty roads, we had dusty clouds, we had everything; other than the snow we had everything because of the season of course! It was really a package or a bundle of all the experience that a rider has to get in a ride."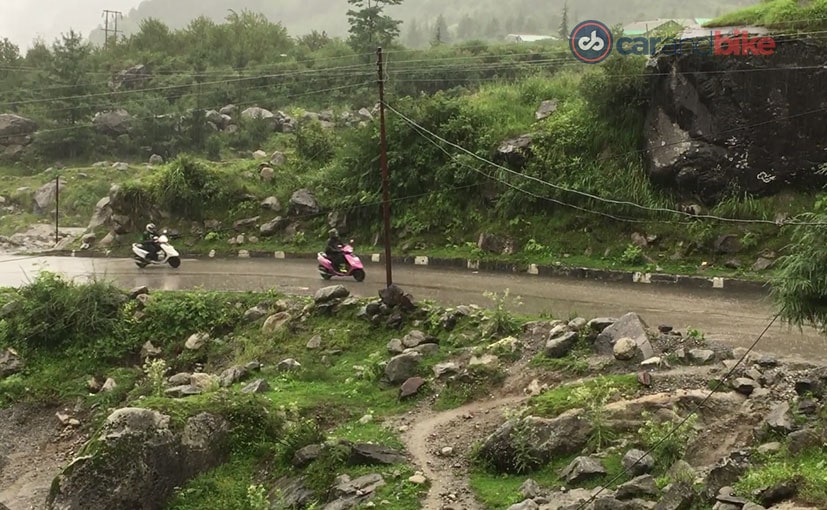 While for some it's an experience, for others it's something of a dream and people Ebronah Dorothy take on challenges which are not just thrown to her by nature. Ebronah hails from Chennai and it was a challenge to go through a lot of discussions before she convinced her family to allow her to undertake this ride and chase her dream. "Actually I lost my mom two years back, my mom was a biker, that's the reason, biking is in the blood. I have been a part of a joint family, a typical south Indian family, and they were very skeptical; in fact I didn't tell them that I had applied for this thing; and then, when I got through the first round, I thought, let me go through the second round, maybe I won't get selected and then when they finally said you have to come down to Bangalore in a day, I called up my people and told them and they said just forget it; and then, you are bluffing, you are not going anywhere. They were completely against it because I have taken quite a lot of hits in the past, but in the last two and a half years or so, I've kind of become a mature rider. Yet given my initial record they were not very happy with the decision and even when I went to Bangalore, they were hoping that I wouldn't get selected, as they wanted me back here in one piece, they didn't want me to try any stunts and the only true support I actually had was from my brother, who is 14 years old. He said, Fine, go do it, that's the only thing you love to do, I think it's high time you did it, so he was the only person, who backed me up and convinced my whole family to let me go for 18 days."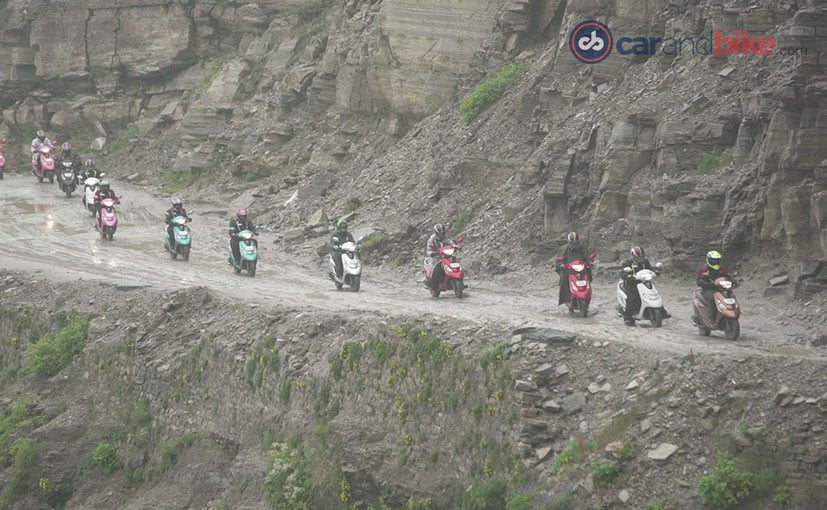 Yes, 18 days and that means a lot of preparations. A 700km ride on a Scooty is not easy and it's not just the rider that needs to be prepared but also the bike and an emergency tool kit has to be always at hand. Thanks to TVS though we had back up in the form of Spark Plugs, Sand Paper, General Tool Kit (Spanners, Wrenches, Screw Drivers etc.) , Tyre Tubes, Wheel Assembly, to replace punctured tyres, Brake Levers, Air Pump, Super Glue, Some Self-Tap Screws, rope et al. Considering we were heading to a higher altitude, it's a good idea to carry paracetamol tablets which act as blood thinners and also better to have some chocolates at hand.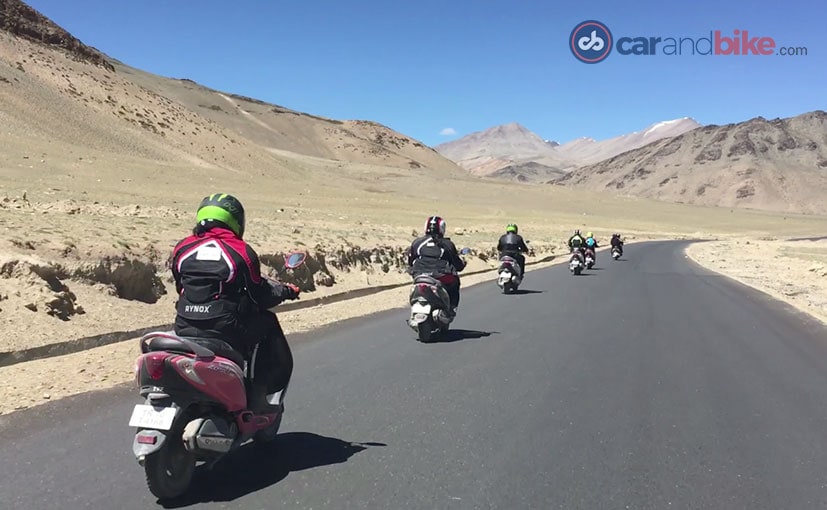 Smriti Bhatiya, explains, "I'd say that there are very different aspects to it when you come from the plains to the higher altitudes, your body is undergoing certain changes which you have to help your body with, so on a general basis, you know, cut down on your smoking, cut down on alcohol, caffeine intake, drink a lot of water, keep yourself hydrated. On like a medical aspect of it, we give like this medicine called as Acetazolamide(Diamox), so that your body ph is maintained and you get acclimatised faster."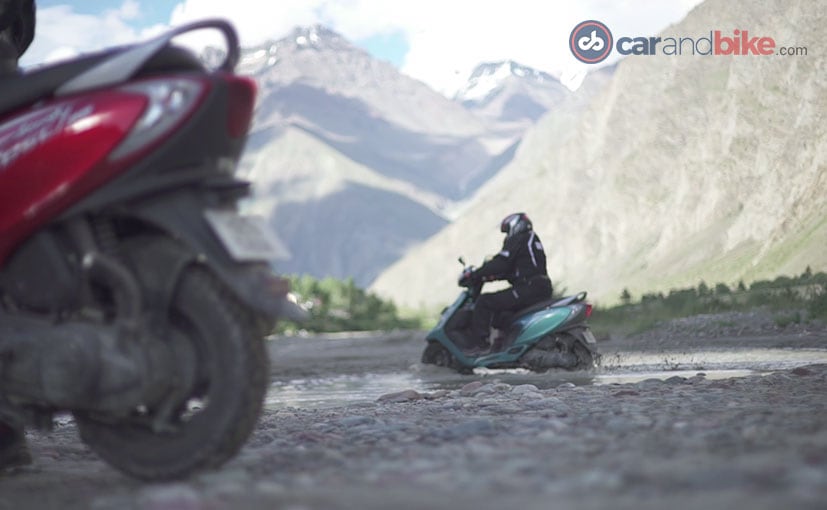 She also said, "Keep having chocolates and eat well, don't over eat, but keep eating well, make sure you are drinking enough water and safe water, though over here most of the water here is clean and you eat clean food. Other than that we see things like you know people complain of headaches, vomiting, so that, those are all signs of what we have the most dangerous thing is what we call as AMS (acute mountain sickness). Sunscreen is very important, otherwise you end up burning your face because what happens here is when you come outside, the wind is terrible and you end up like getting burns all over your face and for rashes always have like mosquito repellants with you, like an anti-histaminic, anti-allergic, because you never know which thorn it's going to be, which will come in contact with you or which bee or an insect bite, especially like when you are living in tents and places like that and like have long hours of travel"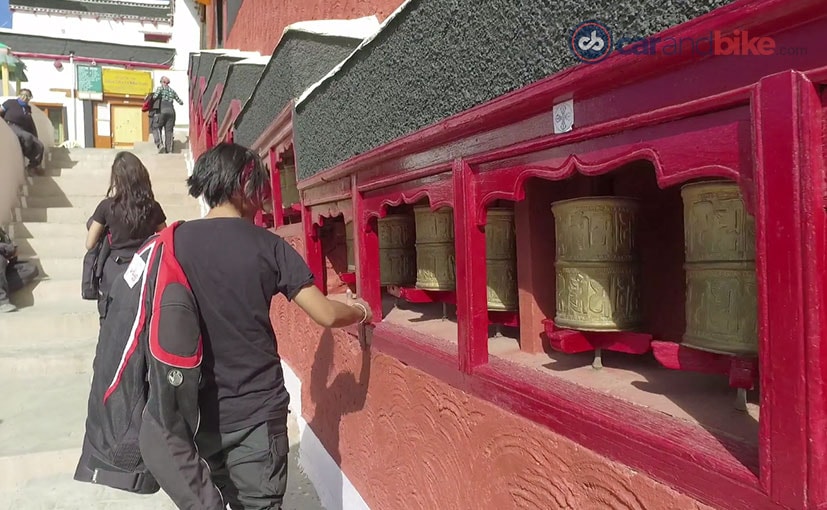 The convoy reached Leh but the tough bit to reach Khardung La was still to be conquered. The convoy left on August 19, 2016, and the forecast had shown bad weather conditions but the morning was bright and sunny - perfect for riding! Initially, even the roads seemed perfect, the view mesmerising and the spirits were high. The energy was at its peak, the goal was clear and none of us could wait to finish this mother of all rides!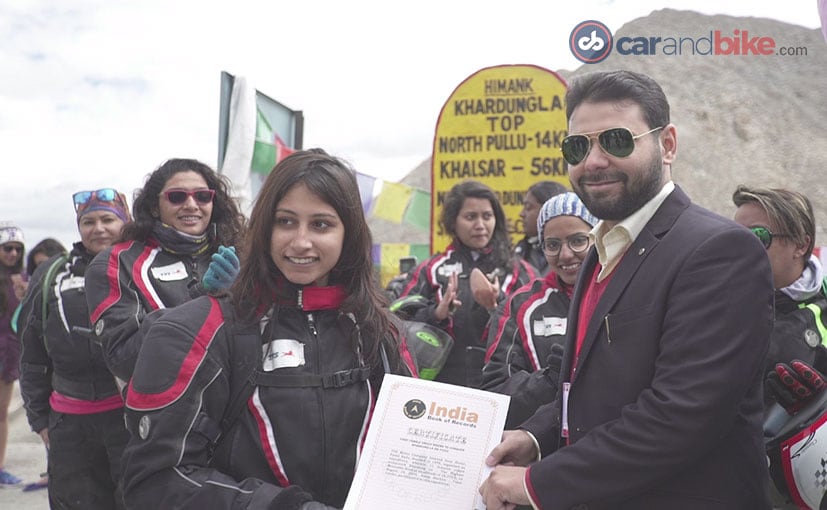 0 Comments
And very soon we were welcomed by really bad roads or even no roads! We had few flat tyres but not a single fall. The tyres were mended and we continued our journey and we could see the flags at Khardung La which soared the excitement and emotions further. We had all reached, without a scratch and the 110cc Scooty Zest hadn't run out of breath. We'd scaled 18380 feet, which has been recognised by the India Book of Records, and it was all thanks to sheer determination, grit and the unfettered performance of the Scooty Zest. The ride concluded in Disket Valley, Nubra and the 11 women riders made their mark by inspiring each other to make a strong statement; that dreams are never to be left unpursued!
For the latest auto news and reviews, follow carandbike.com on Twitter, Facebook, and subscribe to our YouTube channel.