Michelin is announcing its ambitious plan to ensure that by 2048, all of its tyres will be manufactured using 80 percent sustainable materials and 100 percent of all tires will be recycled. Today, the world-wide recovery rate for tyres is 70 percent and the recycling rate is 50 percent. The company makes tyres by using 28 percent sustainable materials (26 percent bio-sourced materials like natural rubber, sunflower oil, limonene etc., and 2 percent recycled materials such as steel or recycled powdered tires). It has plans to invest in high technology recycling technologies to be able to increase this content to 80 percent sustainable materials.
In fact it was just a year ago that the company first unveiled the Visionary Concept tyres and we told you all about it. You look at the Visionary concept and you notice that it is built for ultra-durability and that's all thanks to the honeycomb structure which according to Gettys, 'is inspired by the natural forms of the growth process at work in the plant, mineral, or sometimes even in the animal world'. It is made of all-organic recycled materials and is engineered to be fully recyclable.
Also Read: Michelin To Double Capacity At India Plant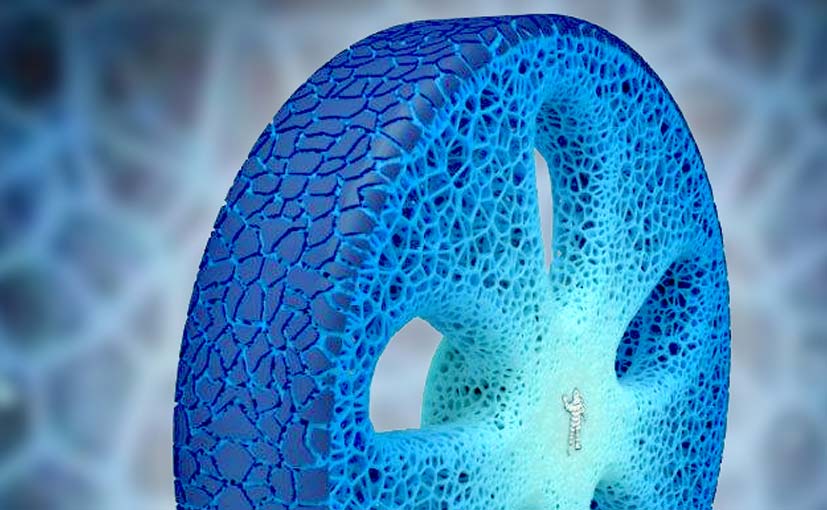 The Michelin Visionary Concept Tyre is a 3D printed tyre which is biodegradable
The company spends almost 700 million Euros each year on research and development and it has recently started an R&D facility in India too, so definitely the engineers at Michelin are kept busy. The company launched the Biobutterfly program in 2012 with Axens and IFP Energies Nouvelles to create synthetic elastomers from biomass such as wood, straw or beet.
Michelin is developing solutions today in order to integrate more and more recycled and renewable materials in its tyres, while continuing to improve performance, including 30 per cent of recycled materials by 2048. This is demonstrated by the recent acquisition of Lehigh, a specialist in high technology micro powders which are derived from recycled tyres.
0 Comments
It's certainly a good start and we hope other tyre manufacturers follow suit.
For the latest auto news and reviews, follow carandbike on Twitter, Facebook, and subscribe to our YouTube channel.