Maruti Suzuki has been on a roll. It's almost like the run its Korean counterpart was having until last year - where every product launched was a blockbuster. Now it may be premature to call the Ignis one yet - and indeed it will remain a niche product when compared to the likes of the Swift or Baleno. But what the Ignis does is it gives us Maruti's best small car yet. Read on to find out why I say this.
The Ignis replaces the Ritz in Maruti Suzuki's lineup. And like that car (and its junior avatar - the WagonR) the Ignis is indeed a tallboy. It was misconstrued to have been a subcompact SUV when it first broke cover as the iM4 concept at Geneva in 2015, and has now come to market as the 'premium urban crossover'. But let me assure you it is a hatchback - and a well-designed one at that. Like the Ritz, the Ignis is not roomy in real terms and yet gives you a great sense of space. The cabin is smartly designed and very upmarket compared to that previous model's - and even compared to the Baleno in many ways. I keep bringing the Baleno into the equation since both cars will sell side-by-side out of the Nexa network.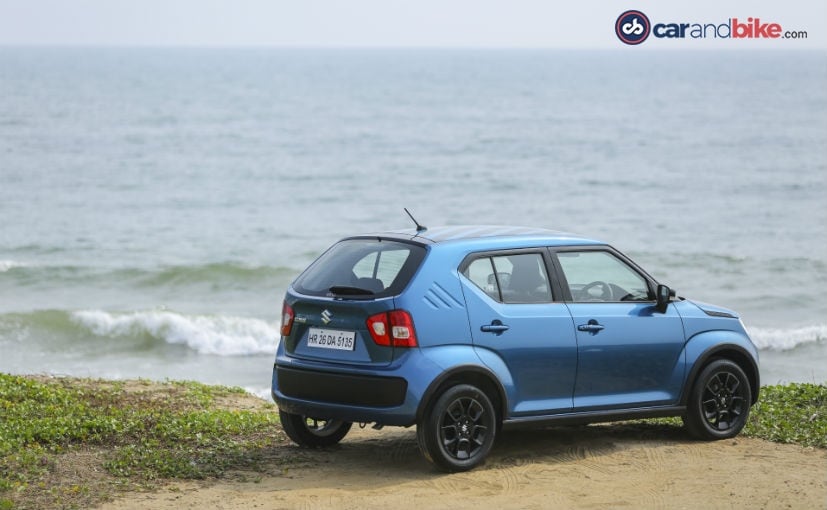 Maruti Suzuki Ignis Rear Design
On the outside the Ignis is well proportioned, and extremely distinct. There is simply no other car on the market that looks remotely like the Ignis does! It's quirky, and slightly weird - and I like that! The front grille with its integrated headlamp clusters is well finished, and forms the signature of the face, and indeed the overall design. The metal sculpting on the sides is modern and emphasizes the car's upright stance. This is further enhanced by the clamshell-style raised hood. The C-pillar is very sharply angled - and the tailgate turns down sharply to a straight slab of metal to give you a very distinct look and shape at the back. The C-pillar also houses Suzuki's very retro 'progressive triad' embossed into the metal. While it harks back to the company's successful SC 100 from the 80's and the Fronte Coupe before that, it is quite obviously a way to reduce the impact of the rather wide mass of metal in an otherwise slim design. The taillights are too flat and 2-dimensional and are he only sore point in what's otherwise a very well executed design. Shut lines and overall quality is also the best yet from a locally made Maruti in my opinion.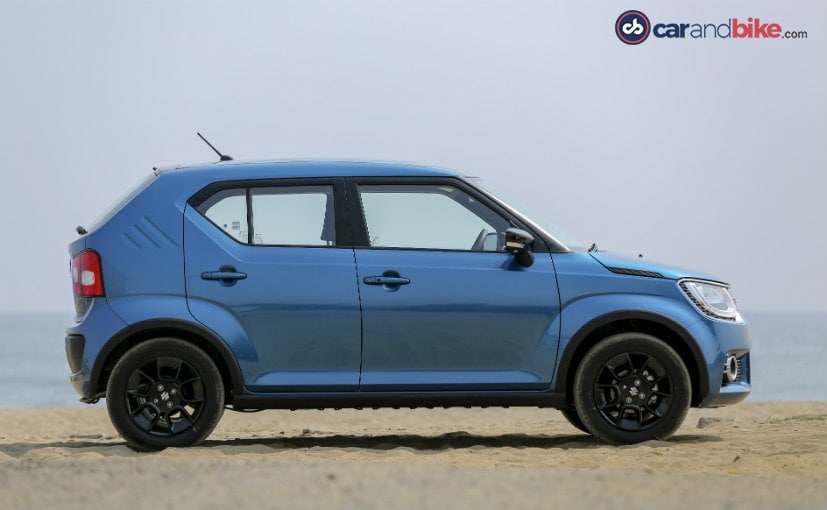 Maruti Suzuki Ignis Side Profile
The car comes with two engine options - 1.2 petrol (Max Power: 81 bhp, Peak Torque: 113 Nm, Claimed Mileage: 20.89 kmpl) and 1.3 diesel (Max Power: 73 bhp, Peak Torque: 190 Nm, Claimed Mileage: 26.8 kmpl). Yes they indeed are the same engines we have seen in multiple Maruti Suzuki products now, though tuned slightly differently. Both engines have the option a 5-Speed manual or AGS (or auto gear shift - what Maruti calls its AMT/automated manual transmission system). Now that is pretty smart on Maruti's part. The Ignis is being positioned premium and yet by putting in an AMT, it allows the company to not just keep prices attractive but also gain a healthy margin on the product. It will also have another effect - that of making the AMT itself more acceptable, and not the resort of just the budget cars. Hence it will also make an AMT more attractive in the eyes of the consumer I think.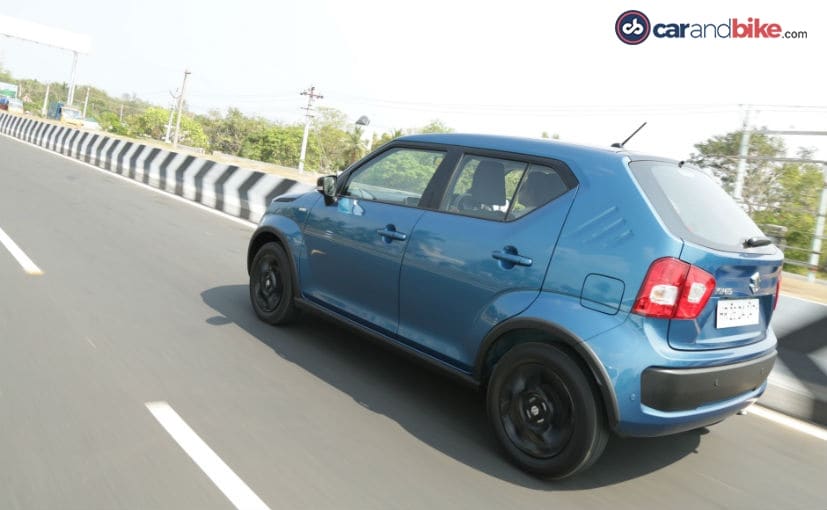 Maruti Suzuki Ignis gets both petrol and diesel engines
Maruti Suzuki Ignis Specification
| Ignis Engines | 1.2-litre Petrol | 1.3-litre Engine |
| --- | --- | --- |
| Displacement | 1197cc | 1248cc |
| Max Power | 81 bhp | 73 bhp |
| Max Torque | 113 Nm | 190 Nm |
| Transmission | 5-speed Manual/AMT | 5-speed Manual/AMT |
| Claimed Efficiency | 20.89 kmpl | 26.8 kmpl |
I drove the diesel first - in both its manual and AMT avatars. The car is zippy, and has a generous amount of torque available to you. I spoke with CV Raman - the man in charge of Maruti's Engineering and R&D - and he told me that while peak torque may kick in at 2000 rpm almost 70-80 per cent is available much lower in the band - allowing for great city driving. Interestingly the petrol also sees a similar application being employed!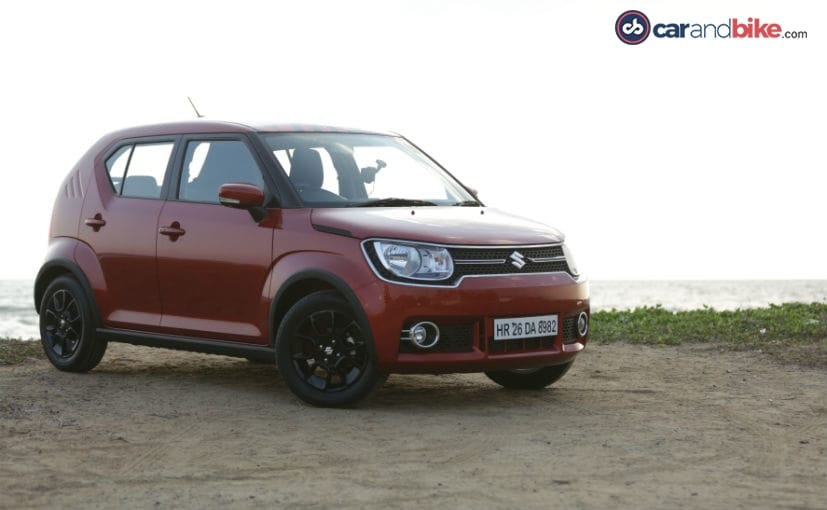 Maruti Suzuki Ignis offers great handling and ride comfort
But the big story when you drive the Ignis is its suspension. By far the best suspension setup of any Maruti Suzuki small car yet! Yes - that's a loaded statement I know, but I am willing to back it up with the input from Maruti, that ride comfort was a key consideration in the development of this car. While the car sits on Suzuki's 5th generation A+ platform and is therefore not as wide as the Baleno (that uses the B platform), it is extremely sorted and planted. The ride exudes a confident stance and also the sense of great build - an asset to a Maruti model. It is not too stiff and yet gives you tight cornering and sharp handling. Yet it is not too soft and yet glides over potholes and rough broken surfaces with ease. Truly impressive. The hardware on both petrol and diesel Ignis' is identical, but the tuning is very different - with the and it's a completely different setup in tuning and of course that's natural when u have switch of engines but on the diesel where you've got about 20 per cent higher damping thanks to different valving and obliviously stiffer springs as well too accommodate that extra weight of the Diesel engine. It just adds a different character to the car and I am going to in fact just put it out - take the Grand Vitara and Kizashi out of the equation, and I have to say that this car (the diesel in particular) has got to have the best suspension of any Maruti car I've ever driven. Yes - it is that good!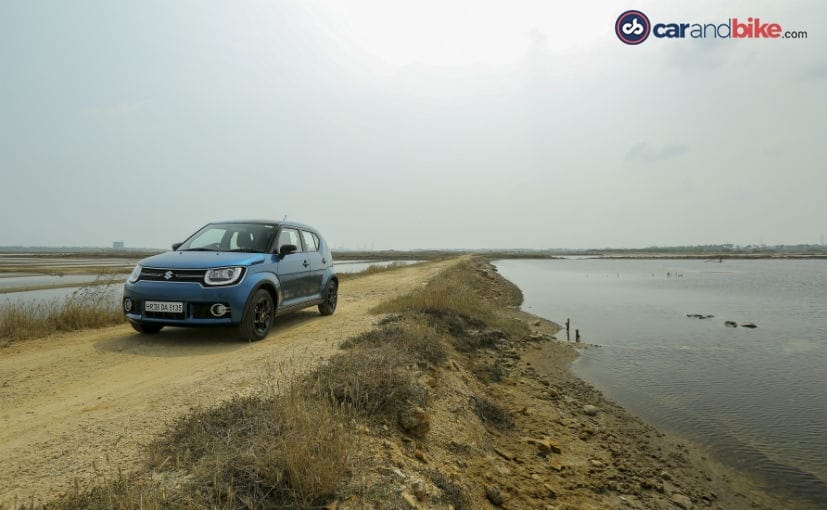 Maruti Suzuki Ignis Ride Quality great on all road surfaces
The car swallows potholes, glides over broken surfaces and does decently well on mud roads too. It also leads to less fatigue while driving over longer distances. Its handling and ride quality are right up there, and the car almost doesn't feel Japanese - and dare I say more European! That isn't altogether surprising though since the Ignis has been originally designed for the European buyer, before any India plans materialised! What is great is that we seem to be getting a similar build and performance package as those on the continent are! The petrol's suspension will also impress you, but the diesel's added weight just gives it a suppler ride.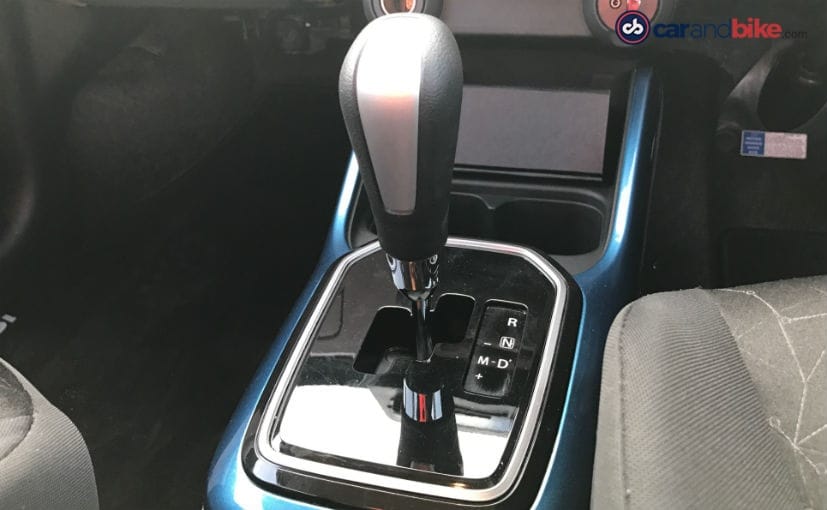 Maruti Suzuki Ignis AMT gearbox
Now on to the AMT. Can an AMT gearbox ever be as fun as a manual? Well no, so it's about how refined the AMT system is compared to some of the other cars in the market which have one too. Maruti got a lot of stick from me because its AMTs weren't as refined as many others - Mahindra's and Renault's for instance. So with the Ignis, has Maruti upped his game? The answer is a resounding yes. Even though it remains the Magnetti Marelli system that Maruti has used on the Ignis too, the calibration is way better and therefore smoother than its other models. The fact that we are seeing the use with the 1.2 k-Series for the first time on the petrol side also helps that cause. The car is a lot smoother and more fun to drive. The jerks that you feel with each gear change is not so bad. And then put the car into manual mode, and things get a lot more satisfying. Especially on downshifts, the car picks up really quickly and their isn't a single jerk. You instantly get the power you need and can quickly get the car moving.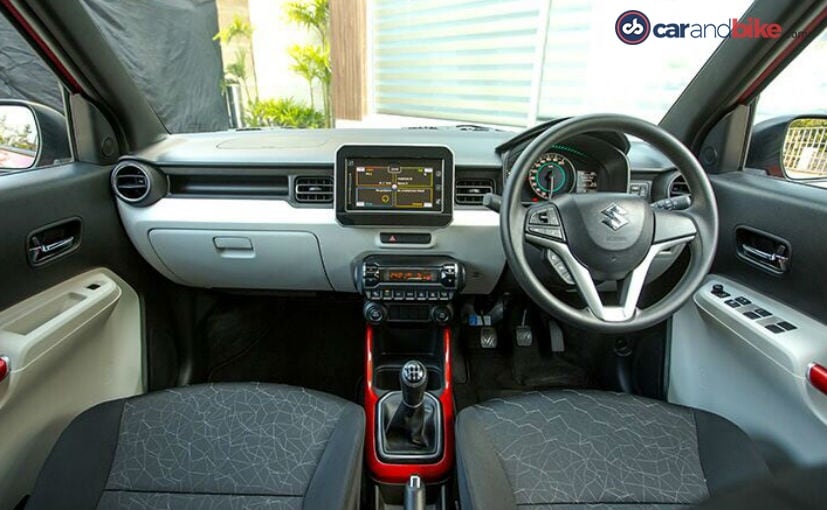 Maruti Suzuki Ignis Dashboard
The petrol Ignis does better with the AMT than the diesel, where the engine's turbo lag becomes a tad evident. Again it's the upshifts that see the delay and not really the downshifts. But the manual petrol is certainly zippy and fun, though lacks the sporty appeal that the diesel has. The car is efficient and the 1.2 motor has been married well with the 5 speed manual box. You get a sense of fun and an urgency to get going - which is great for a car in this space. The generous amount of torque that even petrol has means you don't have to frequently change gears in city traffic.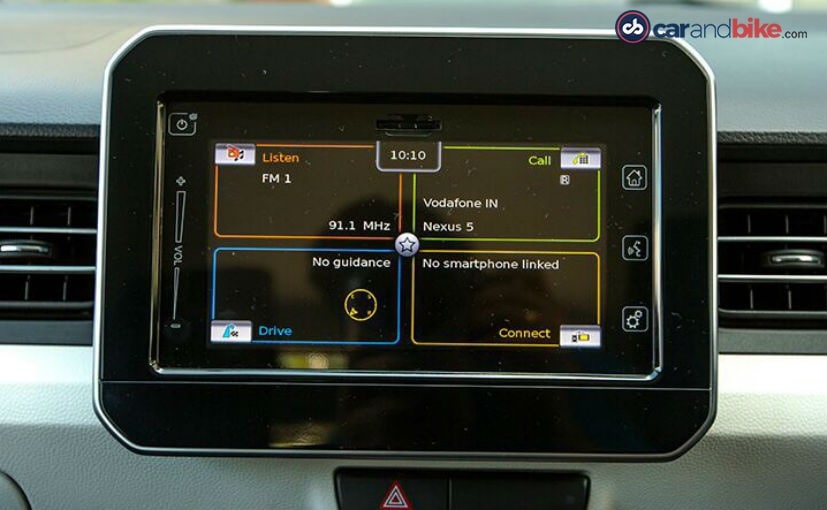 Maruti Suzuki Ignis Touchscreen
But since many of you are thinking it, let me just tell you - the diesel manual is the fun variant of the largely capable pack! The part that annoys me is the lack of a telescopic steering. But the height adjustable driver's seat helps. That though is only available in the top spec Alpha variant, and so the AMT (which is only offered in Delta and Sigma trims doesn't have that. In fact I believe Marti should have offered the DRL signature lights in the Zeta at least - if not all variants. It's just a defining characteristic of the car that not having it is a miss in its recognisability. The touchscreen infotainment system with Android Auto (a segment first) and Apple CarPlay is great but again only on the Alpha. That variant's instrument cluster is also embellished by an LED display - without which it still looks okay enough. There is a trip computer and neat digital display for all functions and warnings which is well executed. The seats up front are very comfortable, while at the rear you may find legroom slightly tight if you are a taller person. The ingress and egress is excellent though thanks to the tallboy design, and that also affords you excellent legroom and a sense of space no matter where you sit. The 260 litre boot is also ample, and the 180 mm ground clearance will be something many buyers will appreciate.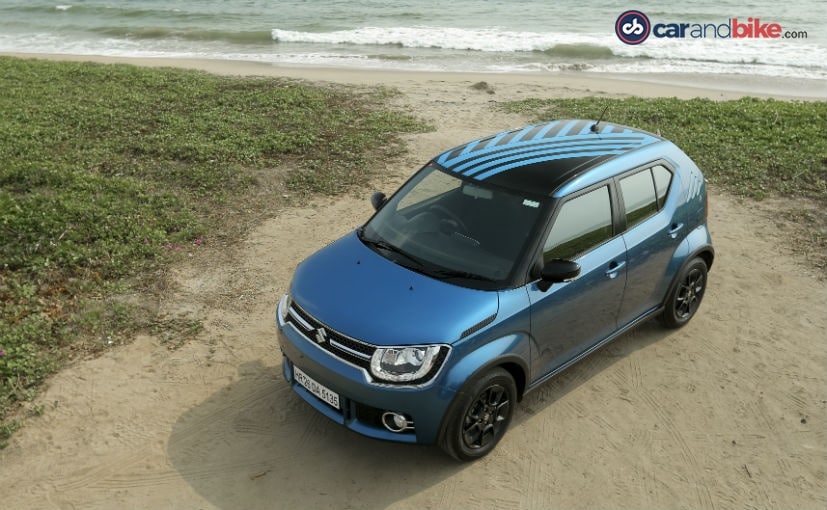 Maruti Suzuki Ignis Customisation with roof wraps
0 Comments
Also on offer are a contrast black roof, and some customisation options like roof wraps, colourful dash inserts and much more. All very fun and quirky in keeping with the positioning that this car is one for the millennial generation! You can refer to the prices variant for variant below and you'll find that while it's not a steal, Maruti Suzuki has done well to position the car very smartly. It is premium yet not pricey, and leaves enough space for its flashier, more popular sister - the Swift to retain its space as India's most popular hatchback! But watch the Ignis closely, since I suspect what we all thought was going to be a niche model will in fact garner more volumes for Maruti than its predecessor, the Ritz had.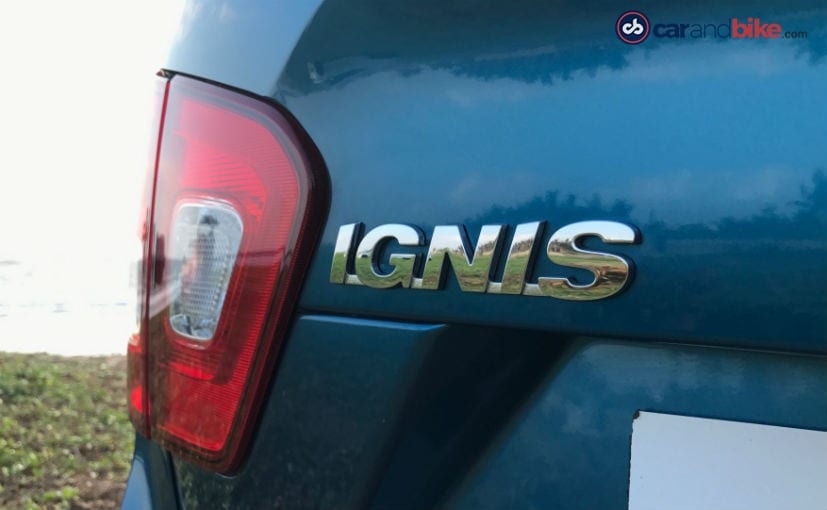 Maruti Suzuki Ignis Badge
Maruti Suzuki Ignis Prices
| | |
| --- | --- |
| Trim | Prices |
| Petrol With Manual gearbox | ₹ 4.59 lakh - ₹ 6.69 lakh |
| Diesel With Manual gearbox | ₹ 6.39 lakh - ₹ 7.80 lakh |
| Petrol with AMT gearbox | ₹ 5.74 lakh - ₹ 6.30 lakh |
| Diesel with AMT gearbox | ₹ 6.94 lakh - ₹ 7.46 lakh |

Watch Maruti Suzuki Ignis First Drive Review Here
For the latest auto news and reviews, follow carandbike.com on Twitter, Facebook, and subscribe to our YouTube channel.