Mumbai-based Strom Motors has announced its participation in the upcoming Consumer Electronics Show (CES) 2020, in Las Vegas, USA. Strom Motors will be present at the venture capitalist firm Motwani Jadeja's pavilion, which will be the first-ever India pavilion at the technology show, and here, the company will also showcase its upcoming three-wheeled electric vehicle, the Strom R3. We first told you about the Strom R3 back in April 2018, when the company showcased an early prototype of the car in India. Pre-bookings for the Strom R3 in India are likely to start from February 1, 2020. The car will be launched in Mumbai first, followed by other cities like - Pune, Hyderabad, Delhi NCR, and Bengaluru.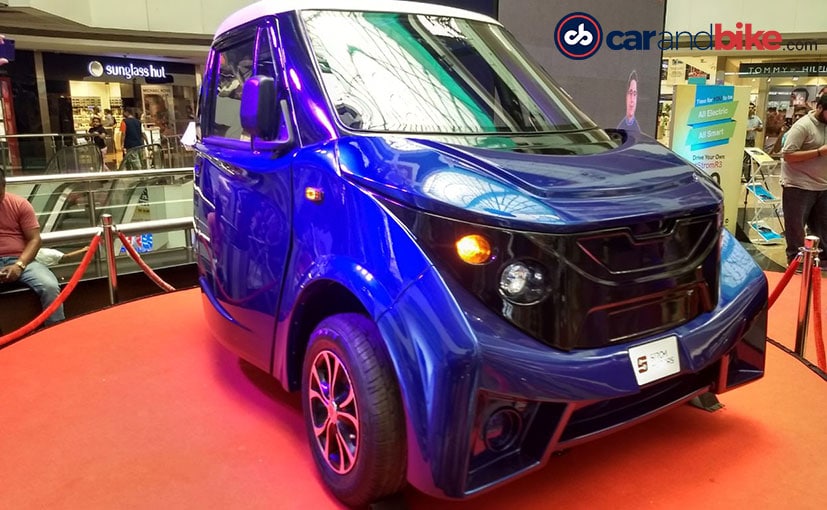 Talking about the company's participation in CES 2020, Pratik Gupta, Founder, Strom Motors said, "Motwani Jadeja Foundation is one of the leading organizations which support entrepreneurs in their journey. This year they have handpicked six start-ups to represent India at the first-ever India Tech Pavilion and Strom is proud to be one of them. We will be presenting both our cars and the entire technology, related to a completely connected IoT car with Advanced powertrain management for longer battery life and user-friendly infotainment features like voice and gesture control along with App remote connectivity. The car is also logging all major moving parts, everything from your brake pads to critical sub-systems to predict any failure and avoid breakdowns."
Coming to the car itself, the Strom R3 gets two 12-inch alloy wheels up front and one single wheel at the rear. It measures 2,907 mm in length, 1,450 mm in width, and 1,572 mm in height, with a 2,012 mm wheelbase. The prototype model showcased in India was mated to a 13 kW (17.4 bhp) high-efficiency motor that develops 48 Nm of peak torque and the motor comes mated to an integrated single-speed planetary gearbox. However, the company appears to have updated the powertrain as the model set to be revealed at CES will offer a range of up to 200 km on a full charge.
Talking about the R3, Gupta said, "Strom-R3 is designed for the urban market where users generally drive 50-80kms in a day. With a 200 km range, we expect that our users will charge their cars overnight and start every morning with a full range. Strom-R3 takes about 3 hours for a full charge with the onboard charger that only requires access to 15 Amp plug point (installation costs are included). This is very similar to what has been observed in the US and European markets. The idea that private citizens will spend thirty mins to an hour at public charging stations is something that seems unlikely. Users are looking for vehicles that will safely cover their daily driving distance with about 30 to 40 per cent extra margins for bad days."
0 Comments
The company has previously told us that the Strom R3 will come equipped with a host of comfort features as well like - air conditioner with climate control system, a 7-inch touchscreen infotainment system, customisable user interface, and voice controls UI, among others. The system also comes with FM/USB system with optional 20 GB onboard music storage, maps + navigation support, WiFi/3G data connectivity option and more. The car also offers remote keyless entry, parking assist, rear camera, power windows, and 3-point seatbelts.
For the latest auto news and reviews, follow carandbike.com on Twitter, Facebook, and subscribe to our YouTube channel.