The Jaguar F-Pace is not a sedan on stilts, it isn't a plush little crossover, and nor is it a soft-roader. And yes it is NOT a Land Rover dressed for the red carpet either. There - now that we have that out of the way, let me tell you what it is. It is an SUV that puts the Sport back in the Utility Vehicle. And again let me quickly clarify that when it comes to the serious off-roading the sister brand Land Rover still has the bigger cohones!
Jaguar doing an SUV was a foreign concept to begin with. Once we let that idea settle in last year, it was important to understand where Jaguar was coming from on this whole idea, and how it went about it. A clean sheet of paper is where it started by the way, and it is because of that approach that we've got the car we have. Let's send one bunch of flowers with a thank-you note to the team of engineers at Porsche who worked on the Macan too. No, not because they helped on the F-Pace, but because they helped move benchmark ahead for Jaguar.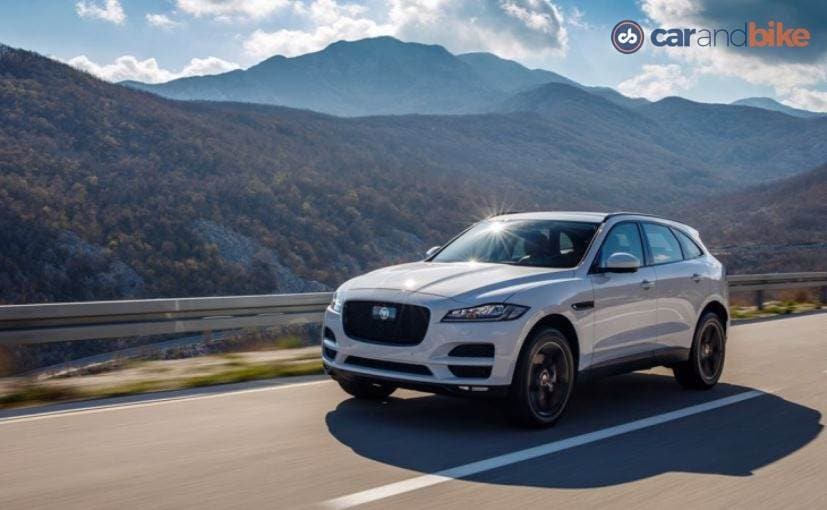 Jaguar was very sure it needed a Crossover/SUV given the massive growth that space has been seeing. In some ways Jaguar is late to the party anyway. So, it needed to have a car with enough on board to beat the Audi Q5 - which had dominated the premium midsize SUV segment - on most attributes like comfort, luxury, looks and equipment. And it also needed to best the BMW X3 in terms of drive dynamics. The Macan came after Jaguar had already done most of its work on the F-Pace, and moved the benchmark way ahead on the performance side of things. And thus, was born the F-Pace.
Now I want to also say here that I am still not used to that name. The F comes from the F-Type, but that's trying too hard. I would rather have had an S-Type (oops that name exists in Jaguar's past as a sedan) where S stands for SUV maybe? But anyway, point made. The F-Pace is a tad larger than the Q5/X3 and in a way sits between them and their bigger siblings Q7/X5 - and of course between the Macan/Cayenne too. Jaguar, in fact, says the F-Pace can rival the Cayenne in terms of practicality and space.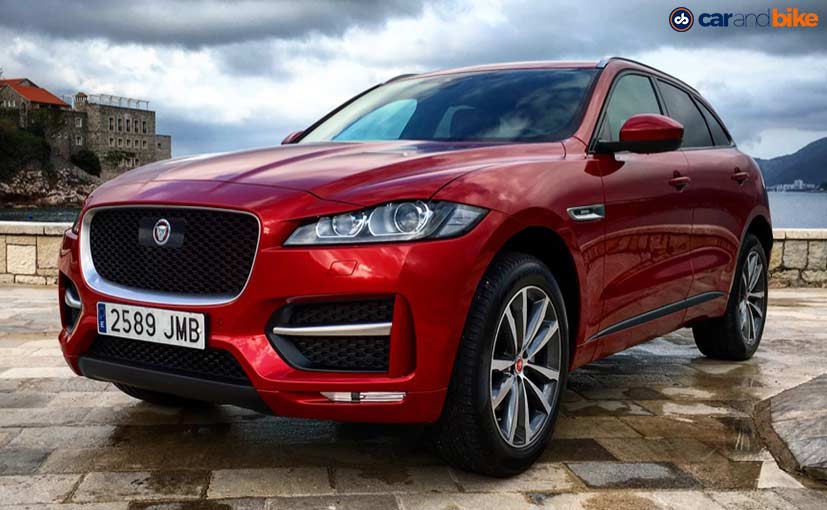 (Jaguar F-Pace Front - Red)
Now let me get on with it. The F-Pace looks like a million bucks, and was intentionally designed to 'look' like a Jag. Sure the designers could've gone in any direction since this is a new segment, but given that Jaguar is still trying to make a mark on the global luxury car scene, this was important. So, the typical grille and headlamp shape from the sedans has been carried over. Yet the SUV proportions are there, and there's also the flared rear fender. That muscle and the taillights are derived from the F-Type to display the car's sporting pedigree.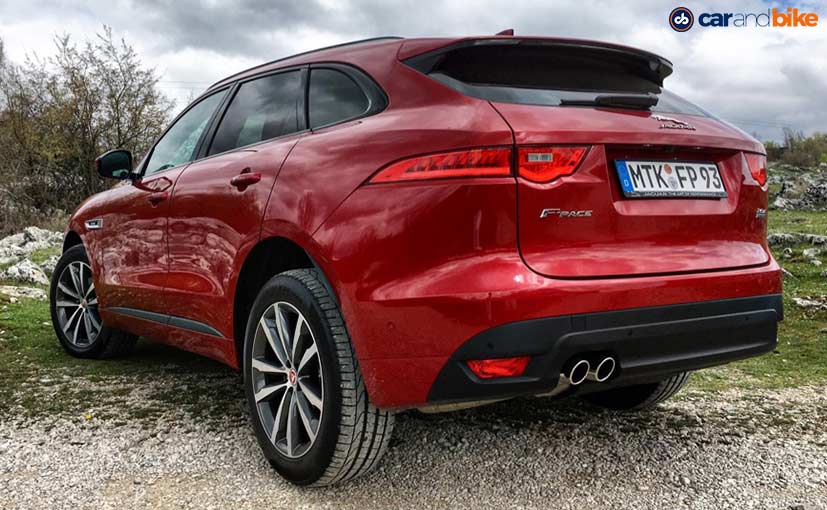 I drove the F-Pace (in its 3 engine avatars - 2.0-litre Ingenium diesel, 3.0-litre V6 diesel, 3.0-litre Supercharged V6 petrol) over more than 400 kms in the picturesque and challenging countryside of Montenegro, the former Yugoslav republic, which offers stunning landscapes and more importantly a varied mix of road types - smooth and wide highway, broken country roads, dirt tracks, water crossings and some rather narrow and treacherous mountain climbs too. Oh and a road that had 25 hairpin bends down a steep mountainside - all in under ten odd kilometres!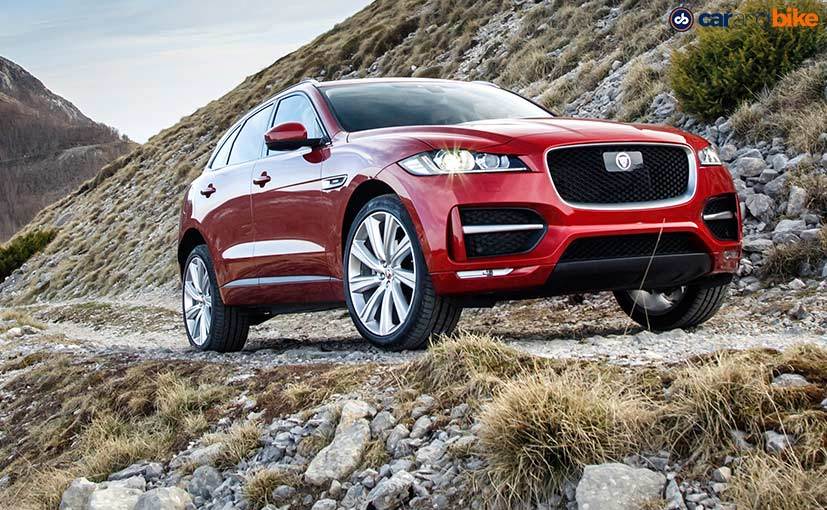 (Jaguar F-Pace - Red)
The beauty of the F-Pace is that, from the moment you get in the car and start the engine its sporting nature is immediately evident. Yes - on the base 2.0-litre diesel too. The car is agile, and eager for action. It carries its weight effortlessly too, and the two key highlights for me are its suspension and its steering. Oh let me add another - the brilliant 8-speed gearbox from ZF - that like a good wine just seems to get better and better. It has been mated very well indeed to all the three engines on the F-Pace.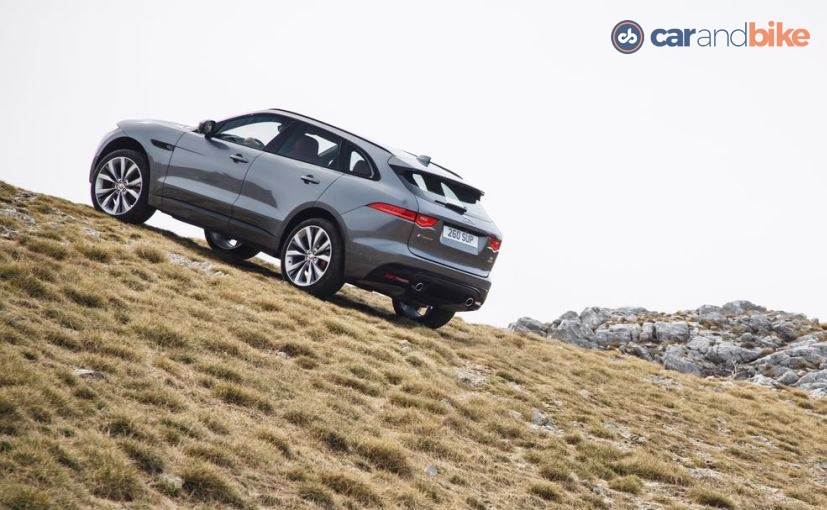 The All-Wheel-Drive system is also effective, though not as adept as say the Range Rover Sport's. Speaking of that car, Jaguar is quick to admit that some of the engineering team between the two brands are common and so, learnings from the Range Rover Sport's development have been used here too. Torque vectoring and chassis control top that list. The F-Pace feels a bit heavy on some uneven road surfaces at higher speeds, but there is no perceptible body roll and the car really shines. Comfort is excellent - no matter which seat you are in. And yet the ride is neither too soft nor too stiff. This is true off-road as well to quite an impressive extent.
The All-Surface-Progress-Control or ASPC system that Jaguar started toying around with on the XE has now made its way into all its cars. On the F-Pace though it more than helps manage slippery or brittle surfaces, it also aids the car to negotiate tough terrain, climb and descend inclines, and track the surface to provide most traction. The great thing is, it also works in neutral (on the manual this helps the car hold its position even if you stall or lurch). And all you have to do is steer, the car takes care of braking and throttle. I did use it a fair amount - including down a steep ramp constructed for us on the wall of a dam on Lake Slansko in southern Montenegro.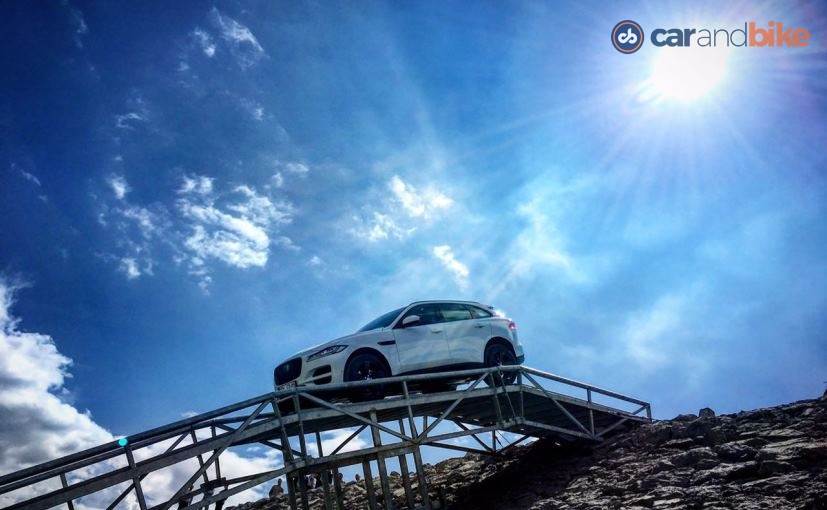 (Jaguar F-Pace ASPC System at Work)
Despite the fact that Jaguar has been conducting press drives here for some weeks, many locals had lined up to watch the spectacle. I was happy to oblige - and using the pretext of my filming requirements managed to do the ramp descent 5 times! Soon after that I drove the car through a water crossing to amply display the F-Pace's wading prowess (though we didn't go as deep as the claimed 525 mm capability).
And I was doing all of this is the car with the new 2.0 Ingenium diesel dressed in Italian Racing Red paint which is the first of the two engines introduced in India. The variant I was driving had the R-Sport trim, which is expected in India. It's sporty (can you believe it) with use of black and dark grey, and some polished metal and chrome bits. The wheels are the optional 20" alloys, and the front bumper has matte aluminium finish inserts in the large air dams.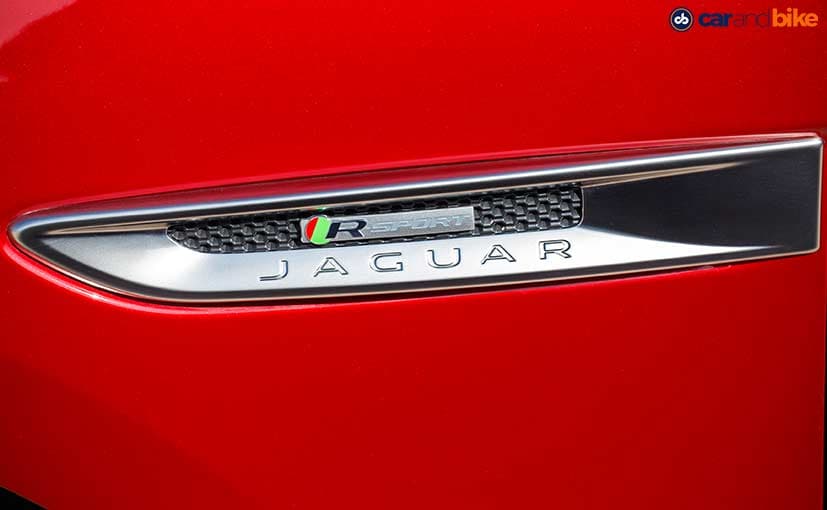 The engine is responsive, fairly quick and while it may not have the racing power of the Macan in a straight line, it did just fine through all that I threw at it. The torque at hand and quick gear changes when needed make the drive a fun and pleasant experience. The 2.0 also does admirably well in cruising mode on the highway I must add. If you push the pedal to the floor you are instantly reminded it's a diesel, otherwise the engine is very refined and silent, and cabin insulation is also terrific.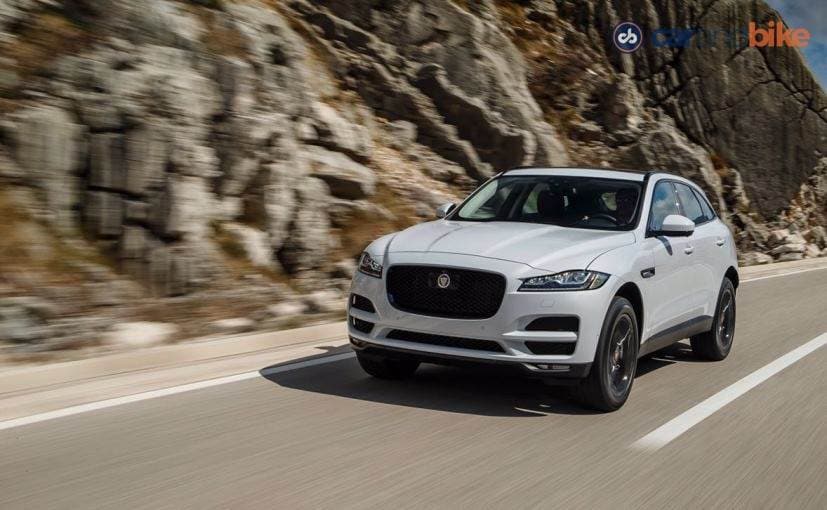 It manages 0-100kmph in 8.7 seconds - not bad for a vehicle this size and weight, and that too with a 4 cylinder engine. The F-Pace has Active Dynamics, which continuously measures body and wheel movement to offer best damper settings for the given conditions. You can also change the character of the car by switching it to Dynamic mode, and it also has a snow/wet mode for slippery conditions that allows for maximum traction. Configurable Dynamics (carried over from the F-Type) allow you to individually adjust the throttle response, suspension, steering and gearbox. The change in the steering and suspension are instantly evident as soon as you switch the setting.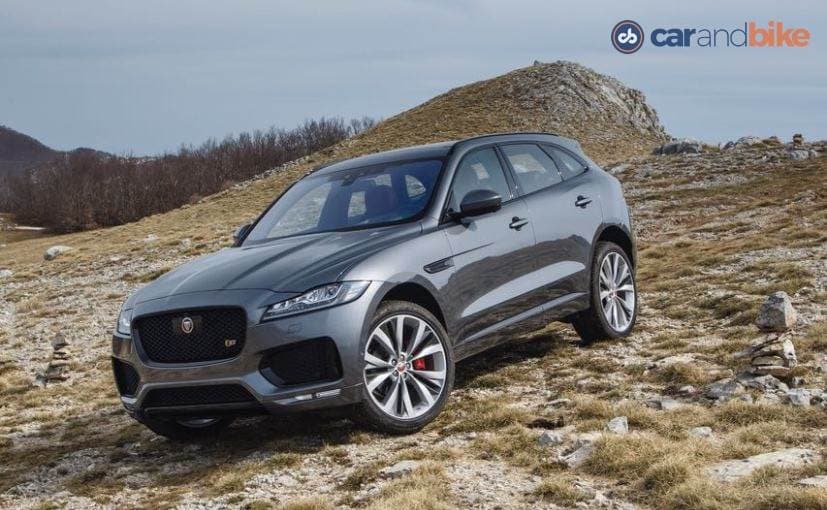 Things get more exciting though when you switch to the 3.0 V6 diesel. The car with the bigger diesel does 0-100 kmph in 6.2 seconds. And it can presumably then beat the Macan (and the rest) in a drag race! The elegance and sophistication with which the F-Pace goes about its business make it a pleasure to drive, and even this powerful engine is therefore no brute. It remains refined and maintain its composure.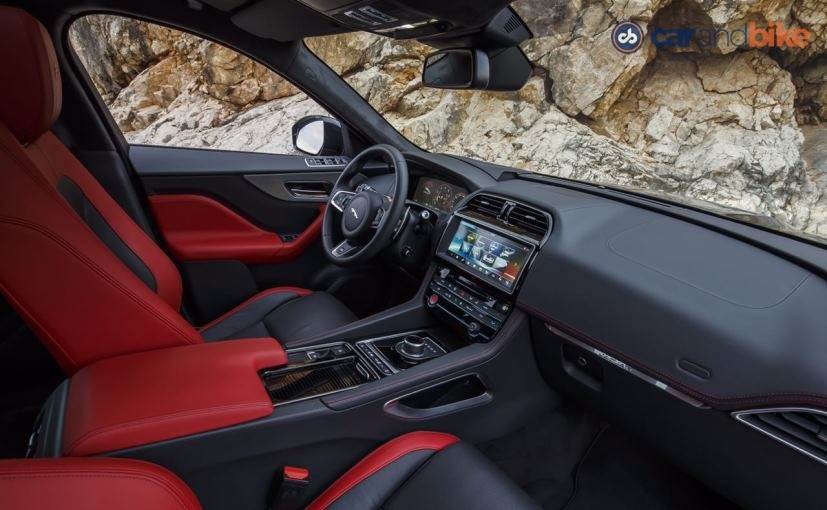 The car I switched to also sported the Portfolio trim, which meant opulent interiors primped with soft leather, wood panelling and an assortment of gadgets including a massive panoramic moonroof, 360 degree cameras. The car with me was also kitted out with an optional add-on 'black pack' which meant the side badging, alloys and rear spoiler (besides bumper inserts and trim) are finished in a glossy piano black. I have to say it looks pretty sexy! The Glacier White paint job (a cooler-tone metallic white) offset this very well too.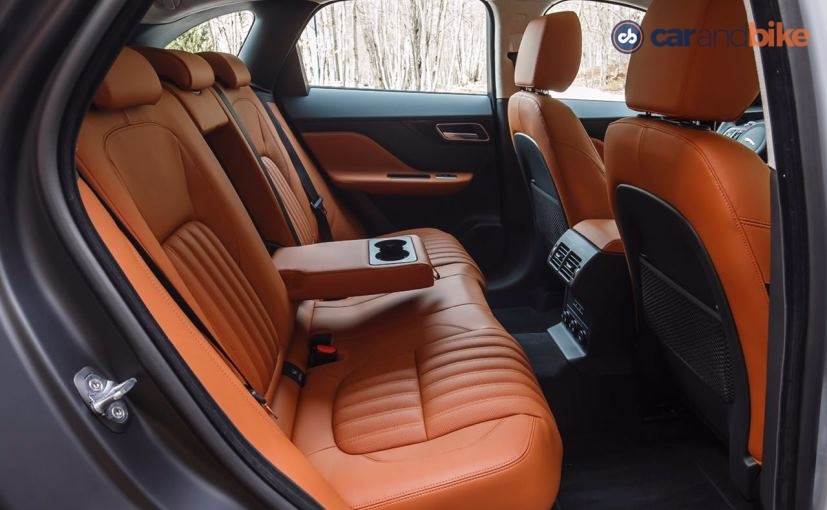 (Jaguar F-Pace Seats)
In fact, I have to say the cabin's material quality and layout design have me impressed. And this is true of all 3 variants that I drove. I was looking at this very carefully especially because the XE has an underwhelming cabin with questionable plastic quality. Jaguar accepts some of that criticism and so has worked harder to meet its cost targets and yet offer a much better cabin on the F-Pace. You can get the optional 10.2-inch touchscreen, that's superb. It has a tablet like feel, and is well laid out with a screen you can toggle by swiping across them. It also allows you to expand maps etc. to the full screen, and has a pinch-zoom function for the navigation that's really great and enhances convenience. The screen also lets you configure your own apps and function settings on a customised screen layout - that is customisable to the point where you can choose where on the screen to position everything, and also govern the size of each tile!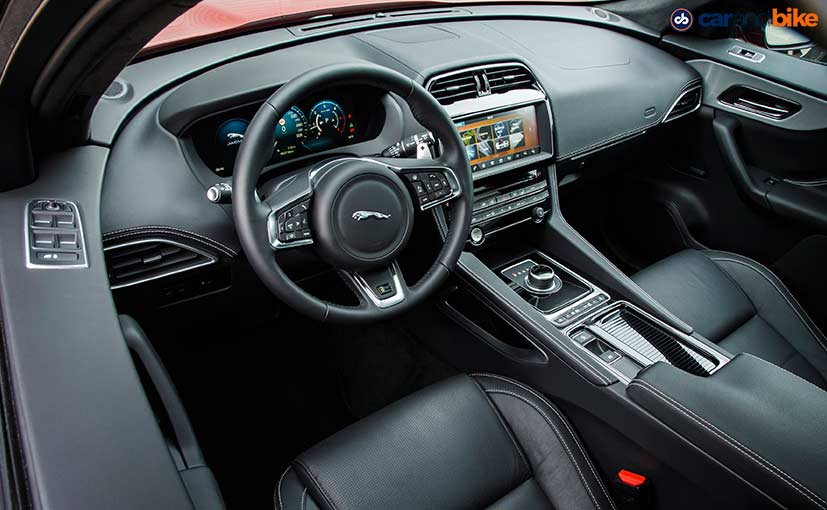 The 12.3" virtual instrument cluster is also cool, and lets you bring up navigation on the full screen there as well! The digital dials are also customisable with 4 themes. And the look goes red when you switch to Dynamic mode anyway (also customisable with the themes). The F-Pace has 10 options for ambient lighting, but this too turns red when you switch to dynamic mode! There is no Apple CarPlay or Android Auto though! The 650 litre boot is a 100 litres+ more generous than a Q5 or X3. Fold down the 40:20:40 seats and you get a massive 1740 litres!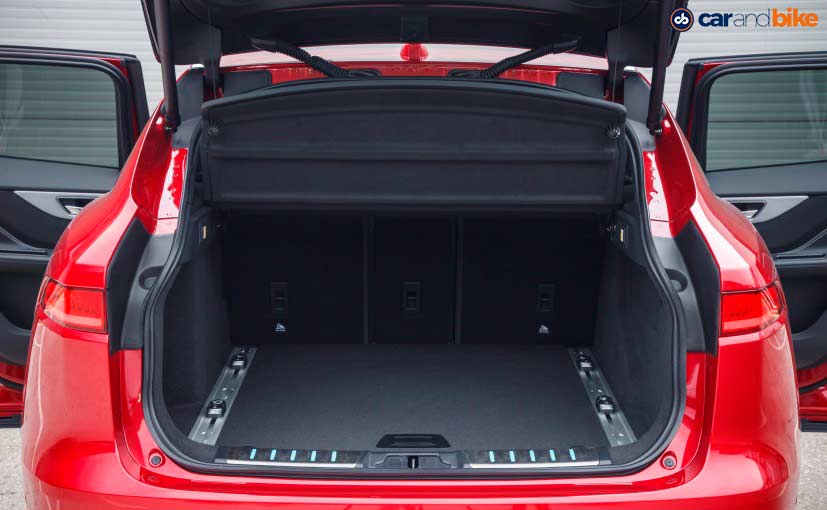 While the Portfolio trim was no doubt the most luxurious, I liked the sporty cabin on the R-Sport trim too. But if you want to go sporty and also stay at the top of the heap, the S trim is for you.
I spent some time on the Ammonite grey car that carried the S trim, along with the 3.0 supercharged petrol engine. Jaguar Land Rover says that India will initially get just the two diesels. But given the move towards petrol (and indeed the recent court rulings that favour the fuel), it is now assessing the introduction of the petrol car to India too.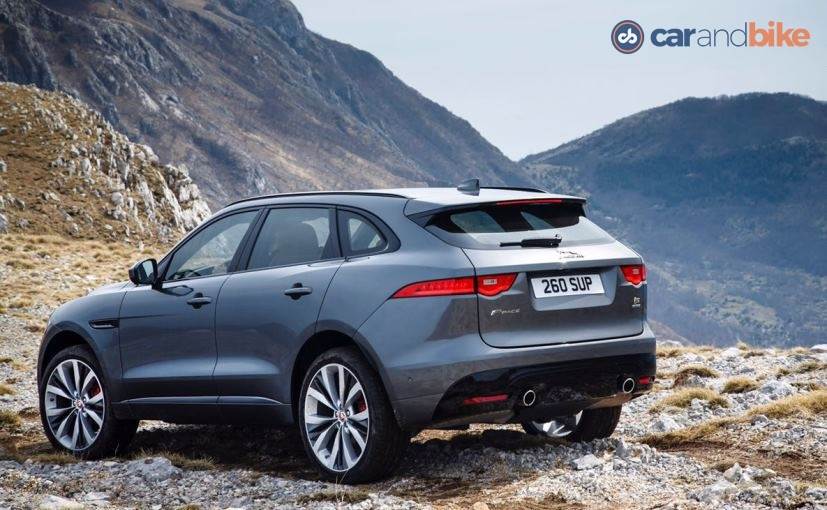 (Jaguar F-Pace Ammonite Grey - S trim)
For its part the V6 petrol is a dream to drive. And that's not just because of its performance, but also its delicious soundtrack. The engine is a carry over from the F-Type, and matches the spirit of that car (as best is possible with an SUV chassis of course). It sounds like heaven when you put it into sport mode, screaming a nice angry note. I especially enjoyed it when I drove through the many tunnels on almost all the driving routes we had. The 25 hairpin bends experience was also something I did in this car - and I can tell you that the F-Pace did not disappoint. It exits corners near perfectly, and is happy to oblige when pushed hard. Once again, that wonderful little gem of a gearbox shines on the petrol V6 too.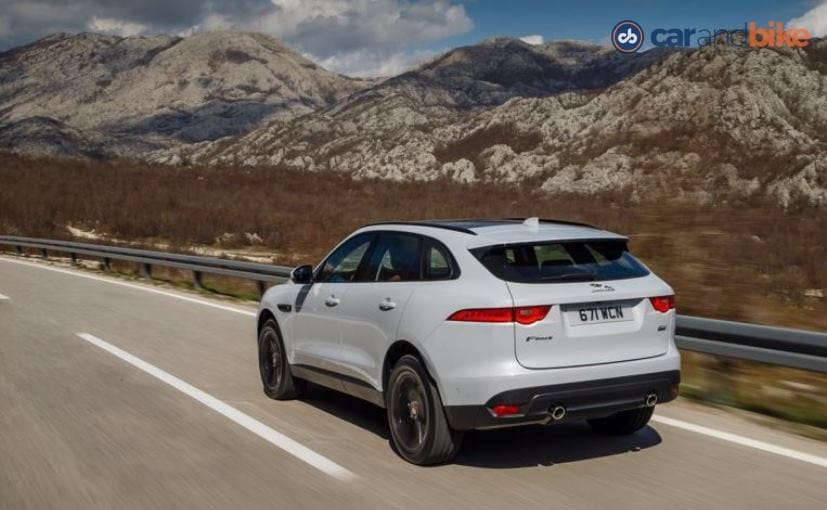 Exhaustive review isn't it? Well I tell you what - I could still tell you more about this car. So on the whole I am clearly on the side that believes Jaguar has done very well with this car. I've spent 2 busy and full days with the F-Pace in stunning Montenegro. The country's mixed road surfaces give me the confidence that the F-Pace will be very much at home in Indian conditions too. I've put the car through the paces - short of jumping hoops I guess! It has done well, surprised and in some areas excelled. But the downside has got to be its pricing in India.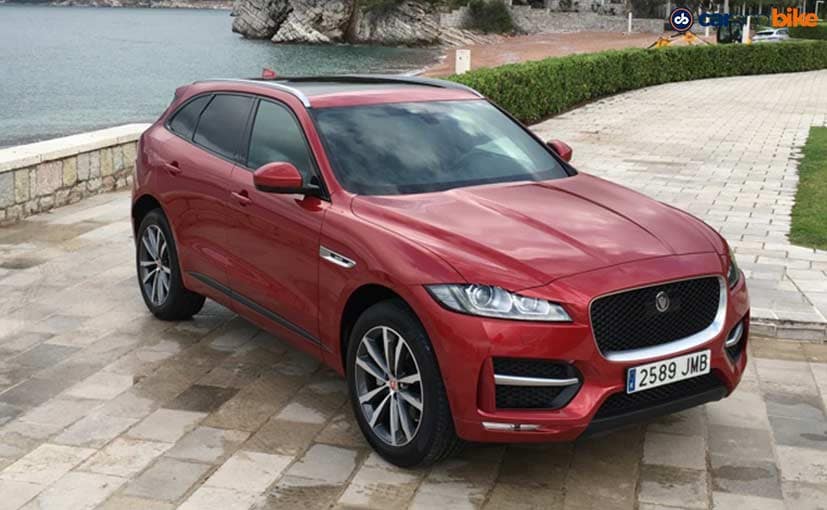 We know that this is going to be the car that becomes Jaguar's highest selling model worldwide. I rue that India may not contribute too much to that number. And I say this because Jaguar has launched it in India at a surprising price starting from ₹ 68.40 lakh for the Pure variant. The Prestige costs ₹ 74.50 lakh, R Sport - ₹ 1.02 crore and the First Edition - ₹ 1.12 crore. (ex-showroom Delhi) and it's this pricing that puts it into the X5, Q7 and XC90 category in India.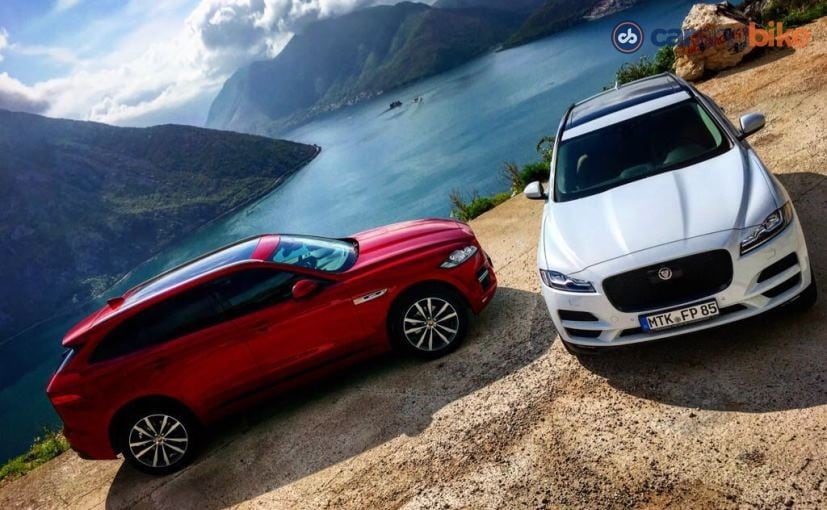 | | | | |
| --- | --- | --- | --- |
| Engine | 2.0-litre Ingenium Petrol | 3.0-litre Diesel V6 | 3.0-litre Supercharged Petrol |
| Displacement | 1999cc | 2993cc | 2995cc |
| Max Power | 176bhp@4000rpm | 294bhp@4000rpm | 333bhp/372bhp@6500rpm |
| Peak Torque | 430Nm@1750-2000rpm | 700Nm@2000rpm | 450Nm@4500rpm |
| Transmission | ZF 8-speed Auto/ZF 6-speed Manual | ZF 8-speed Auto | ZF 8-speed Auto |
| | |
| --- | --- |
| Length | 4731mm |
| Wheelbase | 2874mm |
| Height | 1652mm |
| Width | 1936mm |
| Ground Clearance | 213mm |
| Boot Space | 650 litres |
0 Comments
For the latest auto news and reviews, follow carandbike on Twitter, Facebook, and subscribe to our YouTube channel.