Bengaluru-based electric start-up, Ather Energy has announced that pre-bookings for the S340 electric scooter will commence from June, 2018. Bookings for the Ather S340 will begin only in Bengaluru initially, while launch details for other cities will be announced towards the end of the year. The announcement comes after two years since the concept prototype was originally showcased, while the overall development period has been of a little over four years. The S340 originally supposed to go on sale in 2017.
Watch: Ather 450 Electric Scooter First Ride Review
Also Read: Ather 340 Electric Scooter Launched in India
Also Read: Ather 450 Electric Scooter Launched in India
In a blog post, Ather Energy's co-founder and CEO, Tarun Mehta said that the company had underestimated the challenges they will have to face in developing from the prototype to the production vehicle. Nevertheless, the company has finally started to receive pre-production components from its over 100 suppliers and trial production is already in the works. Commercial production of the S340 electric scooter will begin in July this year. The tech company has set-up an assembly line in Whitefield in Bengaluru.
Also Read: Ather 450 Electric Scooter First Ride Review
The Ather S340, when showcased, looked very promising with a host of innovative features. The electric scooter promises tech features like an Android-based touchscreen display screen with a custom user interface, push navigation, over-the-air updates, parking assist system, waterproof charger, multiple riding modes and LED lights. The prototype was powered a lithium-ion vattey with a range of 60 km on a single charge. The S340 came with a top speed of 72 km, and 80 per cent of the charge could be achieved in 50 minutes using a fast charger. The lithium-ion battery pack had a life of 50,000 km, as per the company.
Also Read: Ather S340, India's First Smart Electric Scooter To Be Unveiled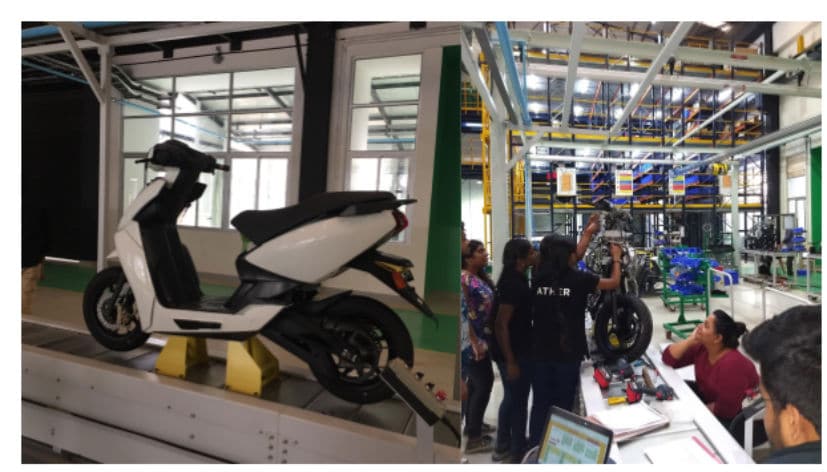 Also Read: Ather 340 Electric Scooter; What To Expect
However, do expect to see better figures on the production-spec Ather S340, given the competition and technology both have improved since the prototype was showcased in 2016.
Also Read: Ather 340 Electric Scooter: Price Expectation In India
But, it's not just the S340 that the company is working on. Ather Energy has also announced that it will be setting up its own charging infrastructure network. While details on the network are under wraps, the company has already started installing charging stations in Bengaluru. More details on the charging network will be available next month, while the company has confirmed that the network will be capable of fast charging right from Day 1.
Ather Energy has been one of the more promising tech companies to make their presence felt in the Indian electric two-wheeler space, and even saw Hero MotoCorp investing ₹ 205 crore in the start-up, for a 26-30 per cent stake. However, there are many Indian players at present in the electric vehicle segment, something that was evident at the Auto Expo 2018. The Ather S340 will be facing competition from a couple of offerings including the Twenty Two Flow scooter, which is also set to be launched in June, along with the Okinawa Ridge and Praise scooters.
0 Comments
Hosur-based two-wheeler giant, TVS is said to be working on electric two-wheelers as well and even showcased the Creon concept at the expo this year. Ather Energy's first experience centre will be coming up at Indiranagar in Bengaluru.
For the latest auto news and reviews, follow carandbike on Twitter, Facebook, and subscribe to our YouTube channel.