Mercedes-Benz and its group companies Mercedes-Benz India (MBIL), Daimler India Commercial Vehicles (DICV), Mercedes-Benz Research and Development India (MBRDI) and Daimler Financial Services India (DFS) today inaugurated Safe Roads - their Corporate Social Responsibility initiative - in New Delhi. It is a collaborative endeavour that includes support from JP Research, Apollo Hospitals and IIT Delhi. The partner organizations have supported the initiative with in-depth research information and data on the existing scenario of road safety in India. These research reports also provide indicators of how the scenario can be improved through education and enforcement of traffic rules.
Primarily a road show, the initiative was flagged off by Jochen Feese, Head of Accident Research, Sensor Functions and Pedestrian Protection, Mercedes-Benz Cars, in the presence of Mr Eberhard Kern, Managing Director & CEO, MBIL, and Mr Manu Saale, MD & CEO, MBRDI at Pragati Maidan in the capital.
Under the purview of the Safe Roads initiative, the Mercedes-Benz Group will employ physical demonstration, visual aids and research reports to spread the message of road safety. Physical demonstrations will include exhibits from Germany to provide a real life experience of safety measures that can potentially save lives during road accidents.
Following are the features of the Safe Roads initiative:
1. Belt-Slide exhibit - this will enable visitors to experience the impact of seat belts in a simulated crash environment at low speed.
2. Body in White (BiW) passenger car exhibit - will highlight some of the core elements of a car structure which have high tensile strength and absorb most of the energy during a crash and minimize passenger car intrusions.
3. Alcohol goggles - will simulate the common 'walk-the-line' activity which causes loss of balance and delayed reaction times. Visitors will feel their susceptibility to impairments and realize the potential severe consequences due to alcohol consumption.
4. Experimental Safety (ESF) vehicle - will showcase a glimpse of future of safety. It illustrates innovations in the field of safety like PRE-SAFE, Braking Bag, Interactive Vehicle Communication, etc..
0 Comments
5. Airbags will also be on display (driver and passenger airbags, curtain airbags, knee bags, etc.).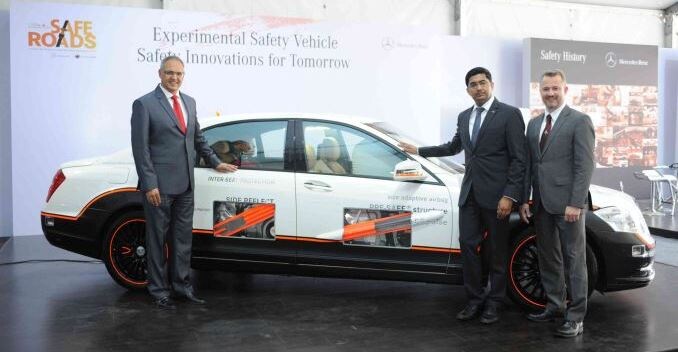 Eberhard Kern, Managing Director and CEO, Mercedes-Benz India commented on the initiative, "At Mercedes-Benz, safety is of utmost importance and precedes all our innovations and development. Mercedes-Benz's contribution to global automotive industry is well recognized and has an enduring influence on safety development. Our numerous innovations, particularly in the field of protection for vehicle occupants and road users, have saved countless human lives over the years. Our latest contribution to customer safety is that, all Mercedes-Benz vehicles in India now comes equipped with new rescue stickers with QR Codes, which assists rescuer to find out where to exactly position the rescue tools on the cars- making occupant rescue harmless and safer, in case of an accident. Mercedes-Benz India is the first luxury car maker to implement this in India. We are confident that initiatives like 'Safe Roads' will enhance the understanding of a vehicle safety systems and spread the awareness on creating safer roads for vehicle users in India."
For the latest auto news and reviews, follow carandbike on Twitter, Facebook, and subscribe to our YouTube channel.