Despite the fact that the Indian car market has been down for some time now, there has never been a lack of buzz or anticipation around certain new products. The Hyundai Creta certainly qualifies with flying colours in that department.

It is compact, yet an SUV and looks like a baby Santa Fe? And its from Hyundai which means it will be value for money? Right? Well wrong on that last one since Hyundai has disappointed us with premium pricing that takes the Creta, variant for variant, higher than the Renault Duster. But now that we have had a few days to digest that information, lets get on with our review shall we?
The Creta is based on the same platform as the new i20 and the Kia Soul. It went on sale in China as the ix25 at the end of 2014, and has finally come to us after much waiting, and with the name Creta - which presumably draws on the name of the 5th largest island in the Mediterranean - Crete and also the word creative. Go figure.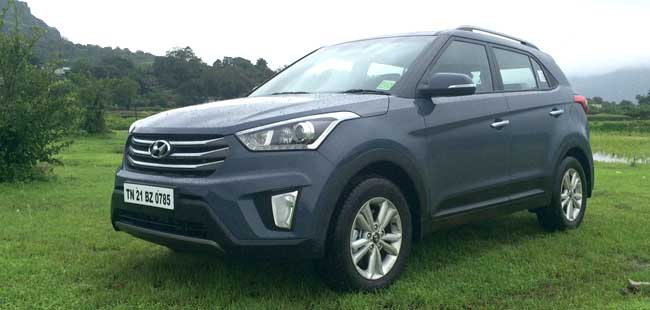 As we have told you before what works for the car are its well designed proportions and good looks. The styling is once again in keeping with the Fluidic Sculpture 2.0 design language seen on the i20 last year, and really draws attention to its bold and imposing chrome-grilled faced. I am not sure why, but like Mahindra did with the XUV5OO and the Scorpio, the Creta also has LEDs but they aren't daytime running lights. Yup, that attractive strip of LED's only plays the role of its parking light.

The waistline and roof rails add to its strength of design and feeling of agility, with a very attractive rear marred only by an unnecessary chrome garnish above the license plate. Inside, the cabin is well finished, though the dark colours take away from the sense of space I'd have liked to see. The high window sill line at the rear is bit disconcerting to the rear passenger and contributes to the lack of perceived space - just like in the i20.

But otherwise the cabin not only offer comfortable seats, with a good ride height, but also a slew of gadget an equipment in the higher variants to keep most buyers today happy.

Check: Hyundai Creta Image Gallery
9.99 Lakh *
On Road Price (New Delhi)
But what really matters is how the car drives now isn't it? That I what we were all waiting to find out. Well I already had one insight into that aspect when I drove the car briefly at Hyundai's test track inside its plant in Chennai. At the time I drive the 1.6l diesel in both its manual and auto avatars. After that first impression it was time to put the car through the paces with a real world road test. And as you read on you will realise it doesn't get more real world than what we experienced.

It was once again the 1.6-litre Auto that we drove, as we made our way from Pune's bustling traffic, onto the Pune-Mumbai expressway for a bit, before exiting to Lonavala and driving up the ghat section towards Aamby Valley. Once we got there, we also went onto some very broken tarmac riddled with potholes and in some cases no tarmac at all! Plus we briefly took the car off the road completely as well into some mud. And yes - the heavens had opened up and it poured cats and dogs - lashing wind and incessant rain pretty much the whole time we were there. So besides that meaning we were also pretty drenched as we tried to take pictures and film it! So now you understand what I meant by really putting it through the paces - with wet roads, waterlogged roads, no roads etc!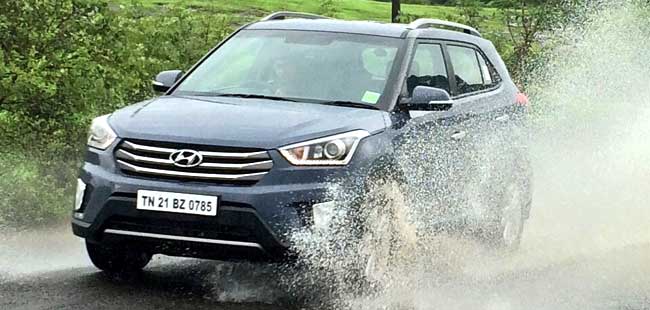 The good news is - the Creta went through it all without flinching. The car's big USP for me (besides it's looks of course) is the ride feel and its suspension settings. Hyundai says special care has been given to the car's suspension so that most of the jerks and bumps are swallowed up before they can reach the car's body itself. I'm happy to report, that is largely true.

The car has a solid feel to it, and isn't too stiff either - meaning a comfortable ride even for rear passengers, without becoming soft or hapless. The Creta also has ESC (electronic stability control) that works in conjunction with a vehicle stability management programme that caters to greater control when accelerating or braking hard, on varying surfaces. As a result the car also handles well, but a little bit of body roll creeps in at higher speeds or during sharp cornering.Sadly, that's only available on the top-end SX(O) variant and even the automatic doesn't have it.

This whole enterprise is let down though by the lack of a precise steering. The steering wheel itself lacks feedback and is extremely loose with way too much play for a car of this size. This was a problem that afflicted many Hyundais in the past, but since the current Santa Fe and of course more so the new i20 came along I had thought it was a problem that had been relegated to the past too. Apparently not. And this is a huge disappointment as it really takes away from the car's driving character.

And then comes the other big disappointment. The 1.6-litre engine itself is reasonably peppy and powerful - as I had experienced on the manual as well. But the automatic gearbox just lets it down - and how. The 6 speed gearbox has not been mated well to the engine in that it lacks response and punch. The turbo takes forever to kick in and its only past 3000 rpm that you start to truly enjoy it's character and power. Peak torque is available only in the 1900-2750 rpm band - and realising that on the automatic is vastly different from the manual.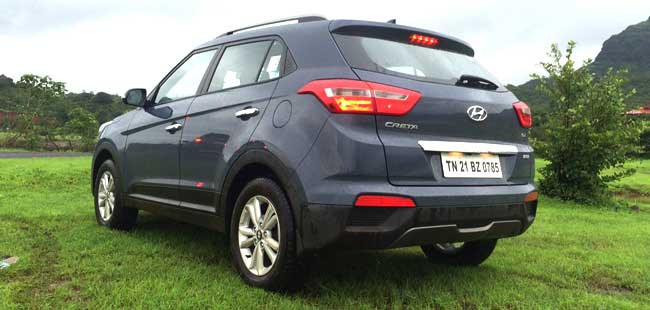 The box does have a tiptronic feature but even in the manual mode downshifting is restrictive, and the mapping doesn't allow you to hit the redline. That makes instant acceleration a problem, and so you'd need a lot of getting used to and planning, when it comes to things like overtaking and quick lane changes. On the manual its a whole lot better, which is what makes the auto version a bigger let down. Having said that - the auto will still work just fine in daily city traffic (expect quick overtaking!).
The auto is only available on the diesel 1.6, and not on the 1.4 diesel or 1.6 petrol. Hyundai also says its worked very hard on reducing noise and vibration levels within the cabin, and its true that both road and wind noise are contained when compared to some rivals. The diesel engine through is kind of loud, especially when you're trying to floor it and the lag means it takes forever for the turbo to respond.

This is mostly true of the auto variant of course. I think where Hyundai has faltered is in a bid to try and claim segment leading mileage figures. I am not sure that would have been of paramount importance to the buyer in this segment, who not only expects good performance but has also been spoilt by the Duster - which does deliver on that front.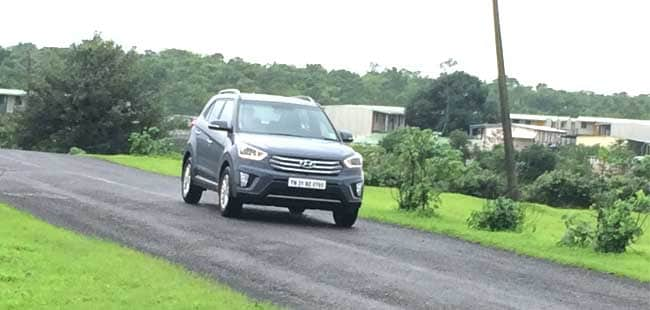 As a package overall though the buyer will be happy with the Creta still. Good equipment list (including a great reverse camera display on the big audio/nav touchscreen in higher variants), a comfortable cabin, sexy looks, efficient performance and if all that wasn't enough - Hyundai's claim of lowest maintenance costs in the segment coupled with a 3 year unlimited kilometre warranty. So will Hyundai retain it's over 10,000 bookings already received for the Creta?

Well the price announcement may scare some way, as suddenly it makes the 3-row XUV 5OO look like way better value. The fact that Hyundai hasn't done the usual and tried to kill the competition by undercutting it may also be a turnoff for some. But on the whole I expect to still see many of them on our roads - and maybe, just maybe, Hyundai will achieve what it has long sought in India - a premium product blockbuster.

Variant-wise Introductory prices (ex-showroom, Delhi)
1.6 L Petrol - ₹ 8.59 lakh
1.6 S Petrol - ₹ 9.57 lakh
1.6 SX+ Petrol - ₹ 11.19 lakh
1.4 Base Diesel - ₹ 9.46 lakh
1.4 S Diesel - ₹ 10.42 lakh
1.4 S+ Diesel - ₹ 11.45 lakh
1.6 SX Diesel - ₹ 11.59 lakh
1.6 SX+ Diesel - ₹ 12.67 lakh
1.6 SX (O) Diesel - ₹ 13.60 lakh
0 Comments
1.6 SX+ AT Diesel - ₹ 13.57 lakh
For the latest auto news and reviews, follow carandbike on Twitter, Facebook, and subscribe to our YouTube channel.