From India's first electric sportbike, first artificial-intelligence enabled electric motorcycle to some stylish looking electric scooters, the two-wheeler industry is set to witness a long list of electric vehicles which will hit the market by 2020. In fact, mainstream manufacturers like Bajaj Auto, TVS Motor Company and Hero MotoCorp are all gearing up with their own range of electric two-wheelers. But more than mainstream two-wheeler manufacturers, there are also a few EV start-ups which are working on interesting electric two-wheelers which will make their debut in India, beginning this year and moving on to 2020. Here's a look at some of the interesting electric two-wheelers which will be launched in India by 2020.
Revolt RV 400
Revolt Intellicorp's first electric motorcycle, the Revolt RV 400, lays the claim to fame as India's first motorcycle with artificial intelligence. With a claimed range of 156 kilometres on a single charge, and a top speed of 85 kilometres per hour, the Revolt RV 400 is expected to get a long list of unique features, including a dedicated battery charging and swapping network will take care of range anxiety. The Revolt RV 400 will also come with a dedicated Revolt mobile App which will show features like range, bike location, real-time riding information, allow remote starting, and have anti-theft measures with geo-fencing, as well as built-in satellite navigation.
Watch the video here:
And that's not all. The Revolt RV 400 electric motorcycle will also have synthesised sounds like a conventional motorcycle, which can be customised and designed according to the rider's personal preferences. The RV 400 has already been unveiled in India and pre-bookings are currently being accepted on the company's website, as well as on Amazon. Once launched, we expect the Revolt RV 400 to be priced competitively, at around or even below ₹ 1 lakh.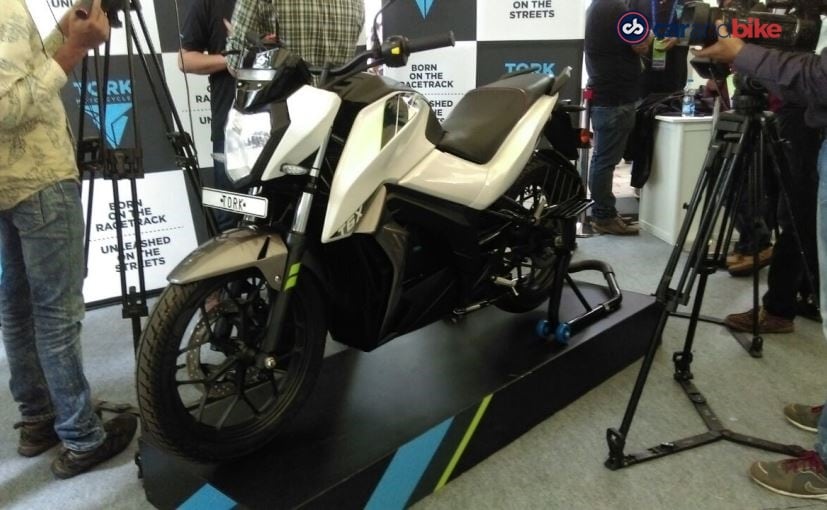 Tork T6X
The Tork T6X is a homegrown electric motorcycle which will be launched in India soon. In fact, we expected the TOrk T6X to be the first electric motorcycle to be launched in India, but that spot will now go to the Revolt RV 400. Along with an official unveil, the price of the T6X was also announced, way back in 2016, at ₹ 1.25 lakh (ex-showroom), but the company seems to be still putting final finishes and going through a final round of tests on the advanced prototype. We expect the Tork T6X to finally make its commercial debut by the end of 2019, or latest by early 2020.
The Tork T6X uses a 6kW (8 bhp) electric motor which puts out 27 Nm of instant torque. According to the company, the T6X can reach a top speed of 100 kmph and will have a range of 100 km on a single charge. The T6X has a steel trellis frame and a battery pack which is a stressed member of the chassis. The battery pack can be charged up to 80 per cent capacity in just one hour, and the bike is expected to get a range of features, including a full-colour instrument panel which will offer smartphone connectivity, and full-LED lighting all round.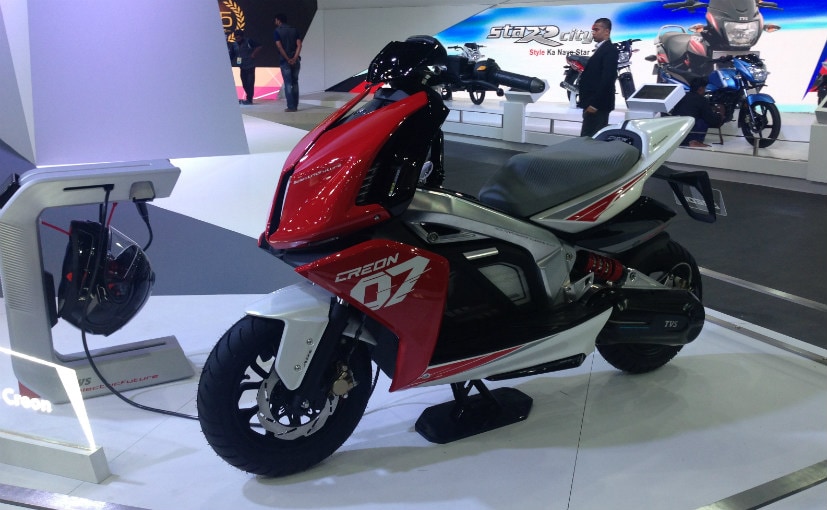 TVS Creon
The TVS Creon electric scooter was shown as a concept at the last Auto Expo. With a sharp and stylishly attractive design, the Creon was one of the best-looking concepts at the Auto Expo. And TVS says it will be a performance-oriented electric scooter, which will have a range of 80 km on a single charge and acceleration from 0 to 60 kilometres per hour in 5.1 seconds. The Creon's batterycan be charged to 80 per cent capacity in just 60 minutes. TVS is already working on a range of electric two-wheelers, and one of the first models is likely to be an electric scooter, based on the Creon concept.
The TVS Creon is powered by three lithium-ion batteries capable of delivering 12 kW of instantaneous power. Of course, it will get a range of hi-tech features, including smart connectivity, and TVS has tied up with Intel for these new age features.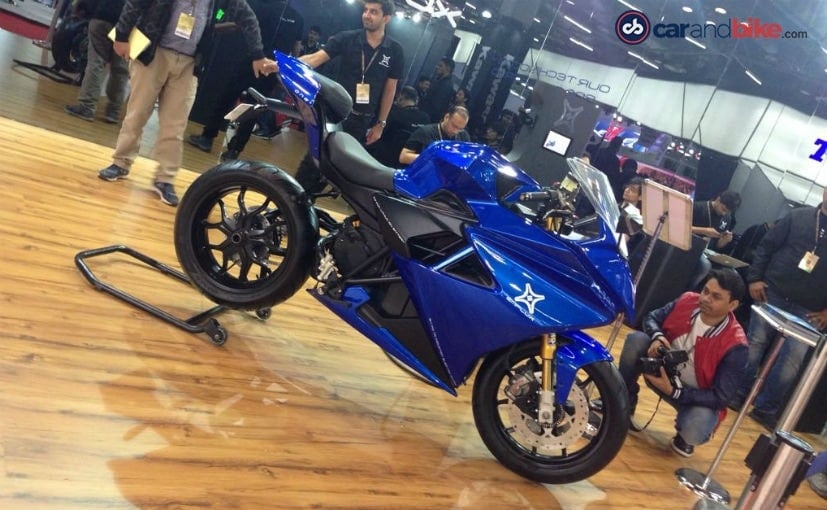 Emflux One
Emflux Motors is a Bengaluru-based electric vehicle start-up that will launch India's first electric sportbike, the Emflux One, possibly by early 2020. The Emflux One will be a top-spec sportbike with performance rivalling conventional 600 cc bikes. The design, even in prototype form, is quite striking, and it has top-shelf components, including Ohlins suspension, Brembo brakes with ABS and traction control. The Emflux One has a claimed acceleration from 0 to 100 kilometres per hour in three seconds with a top speed of around 200 kmph. In production form, the Emflux One electric sportbike is expected to weigh just 169 kg, and will go 200 kilometres on a single charge.
Bajaj Urbanite
Bajaj Auto may have given up on manufacturing scooters a long time ago, but the company will be getting back into scooters with the new Urbanite vertical and its first electric scooter pretty soon. So far, very few details are available, and we only have a few fuzzy spy shots, but it's certain, Bajaj will be launching its first electric scooter under the Urbanite brand name, along with other electric two-wheelers. The first Bajaj electric scooter will have a neo-retro design, and come with twin taillamps, alloy wheels and disc brakes. We expect a full-digital, feature-rich instrument panel which will display a long list of features, including possibly, built-in satellite navigation as well.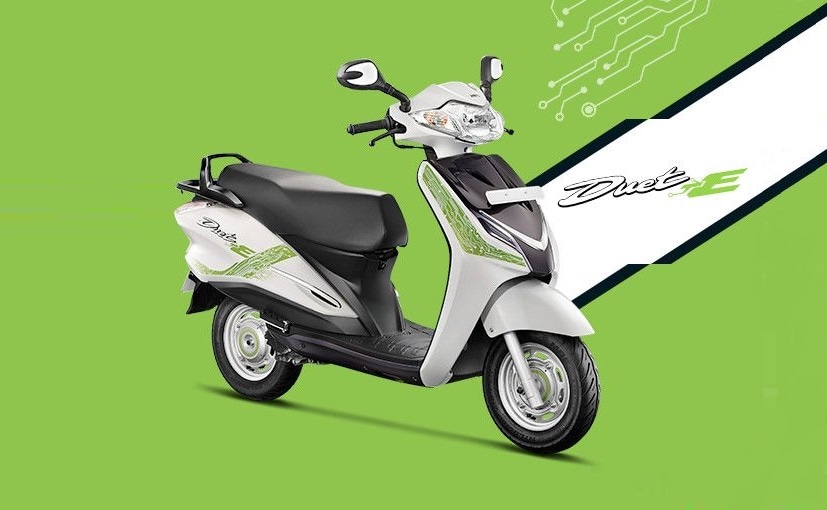 Hero Duet-E
0 Comments
The Hero Duet-E electric scooter was showcased as a concept at the 2016 Auto Exp. But it's no secret that Hero MotoCorp is currently working on multiple electric two-wheelers. Recently, Hero MotoCorp Chairman Pawan Munjal confirmed that the company is working on a range of electric vehicles and development is underway. The Hero Duet-E could be the first production electric scooter from Hero, and likely to be launched sometime in 2020. The Duet-E is claimed to have a range of 65 km on a single charge, and will have performance similar to conventional 110 cc scooters. More details will be released closer to launch, and we believe Hero MotoCorp will launch an electric scooter which will be feature-rich, yet accessible and affordable at the same time.
For the latest auto news and reviews, follow carandbike on Twitter, Facebook, and subscribe to our YouTube channel.