Whenever Ducati and the Italian lifestyle apparel brand, Diesel, have collaborated, they have created magic. Last time, it was the Ducati Monster Diesel and this time around, the two companies have come together to create the Ducati Diavel Diesel. It was designed by Andrea Rosso, Creative Director of Diesel Licenses and the Ducati Design Centre.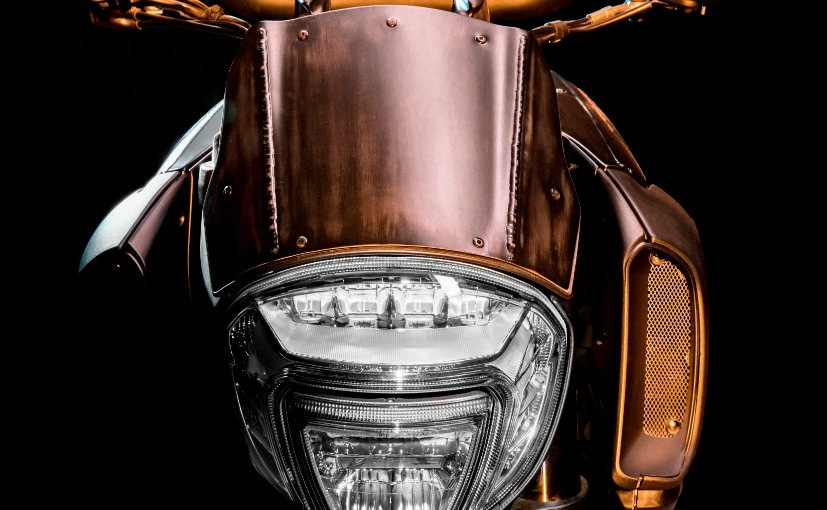 (Ducati Diavel Diesel-Headlamp)
Both the entities drew their inspiration from the hyperkinetic dynamism of a post-apocalyptic, retro-futuristic world (Ducati and Diesel's words, not ours!). What they mean to say is that the Ducati Diavel Diesel is something that Tom Hardy from 'Mad Max: Fury Road' will be more than happy to ride and take the bad guys on. And it is evident from the photographs as well.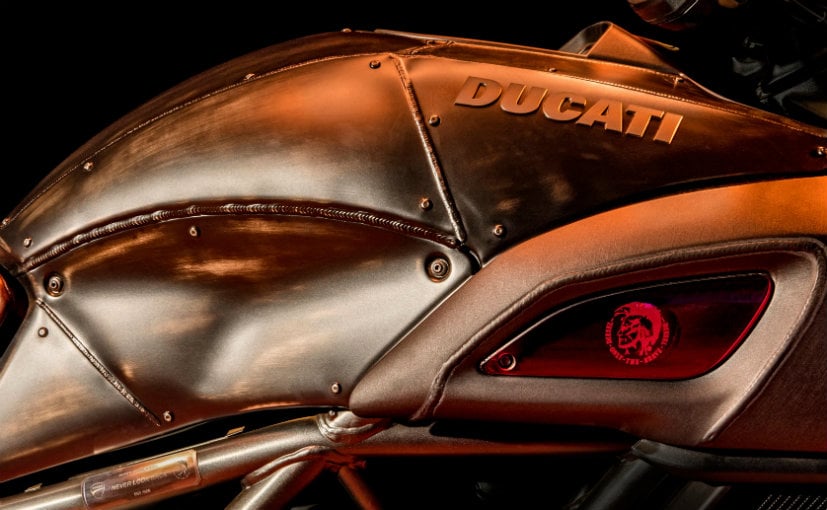 (Ducati Diavel Diesel-Fuel tank)
The not-of-this-world colour scheme along with that raw, welded look, dotted with rivets make the Diavel Diesel look like a motorcycle straight from the sets of Mad Max movie series. The detailing on the tank cover, front cowl and the beautiful leather seat is noteworthy. There are a few splashes of red strewn on the LCD dials, Brembo callipers and the chain. The exhaust pipes are coated black with Zircotec ceramic, giving the bike that unearthly look. Mechanically, the motorcycle remains the same, having an L-Twin engine that produces over 160 horses and 130Nm of peak torque.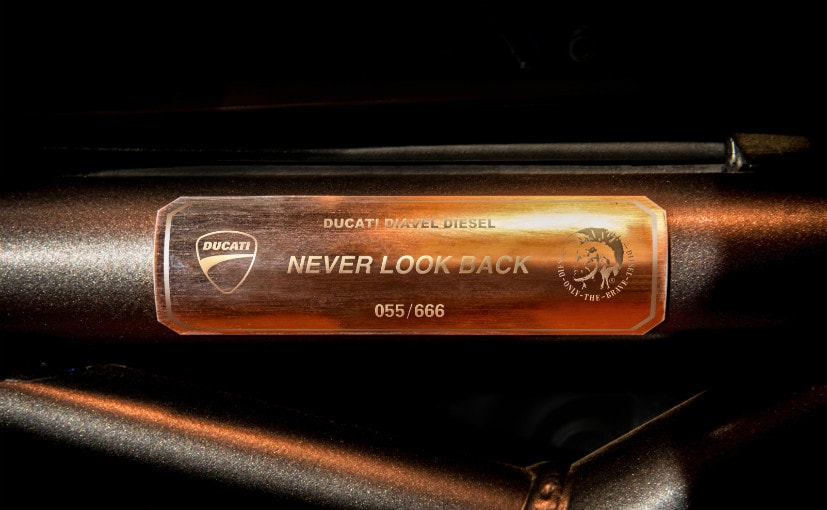 (Ducati Diavel Diesel-Production number plate)
Since this is a limited edition motorcycle, Ducati will manufacture only 666 (also known as the number of the beast/anti-Christ, in the Bible, Old Testament) units, all of them numbered. Also, each of the 666 units will have a metal plate mentioning the serial production number of the motorcycle. The deliveries for the Ducati Diavel Diesel will begin in April, 2017.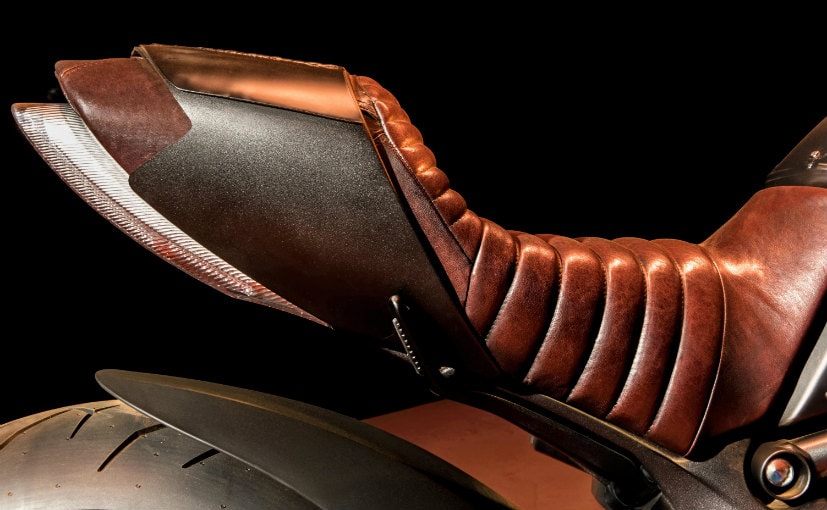 (Ducati Diavel Diesel-Leather seat)
"The collaboration with Diesel enabled us to explore original stylistic and technical aspects whilst staying within the Ducati brand and fully respecting its values," said Ducati Motor Holding CEO Claudio Domenicali. "In this case we worked with Diesel on an already uniquely original bike like the Diavel and the result was surprising to put it mildly. The details characterising the Diavel Diesel cannot fail to captivate connoisseurs of special bikes but also people from different walks of life, such as fashion. It's always stimulating for us to move outside the world of motorcycling and widen our brand's areas of interest".
0 Comments
The Ducati Diavel Diesel was reveald at the Milan Men's Fashion Week which was held earlier this week. The motorcycle will also be on show at the Motor Bike Expo to be held at Verona, Italy from 20 January to 22 January, 2017.
For the latest auto news and reviews, follow carandbike.com on Twitter, Facebook, and subscribe to our YouTube channel.