The 2017 Ford EcoSport will be launched later in November with its official debut set on October 29, 2017. And while we wait to get a first glimpse of the car, there are a few things that we already know about the car. To begin with it will get an all-new engine which promises to make the new EcoSport better to drive according to Ford. While we wait to get our hands on the car to check it out we know quite a bit about the petrol engine already. It's a 1.5-litre Ti-VCT engine which now is a 3 cylinder unit instead of 4 and will be manufcatured at the company's Sanand plant. More popularly known as the Dragon engine on the internet, the motor will cater to domestic and export demand. Read: Our Exclusive Unboxing of the 2017 Ford EcoSport
Also Read: 2017 Ford EcoSport Titanium S Variant Spotted Ahead Of Launch
The new 1.5-litre Ti-VCT (Twin Independent Variable Camshaft Timing) naturally aspirated three-cylinder petrol will make its debut on the 2017 Ford EcoSport and is tuned to produce 120 bhp and 150 Nm of peak torque. The Ti-VCT tech on the engine allows each intake and exhaust cam to function independently of each other as operating conditions change. This, the automaker says, helps deliver faster throttle response and higher fuel efficiency. The bore and stroke ratio has also been optimised to achieve higher torque output at lower engine speeds. The new motor uses 80 per cent of components sourced from Indian suppliers, which should make it cost effective as well. Also Read: 2017 Ford EcoSport Variants Explained
Also Read: Ford EcoSport Facelift's New 1.5-Litre Three-Cylinder Petrol Engine Revealed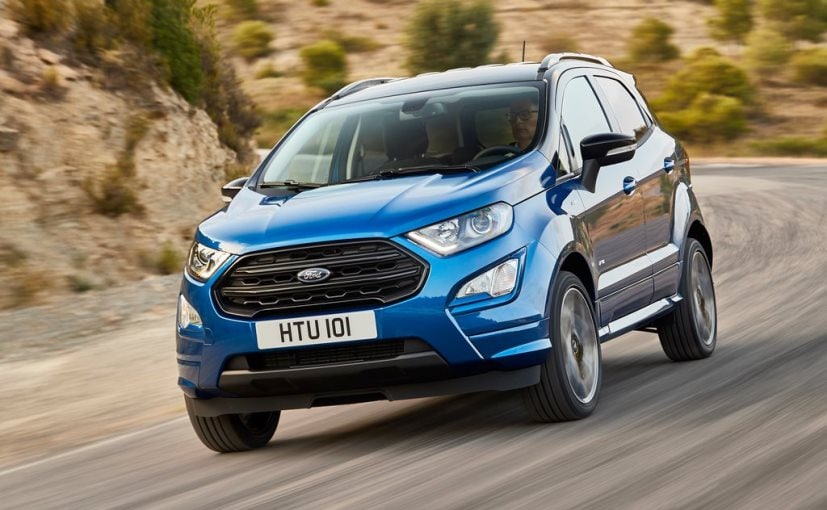 Also Read: 2017 Ford EcoSport To Debut In India, Features Explained in Detail
In addition to this, the new 1.5-litre three-cylinder petrol motor on the new EcoSport gets an aluminium block and cylinder head for substantial weight savings. The exhaust manifold integrated into the cylinder head helps to heat up the catalyst faster, thereby reducing emissions. Ford claims the new motor s seven per cent reduction in CO2 emissions and a similar increase in fuel efficiency figures.
Also Read: 2017 Ford EcoSport Facelift: All You Need To Know
Furthermore, the American carmaker has developed the engine for lower NVH levels. The power unit's balance shaft is supported by hydrodynamic bearings that help minimise vibrations which are atypical in three-cylinder engines. Furthermore, a belt-in primary oil drive system contributes to the reduction in noise and friction.
0 Comments
Also Read: 2017 Ford EcoSport Facelift Gets Sporty ST-Line Option With AWD In Europe
For the latest auto news and reviews, follow carandbike.com on Twitter, Facebook, and subscribe to our YouTube channel.