Rolls-Royce is readying up the all-new, uber luxurious, next-generation Phantom that will be hitting the market in 2018. Providing a first glimpse into the future model, the British car maker has teased an image of the Phantom's body that will be an all-aluminium structure underpinning the eighth generation model. While the image does little to reveal extensive details about the 2018 Phantom, you can pick out a few changes that have been made to the model. The new generation Phantom is also important as the all-new platform will form the basis for the next generations of the Ghost, Wraith and Dawn models.

To begin with, the 2018 Rolls-Royce Phantom VIII has grown in dimensions, which is visible from the size of the doors and almost square, aiding in eased ingress and egress . The quarterlight window has been carried over from the outgoing model, while the fuel filler is likely to be located in the same place as on the current version, given the small hole in the C-pillar is intended for the same.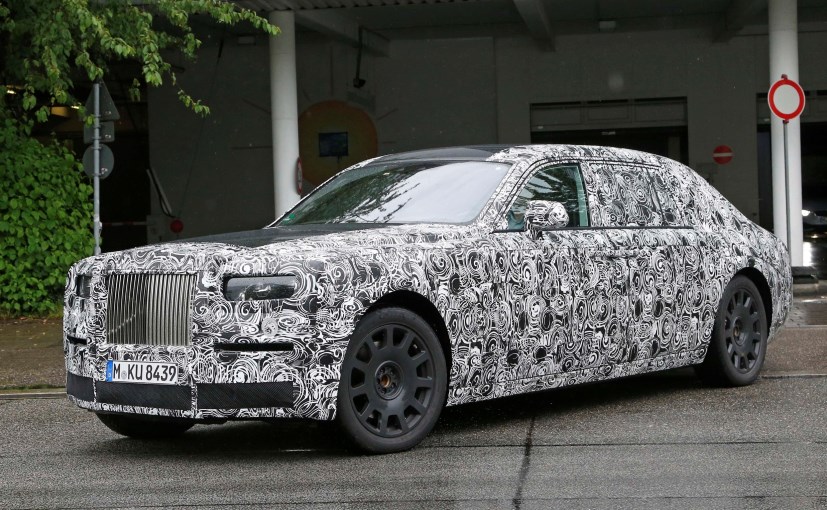 The new generation Rolls-Royce Phantom will be evolutionary in design as indicated by the company previously and the recent spy shots also confirmed the same with the car retaining its massive dimensions and princely status. Going by the previously spied images, the car retains the silhouette from the current version but now gets softer lines, similar to the new Wraith and Dawn models. The trademark grille continues to be the centrepiece in the front. The move it seems has been to attract younger buyers towards the flagship Rolls, which will be easier with a design that blends in easily with the other cars in the company's lineup, rather than alienating the Phantom altogether.
The interior spied just a few weeks ago showcased a more tech-friendly cabin with a dual-screen infotainment system replacing the traditional dials, while there was abundant woodwork to ensure the aesthetics were up to the mark. The company's extensive bespoke options will continue to remain one of the key features on the new model as well.
0 Comments
Meanwhile, the outgoing Rolls-Royce Phantom will be ending its production run on December 31 2016, while deliveries will continue well into 2017. The company has already planned 50 Zenith coupe and Drophead models, while a lot of bespoke one-off models have also been commissioned and will take a good amount of time to be finished. As the company continues to develop the new generation Phantom in the background over the next two years, our focus will be changed to the automaker's all-new SUV 'Cullinan' that is due for launch in 2017.
For the latest auto news and reviews, follow carandbike.com on Twitter, Facebook, and subscribe to our YouTube channel.