A lot of cars have had a go at towing an airplane and as the SUV segment opens up, there are a powerful bunch of them who want to show some muscle. The Volkswagen Touareg V10 TDI has had a go at it by towing the Boeing 747 about a decade ago and then in 2013, Nissan brought out the Patrol to pull a 170 ton cargo plane and now of course, the VW group wants to set another benchmark. This is the reason why it took a completely standard Porsche Cayenne S Diesel and attached it with a special towing attachment was installed on the vehicle's standard tow bar.
The Cayenne S Diesel pulled a 73-metre Air France Airbus A380 weighing an impressive 285 tons, and beating the Patrol's record by a massive margin of 115 tons. The Porsche Cayenne comes equipped with a 4.1 litre biturbo V8 engine which punches out 385 bhp. While that's a lot of power, the torque figures of the Cayenne are astounding as that stands at 850 Nm and that's a lot of pulling power.
1.19 Crore *
On Road Price (New Delhi)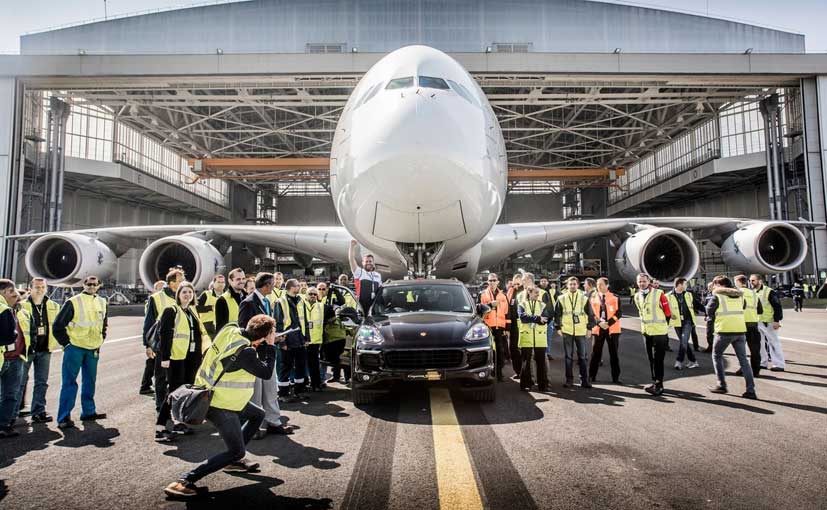 The diesel SUV set a new Guinness World Record for the heaviest aircraft pulled by a production car. It achieved this feat at the Charles de Gaulle Airport in Paris. Behind the wheel of the SUV was Porsche GB technician Richard Payne and the exercise was then repeated using a Porsche Cayenne Turbo S.
Richard Payne said, "It did it - I'm so relieved! We don't usually go this far to test the limits of our cars but I think today we got pretty close. I could tell that it was working hard but the Cayenne didn't complain and just got on with it. My mirrors were quite full of Airbus, which was interesting. Our cars can go a bit beyond what our customers might expect - they're designed to be tough.
0 Comments
Automakers are showing off what their cars can do and it's not just Volkswagen, Porsche, and Nissan doing it. Land Rover too took a perfectly standard Discovery Sport to pull a 100 ton train and we've already told you all about it.
For the latest auto news and reviews, follow carandbike on Twitter, Facebook, and subscribe to our YouTube channel.