BMW Congratulates Mercedes-Benz On AMG's 50th Anniversary
BMW wishes Mercedes-AMG, the performance arm of Mercedes-Benz, on the completion of 50 years in the market with a witty billboard ad. The gesture came from BMW's M performance division.
Highlights
BMW put up the billboard Ad at the Nurburgring in Germany
Mercedes unveiled a limited edition, track-focused AMG GT3 Edition 50
The Mercedes-AMG GT3 Edition 50 will be limited to 5 examples only
Last year when BMW completed its 100th year in the auto industry, fellow German automaker Mercedes-Benz released a very witty clip on social media congratulating the Bavarian carmaker on its Centenary. The small video clip, which you'll find below, said, "Thank you for 100 years of competition. The previous 30 years were actually a bit boring." While Mercedes did troll BMW for entering the business 3 decades after itself, BMW took it like a sport. So, when recently Mercedes' performance arm Mercedes-AMG celebrated its 50th anniversary, like a true gentleman, BMW decided to return the gratitude with a similar gesture through its M performance division.
It was on the Nurburgring in Germany that BMW put up a huge billboard that said, "You ordered cake, we made donuts. M congratulates AMG on its 50th anniversary," and on the right of this message was an image of an M4 burning some rubber doing 'donuts'. Now, we have to say BMW sure knows how to return a favour.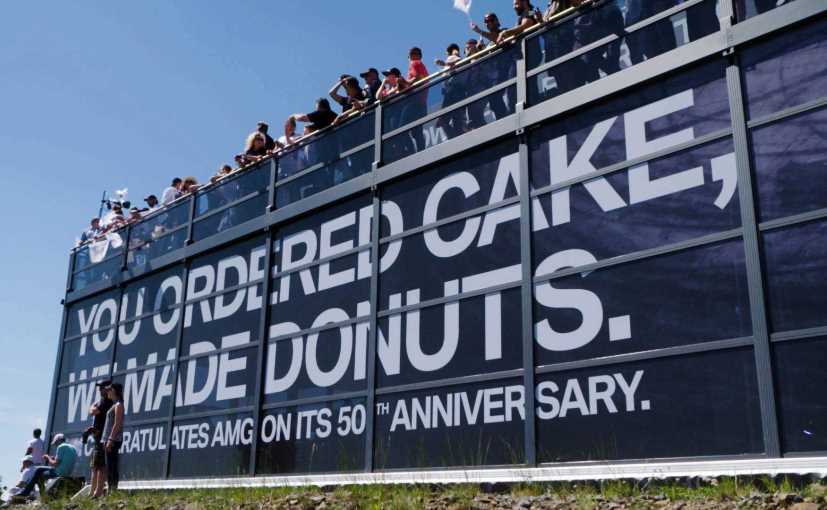 As for Mercedes, the company celebrated the AMG brand's 50th anniversary by unveiling a limited edition, track-focused Mercedes-AMG GT3 Edition 50. The company will be making only five examples of this limited-run AMG GT3 marking the five decades of AMG. The car gets a special paint job, unlike any other AMG product, with a gun metal grey paint scheme for the body and a matte look for the carbon fibre front and rear diffusers, air intakes, radiator grille, and side skirts.
Similarly, back in February 2017, Mercedes had showcased yet another limited edition model based on the Mercedes-AMG GT C Roadster Edition 50, which was also launched to celebrate Mercedes-AMG's 50th anniversary.