A refreshing breath of fresh air, that is the Volvo S90. In a world filled with aggressive, overtly sporty premium sedans the S90 takes a hard left on to a leafy avenue that winds its way to Swedish log cabin with an attached sauna. It is everything the Germans, and the lone Brit, are not. It is calm and relaxed. It wears styling that some will like and most will fall in love with - there's no hate in here. The cabin is gorgeous to behold and lovely to be sat in - a great selection of woods, beautiful design, a touch screen that works brilliantly and no flat-bottomed steering wheel, not even on the options menu. And yet it envelops you in such comfort and luxury, that you would nary notice!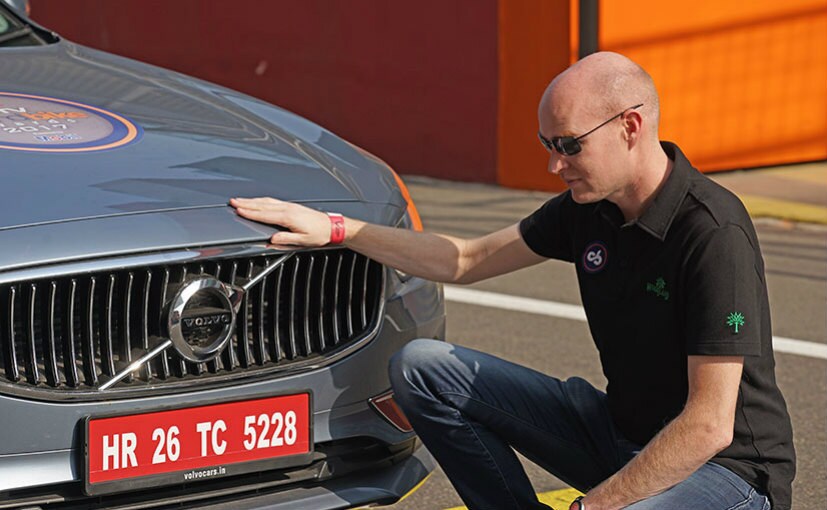 (Volvo S90 being admired by Jens Meiners, one of the jury members on CNB awards 2017)
Also missing from the options menu is a six-cylinder engine; the diesel for now and the upcoming petrol are all four-cylinders. And that's because the S90 hasn't been designed to match or better the competition round a racetrack. The Volvo isn't sporty and it is all the better for it. This is a more practical, more sensible and ultimately more suitable car for the hustle and bustle of daily life. This is front-wheel drive, unlike every other car in this segment except for the Audi A6. It won't wriggle its tail under power and it will drive you mad trying to figure out how to switch off ESP. And that, really, is a good thing.
51.9 Lakh *
On Road Price (New Delhi)
What you want is a comfortable car to commute to work in and with air suspension on the rear axle that box is well and truly ticked. You want a car that can do a sustained high-speed cruise on the highway, a car that looks gorgeous parked in your driveway, a sound system to make your ears squeal in delight and a car that everybody will talk about. Throw in the Sensus infotainment system wowing audiences everywhere with its iPad-like appeal, and its a sure winner. That car is the S90, our 2016 Premium Car of the Year.
0 Comments
Sirish Chandran is editor of Evo India and a member of the NDTV Car and Bike Awards jury since 2015
For the latest auto news and reviews, follow carandbike on Twitter, Facebook, and subscribe to our YouTube channel.