The Nissan GT-R is one of the fastest Supercars around. It was long established and we too got a chance to lay our hands on the latest model and came away impressed. But what if you need aerial shots of a car that does 0-100Km/h in less than 3 seconds? Simple, you get the World Drone Prix Champion (Tornado X-Blades Racing) to design a custom drone that goes even faster than the 'Godzilla'. Yes! The Nissan GT-R Drone reaches 100Km/h from standstill in 1.3 seconds. Take that! All you Ferraris, Lamborghinis, Porsches of the world. It was built specifically to keep up with the 2017 Nissan GT-R, for filming it at full clip on a racetrack. The GT-R Drone makes use of a special race-tuned configuration and a low-drag canopy in order to achieve that blistering acceleration.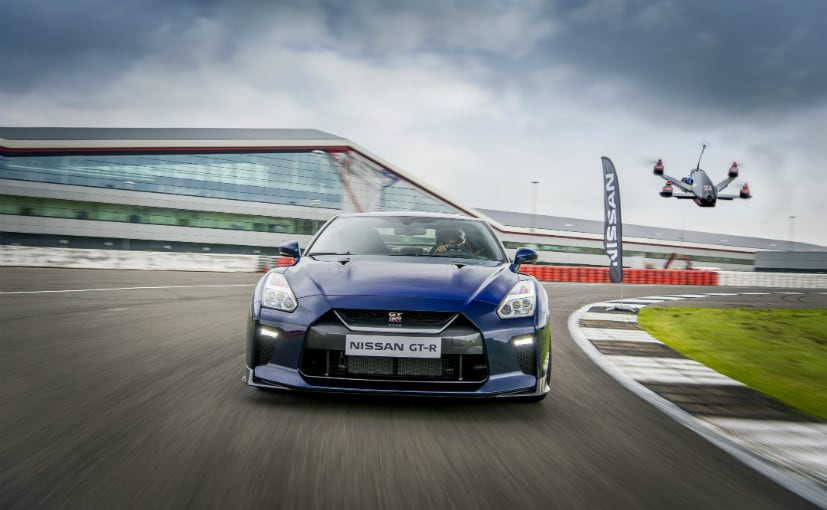 (Nissan GT-R Drone)
The Nissan GT-R gets its power from a 3.8-litre V6 engine while the GT-R Drone is fitted with 4 propellers mated to a 2000kV XNova motor and a race-spec Sky-Hero Quadcopter frame and weighs in at 700 grams compared to the GT-R's 1,725kgs.
Both the GT-Rs showcased their innate ability to go absurdly fast on a special 1.93km course at the Silverstone Circuit in the UK. The GT-R car was driven by Ricardo Sanchez, the Nissan NISMO driver while the GT-R Drove was being handled by James Bowles, who is the 2015 British National Drone Racing Champion. The drone can reach a maximum of 185kmph while the car can do a top speed of 315kmph. With a turning radius of just 15cm, the drone is infinitely more agile than the GT-R car.
Watch the video where the battle unfolds between the GT-R car and the GT-R Drone.
0 Comments
For the latest auto news and reviews, follow carandbike.com on Twitter, Facebook, and subscribe to our YouTube channel.