The GTC4Lusso is Ferrari's 4-seater supercar for the well-to-do family. Until now, it got a V12 engine in the front with an extremely complicated all-wheel-drive setup. And now, in order to attract a slightly larger clientele to the family-Ferrari, the V12 and all-wheel-drive system has been swapped out for the new turbocharged V8 and a more conventional rear-wheel-drive setup. The car also has a slightly different name - Ferrari GTC4 T with the 'T' denoting the V8 turbo engine.
The 3.9-litre engine which is also available in the likes of the California T and the Ferrari 488 GTB is the same one that the GTC4 T gets and is mated to a 7-speed dual clutch gearbox. With 610bhp of power and 760Nm or torque on tap, the new 'cheaper' GTC4 T will be no slouch. Although the all-wheel-drive has been ditched, the 4WS (four wheel steering) and the Side Slip Control (SSC3) is still available on the GTC4 T.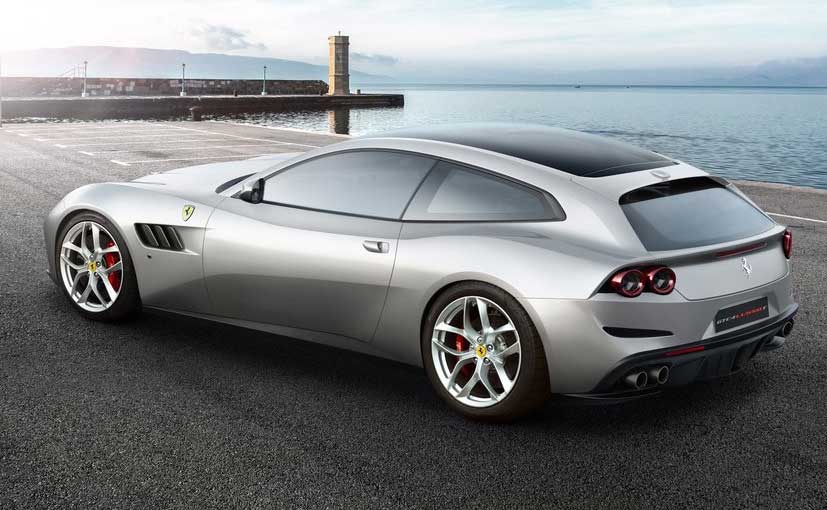 Ferrari has also worked on an active exhaust system that becomes quiet at lower speeds so that city driving is easier. Of course, floor the throttle and the Ferrari symphony is still very much on tap with a set of smart valves that open up in the exhaust system. Apart from the engine and driveline differences, the GTC4 T stays about thee same as the V12 GTC4. The exterior design is identical luxury takes centre stage on the interior front. The GTC4 T also has the new dual Cockpit architecture, that Ferrari says is designed to enhance the shared driving experience for both driver and passenger. The GTC4 T also gets the 10.25-inch infotainment touchscreen system.
The GTC4 is the first Ferrari that we can remember that offers two completely different engine options in the exact same body style. This move by Ferrari would be termed almost impossible until a few years ago where every body style would be expected to have only a certain type of engine. The GTC4 T Lusso is the first ever, 4-seater (in its truest sense) Ferrari to get a front mounted turbocharged V8 engine.
Watch the Ferrari GTC4Lusso review here:
0 Comments
For the latest auto news and reviews, follow carandbike on Twitter, Facebook, and subscribe to our YouTube channel.