Jeep, along with its Mopar brand (short for Motor and Parts) have taken the wraps off a new set of custom vehicles which will be showcased at the upcoming Annual Easter Jeep Safari, that is held every year in Moab, Utah in USA. Every year, over the last 15 years, Jeep and Mopar have come together to make some really cool concept vehicles which are actually quite capable off-roaders. These concept models aren't just for showboating; they actually work and are more than capable to take on the trails on offer at Moab, Utah. Here is a quick look at the seven new concept models which will make their debut at this year's Easter Jeep Safari.
1. Jeep Grand One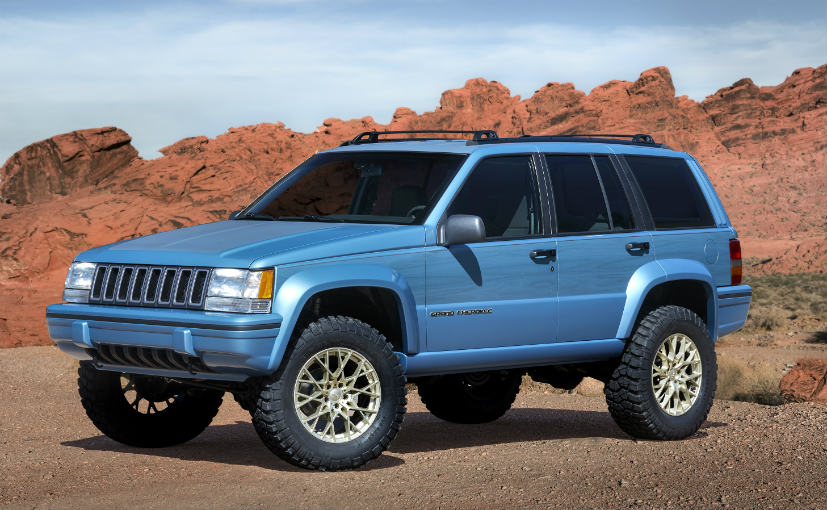 (Jeep Grand One Concept)
This particular model is homage to the 1993 Grand Cherokee ZJ model, which celebrated its 25th anniversary this year. It gets 18-inch lace wheels, extended wheelbase, flared fenders and a wood-grain treatment on its body, keeping in line with its early 90s look. The Grand One wears 33-inch Goodrich tyres, a 2-inch suspension lift kit and selectable locking differentials on each of its axles. It is powered by a 5.2 Litre V8 engine paired to a 4-speed automatic gearbox. The interior also carries a 90s design with an old-school car phone.
2. Jeep Safari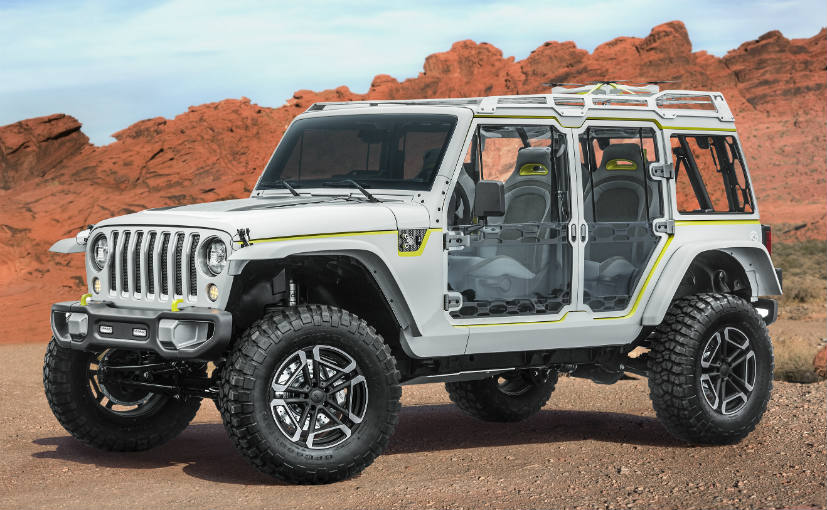 (Jeep Safari Concept)
The company says that this is a 'family-focussed' SUV made for the purpose of giving the rear-seat passengers a great view of the terrain. The roof is made of a translucent hard-top panel, a raked windshield LED headlamps and tail lamps. The doors are made of lightweight aluminium and clear vinyl, making it see-through and also have zipper openings to let fresh air come in. There is a drone and an iPad which is mounted on the dashboard, which come as standard fitment. Whoa! In addition, the Safari gets a 2-inch high lift kit along with lockable differentials. The Safari gets a 3.6 Litre V6 Pentastar motor mated to a 5-speed gearbox. Ohh, and it also gets 35-inch Goodrich tyres, 18-inch wheels, skid plates, steel bumpers and a new cold air intake.
3. Jeep Quicksand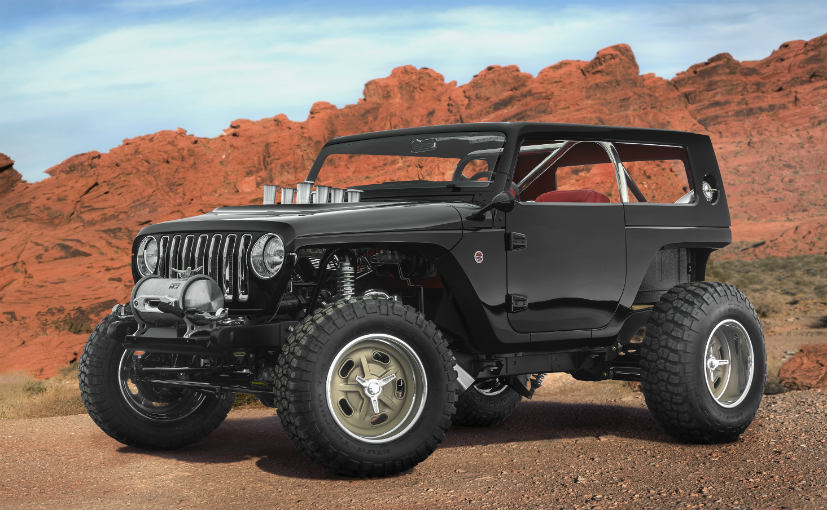 (Jeep Quicksand Concept)
Up next is the Jeep Quicksand, a hot-rod! Yes, Jeep has converted a Wrangler into a hot-rod by adding a Mopar 392 Hemi engine with an eight-stack injection, which is mated to a 6-speed Getrag gearbox. The downturned open headers jut out of the bonnet up front, giving it a proper hot-rod feel. The interior carry a minimalist look and has two bucket seats with an aluminium chrome roll-bar. The Quicksand gets 18-inch 'kidney-bean' alloy wheels along with 32-inch Goodrich rubber wrapped around it. In case of emergency it has a Warn winch upfront and a recovery rope at the rear.
4. Jeep Trailpass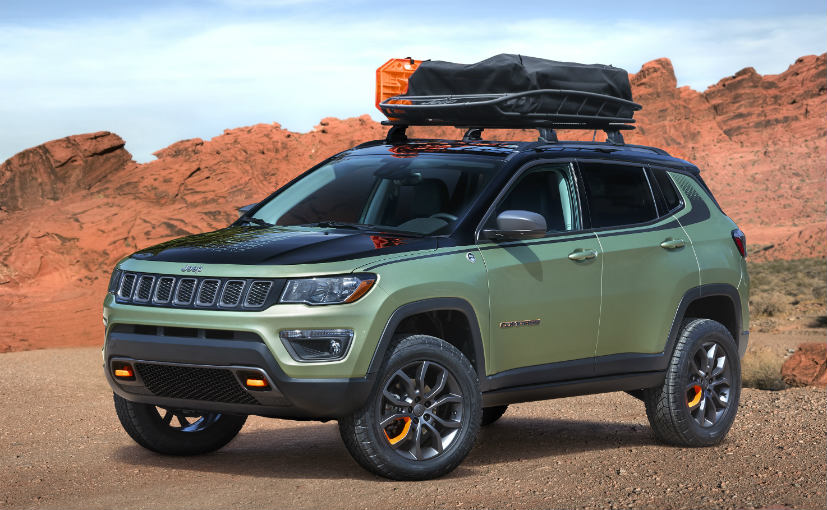 (Jeep Trailpass Concept)
The fourth concept to be showcased at the event will be the Jeep Trailpass. In essence, it is a Jeep Compass Trailhawk with some off-roading kit thrown in for good measure. These include a 1.5-inch suspension lift kit, 18-inch wheels and all-terrain tyres. Some other additions include rock rails, cross rails and a Thule roof-basket. It is powered by the 2.4-litre Tigershark engine and mated to a nine-speed automatic transmission.
5. Jeep Switchback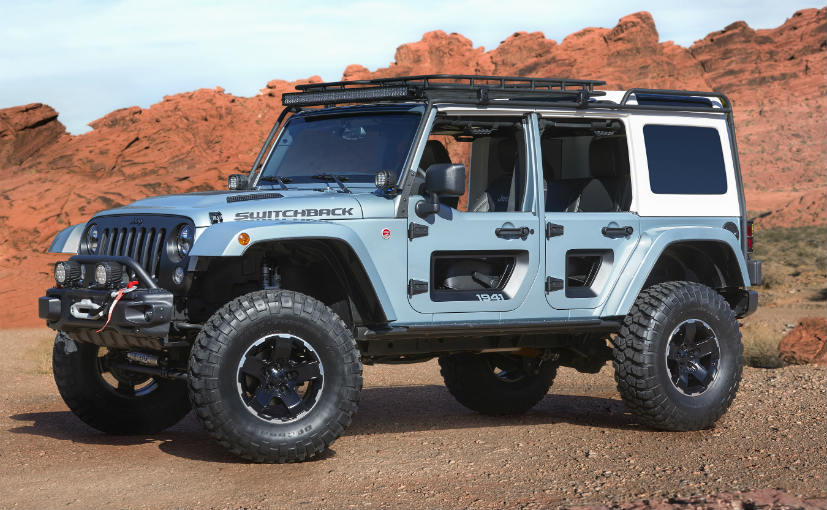 (Jeep Switchback Concept)
The Switchback is basically a jacked up Wrangler with a host of Mopar and Jeep Performance parts in tow. Starting off, it gets a 4-inch lift kit with remote reservoir shocks, heavy-duty differential covers, steel bumpers, Rubicon winch and so on. Adding to it are the 17-inch concept wheels and 37-inch Goodrich tyres. Other features include an LED light bar on the rood and LED lamps for the headlights, tail lights and fog lights as well. Power comes from a 3.6-litre Pentastar V6 and paired with a five-speed automatic transmission.
6. Jeep CJ66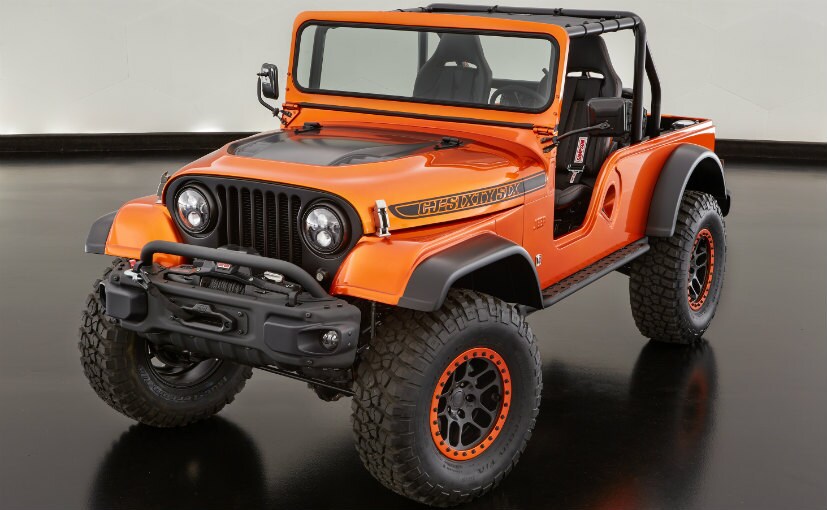 (Jeep CJ66 Concept)
Yet another concept which harks back to the olden Jeep Wrangler CJs of the 60s. Only that this one has a 5.7 Litre V8 Hemi engine making 383 bhp or thereabouts and gets 17-inch beadlock wheels on which there are 35-inch Goodrich tyres wrapped. Further enhancing its off-road credentials, the CJ66 gets 2-inch suspension lift kit along with pneumatic tyre pressure system which can be used to deflate/inflate tyres on the go. The cabin gets custom Dodge Viper seats and is shrouded in a custom roll-cage along with other Mopar bits.
7. Jeep Luminator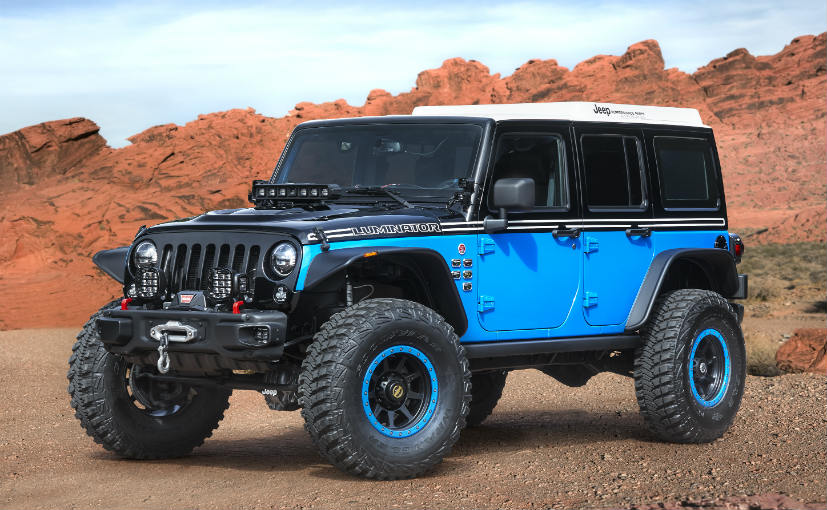 (Jeep Luminator Concept)
0 Comments
True to its name, the Luminator gets a host of lighting bits such as an LED bar module on the bonnet, 7-inch LED projector headlamps, LED spotlights mounted on the A-pillars, LED auxiliary lighting and LED cornering lamps as well. At the rear too, there is a high-mounted LED stop lamp which flashes in red, amber and green. It can also be used as a searchlight if needed. Other cool features are a roof-mounted solar panel, a drone along with its landing pad and fancy touch display on the driver-side window which is linked to GPS and internet. There is no available information on the engines and specs.
For the latest auto news and reviews, follow carandbike on Twitter, Facebook, and subscribe to our YouTube channel.