Just like in the last few years, 2018 saw a large number of SUV launches in India. From affordable subcompact SUVs getting major updates and AMT gearboxes to seven seater SUVs in the Rs 20-30 lakh range and of course a fair range of entry level luxury SUVs, there was something for everyone. But what if your wallets were larger and your tastes were ...well... more expensive. Then there was a whole range of options for you too! From uber luxurious barges that completely cut the peasantry of the world off to super SUVs that break the laws of physics, here is my top 5 list of Ultra Luxury SUVs launched in India in 2018.
Rolls Royce Cullinan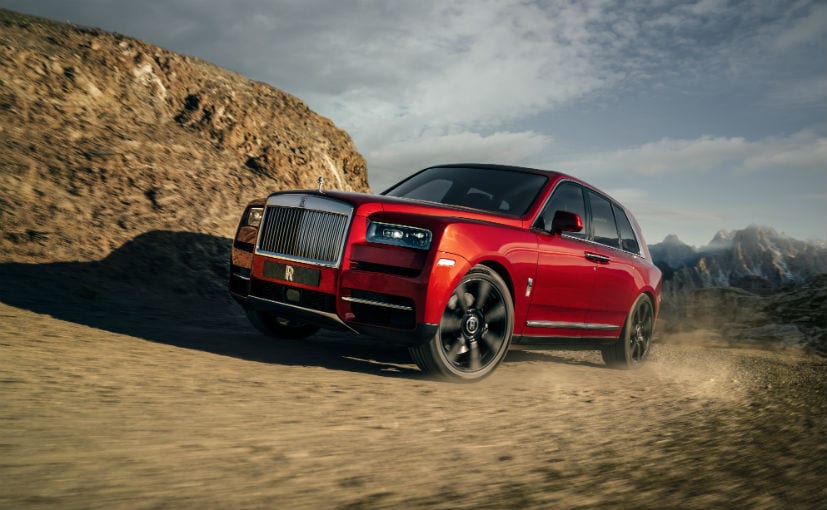 (Rolls-Royce says this is an all-terrain, high-body car. The Cullinan's off-road setting offers modes)
Price: Rs 6.95 Crore without options
Lets start with the big daddy of them all! The most expensive, most exclusive and without a shadow of a doubt, the most luxurious SUV in the world today - the Rolls Royce Cullinan! The new Rolls Royce Cullinan is also the first ever SUV from the luxury automaker and boy does it make an impression in real life! Launched in India just a few days ago, the Rolls Royce SUV packs a V12 twin-turbo engine that makes everything else - including the ostentatious Bentley Bentayga look pedestrian.
Also Read: Rolls-Royce Cullinan Launched In India; Prices Start At ₹ 6.95 Crore
Mercedes-AMG G63
(The Mercedes-AMG G63 gets LED lights all around, and there's also a new Panamericana grille)
Price: Rs 2.19 Crore without options
If there is one SUV that can truly match the sheer road presence of the Rolls Royce Cullinan, it is the new Mercedes-AMG G63! The new G63 packs a nicer interior, a new and much more rounded exterior and of course, that fire breathing V8 twin turbo engine under the hood! And yes, it still has the absolutely epic side exit exhaust pipes! All in all, a true gangsta car.
Also Read: Mercedes-AMG G63 Launched In India; Prices Start At ₹ 2.19 Crore
Porsche Cayenne
(2018 Porsche Cayenne Turbo)
Price: Rs 1.19 Crore Onwards
How do you take the first ever real Sports utility vehicle in the world that is already extremely capable and make it even better? Well, you need a quart of Porsche mechanics, a quart of all wheel drive and a big half of twin turbo V8! And while the crazy top spec Porsche Cayenne Turbo gets from 0-100 in times that bewilder, it isn't the fastest one on the list. Oh and yes, we must point out here that Porsche is the first German automaker that has completely ditched the diesel powerplants and now only offers a petrol engine in India and across the world - with or without a hybrid powertrain.
Also Read: Porsche Cayenne Launched In India At ₹ 1.19 Crore
Lamborghini Urus
(The Lamborghini Urus is the fastest SUV in the world)
Price: Rs 3 Crore without options
While the Porsche Cayenne might be fast in its turbo Avatar, the Lamborghini Urus takes the laws of physics and sends them to infinity and beyond! The new Urus does 0-100 in 3.6 seconds, and 200 kmph in 12.8 seconds and the Urus has a top speed of 305 kmph, which is not bad at all for something that weighs 2.2 tonnes! Incidentally, the twin turbo V8 engine under the bonnet makes 641 bhp and 850 Nm! And it goes around corners like a sportscar! Bloody impressive this is!
Also Read: Lamborghini Urus Launched In India; Prices Start At ₹ 3 Crore
Range Rover Velar
(The Range Rover Velar sits between the Evoque and the Range Rover)
Price: Rs 78. 83 lakh onwards
In the midst of cars that cost as much as my house, here is, well, the 'cheapest' SUV in the list. But it is here for a reason. And that is because it ushered in a new range of interiors from Land Rover and of course, the new design language too. The new Range Rover Velar is sleek, sexy and offers someone looking at a Rs 1 Crore-ish SUV something more stylish as compared to everything else in market. The new Velar also gets a diesel engine, unlike all the other cars in the list and that makes it more popular with the general junta too. All in all, it does deserve to be here. That said, can someone please go and order one with that absolutely epic microfiber interior option please!
0 Comments
Also Read: Range Rover Velar Launched In India At ₹ 78.83 Lakh
For the latest auto news and reviews, follow carandbike.com on Twitter, Facebook, and subscribe to our YouTube channel.